Hair-loss treatments: What do they do and are they really worth spending your money on?
It's not unusual for one to blow thousands of dollars on treatments that target thinning hair and baldness, but will they deliver the results you expected? Hair specialists give CNA Lifestyle their honest opinions.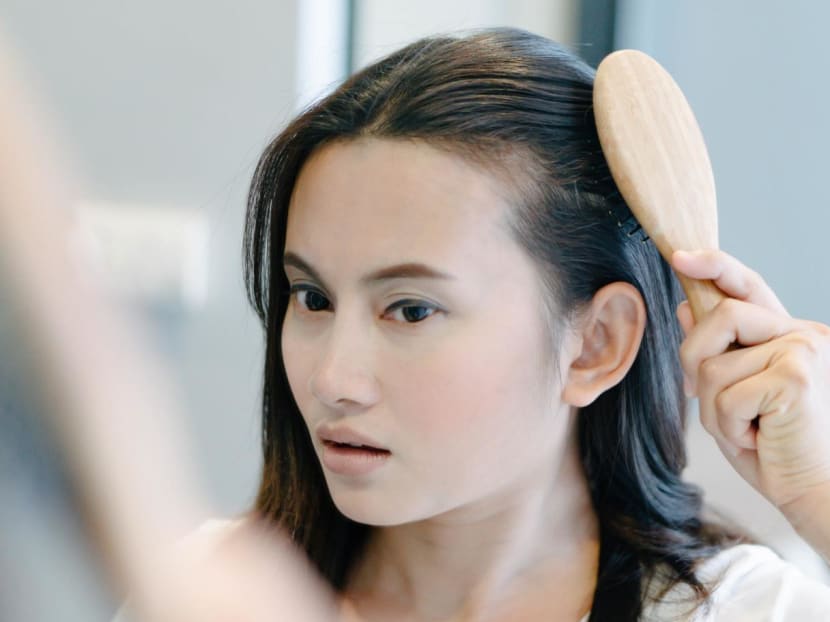 For many, signing up for hair-loss treatments can feel like jumping into a bottomless pit – the expenditure is seemingly endless (since consecutive sessions are deemed necessary) but does continuing with them over an extended period really help, and is the money you're putting into them worth it?
Hair loss, as we know, is not a straightforward or easy problem to solve – there are many factors that may contribute to it at the same time, while results may understandably vary from individual to individual. There are some who have seen dramatic improvements from such treatments, yet there are also others who have not observed any changes, even with the help of regular sessions.
The extensive range of hair-loss treatments can seem bewildering – from those that entail the use of herbal remedies and massage, to others that utilise LED light therapy and even micro-needling. Then, there are those that are administered by certified trichologists and dermatologists. The pricing, of course, varies considerably.
What's the deal here, and how can we suss out which of them out there are right for us? CNA Lifestyle gets the lowdown from the hair and scalp care experts, trichologist Leonica Kei of Leonica K Trichology and hair restoration specialist Faz Iqbal at Sage Medical Clinic.
WHAT HAIR-LOSS TREATMENTS CAN DO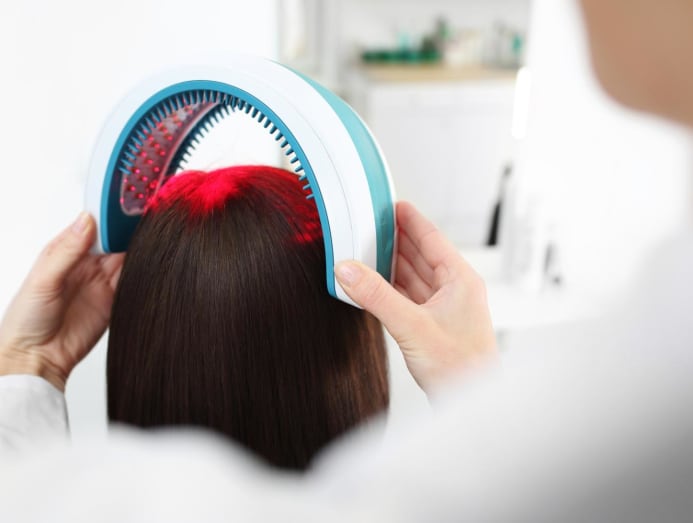 There's no miracle cure to thinning hair, of course, and any hair-loss treatment with claims that say the opposite is naturally questionable. Broadly speaking, most hair-loss treatments involve a deep-cleaning or exfoliation of the scalp and is followed by the application of products that are targeted at reducing hair fall or boosting hair growth, although the methods and ingredients through which these steps are done will vary widely.
Most non-medical hair treatments are stimulative, which also means once you stop going for treatments, the problem comes back.
"Scalp treatments are meant to keep scalp healthy and free of irritation. Anti-hair-loss treatments reduce heavy hair fall and promote new hair growth. These results are all achievable," said Kei. While she can't speak for all methods of hair-loss treatment available, she can confirm that trichology is science- and evidence-based, and has been around for more than 100 years, helping people with hair and scalp problems.
Kei stressed that accurate prognosis of one's hair-loss issue and having the right products to address it are key to solving it effectively. "There are many types of hair loss and many reasons that cause it – most are internal and some are external. We give prognosis to our clients, indicate the timeline and what they can expect within that timeline. We also work closely with our clients – whether to modify the treatment or recommend supplements or blood tests so that they can get the best results from our treatment," she added.
Evidently, a medical-based approach to solving hair loss has more credibility than methods that are not. But that doesn't mean that the latter are a complete waste of money – according to Iqbal, such treatments may work, but the question is whether the results they provide are long-lasting.
"Most non-medical hair treatments are stimulative, which also means once you stop going for treatments, the problem comes back. It is not wrong to do stimulative treatments but one needs to consult a medical hair-loss professional who is better equipped to diagnose and point one towards the correct direction of what the root cause may be. In my practice, at least, we find out what's causing the hair loss internally – it can be hormonal or nutritional most times," she shared.
HOW MANY SESSIONS EXACTLY ARE NECESSARY?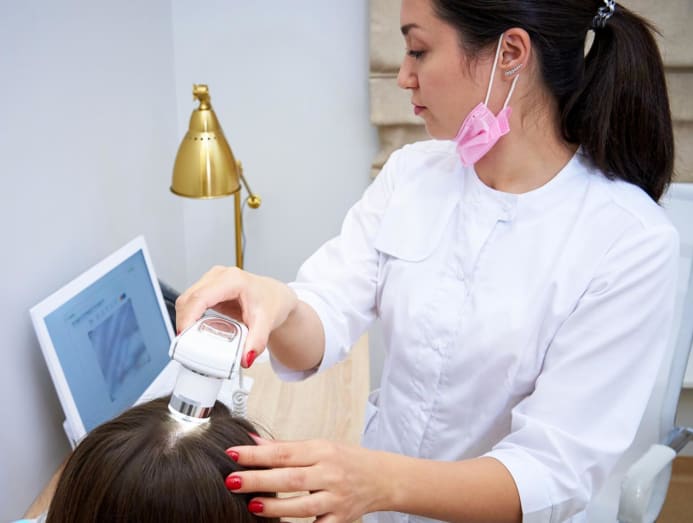 Anyone who's ever bought a hair-loss treatment package would have likely been told that a series of regular sessions is absolutely required for effective results that are lasting. This is true, to a certain extent, but how long a period are we expected to wait exactly, before we can see the effects that are promised?
Fact is, there's no straight answer to this question since every individual has a different hair-loss condition, while people may react to treatments differently.
"Individual scalp condition and the severity of hair loss are all factors that may affect the outcome in terms of timing. For example, let's compare a client with severe scalp inflammation and hair loss problem with another who has no scalp problem but severe hair loss. The first client will need more treatments because we need to help the scalp regain its health before hair loss treatment can be done," explained Kei. At the same time, she also said that, generally speaking, hair loss reversal takes about three months to be visible. 
Treating hair loss is a long-term process – the result is delayed and some patience is necessary.
There's a simple reason behind this length of time – according to Iqbal, some results should be evident at the end of one hair cycle (about 100 to 120 days), even if they are minimally appreciable.
She is aware of how a lengthy wait to see results can be frustrating, especially for those who have signed up for costly, long-term packages at hair salons. "It's something I hear almost every day from new patients who enter our clinic. They would tell us that they have spent thousands over the course of months to years and have seen no results. Personally, while I am not surprised that some salons [are pushy], I am surprised that people are still buying it," she said.
Kei emphasised that treating hair loss is a long-term process – the result is delayed and some patience is necessary. "It is like starting a gym regime. You will only see the effect about three months into an intensive programme. If you are uncertain, don't be pushed into packages. Go for a trial session and see if you are comfortable with the establishment, then, work slowly with them and choose the level of commitment you are happy with," she advised.
HOW TO CHOOSE? IT'S ABOUT WHAT'S RIGHT FOR YOU
Most people, who aim to be savvy about choosing which treatment centre or salon to go to, usually rely on reviews from real clients. Some, of course, prefer directly going the medical route, while others go by pricing – definitely an important point for consideration – or for a brand that they are familiar with and thus associate with a good repute.
It's impossible to compare every place that offers a hair-loss treatment, of course, since they will all differ in one way or another, whether it's a clinic or salon. "There is no fool-proof way to select the best place to go to. Simply put, you need to try the treatment to see if it works for you. The brand or special ingredients and high-tech equipment used does not indicate or guarantee results," said Kei.
As said previously, to know if one treatment is going to work for you, you first have to know the root cause of your hair loss, which is why it is advisable to seek a medical professional's help. "Herbal treatments are, again, stimulative – if you have pattern hair loss, which is caused by hormones and genes, the herbal treatment is not going to be a solution," explained Iqbal.
"My suggestion is to consult a trichologist, and get the products that are right for you (in addition to treatment sessions). If you see results (after three months), then continue the treatment long-term. You may still need to go for treatments [after the initial period] but maybe not the intensive type. This is very much like seeing a dentist and getting a check-up to make sure everything is in good condition, so you can have a nice set of teeth for a long time," said Kei.