Are homemade skincare products always safer for your skin? We ask the experts
Seemingly harmless ingredients can wreak havoc on your skin. If you absolutely must make your own skincare products, CNA Lifestyle shows you how to do it safely. 
Remember how, when the pandemic hit, our usual beauty routines were upended? With lockdowns and restrictions in place, and a surplus of free time to while away at home, people began to indulge in self-care and started experimenting with a hands-on approach to beauty, such as concocting their own skincare products with ingredients found in their pantry.
Alongside this, an already-increasing level of consciousness on the part of consumers about the ingredients that go into their skincare products also contributed to a growing interest in custom beauty, which is a little different from DIY beauty.
By this, we are referring to a new trend that's not quite the same as, say, mixing up a mask with honey, egg, olive oil and oatmeal in your kitchen. Instead, we're talking about the popularity of professional skincare-formulation workshops that offer those keen to try making their own skincare products the knowledge and guidance to creating them properly.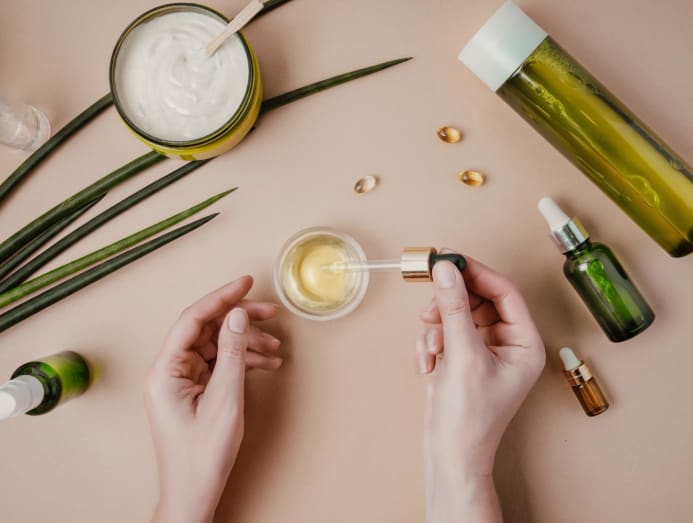 Hann Chia, founder of Fawn Labs which conducts such skincare-formulation workshops, attributed the popularity of these courses to changing consumer behaviour and thinking.
"The general consumer is more educated these days and they understand ingredients better or at least want to have the option of knowing, learning about what goes into the products they use," she said.
"They're no longer happy to follow what are posted by influencers or bloggers and want to be connected to authentic brands that are more transparent in ingredients. This translates into an industry that is more driven by knowledge and is science-led."
In a two-hour session by Fawn Labs, one can expect to become familiar with the principles of clean beauty, and then get to create two bespoke skincare products – tailored to their skin type – with non-toxic ingredients and natural botanicals. More importantly, participants learn how to do all this from certified instructors and how to safely handle the ingredients and equipment.
CNA Lifestyle attended Singapore beauty brand Fawn & Co's workshop and tried making clean beauty products using non-toxic ingredients and natural botanicals.
OASIS:Beauty Kitchen, another home-grown brand that offers its own line of vegan skincare, also conducts a similar workshop.
Co-founder, Hildra Gwee, pointed out some other reasons why more and more people are keen to learn more about formulating skincare. "It's definitely a great way to take control of what goes on your skin, plus it's cost-effective and fun too. Everyone's skin reacts differently, just like how our bodies react to different foods. When you 'DIY', it helps you understand what works for you and what doesn't. And effective skincare doesn't always need to be expensive," she noted.  
HOW SAFE ARE HOMEMADE SKINCARE PRODUCTS?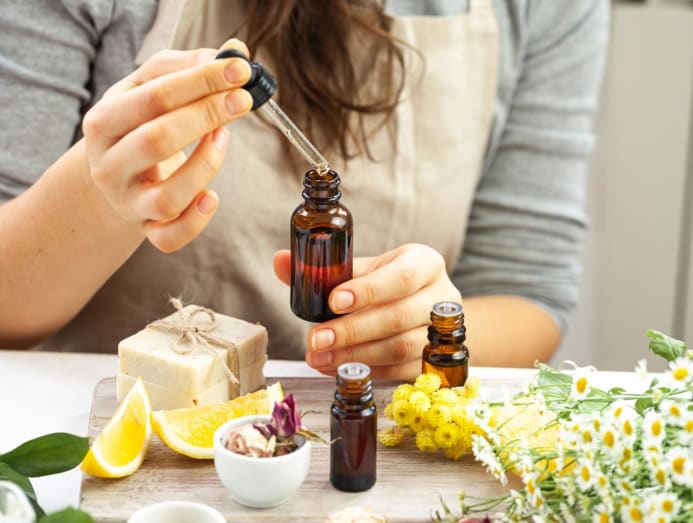 While many have used self-concocted skincare items – even those thrown casually together with pantry items and a recipe found online – without any adverse skin reactions, the same cannot be said for everyone. Improper product mixing and not understanding the ingredients one is using can lead to disastrous effects.
One common misconception about fruit and food ingredients used frequently in DIY skincare is that since they are safe to eat, they must be safe for use on the skin.
Dermatologist Dr Joyce Lim, of Joyce Lim Skin and Laser Clinic, clarified this assumption: "Since they are edible ingredients, they are safe in terms of toxicity. However, some of them may irritate the skin when applied on it. For example, applying certain fruit peels (and juices) directly to skin may irritate sensitive skin, as they contain fruit acids. Some people may also be allergic to certain foods and when these are used on their skin, they can cause a rash."
She also explained that, besides fruits, a lot of vegetables also contain acids that can irritate the skin when applied raw to the skin. "The effect can be aggravated especially when they are put on freshly washed skin. In some predisposed individuals – skin inflammation may even lead to pigmentation," she added.
This is exactly why mixing up a mask in the kitchen yourself may not always be advisable – particularly if you have sensitive or acneic skin, and why getting professional guidance is a better way to go about it instead, if you're keen on trying out custom or DIY skincare.
WHY PROPER SKINCARE-FORMULATING KNOWLEDGE IS NECESSARY
Gwee pointed out that it is important to make the distinction between what's cool to watch on TikTok and what's actually wise to try out on our skin.
"If you simply can't resist trying out a recipe that you saw online, make sure to check the legitimacy of the site. When it comes to DIY recipes, you need to take note if you have an allergy to any of the ingredients (for example, many recipes include oils expressed from nuts). At the same time, you'll also need fresh, pure ingredients, know how to properly store the resulting product and be aware of how long you can keep it for," she explained.
On that note, any home-made food-based product should be used up right after it is made – you don't want to risk putting deteriorated ingredients on your skin.
It's not just food ingredients that can be potentially dangerous for skin too. Chia said that essential oils, although derived from natural botanicals, can also be allergens to some people – which is why using them without awareness or an understanding of such ingredients can sometimes result in undesirable consequences.
"Avoid using essential oils neat even if they are sold and marketed as 'pure'. As formulators, we follow a strict code of conduct that lists dermal limits and some oils are to be used in very very low percentages," she advised.
"A lot of people we have conversations with tell us they make skincare from recipes and instructions they found online, or at low-cost or free workshops conducted by essential-oil MLM representatives," observed Chia, who stressed the importance of choosing a course conducted by certified skincare formulators.
NO SYNTHETIC PARABENS, BUT WHAT ABOUT PRODUCT INTEGRITY?
One big reason why custom skincare is receiving so much interest is simply the fact that one can control and know exactly what goes into the formulas that they put on their skin. With custom-formulating, one has the ability to filter out skincare nasties, such as phthalates and parabens. These already have a bad rap in the beauty industry, although whether they truly harm our health remains debatable, scientifically speaking. Still, there are many who try to steer clear of them, as far as possible, because they feel better doing so.
The question is – how safe for usage is a custom-formulated product that leaves out such chemical preservatives? According to both Chia and Gwee, plant-based, naturally derived preservatives are used in place of their chemical counterparts, which give the products a stable shelf life – although the actual lifespan of every product will also differ, depending on its composition and the materials that go into it.
"Naturally derived preservatives will protect against mould and bacteria. We use them in the formulation of some of our liquid-based products to ensure that customers get to use them for a good amount of time. Storage in a cool area away from the sun is always recommended for any liquid or oil products. Proper handling of jars is crucial, as well as ensuring that hands are clean at all times. I've also mentioned above that the quality of the ingredients is key to ensure purity," added Gwee, detailing how DIY-ed skincare products should be made and kept to ensure that they are safe for usage.
If clean, natural skincare products are what you are looking for for your troubled skin, custom formulations may just be the answer. Just make sure you head to the right people and learn how to DIY it properly or get them made for you professionally, instead of experimenting with recipes that can often be risky.