How do you get a lift without wearing a bra? This Singaporean entrepreneur's answer is breast tape
The secret to Kim Kardashian's red-carpet cleavage is gaffer's tape. Barebodies' Nicholette Pang has launched a breast tape that is much easier on the chest.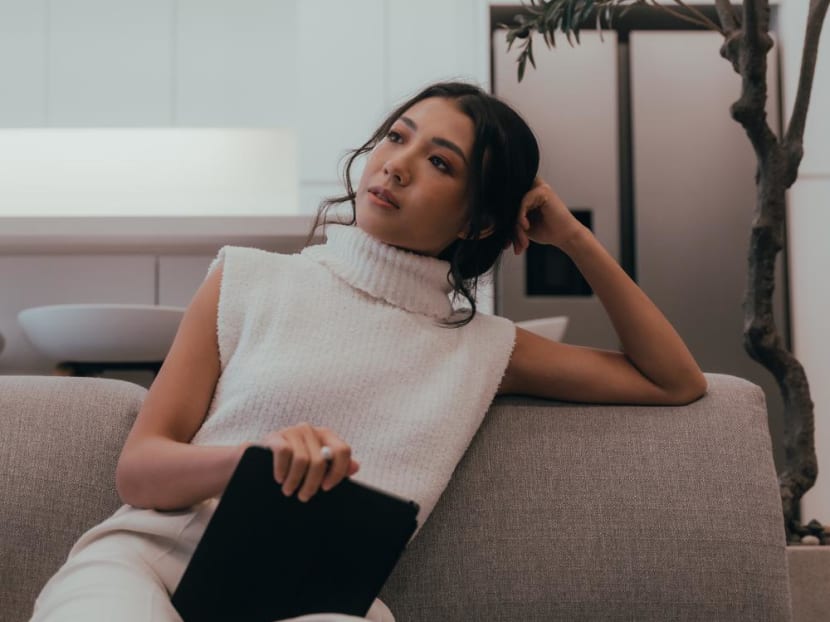 Stick-on or invisible bras isn't a new thing, but breast tape? Fewer women are familiar with it. To be honest, it's not an altogether new product either – but it's a more recent invention that is likely the result of Kim Kardashian's revelation of how she would enhance her red-carpet cleavage look – by lifting up her chest with tape.
The celebrity used gaffer's tape (which is a literal pain to remove) back then but now, of course, women who want the same effect have many choices of tape that is specially designed for use on the chest. Kardashian has since also launched a line of boob tape for her shapewear brand Skims.
In Singapore, a local entrepreneur has also launched her own version of the breast tape. Meet Nicholette Pang, founder of Barebodies, who's made it her business to offer alternatives to "traditional" women's inner wear.
WHAT IS BREAST TAPE?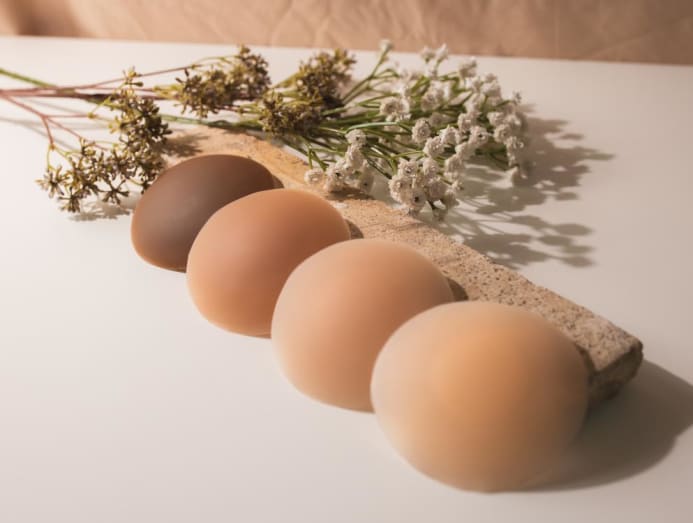 Pang's online business offers two iterations: Nipstick nipple covers and the Liftstick, a transparent breast-enhancing tape that provides a true skin-tone match.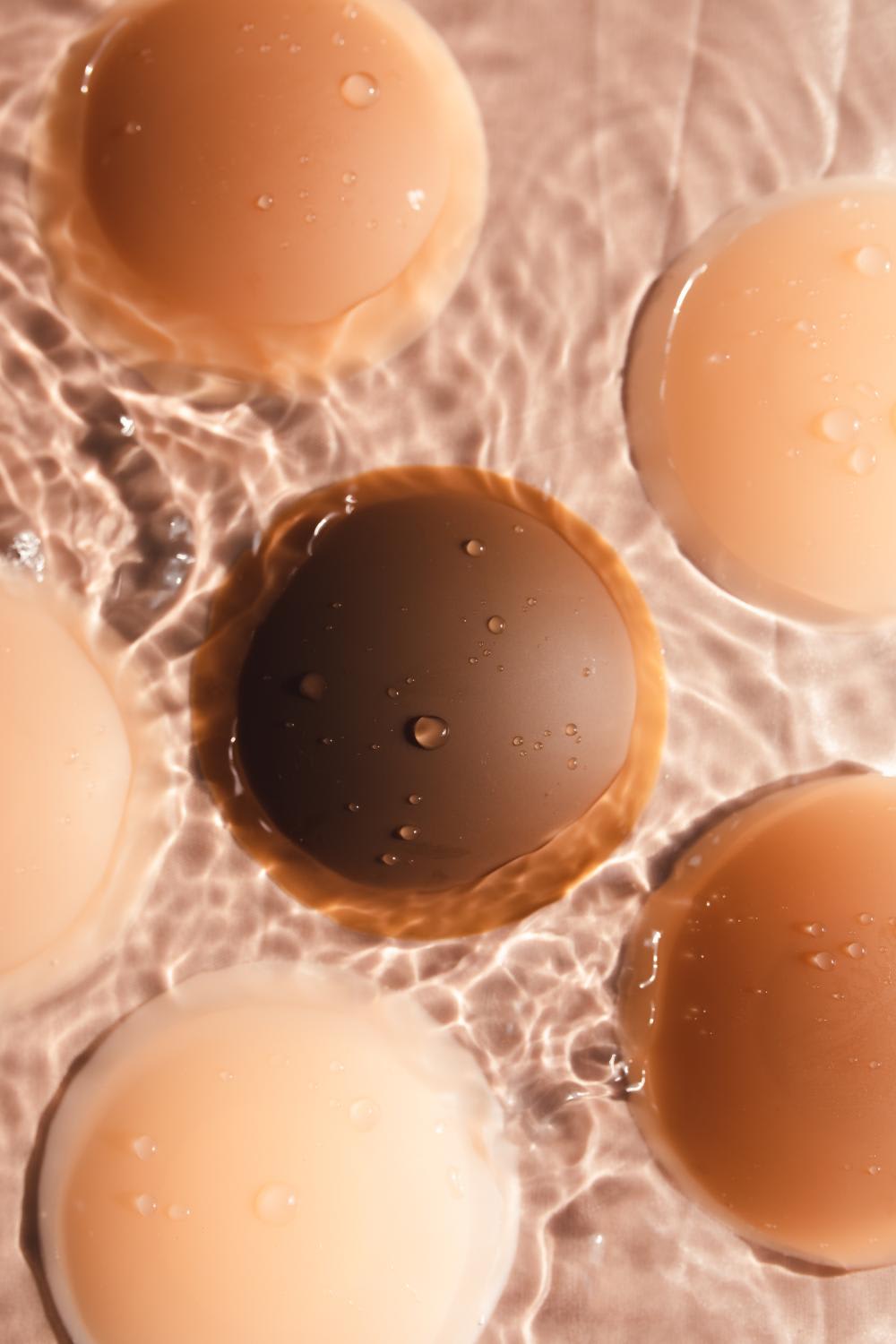 Let's face it – not everyone can or wants to go braless when wearing a backless or low-cut dress. Stick-on bras are a way to go, but they sometimes slip and the centre connector can show under a plunging neckline. On top of that, they are not built to provide adequate lift for heavier chests. Breast tape can allegedly tackle all these problems.
"Boob tape has been an existing product long before Liftstick, even though not many have dared to use it. Personally, I think it is growing in popularity because more products are now in the market, and more people are realising its usefulness to help better shape one's breasts for their outfit. I have used many brands throughout the years, but I wanted to create my own version, which was gentler on the skin – a quality which I find lacking (in many other brands)," shared Pang.
She also pointed out how it can be a lot more versatile compared to stick-on or standard bras. "It can be customised depending on the outfit of choice, which I think is a key advantage. For some others, boob tape is also more comfortable to wear and not as restrictive," she said.
GETTING CREATIVE WITH IT
According to Pang, the process should be customised to one's size and shape, as well as the style of the garment. While there are general guidelines and tips you can follow, there really isn't a right or wrong way to wear the tape.
"Depending on the shape of your own breasts or the clothing that you are wearing, you can cut (Liftstick) to a desired length or shape that you like. The length of tape needed differs for everyone. To prevent peeling, I round off the edges.
Then lift your boob to get the desired lift and tape it down, before applying the Nipstick to cover the nipples."
Still not sure how and where to use it? Pang explained to CNA Lifestyle how to work the tape for every imaginable situation.
HOW DO I ACHIEVE A FULLER LOOK IF I'M SMALL-BUSTED?
Besides being able to provide a lift, boob tape can also be used to create volume near the decollete – in other words, cleavage. It's all about positioning the girls properly before laying down the tape. To achieve a fuller appearance, push them slightly inwards, towards the centre of the chest, before putting the tape horizontally across them.
WILL IT PROVIDE AMPLE SUPPORT FOR LARGER CHESTS?
The size or width of the tape is important. It should correspond with one's cup size. Rule of thumb: The bigger the cup size, the wider the tape.
"The tape can help lift the breasts to an individual's preference securely for up to Cup DDDD – just that a larger cup size might need a broader tape than smaller cup sizes. The 'adhesiveness' of the product is just as strong across all three," Pang said.
WHAT'S A FAILSAFE WAY TO CREATE A NO-BRA LOOK?
If you're wearing a strapless style, for example, apply the tape horizontally across your chest. For a plunging neckline, place the tape vertically on the outer side of each breast – this ensures it stays concealed under your outfit without disrupting the line of the plunging style. If further customising is required, you can even shape the tape by cutting it to suit the outline of your top or dress.
IS IT DIFFICULT TO TAKE OFF?
Its adhesive is, according to Pang, gentler on skin and not time-consuming to remove. Tape with adhesive that sticks too securely to skin can be difficult and painful to take off. If that is the case, soapy water or body oil may be required to help slowly loosen the adhesive.
WHAT ARE THE MOST COMMON MISTAKES WOMEN MAKE WITH THE TAPE?
One mistake Pang's customers tend to make is not shaping well enough when wearing tape. "To sidestep this issue, make time for prepping. If you are going to an important event and it's your first time using it, give yourself a test run so you can plan how to shape it and where you intend to place it – this would also give you a better gauge of how much time you require rather than go straight into it on the day itself," she advised.
HOW LONG CAN IT BE WORN WITHOUT RISKING SKIN IRRITATION?
It really depends. Though sweat-resistant, perspiration does affect the adhesive, so the duration of wear will vary from individual to individual. "Liftstick is gentle on skin, but in the rare case when there is skin irritation, one should stop using it. However, I do not recommend it for those with thin skin, since the tape relies on the skin to hold up the weight of the breast."