USB ports to weighing scales: The best smart hardside luggage, complete with handy high-tech features
Featuring built-in weighing scales, USB ports and even a motorised scooter, this list of innovative luggage helps you power up for a smoother journey.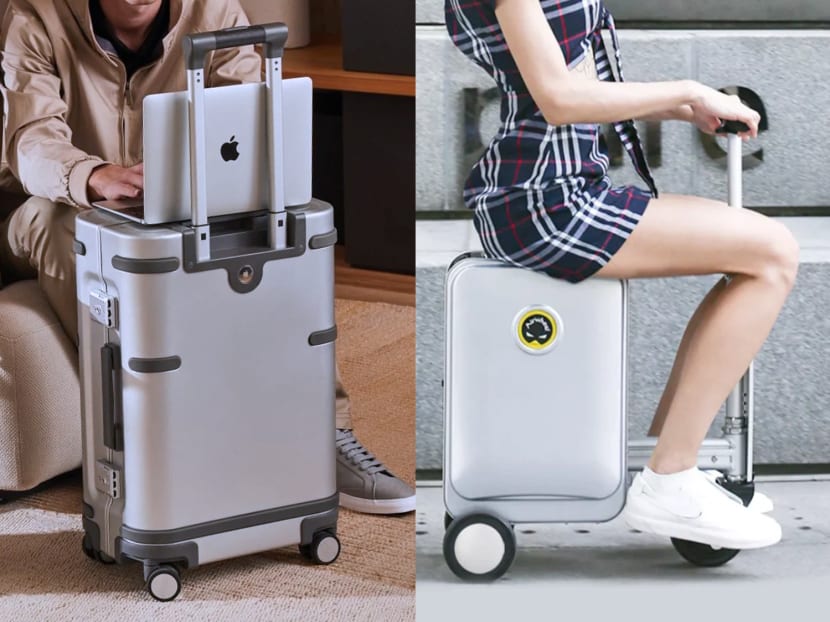 Now that travel is back with a vengeance, airports around the world are thronging with people traversing the globe for work, love or simply to feed their wanderlust. To help enhance the travel experience, a new breed of smart luggage has evolved to include high-tech features aimed at making the journey fuss-free, safer and even a touch more fun.
From trackers, smart locks, built-in scales, app-control abilities and even one that you can ride on as you make your way through the airport (Is it a mini-scooter or is it a suitcase? It's both!), these hardside travel bags are going the distance to take the art of travel to the next level.
But first, you'll need to know what the rules are on smart luggage. According to the International Air Transport Association (IATA) website, "batteries in luggage can cause problems for airlines when they are lithium metal or lithium ion batteries. If you can remove the battery from the smart bag and put it in your cabin luggage, you can check your smart bag. If the battery cannot be removed, the only option could be for the bag to be stored in the cabin. But it depends on how busy the flight is, and is a decision to be taken by the airline".
So as long as the lithium battery is removable or you have a carry-on smart bag, you shouldn't have a problem. But when in doubt, always check with the airline you're flying with.  
Here are some of the most intelligent bag buddies to have with you on your travels.
ENKLOZE X1 WEIGHT WATCHER CARBON BLACK/ROSE GOLD, FROM US$199/S$269.45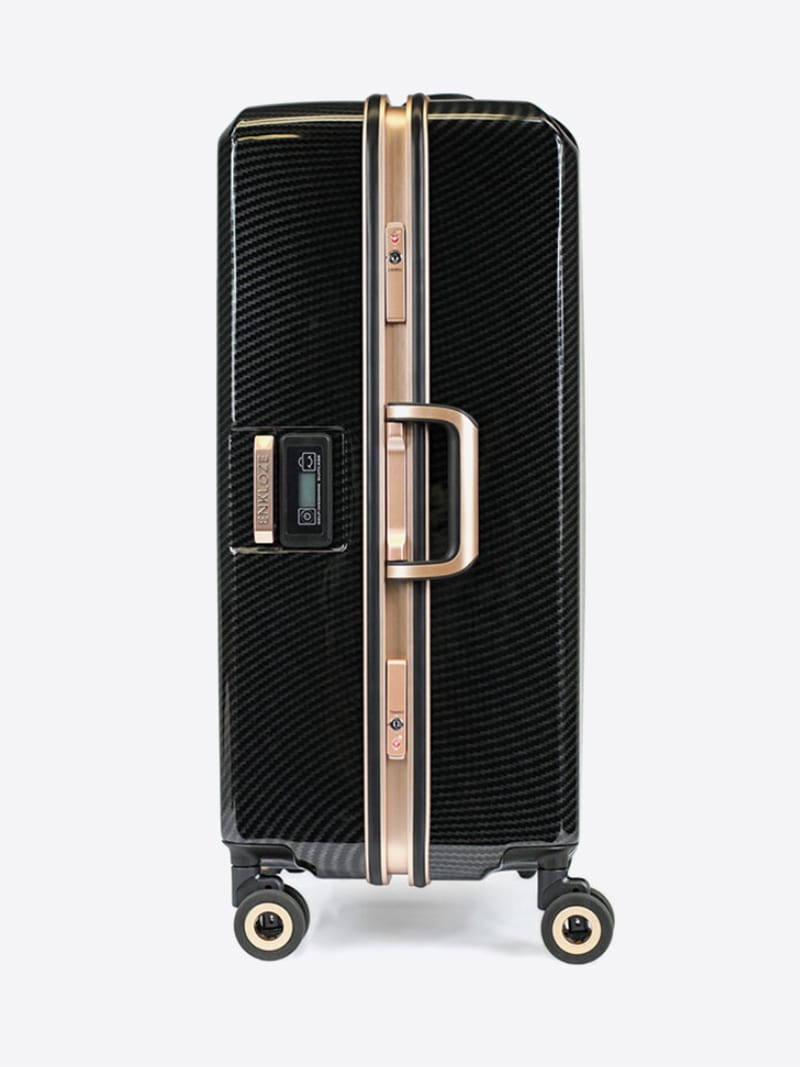 With a scale powered by a small long-lasting watch battery that is removable, you won't end up at the airport with an overweight bag. The black polycarbonate shell and rose-gold trim case is lightweight while the Hinomoto wheels and shock absorbers are set to easily navigate any terrain.
Available here
BEIS THE 26" CHECK-IN ROLLER, US$308/S$417.04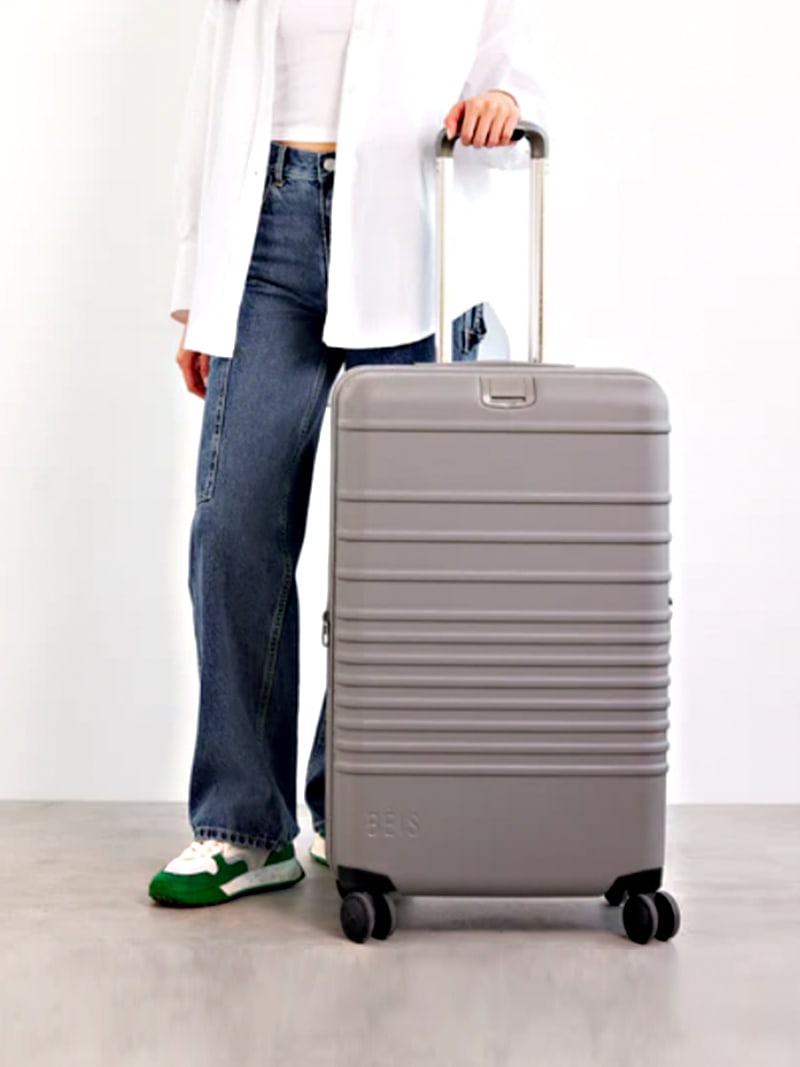 Founded by Canadian actress Shay Mitchell, Beis is a new brand of bags that has received rave reviews from both celebrities and everyday travellers for its attention to quality and design. Not only does it look fashionable, the 26 Check-In Roller has a built-in weight limit indicator and is designed for comfort with an extendable trolley handle with a soft hand cushion.
Available here
SAMSONITE MYTON, S$440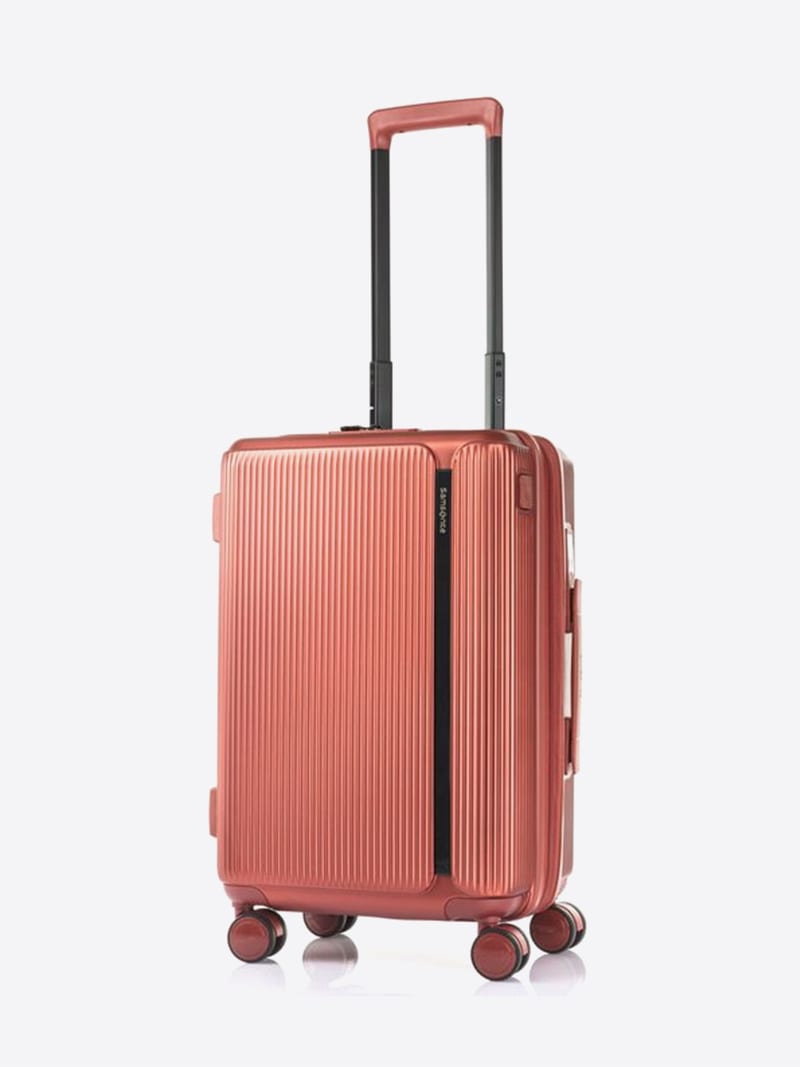 This modern design from the well-known luggage brand features a weighing scale, anti-theft zippers and a TSA008 lock so you'll have peace of mind as you make your way across the world. All three sizes have expanders while the 55cm model also features a USB port so you can charge your electronics on the go.
Available here.
AWAY THE BIGGER CARRY-ON, US$335/S$453.60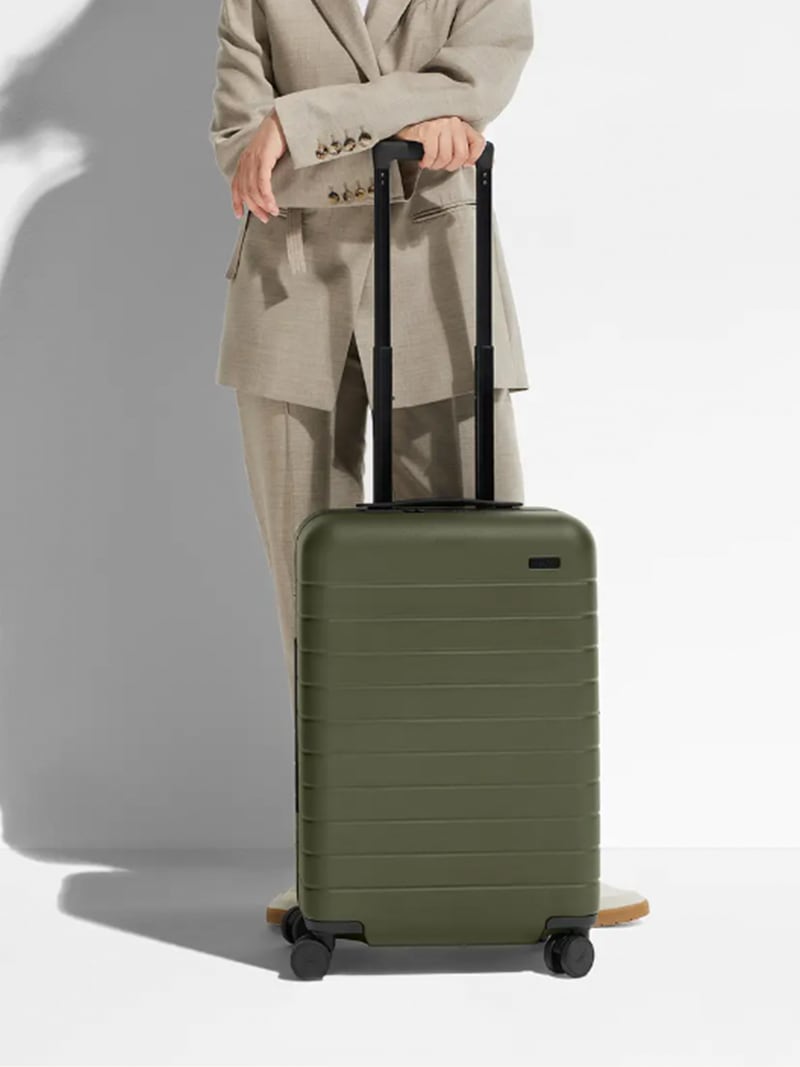 A firm favourite with frequent flyers, this lightweight piece is durable, travels smoothly and can fit more due to its compression mechanism. It has a removable battery pack that you can use to charge your gadgets and there's also an option for the ejectable phone battery model.
Available here 
HORIZN H5 CABIN LUGGAGE, £370/S$631.24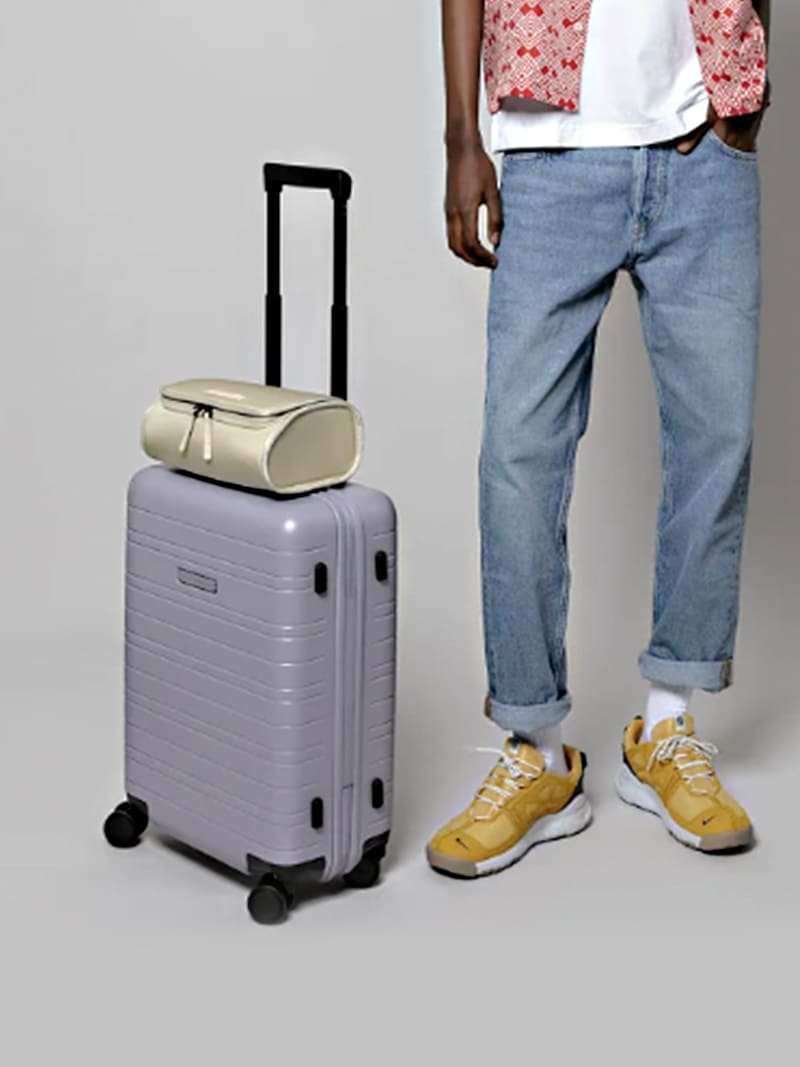 If being sustainable is important to you, opt for this Horizn cabin suitcase with its hard, protective exterior that is entirely vegan and has been made in a way that is 99 per cent waste-free. It features two USB charging ports and its integrated power bank is easily removable in case you need to check in your luggage. There is also a compression pad that helps maximise storage capacity and stops the contents of your suitcase from moving around.
Available here
ARLO SKYE THE FRAME CARRY-ON MAX, US$495/S$670.25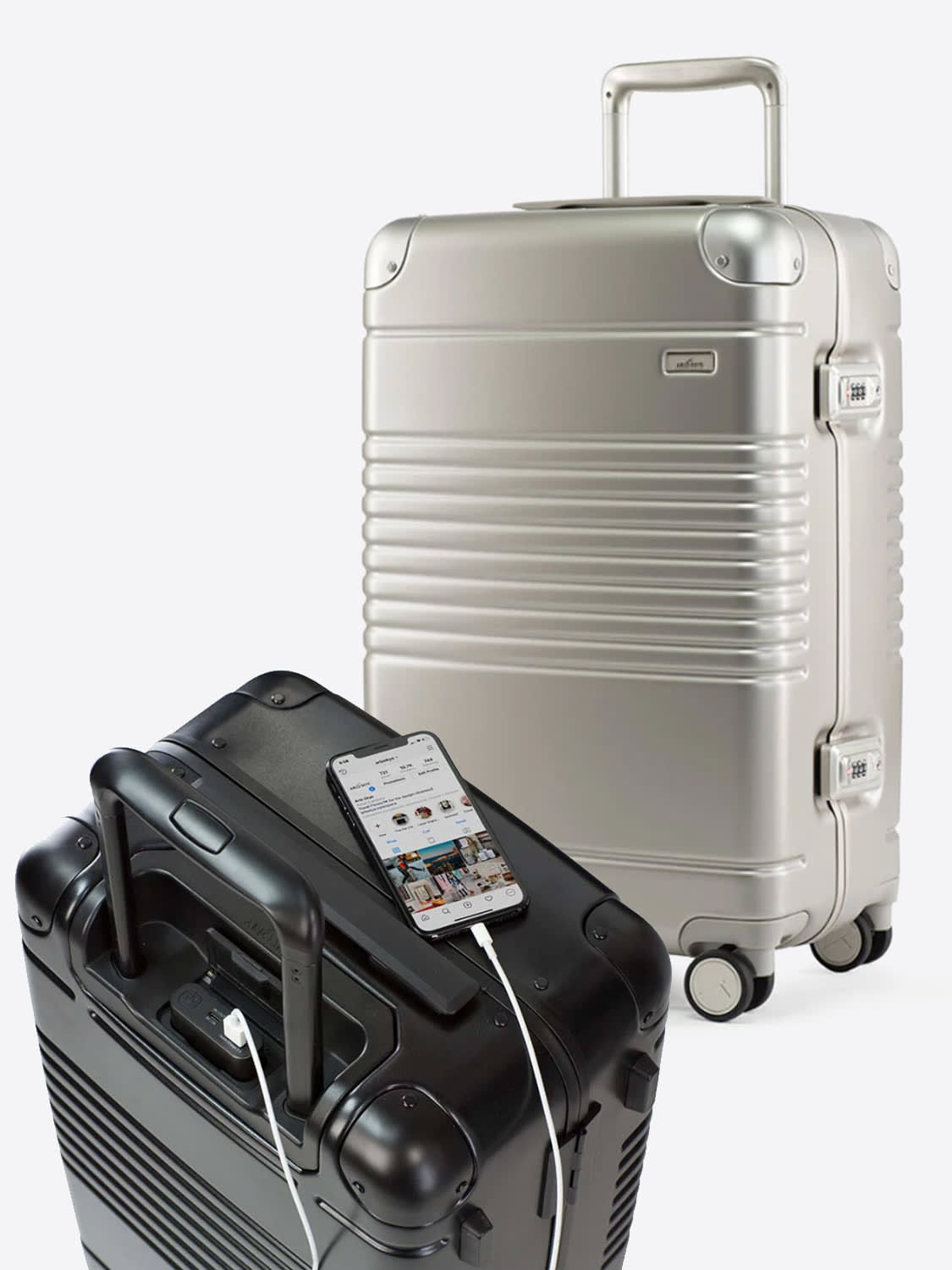 Designed with no exterior zippers, this sleek, aluminium bag comes with a removable external battery with USB-C and USB-A ports to charge a variety of devices. It also boasts Silent Run wheels that are said to be 15 per cent quieter than the regular polyurethane ones, as well as handles wrapped in full-grain leather for comfort.
Available here
SAMSARA LUGGAGE TAG SMART ALUMINIUM SILVER, US$545/S$737.95
Let's face it, you can't get away from apps these days so why not add another one? This beauty comes with an app that can alert you when your bag has been opened away from you. Made with lightweight aluminium alloy, the bag is designed with a flat top that can serve as a laptop stand – perfect for long stopovers when you need to catch up on emails. It has a built-in charger that lets you recharge your electronic devices and with an LED light inside, you can rummage through your bag in the dark without waking your roommates.
Available here
HEYS 21" SMARTLUGGAGE, US$599.99/S$812.29
A high-tech piece that comes with an app and Bluetooth smart lock feature so you can remotely unlock and lock your luggage with your phone. Powered by AAA batteries instead of lithium ion, it also comes with a smart handle with an integrated scale. And for added safety, it has an alarm that will alert you when your luggage is a certain distance away from you (especially useful when navigating crowded airports).
Available here
AIRWHEEL SE3S ELECTRIC RIDE-ON LUGGAGE, US$899/S$1,217.28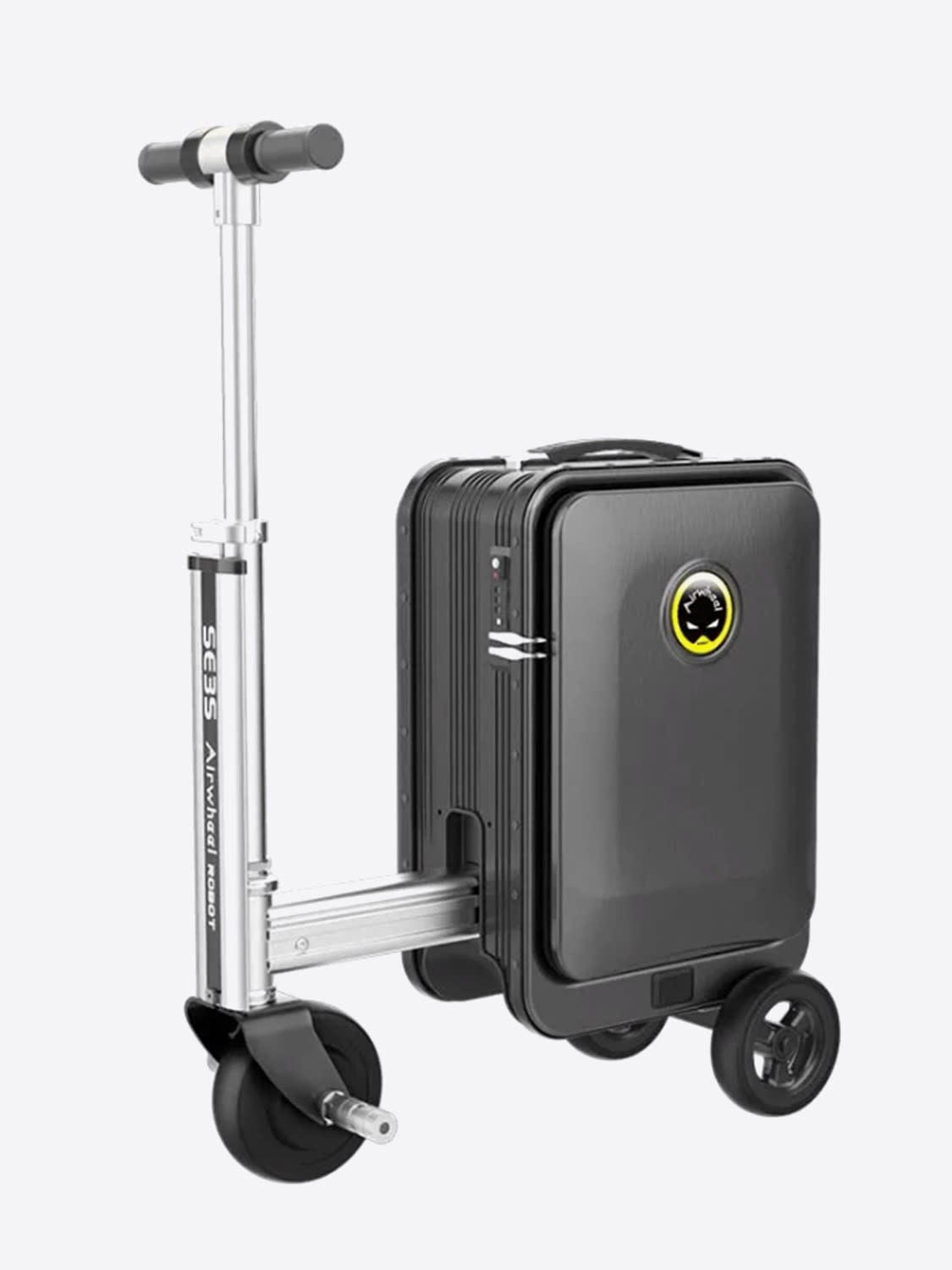 If you're always needing to rush to catch your flight or want a more fun way to zip around the airport, this motor-powered scooter suitcase may be the luggage for you. With a maximum speed of 13km/h, you'll be able to weave through the crowd without breaking a sweat. Its added features include a removable power bank, telescopic handle and puncture-resistant wheels. There's also a version for kids (Airwheel SQ3), perfect for entertaining them during long waits.
Available here