Forever young: How do these age-defying celebrity mums stay looking so good?
From Zoe Tay and Fann Wong to Lee Young-ae and Barbie Hsu, CNA Lifestyle takes a look at their beauty secrets, which range from the typical (like exercising) to the downright strange (pig trotter's mask, anyone?).
Recently, a team of researchers in the Babraham Institute in Cambridge claimed to have successfully rejuvenated a 53-year-old woman's skin cells to look and behave like a 23-year-old's.
Sounds too good to be true? As expected, there's always a catch to feats like this – it seems the technique employed in accomplishing it may increase the risk for cancer, which means there's no way for it to be put into actual use.
Humankind's pursuit of eternal youth may not yet be entirely successful, but there are still many ways with which one can extend it, even if holding on to it forever looks set to be a dream that may never come true. Just take a look at these celebrity mums in their 30s to 50s, who look like they have secret access to the fountain of youth.
What have they been doing to preserve their looks? Quite a lot, it seems – putting in effort is a must if one wishes to continue looking good. Here are some of their personal beauty secrets that help them deflect the ravages of age and remain youthful and shapely.
Longtime spokesperson for Korean skincare brand The History of Whoo, the 51-year-old Jewel In The Palace star exemplifies what ageing gracefully means with her well-maintained skin and natural beauty.
The mother of 11-year-old twins is in favour of harnessing the power of nature – in fact, she even started her own botanical-based beauty brand, Lya Nature, in 2015. She's known to be a fan of a few natural beauty remedies, such as applying raw potato slices to her face as a mask. It seems that potato contains anti-inflammatory components and vitamin C, which can calm and brighten the skin, respectively.
In a previous interview, the star divulged that she relied on grapes to shed her postpartum weight – she would have only a bunch of grapes for dinner over a period of time. The fruit is low in calories and contains resveratrol, which can boost the body's metabolism of fatty acids.
KITTY ZHANG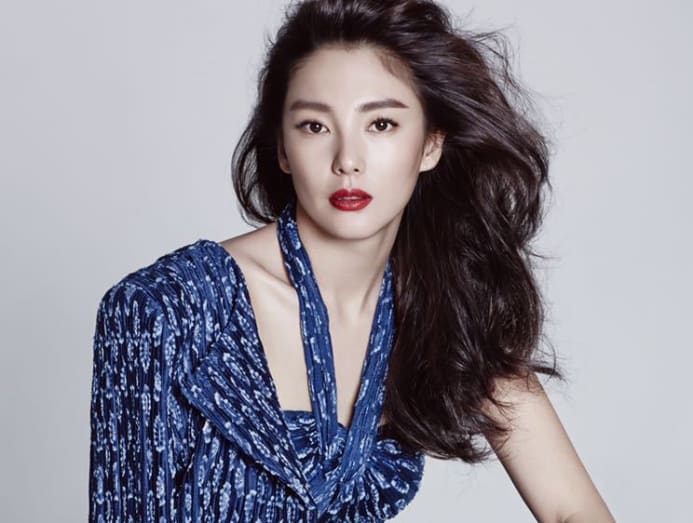 This Chinese actress and mum of twins has some truly eyebrow-raising personal beauty secrets up her sleeve, revealing them on her social media accounts and on TV shows – to shocked reactions.
These bizarre beauty tips include consuming enzymes she made out of rotting fruits, concocting a body mask out of soybean powder and expired yoghurt, and a traditional beauty secret that she claimed that the Empress Dowager Cixi once practised, which involves slathering on a paste made from pig trotter stew.
While Zhang looks great for her age (she's 34), it is unclear if that has anything to do with these "beauty tips" she shared.
At 47, Taiwanese model-actress Lin (who became a new mum earlier this year), remains very much the picture of youth with her enviable figure and crystal-clear skin. Beyond pampering her skin with the right skincare products, she goes the extra mile to prevent moisture loss from her skin.
Lin is known to avoid air-conditioning as far as possible, as it can dehydrate the skin. She also brings a humidifier along wherever she goes – an essential tool for upping moisture levels in rooms.
Once is not enough when it comes to applying serum and moisturiser – she apparently puts on two applications of these two products every time she goes through her skincare routine, in order to make doubly sure that her skin is sufficiently hydrated.
BARBIE HSU
The Taiwanese actress-host is a mother of two and also the author of two beauty books, in which she dispensed personal skincare and body-care tips that have helped her maintain her youthful good looks.
The 45-year-old swears by washing her face with very cold water – doesn't matter whether it's in the summer or winter – saying that it helps tighten the pores and gives her skin a refined appearance. While it's true that cold water can have an astringent effect on skin's pores, it's important to note that this practice may not be advisable for those with sensitive skin as it can cause a flare-up.
Hsu also loves keeping skincare products – sheet masks, particularly – in the fridge, for that same pore-tightening and skin-cooling effect.
Barbie's celebrity sibling, Dee, on the other hand, is known to be obsessed with neck care. She's expressed that the signs of ageing are often the most apparent in this area, and often can betray the real age of a woman, no matter how youthful her face looks.
Besides making sure to extend moisturiser application to her neck and decollete on a daily basis, the 43-year-old host and actress has the habit of doing neck and facial exercises to tighten the area whenever she finds herself with a few free moments. Want to maintain a taut jawline like Hsu has managed to do? You might want to follow her lead.
VIVIAN HSU
Can anyone believe that the eternally baby-faced singer is just three years away from turning 50? The mother of one is quite the exercise fanatic, as observed from her Instagram posts.
Earlier this year, she shared how she dropped nine kilograms in weight within 10 months, with a picture of a now-ridiculously-loose pair of pants she used to wear some time ago. Hsu purportedly works out without fail every single day, even though the duration of each session may vary and her choice of activity may vary from swimming to pounding the treadmill or Pilates.
When it comes to her diet, she cuts down on carbs (but doesn't abstain from them) and believes in not stuffing herself at each meal. Instead, she stops eating when she feels about three-quarters full. Hydration is key, too, as she tries to down two litres of water every day.
The My Love From the Star actress and mother of two will be 41 this year, but can easily pass for someone in her late 20s. Not only is she known for her many iconic fashion looks, particularly those seen in the aforementioned drama series, she's also beloved by beauty brands (having fronted names including Hera and Laneige) for her "glass" skin and knack for pulling off edgy makeup looks.
Jun is known to place a lot of emphasis on her facial-cleansing ritual – she starts with warm water to "soften" and "loosen" sebum in pores, puts on cleanser but doesn't apply it to her skin for too long to avoid stripping it of moisture, and then finishes by rinsing with cold water to help tighten pores.
It's also been widely reported on the Internet that she uses a special DIY mask to achieve her glow. She soaks paper towels in a concoction of facial toner, with some lemon juice and wine, and places the sheets on her face, using them like a mask.
Keeping her beauty regimen simple is the key for Wong, who is known for her porcelain skin. She's not had as much time for skincare ever since she became a mother, but she'll never forego essential steps like proper cleansing, religiously applying sunscreen and skincare fundamentals like putting on moisturiser and eye cream.
She tries to go makeup-free whenever it's possible to avoid troubling her skin, and is extra careful about removing makeup thoroughly at the end of the day, when she wears it. She's also revealed how she'll never go to bed without washing her hair, as she feels that dirt on her mane can transfer to her pillow and face.
ZOE TAY
Tay admitted that she had terrible skin when in her younger days. "My skin was so bad that it was painful for me to watch myself on screen. Since then, I told myself to always take the time to care for my skin," she once told CNA Lifestyle. This is why proper cleansing and ample hydration have become the two pillars of her skincare regimen.
She also is highly particular about body care, making sure to use a body scrub once a week and put on a moisturiser after every shower. "My trick to tackling sudden bouts of skin dryness is to first apply body oil before layering on the body cream. I've been using body cream since I was 18, I just love how velvety skin feels after. When my skin feels good, I feel more confident," she said.
Apart from these skincare practices, she also maintains an active lifestyle and is an avid cyclist. Is there any wonder that the mother of three boys looks as good and fit as she is now at 54?