Like daughter, like mother: Chantalle Ng and Lin Mei Jiao's beauty secrets revealed
For this celebrity mother-daughter duo, less is definitely more when it comes to having good skin – and it doesn't matter whether you're in your 20s or 50s. CNA Lifestyle finds out what goes into their skincare routines both on-cam and off.
In partnership with Clarins.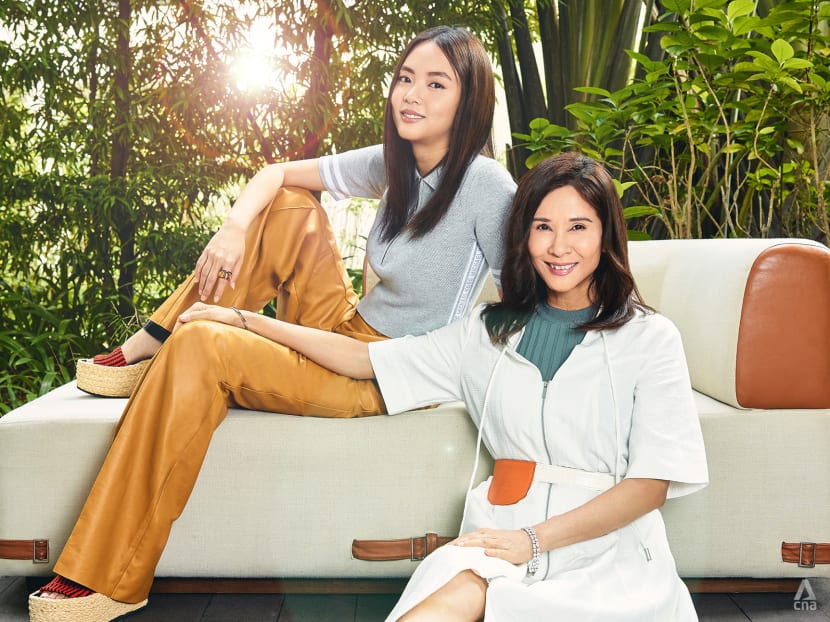 Putting on a sheet mask daily was something actress Chantalle Ng used to do not too long ago, until her work schedule made it difficult for her to keep up with such an intensive masking routine. On top of that, she realised that it made her skin "quite reliant on them".
"On days when I don't use a mask, my skin will become quite dry and I will feel like I need to put on one again. I read that, apparently, your skin may (stop naturally producing the oil it needs and) become dependent on frequent masking," Ng explained.
Nowadays, the 26-year-old relies instead on a more manageable beauty regimen, which she carries out with quality skincare products. "I think that having a good serum and moisturiser to replenish my skin's daily hydration needs can be much more important than masking obsessively. Now, I only use a mask once in a while," she said.
PSA for your next staycation: Don't leave your skincare regime at home – you'll never know when you'll need to look great. Check out CNA Lifestyle's fun short film Staycay with celebrity mother-daughter duo Lin Mei Jiao and Chantalle Ng, done in partnership with Clarins.
For someone whose profession requires her to look her best for the camera, skincare is naturally of utmost importance. Ng knows this: "I find that my skin has to be well hydrated in order for makeup to go on nicely and stay on it. Once it is dry, it will be visible on screen. Basically, if I get lazy about hydrating my skin, you guys can see it. So, I have to always be diligent about moisturising."
COUNTING ON THE FUNDAMENTALS
Ng also confessed to being quite the beauty addict actually, albeit one that goes through passing phases. "When I have time, I do love to explore and try different beauty products. However, when I'm filming, I will stick to the usual few that I frequently use and know I can rely on, because I cannot afford to risk a breakout during filming. At the same time, I am likely to also be tired after a day of filming and will not have time for a 10-step routine," she revealed.
Skin pigmentation never used to bother me, but now, as I'm nearing my 30s, I'm starting to realise that it's a problem I need to tackle – Chantalle Ng
When work gets busy, Ng might occasionally forego masks or exfoliation, but there are some steps that she will never skip no matter how tired or pressed for time she is. These include putting on a serum and moisturiser, applying sunscreen in the morning, and also thoroughly cleansing her face and removing her makeup at the end of the day.
Like many other young women, she's only learned to fully comprehend the importance of using sunscreen in her late 20s. Ng admitted to not always being diligent about it in her early adulthood. "Skin pigmentation never used to bother me, but now, as I'm nearing my 30s, I'm starting to realise that – oh my god – it's a problem I need to tackle. These days, I put on sunscreen religiously, especially when I'm filming, because we are always under the sun when filming."
FANS OF A TRADITIONAL PRACTICE
When asked for a beauty tip, she revealed a new habit that she called a "lifesaver" and which she had even passed on to a few fellow actresses.
"Water retention tends to show on my face, especially on days when I have to wake up very early to prep for filming. So what I have been doing is using a facial roller or 'gua sha' tool in the morning, which really helps to de-puff my face quickly. One skincare product I enjoy using with these tools is Clarins' Double Serum, which has the oil content to provide enough slip for working them across the skin and, at the same time, provides it with nourishing benefits," she said.
Her mother, veteran actress Lin Mei Jiao, is similarly a fan of the same product and facial "gua sha", albeit more for its firming effects on the skin. No surprise there, since Lin is a big believer in traditional therapeutic remedies and has seen the visible benefits that facial massage can bring.
BEAUTY THEN AND NOW
When it comes to skincare, however, Lin's personal experiences and journey are, expectedly, very different from her daughter's. "Back when I was young, not many people knew how to take care of their skin. There definitely wasn't as much awareness about skincare or as many products available as there are now. I simply washed my face, and that was it for my skincare routine," she said.
She didn't have much of a skincare regimen too, even when she started working as an actress. "I remember only ever using one product, which was a multipurpose face cream that was very popular back then. It was only when wrinkles and pigmentation started appearing in my late 30s that I realised the need to care for my skin," she said.
I like to keep things simple and easy for me to accomplish, which is why I appreciate multitasking products – Lin Mei Jiao
Now that Lin is in her 50s and has so much more in the beauty department to choose from, she makes the effort to maintain a proper skincare regimen, even though it is fairly basic. "I'll cleanse my face, put on toner, followed by a serum and a moisturiser, and sunscreen in the day. I like to keep things simple and easy for me to accomplish, which is why I appreciate multitasking products that are effective, such as Clarins' Double Serum," she said.
Lin agreed that it's never too late to start a good skincare routine. "Also, you cannot afford to be lazy about skincare once you reach your 50s. Putting on sunscreen is especially important and something I wished I had realised much earlier," she pointed out.
She looks out for products that are targeted at anti-ageing and hydration, which are two of her main skin concerns.
"Personally, I experienced a period of time in which my skin became very dehydrated, which is why now I make an effort to put on an adequate amount of moisturiser and serum. It's also worth paying more for quality products that work better, since skin at my age needs the extra help," she divulged.
While chatting at length about physical beauty, Lin reminded us that what's on the inside counts as well.
"People tend to focus more on what's superficial. I agree that what's on the outside is important, but what's inside is just as important too. Our health, diet and mood are also factors that can impact how we look. Besides using quality skincare products, it's equally important to eat healthily and take measures to relieve stress and keep yourself happy too," she said, sharing but one of the pieces of advice she has made sure to impart to her daughter.
Special thanks to Sofitel Singapore Sentosa Resort & Spa.
(Photography by Alvin Teo, art direction by Jasper Loh and Chern Ling, styling by Lena Kamarudin-Tambunan, styling assistant Muhammad Sadiq Bin Mohamad Shah, hair by Gabriel Yuen, make-up by John Lee.)