How designer Bessie Ye's 'creative vomit' led to fashion label Rye's beautiful, minimalist wardrobe staples
In this week's Creative Capital, we meet fashion designer Bessie Ye who founded her own label six years ago when she was just 26. Last month, Rye opened its first brick and mortar store and is regarded as one of the top local brands for inclusive, practical, minimalist but beautifully designed womenswear.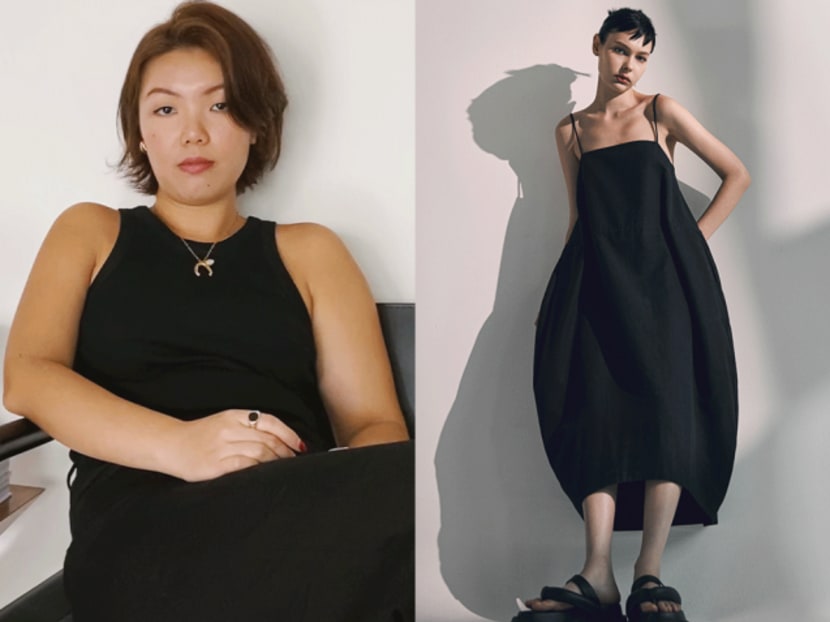 Bessie Ye is busy. For the past six years, she's been running her fashion label Rye, producing beautiful minimalist clothes inspired by Ye's belief that "less is more". She wants to make clothes that are wardrobe staples, that work perfectly in the office but can also be "off-duty" favourites.
Having built enough of a local fanbase to invest into a physical boutique Ye and her team have just opened their first brick and mortar store in Cluny Court. In celebration of this milestone, I had a chat with this enterprising 32-year-old entrepreneur and designer.
HI BESSIE, WERE YOU DRAWN TO FASHION EVEN WHEN YOUNG?
Subconsciously yes. I think fashion to me is a way of life. It's instilled value in me since young to dress up, explore different styles and have fun with it. 
WHEN DID YOU FIRST THINK ABOUT BECOMING A PROFESSIONAL DESIGNER?
It was actually only when I was in school training in fashion design. Honestly, it is still kind of wild to me now, knowing that I can do this as a profession. 
WERE YOUR PARENTS SUPPORTIVE?
My mother wasn't, at least not at the start. Not until she saw how dedicated I am. 
WHERE DID YOU TRAIN AND WORK BEFORE DECIDING TO START YOUR OWN LABEL?
I went to school at Temasek Poly, and majored in Apparel Design and Merchandising. I had a memorable internship in Sydney, Australia, with fashion designer Akira Isogawa. That experience altered how I see the world and how I'd like to be developed as a designer. 
Right after school, at 20, I had a stint working as a junior designer with local emerging fashion labels, followed by a fast-fashion company where I spent four years as the Head of Merchandise, which was a very different ball game.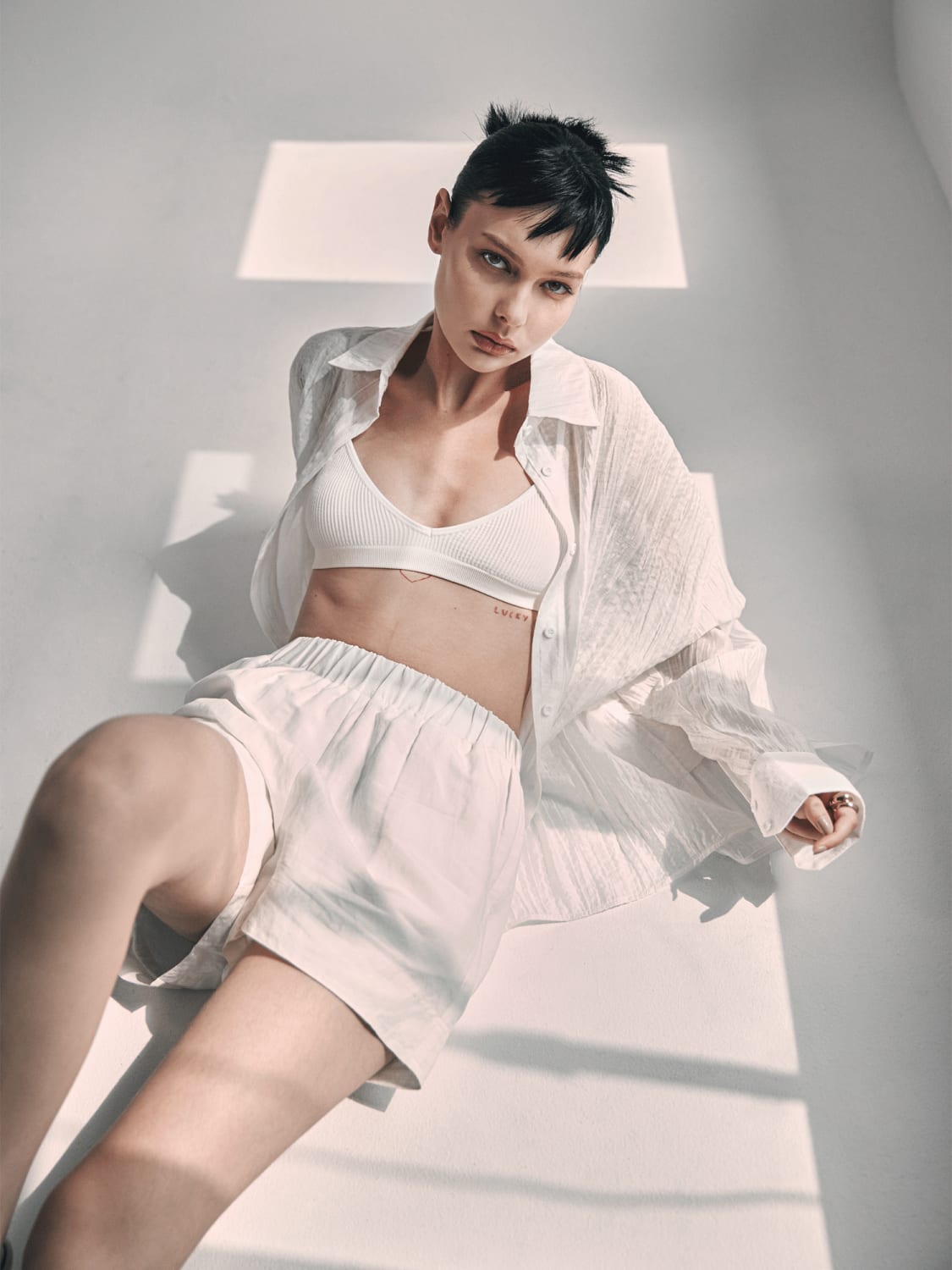 Finally, at 26, lo and behold, I started my fashion label Rye, and never looked back. 
LOOKING AT YOUR OWN DESIGNS, DO YOU SEE CREATIVE INFLUENCES FROM YOUR PAST MENTORS IN YOUR CLOTHES?
Yes and no. I think, to begin with, there was already a distinctive design sensibility there. Along the way, many creative geniuses I've worked alongside have helped shape me and refine my design approach and skillsets. 
WHAT GAVE YOU THE CONFIDENCE THAT YOU WERE READY TO START YOUR OWN BRAND?
To be honest, I was never really that confident. Far too many fashion labels fail. It is too daunting to even think about it. I think what happened was I sort of fell into it. It was both exciting and nerve-wracking at the same time. One thing led to another, and here I am with this big task; quitting is no longer an option. 
WHAT IDEAS AND THOUGHTS INSPIRED FOR THE VERY FIRST RYE COLLECTION?
It was like a creative vomit. Everything I've learned and longed for was reflected in the debut collection. I wanted it to be clean, crisp, understated and discerning, just like a blank canvas – a new beginning. 
CAN YOU ELABORATE A LITTLE MORE ON YOUR PHILOSOPHY OF "LESS IS MORE"?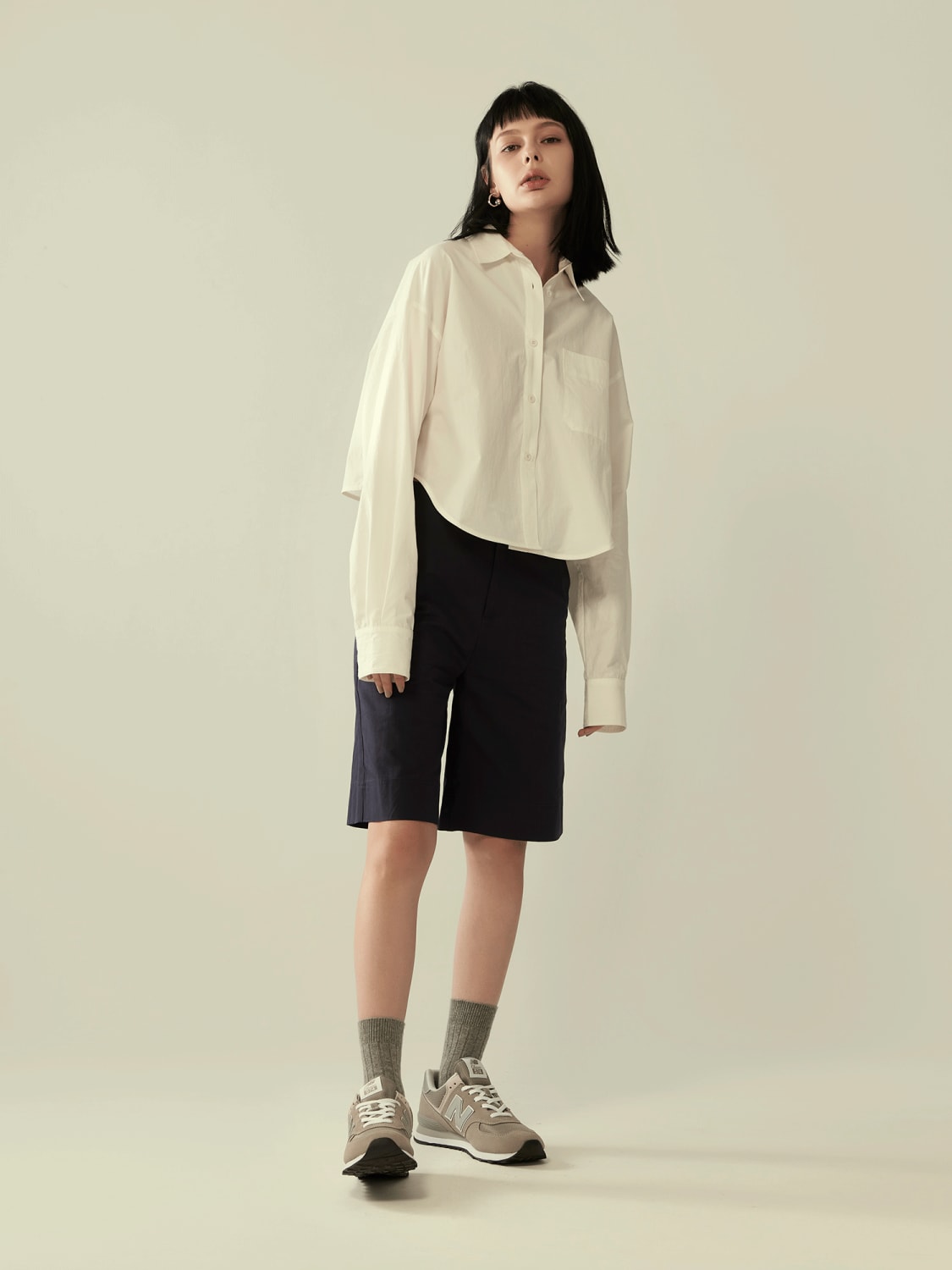 I think a lot of my learning and personal journey has greatly influenced the creation and branding of Rye. I was so burnt out from my previous role, and I went on a quest to find balance and contentment. Through my journey, I learned that I don't need to have a lot to be happy. And great design is not about adding more details and embellishment to be considered good. Less is better. It allows us to be more focused and less cluttered, so we gain more clarity. And I apply that philosophy to everything we do here at Rye and in my life too. 
HOW HAS THE STYLE AND VISION FOR RYE EVOLVED OVER THE LAST 6 YEAR?
Change is only constant, right? I think it is important for us to evolve as time and our surrounding changes. Looking back, I think I've stripped away a lot of "risky" ideas. I'd like to go back to being more experimental and not take design too seriously. Have fun with it!  
AND HOW HAS THE BUSINESS EVOLVED?
I believe great businesses are built by great people. And our team members have changed a lot since. Being a young designer with no prior business background, I've experienced a decent amount of both pain and gains. My objectives changed. I become more expansive and, frankly a much better leader when I learned to empower and delegate. 
We are now on our sixth year running the brand. And I am stoked to announce that we finally found our first brick-and-mortar store at charming Cluny Court. 
WHO IS THE RYE CUSTOMER?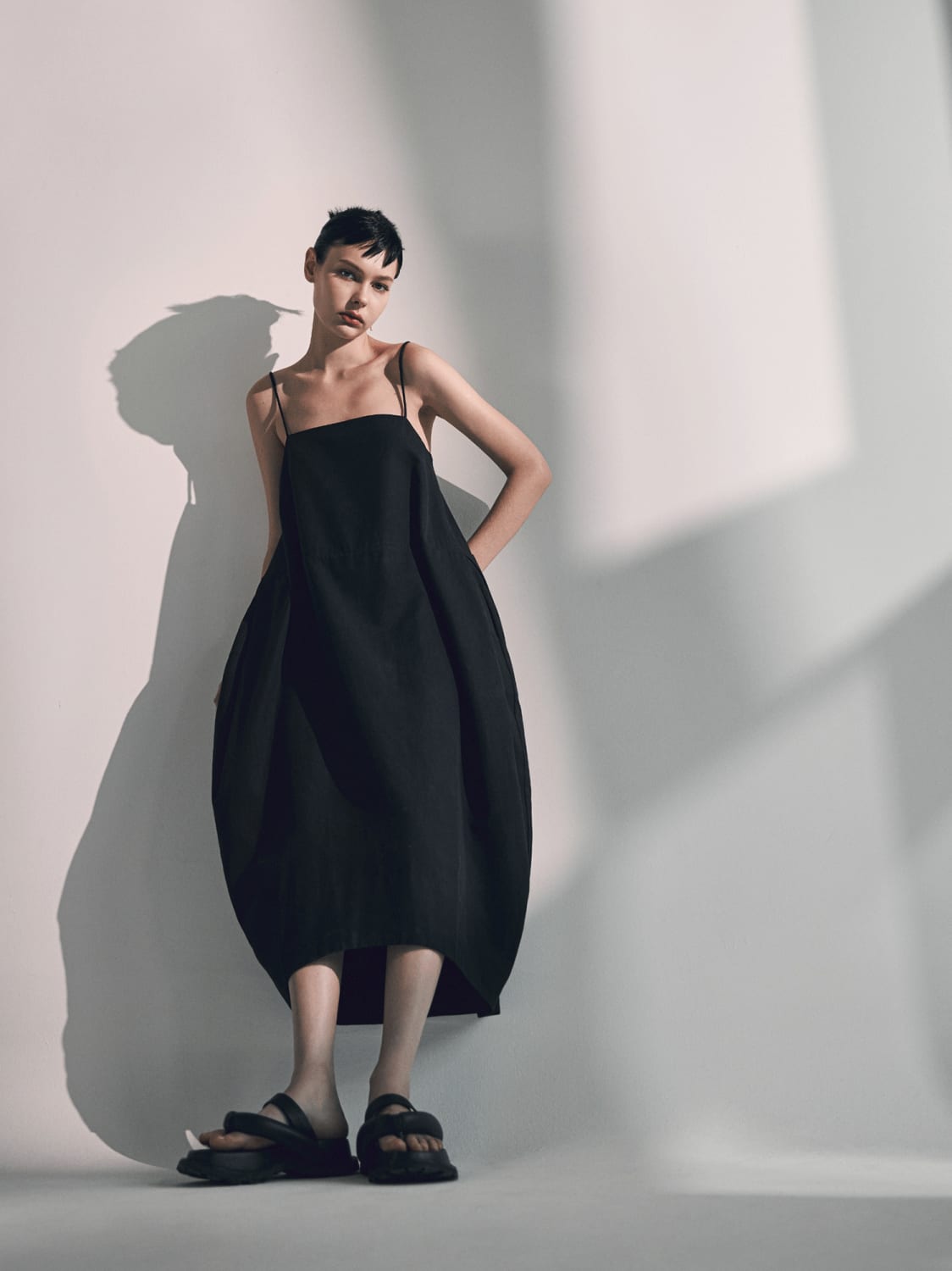 She is unstudied, clear and considered. 
WHAT ARE YOUR HERO ITEMS? 
At our core, we do very well in the wardrobe staples realm. Pieces that are fundamental to any good wardrobe. That includes a well cut, washed cotton shirt; a pair of effortless fluid flared pants; a relaxed fit dress with a sculptural silhouette; everyday crew neck sleeveless tee; and rib-knit tanks that pairs well with almost anything and everything. 
AND WHAT IS YOUR OWN PERSONAL FAVOURITE FROM YOUR COLLECTION? 
That's hard. I am biased because I spent so much time and effort developing every piece in the collection, and everything becomes some sort of object of affection. If I had to choose, currently, I would say our cropped oversized cotton shirt. I love the simplicity of it, but it's also not so straightforward. I put a lot of consideration into perfecting the proportion and the unexpected curve hemline to make it slightly interesting. And I love washed cotton – always and forever. 
WHAT IS YOUR CREATIVE PROCESS LIKE? HOW DO YOU GET INSPIRED AND THEN DESIGN A PIECE OR COLLECTION?
My creative process usually starts from the constant dialogue between the world of art, design and fashion. 
I am inspired by art movements (mainly from the early 20s), fashion photography, films, interior design, architecture, mid-century modern furniture (Germany and Belgium vintage makes me very excited!), nature, food and wine. 
It starts by forming an idealised world in my head with everything that excites me. Followed by breaking down these ideas into smaller bits, figuring out how to connect the dots and finally resolving one problem at a time. I don't think there is any hard and fast rule. Creative process moves freely in and out of my mind. 
WHAT HAS BEEN THE MOST CHALLENGING PART OF RUNNING YOUR OWN BUSINESS?
Possibly recruitment. The heart of every good business is the people behind who give their best every day. Workspace culture is something we take seriously, cultivating and ensuring we hire the right people who align with our values. 
As a solo founder, I can't do everything myself. But I obviously didn't think that way when I first started out. 
I wished hiring was straightforward, but it's not. Hiring is very trial and error. To me, the working chemistry needs to be formed, and everything needs to happen effortlessly at the right time and at the right place. 
The best thing that happened for me and the business was I got to design my own dream team. And through this process, I've learned so much about myself – my strengths and weaknesses, what are the things I am good at doing, things that I am average at doing, and things I am horrible at. It's true when I say Rye is my guru. There are so many valuable teaching I've learnt from running the business. 
I am grateful for being able to work with a good tribe of like-minded people; we share common goals and values. When we are passionate about our work, we excel in it. And as a result, that makes work fun and almost doesn't feel like work. That liberates and inspires me every day. 
WHAT DO YOU WISH MORE PEOPLE KNEW ABOUT YOUR BRAND AND YOUR PRODUCTS? 
I wish for people to look to Rye when seeking a refresh in their wardrobes. Quality pieces that they will purchase now, and love forever. We understand that the contemporary woman today wants an understatedly cool ensemble for her day-to-day, without having to appear like she tried at all. 
Essentially, our aim is to blur the line between pieces that are distinctly workwear and off-duty. We strongly believe that our pieces are perennial and versatile in that sense.
The Rye DNA has always been about bringing together timeless style, with a refined workmanship providing endless styling, regardless of the occasion.
WHAT'S THE DREAM FOR RYE?
We believe that we've gained a loyal cult following locally. But I do envision the Rye brand also being established out of Singapore at some point. It would be extremely exciting to explore new markets, all while making it accessible for like-minded individuals to discover and fall in love with the brand. 
With that foresight in mind, we believe that it will also eventually help us diversify our product offerings accordingly, as well as developing new consumer's needs moving forward. 
Besides fashion, I do enjoy hosting and entertaining close friends – it's my love language. Exploring a lifestyle concept in relation to that could potentially be an extension of the Rye brand. Like a monthly supper club, or a wellness retreat bi-annually for starters.
ANY EXCITING PLANS FOR THE REST OF 2022 THAT YOU CAN SHARE WITH US?
We have just hit a significant milestone this year by opening our first retail boutique. It's in Cluny Court so do please drop by. As for the rest of this year, we would very much like to focus on R&D. A new collection drop is aimed to release this September. And closer to the end of the year, we want to establish more creative collaborations with like-minded designers and dive deeper into lifestyle-related items. We have so much in store for our community and can't wait to share!