This Singaporean fashion photographer runs a virtual modelling agency with CGI models
In this instalment of Creative Capital, we meet Shavonne Wong, a familiar face to fans of Asia's Next Top Model. When COVID-19 hit last year, she had to pivot like everyone else – and that included going virtual and even selling NFT artworks.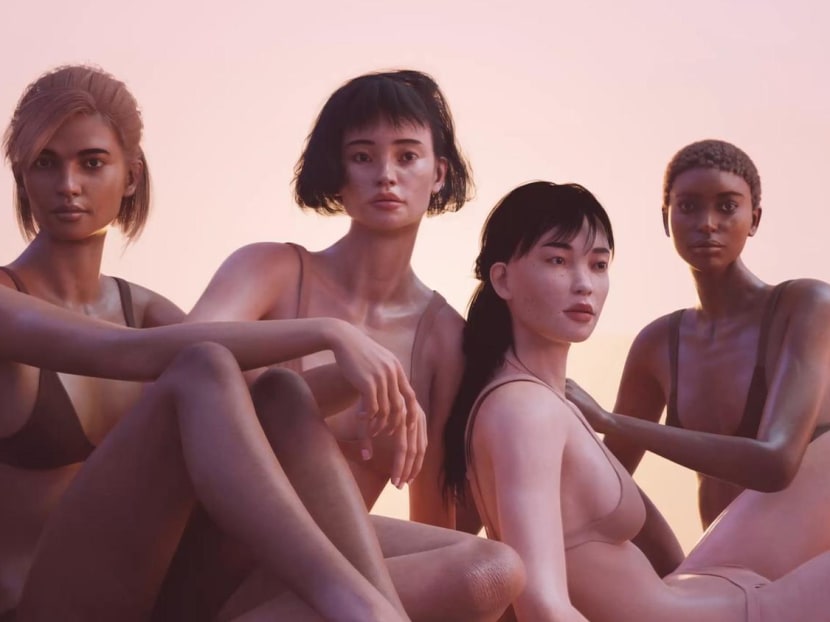 The pandemic has certainly disrupted our lives. For many of us, the transition to working from home, while occasionally frustrating, has been manageable. But for many creatives, whose work is dependent on human interaction, the pandemic has adversely affected their livelihoods. Case in point, when COVID-19 hit last year, fashion photographer Shavonne Wong, who many of you might know from her appearances on Asia's Next Top Model, had all her shoots cancelled or postponed.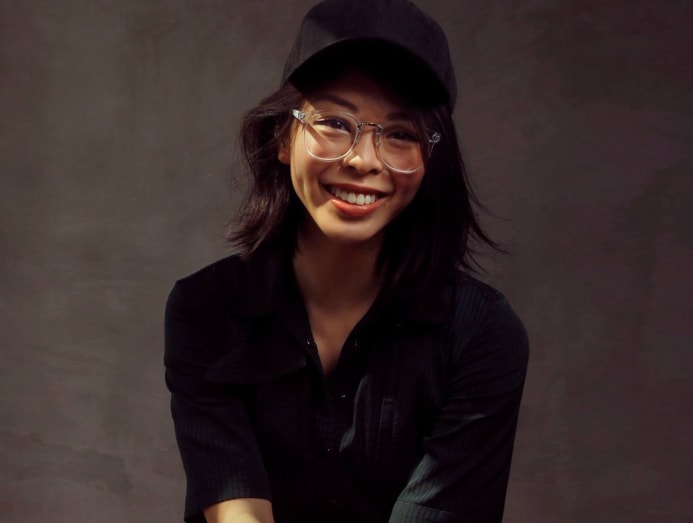 This enterprising 31-year-old Singaporean creative, however, has used this setback to pivot and find new opportunities. One of these is the launch of an innovative virtual model agency, that uses computer graphics to create virtual models whose "shoots" are no longer dependent on weather, safety regulations or any other physical restriction. The other opportunity Wong has seized is the burgeoning NFT art market. She has created and successfully sold several beautiful NFT artworks.
HI SHAVONNE, WERE YOU ALWAYS CREATIVE, EVEN WHEN YOUNG?
Yes. From very early on, I've always loved doing creative things. I was constantly doodling and drawing for the fun of it. Mainly visual creative stuff though – I've zero talent in music and dancing, which I came to realise through my 10 years of pianos lessons and many failed attempts to learn dance. Hahaha.

DID YOUR PARENTS ENCOURAGE YOUR CREATIVITY?
I'm incredibly thankful for my very supportive parents. I don't think it was ever a surprise for them that I wanted to go into the creative field since I was constantly drawing as a kid, but I'm grateful that they did not try to push me towards any of the stereotypically "Asian parent-approved fields" like medicine or law. I was very lucky to have food in the fridge and a bed to sleep in, that afforded me the peace of mind to go into photography, taking risks and focusing all my energy into being as good a photographer as I could be.

WHAT GOT YOU INTO PHOTOGRAPHY?
I love the stories of photographers whose grandfathers were also professional photographers who handed them their camera to go on and continue their legacies. But to be honest, I got into photography because I was bored and wanted to explore something new. I had just graduated from polytechnic at that time and was flipping through fashion magazines and thought to myself, "Oh, this can't be too hard." Hahaha, famous last words.
The first thing I did was to borrow a camera, rent a studio and drag my sister there for a photoshoot. I had no idea what I was doing and had to ask the studio owner to help with setting up the lighting, but I remember having a lot of fun so I just went on doing more and more shoots. Eventually, I started getting small jobs here and there which gradually grew more and more and before I knew it, it was a career.

YOU WERE A RECURRING PHOTOGRAPHER ON ASIA'S NEXT TOP MODEL. DID YOU ENJOY THOSE EXPERIENCES?
Yes, of course, I grew up watching America's Next Top Model so getting to be part of the franchise was honestly incredible. It was certainly different from the usual photography shoots I've been part of and being in front of the camera is so far out of my comfort zone, but it was very enjoyable.

WERE YOU INSPIRED TO CONSIDER MORE ON-CAMERA TV APPEARANCES IN THE FUTURE?
Sure, it was a great experience and I'm very fortunate to have been able to be part of it. Also, I think as a creative I have learnt through the years that marketing one's brand is just part of the job scope. You can't be hired if nobody knows you exist. TV appearances like these are great for boosting brand image and it's something I keep in mind too.
HOW DIFFICULT IS THE LIFE OF A PROFESSIONAL PHOTOGRAPHER IN SINGAPORE? DO YOU HAVE TO DEAL WITH MISCONCEPTIONS ON WHAT YOU DO?
As a freelance creative, there is always going to be ups and downs. People also think that the fashion industry is incredibly glamorous but truth to be told, there actually isn't that much money in it.

WHAT WAS THE BEST SHOOT YOU EVER RAN?
My most favourite shoot is definitely the one I did with Billy Porter. Firstly, I'm just such a huge fan! Secondly, I'm really used to photographing models and more often than not, we need them to be blank slates so we may mould them to the stories we want to tell. Photographing Billy Porter though was truly trying to capture moments of someone with such a big character. It was a wonderful experience. Also, music was played during the shoot and he sang along to it which in my head equals to me getting a private performance.

AND WHAT WAS THE MOST DIFFICULT?
The America's Next Top Model shoots were pretty crazy as they usually meant a whole day shoot and an overnight edit so they would have images the next day for the judging panel. Plus the added stress of being on TV! But still an overall very fun experience.
HOW HAS THE PANDEMIC AFFECTED YOU AND YOUR BUSINESS?
During the time when COVID-19 first hit, photoshoots were just flat out not allowed so that meant that all the jobs I had were all cancelled or postponed indefinitely. When that happened, I figured that if I can't work with real models, I'll just create my own. That was when I decided to pivot into 3D and spent the whole of 2020 focused on learning how to create realistic humans in 3D.

LET'S TALK ABOUT THAT. WHAT EXACTLY IS A VIRTUAL MODELLING AGENCY?
A virtual modelling agency is basically like a typical model agency, except instead of real models, all the models in the agency are virtual CGI humans.
 
I started working on this in April 2020 – it took me approximately a year to reach a standard that I was fairly contented with. I'm still constantly learning new tricks and techniques while practising all the time to make them even better.

WHAT ARE THE LIMITATIONS IN HOW YOU CAN USE THESE MODELS?
Generally, there aren't limitations. That's what so appealing about this, that with the virtual models, the possibilities are endless. Just that perhaps with the 3D space, literally everything will have to manually created. Example like if I was doing a photoshoot, putting an earring on my model is incredibly easy but in 3D, the earring will have to be manually created first.

HOW DO YOU MAP A CLIENT'S PRODUCTS ONTO THE MODELS?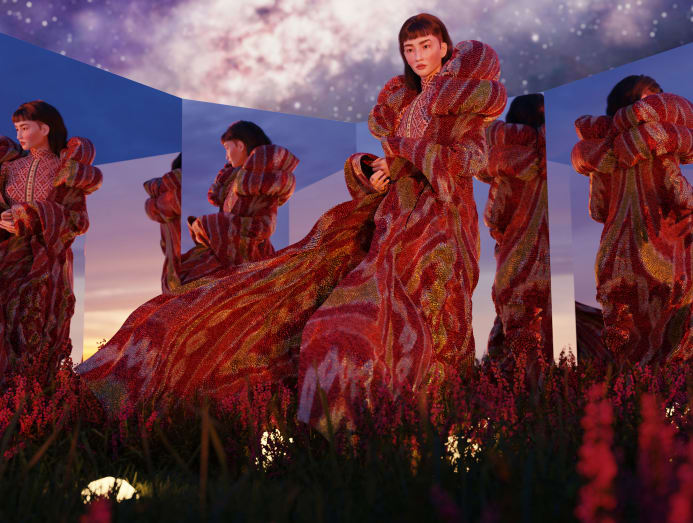 Creating 3D garments is very similar to creating an outfit in real life. They use the same methods with the pattern cuttings so that's usually the first thing I need from the client along with the actual garment patterns. The main software I use for clothing 3D is Marvelous Designer where the outfit is created and then draped onto the model.

HAS IT BEEN HARD TO CONVINCE CLIENTS TO ADOPT THIS IDEA?
Yes, it's been a little tricky trying to explain it to clients who might be a little hesitant to adopt early-stage technology. Many clients are very used to the traditional way of doing things and did not understand the requirements and different needs that come with creating results using virtual models in a 3D space.

TELL ME ABOUT YOUR ENDEAVOURS INTO THE WORLDS OF NFTS. WHEN DID YOU FIRST DISCOVER NFTS AND WHAT DID YOU THINK?
In February this year, my husband was the one who introduced me to NFTs. I found the idea of it very interesting and was drawn towards being able to create artworks with no outside direction and actually earn from it. Having royalties from the secondary market implemented automatically through smart contracts was also very appealing.
When I think of the future, I very much believe in a very virtual future which means that if you think of NFTs as digital assets, they will likely be here to stay. Looking at the kids nowadays on Roblox/Fortnite, there's no online and offline world, it's one world. Seeing that they are the future generation, going into the metaverse will be a very seamless transition for them.
I think it's very cool for artists that NFTs boomed for art but I believe that NFTs will be used to basically form everybody's online avatar's personalities through the art NFTs they own, music NFTs they listen to or fashion NFTs that they wear. I'm the sort of person who already has fun dressing up my characters when playing video games so the concept of NFTs in the metaverse made total sense to me.

HOW HARD WAS IT TO START MAKING YOUR OWN AND SELLING THEM?
I already had a couple of my models at a standard I was happy with, so it was really about putting them in a setting, lighting them, etc. Very much like a photoshoot. It was really exciting actually because I also got to experiment and try out a lot of things that I would not be able to do in real life. In 3D, I did not have to worry about silly real-world things like gravity or putting my models in space. I suddenly had a lot of artistic freedom to do whatever I wanted in my own personal voice.

My first few pieces all sold pretty quickly once I minted them so it all actually went really well for me. Majority of my works have been sold out and I've gotten really good feedback on them. It's very flattering to be honest.
DO YOU THINK THAT WITH THE CREATION OF THINGS LIKE NFTS, THE ART MARKET IS BEING CHANGED RADICALLY?
Yes. I believe it cuts out the middle man such as galleries, but it does put the burden of marketing and pricing straight on artists' shoulders. Smart contracts also mean immediate payment when a piece is sold without the need to send invoices or contact clients about late payments. Getting royalties on secondary sales is also pretty sweet as it means that artists get to be paid when their works are resold for an extra value.

FINALLY, WHAT INSPIRES YOU TO GET OUT OF BED?
Doing new art, experimenting more with 3D and learning more about the technology.

AND WHAT KEEPS YOU UP AT NIGHT?
Wondering if people like my art. The work I create for NFTs are personal work with no outside direction, which means that it can be incredibly freeing while also terrifying. Whenever I put out new work, I feel really vulnerable. I'm still a sensitive artist at heart after all. Other than that, it's just the knowledge that we're living through revolutionary times and wondering if I'm properly making use of the opportunity I have here.