Crocs, but make it (high) fashion: Would you buy these designer clogs from MCM?
The German luxury fashion house announced a collaboration with the brand behind the well-known foam clogs, which will see them redesigned with a "maximalist" twist. 
Crocs has been seeing something of a resurgence lately, with their clogs regaining popularity on social media due to collaborations with influencers and artistes including Justin Bieber and Diplo. 
But once again, the polarising foam shoes – which have received reviews ranging from praise for their comfort and denunciation for being "too ugly" – are getting elevated into the realm of high fashion.  
German luxury fashion house MCM announced a new collaboration with the brand on Wednesday (Jun 29). 
The collaboration will see MCM reimagine Crocs' Classic Clogs into two distinct designs that, according to a press statement, will "remix iconic elements of both brands' DNA and inherently lend themselves to summer". 
Taking inspiration from MCM's classic Visetos belt bag, the MCM x Crocs Clog With Belt Bag Bracelet (retailing at S$580) features a miniature version of the bag which can be attached to either clog, depending on your mood, or used as a separate accessory.  
If that wasn't "maximalist" enough, these clogs also come with 24-carat gold-plated Jibbitz charms featuring the brand's design elements.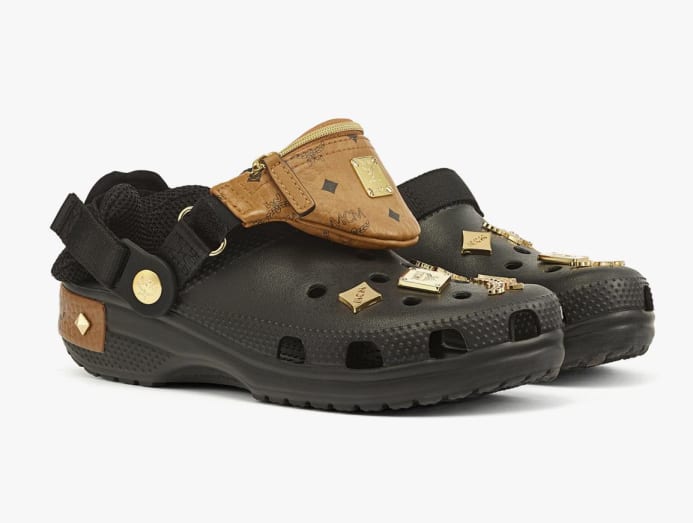 Meanwhile, the MCM x Crocs Camouflage Print Clog, which goes for S$490, comes in a bold neon yellow design with a bulldog motif that MCM calls "our funky neon M pup", collar and all.
This isn't the first time Crocs has collaborated with luxury brands, though. The brand had previously worked with the likes of Balenciaga and Chinatown Market to release statement clogs. 
We think these new clogs will certainly make, well, interesting statement pieces for those who end up getting them. 
They'll be available at MCM's boutiques worldwide, as well as their online store.