What does Gabrielle Chanel's favourite camellia flower have to do with anti-ageing?
A certain camellia variety called the Czar lies at the heart of the N°1 de Chanel collection, a complete beauty line that includes skincare, makeup, as well as, a fragrance mist. But what makes it so special?
In partnership with Chanel.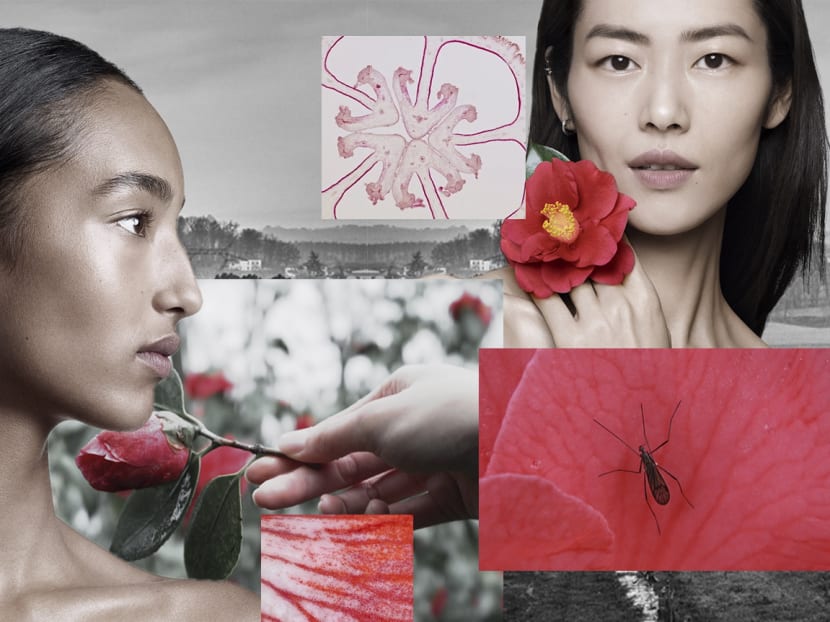 The camellia – the favourite bloom of Gabrielle Chanel and an emblem of her fashion house, is not just beloved for its clean lines and elegance.
Beyond its aesthetic beauty, the flower possesses exceptional benefits when used as an ingredient in skincare formulas. The extract of the red camellia flower, in particular, is found to have skin-revitalising effects that help to prevent and correct the five signs of ageing – naturally, they have been harnessed by Chanel for a new beauty line that includes skincare and makeup products.
THE RESTORATIVE POWER OF THE RED CAMELLIA FLOWER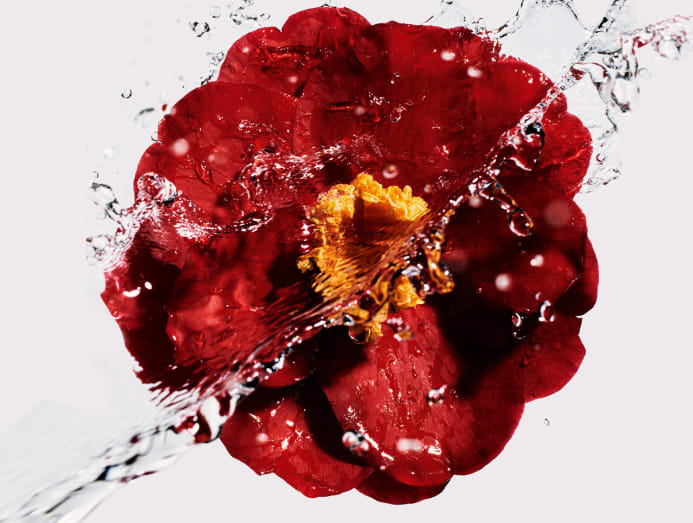 At the heart of the N°1 de Chanel collection is "The Czar" variety of the red camellia japonica. An evergreen bloom, the Czar camellia is known to be able to survive harsh weather conditions and even blooms in winter. Its amazing restorative ability was uncovered by international camellia expert Jean Thoby in Chanel's research facility in Gaujacq, in the southwestern part of France.
Its petals are rich in protocatechuic acid, a compound found to have excellent antioxidant properties including the ability to relieve skin inflammation, protect skin cells from future damage, as well as reverse the damage already inflicted on them.
But that's not all that is invested in N°1 de Chanel – the brand also partook in a decade's worth of experimentation in the field of senescence (the study of biological ageing) in collaboration with the University of Vienna, combining these efforts with its own expertise in skincare formulation to produce the line.
ELEGANT FORMULAS THAT WORK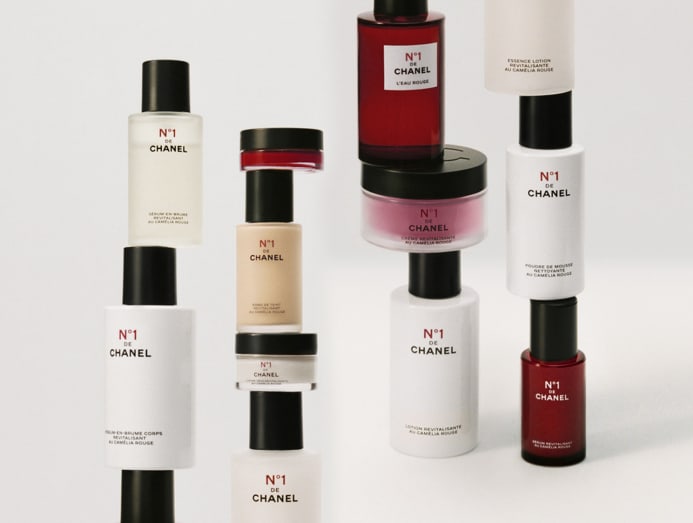 While efficacy is of high priority, the sensory pleasure a beauty product provides to its user is also crucial.
The latter involves getting numerous characteristics of a skincare formula just right – its appearance, how it transforms on contact with the skin, the feel of its texture, how easily it glides on, as well as the scent it has.
These are all subtle qualities that are essential to formulating a product that is enjoyable, a quality that is essential in every Chanel beauty product. Apart from these, the design of the bottle that holds the formula also contributes to its elegance.
That said, doing the above in an environmentally friendly manner is not neglected. Chanel achieved this in several ways with N°1 de Chanel, with regards to its formulation and packaging.
First of all, it utilised a high percentage (up to 76 per cent) of natural, camellia-derived active ingredients in the formulas – these include red camellia extract, camellia water, oil from the camellia seeds, as well as an extract of Pichia yeast found in camellia microbiota, blended such that they worked with each other to enhance the products' overall efficacy and sensorial experience.
SKINCARE THAT IS ECO-FRIENDLY
The packaging is also designed to be eco-conscious. Cellophane and paper leaflets have been done away with, while the bottles and containers are made with recyclable glass (in a reduced weight in comparison to the average weight of Chanel containers of similar capacity), as well as partially bio-based materials. The face cream is refillable – using a refill twice will reduce the greenhouse gas emissions it generates by half.
All this is accomplished without compromising the design of the signature Chanel packaging. As expected, every single detail is carefully considered, right down to the sound that the jars of N°1 de Chanel creams make when opened.
The line comprises nine products, which include two makeup items and a fragrance mist, designed to create a complementary olfactory experience. Want to experience the rejuvenating effects of the red camellia? Here are five highlight products from the line to start with.
1. N°1 DE CHANEL REVITALIZING SERUM, S$233 FOR 50ML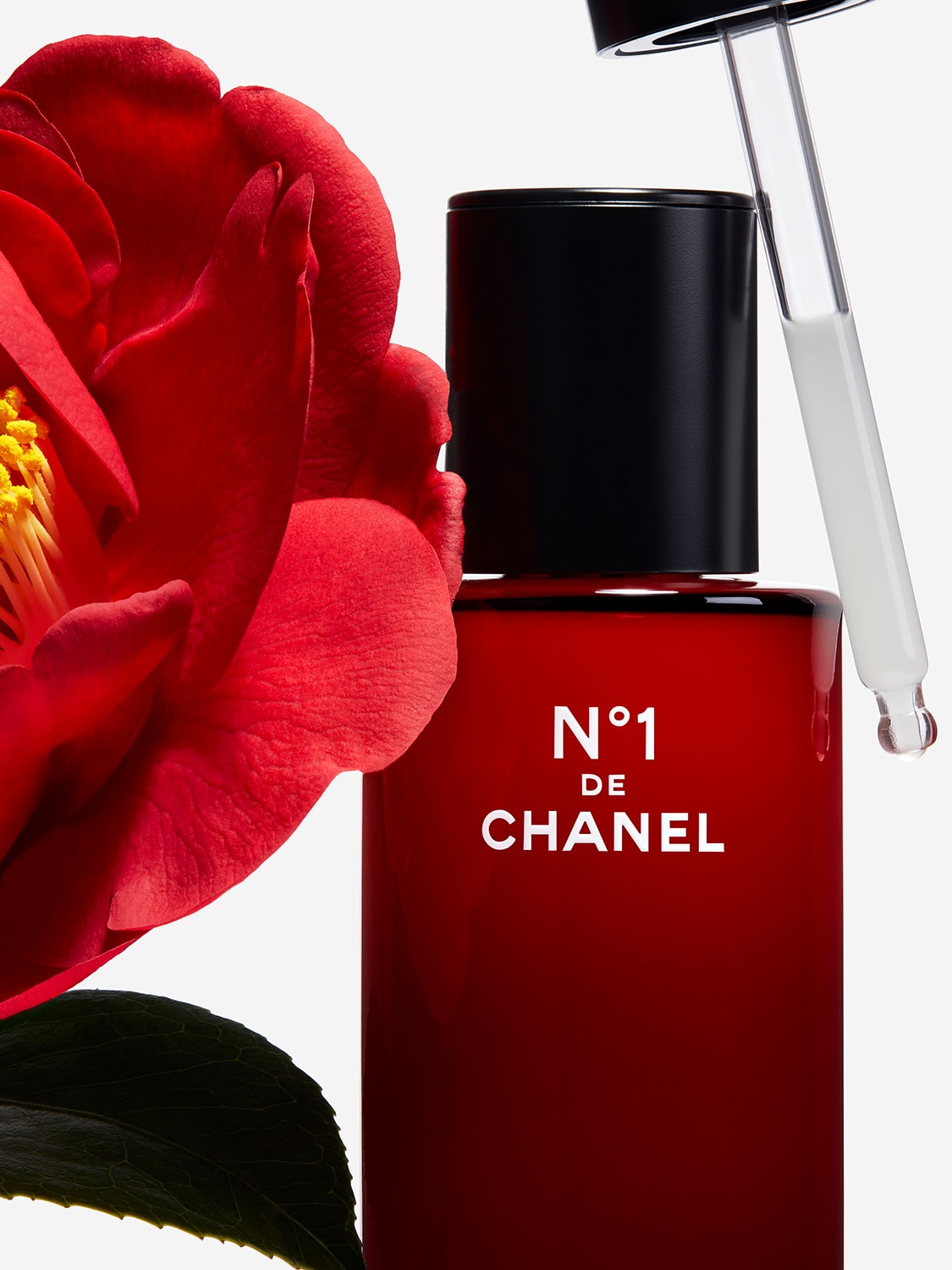 Want to experience the full benefits that Chanel has harnessed from the Czar camellia? Begin with this concentrated but lightweight serum. Formulated with 95 per cent naturally derived ingredients, including 76 per cent that is derived from the camellia, it tackles skin-ageing by diminishing wrinkles and pore size, improving skin elasticity, illuminating the complexion and delivering comfort to skin.
2. N°1 DE CHANEL REVITALIZING CREAM, S$167 FOR 50G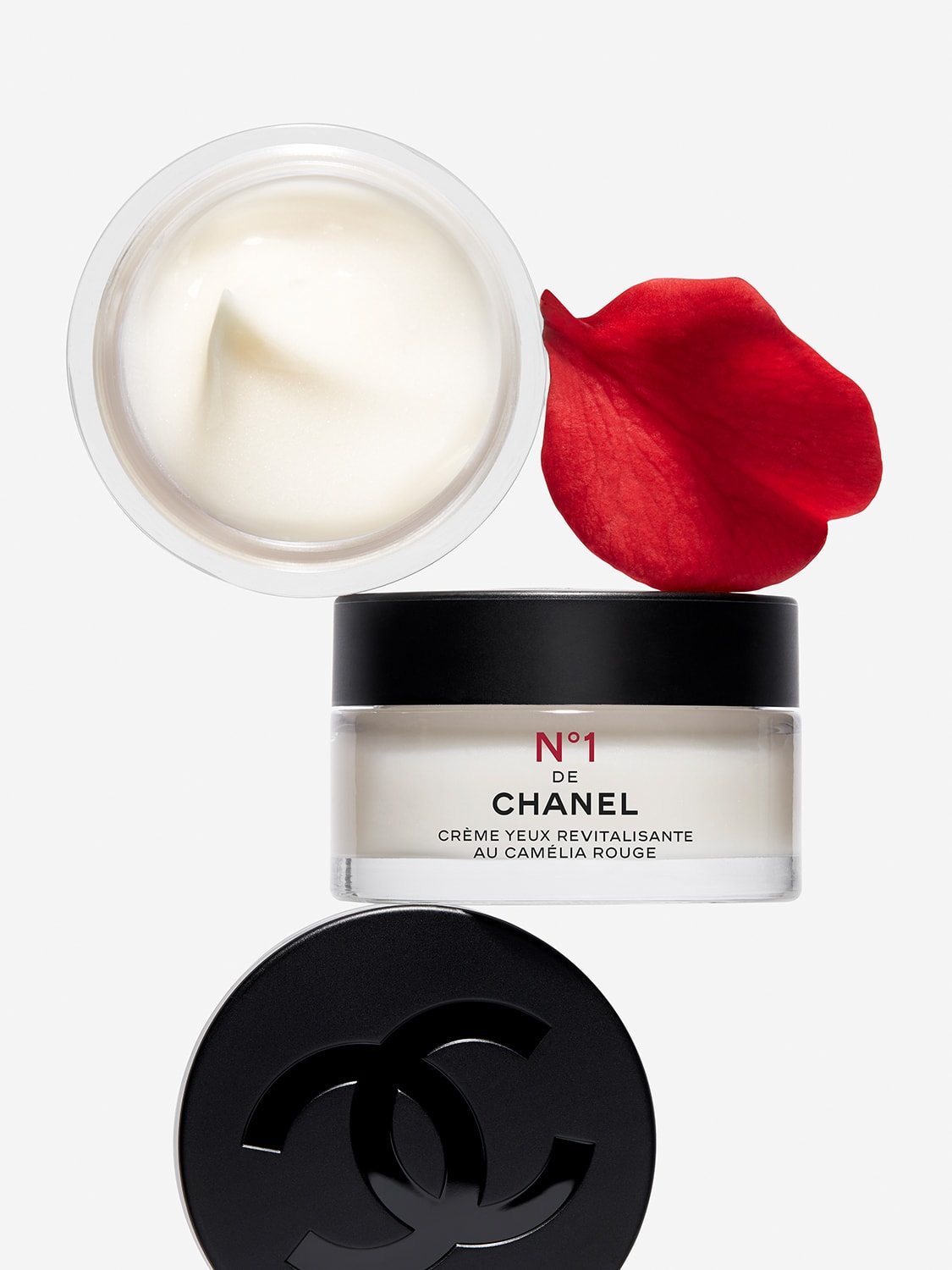 A velvety cream that leaves the skin hydrated, soft and radiant, and promises to visibly reduce the appearance of wrinkles. Use this with the Revitalising Serum for optimal results as the two products are designed to work in synergy.
3. N°1 DE CHANEL LIP AND CHEEK BALM, S$72 FOR 6.5G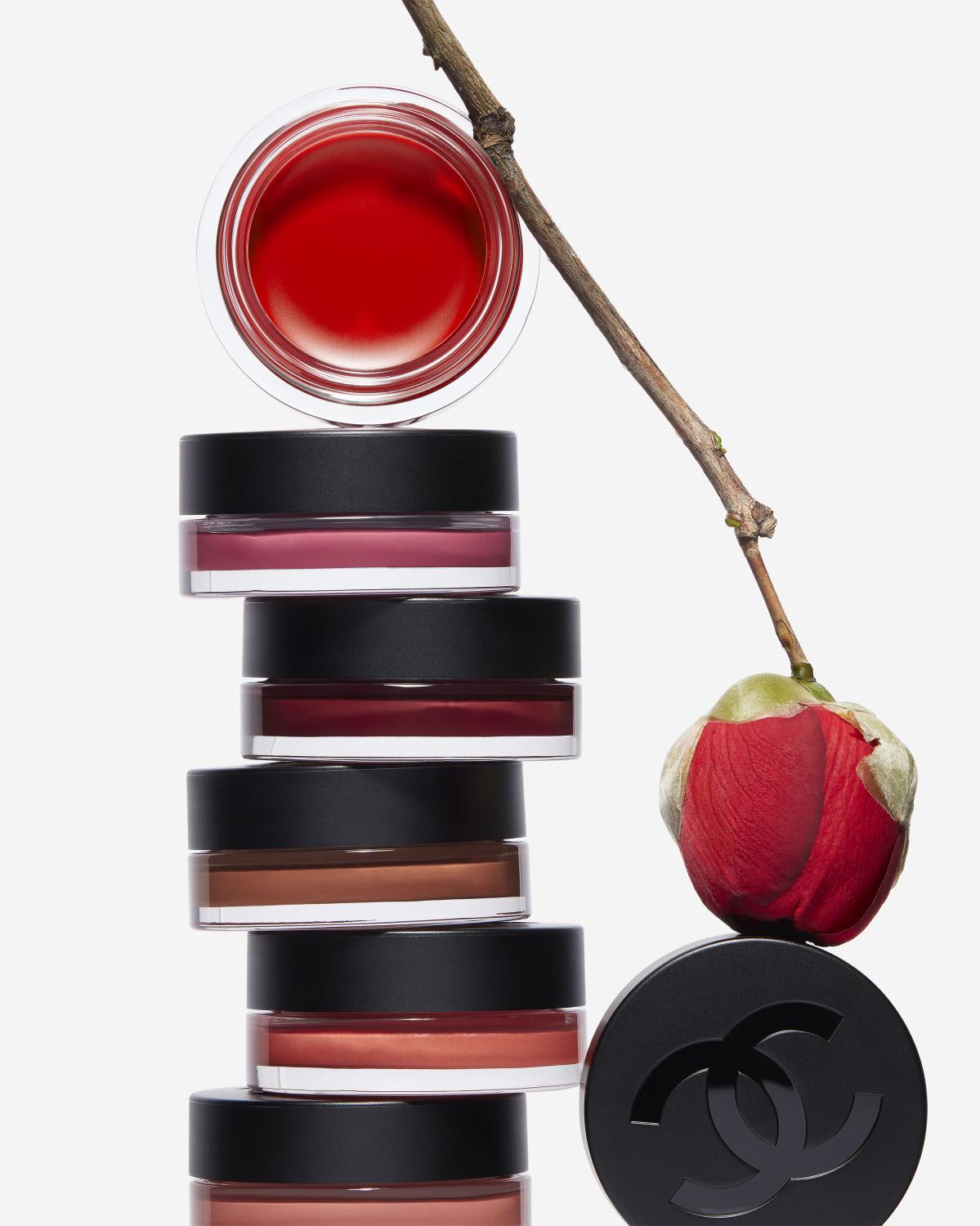 This multipurpose tinted balm, enriched with red camellia oil, is designed for quick touch-ups. Available in six shades, the creamy but non-oily formula is easy to apply with the fingertips and can be layered on for a deeper look or sheered out for a wash of subtle colour on the cheekbones and lips.
4. N°1 DE CHANEL REVITALIZING FOUNDATION, S$114 FOR 30ML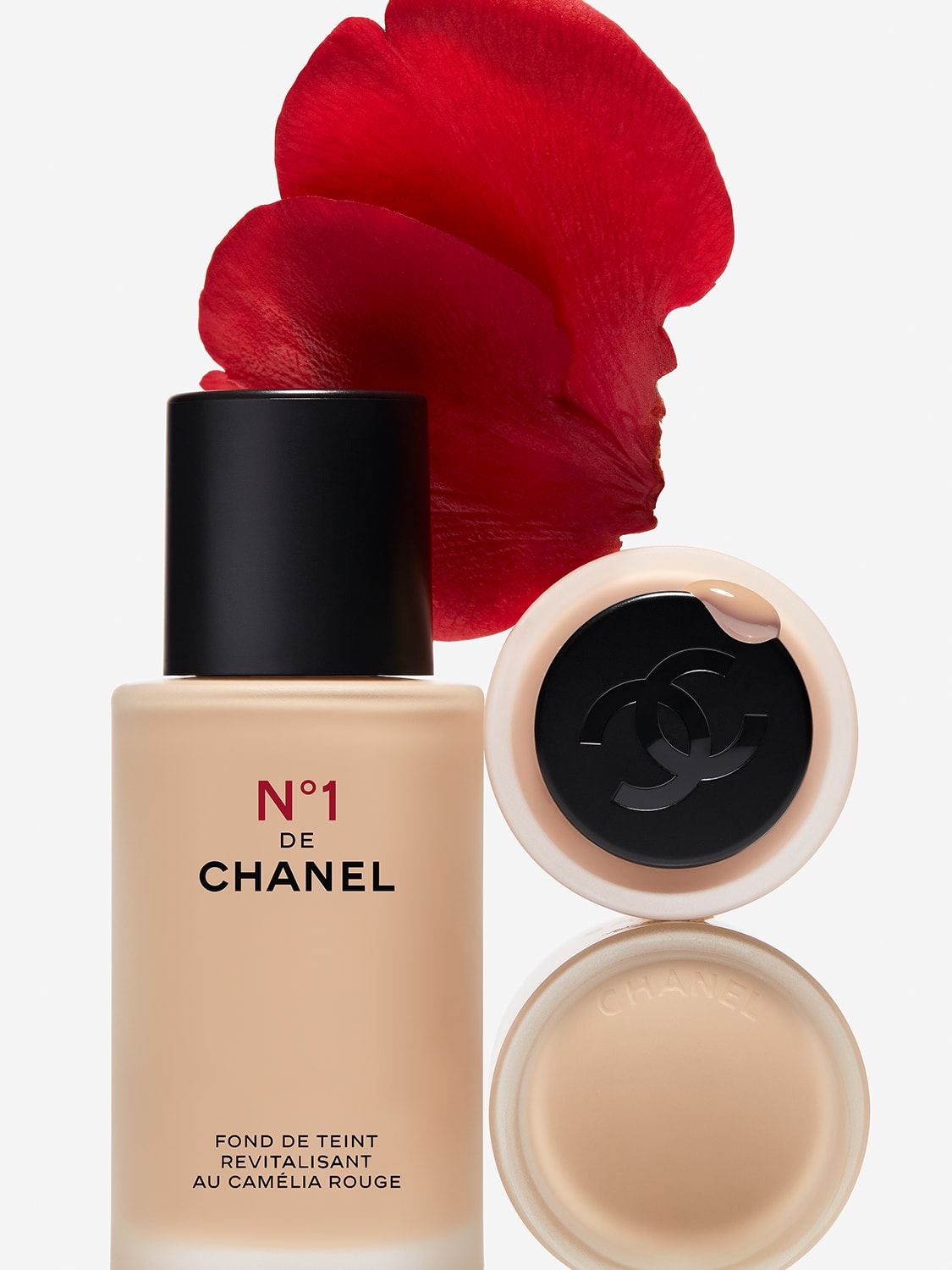 If you must wear foundation, pick one that not only gives your skin a naturally flawless look, but also is packed with skincare benefits that will improve its condition in the long run. This long-wearing fluid foundation contains film-forming agents that create a second-skin effect, and contains red camellia oil and hydrating agents that instantly give it a luminous appearance while protecting the skin from external aggressors. 
5. N°1 DE CHANEL REVITALIZING BODY SERUM-IN-MIST, S$125 FOR 140ML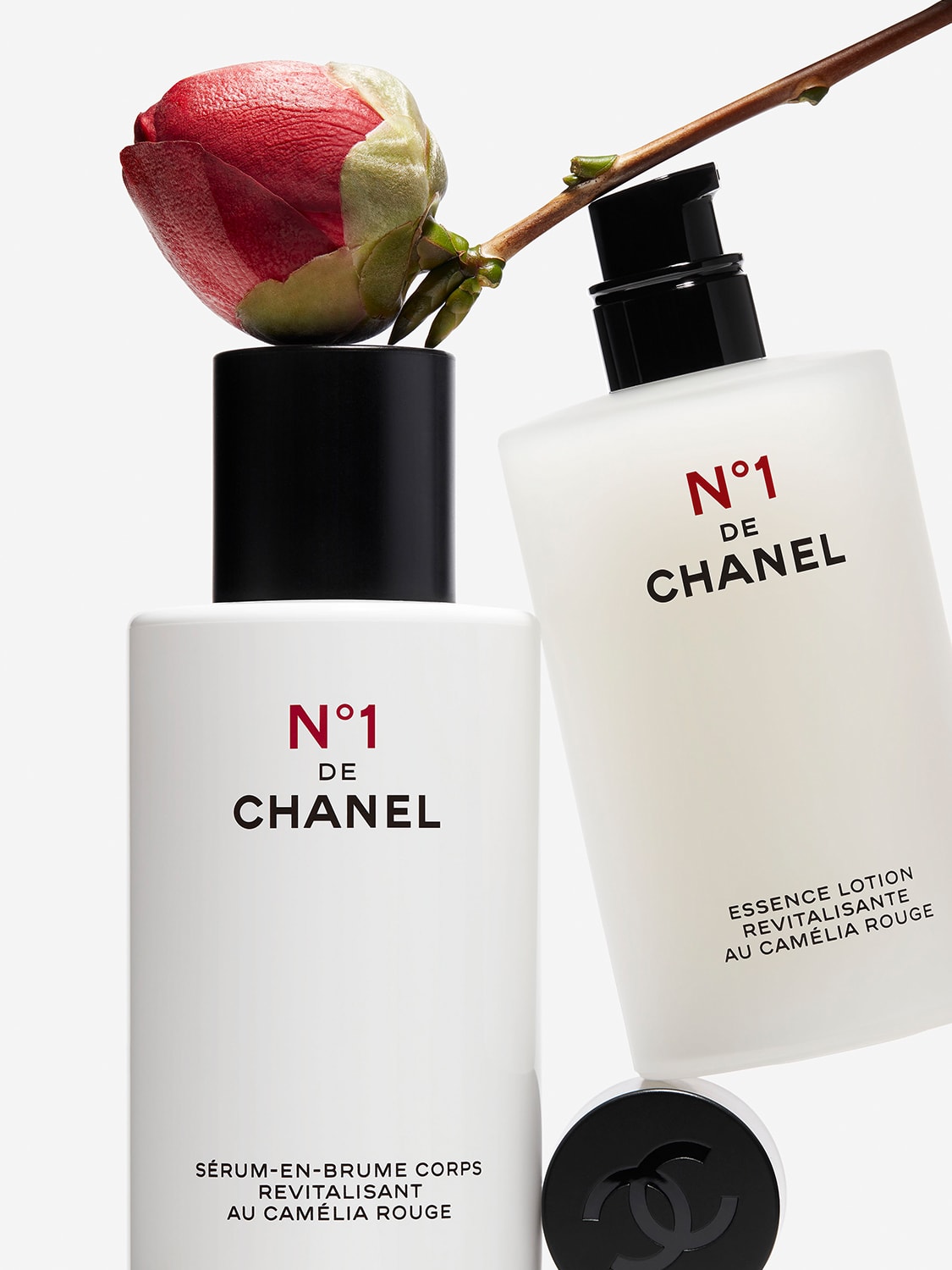 Why shouldn't we care for the skin on our body like how we pamper the skin on our face? This lightweight body mist is ideal for use as a refreshing mid-day spritz – it has a bi-phase, non-oily formula that contains the same concentration of red camellia extract as the N°1 de Chanel Revitalizing Serum, and has all its antioxidant benefits.
Click here for the Chanel N°1 de Chanel interactive.