How an Arnold Schwarzenegger YouTube video inspired Singapore's newest watch microbrand
In this week's instalment of Creative Capital, we talk to Raymond Pee, the Singapore-based Malaysian behind GANE, the latest watch micro-brand to hit the scene.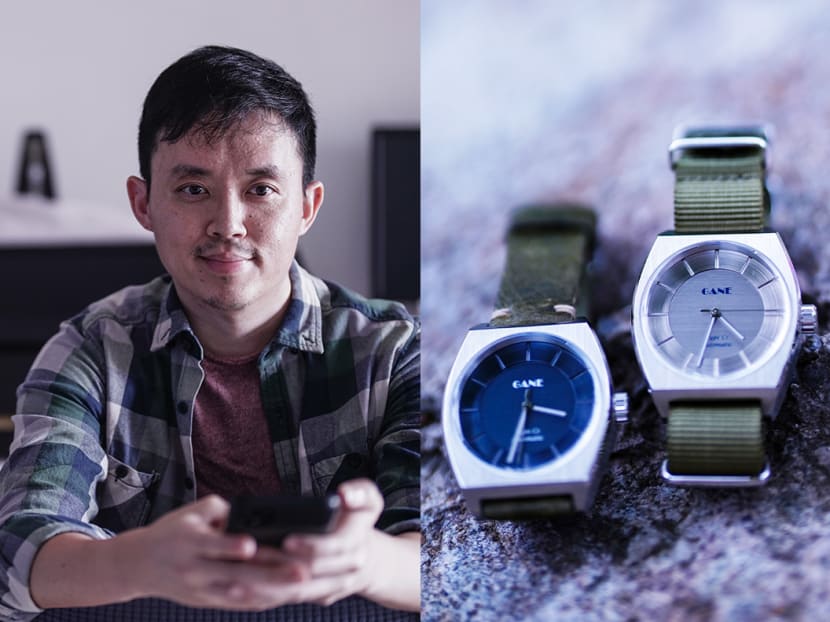 Over the past few decades, Singapore has become one of the world's most important watch-collecting markets. As an ever-increasing percentage of our population has come to love these mechanical accessories, a small number of Singaporean watch brands has also emerged.
The most recent addition to the local horological scene is GANE by Raymond Pee. The 43-year-old Malaysian engineer-turned-human-resources-manager is a man of many passions, including music, photography and, of course, watches.
Many of us watch collectors fantasise about starting our own brands – and turning in sketches that earn rave reviews on forums like Fratello and Hodinkee. Few actually act on these dreams though.
For Pee, the pandemic and a YouTube video gave him the push he needed to invest a sizable chunk of his savings into launching his own watch brand GANE in the middle of 2021.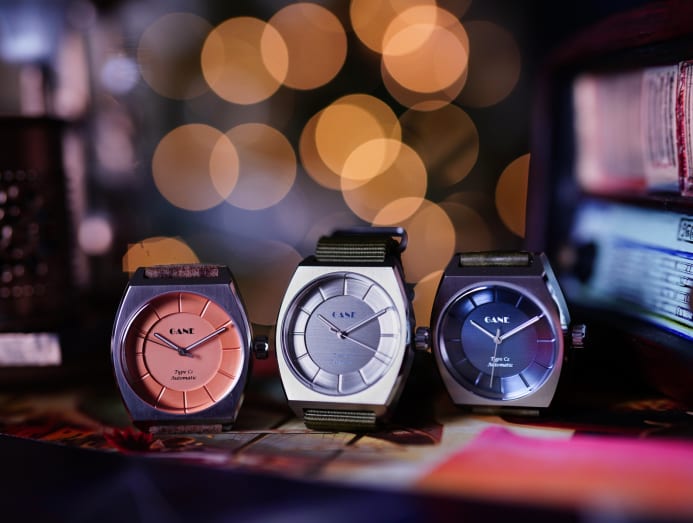 The name GANE (pronounced as "gain") is taken from the Japanese word, hagane, which means steel. The brand currently has one design with three dial variations available with either leather straps or steel bracelets. They are manufactured in Switzerland and contain highly regarded Japanese movements.
For what you get, they're very well priced and since this article is appearing over the Christmas weekend, it might be worth considering if you're shopping very belatedly for a special someone.
BESIDES CREATING AND RUNNING GANE, WHAT ELSE DO YOU DO?
I was trained in chemical engineering at the National University of Singapore and became an engineer in a multinational corporation for the first half of my career. My proudest moment was when I won my corporation's global individual engineering award.
I then took up the offer to join the human resource team and have been a HR manager for the second half of my career. I love to try new things to broaden my horizon and I'm fortunate that the corporation supports it.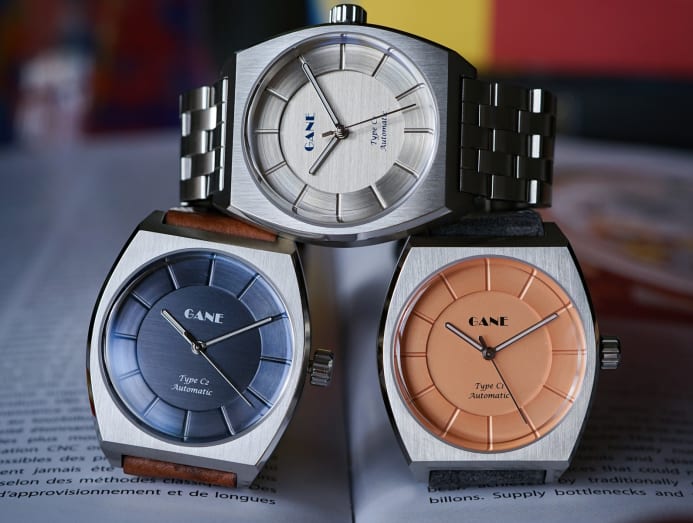 WHAT WAS YOUR CHILDHOOD LIKE? WERE YOU ENTREPRENEURIAL OR PARTICULARLY CREATIVE WHEN YOUNG?
I grew up in a small town in the outskirts of Kuala Lumpur and moved to Johor Bahru as a kid. I count myself lucky to be able to experience nature before urbanisation and before the Internet age kicked in. I spent time catching spiders, tadpoles and fish from the river, and exploring wildlife.
I studied in a small government school and excelled in fine art, literature and science. I was active in painting and music. I also loved drawing and colouring Transformers and MASK cartoons – I could draw many characters from memory.
But I went into the science stream as I was conditioned into thinking that it's impossible to put food on the table with a fine arts career. So, in short, I was creative as a kid but not at all entrepreneurial.
WHEN DID YOU FIRST FALL IN LOVE WITH WATCHES?
I started to explore mechanical watches in 2014, focusing mainly on the designs of pieces from Hamilton, Oris and SevenFriday watches.
Then, my cousin introduced me to Grand Seiko and it blew my mind away. I read articles and watched multiple YouTube videos about Grand Seiko's mechanical intricacies and high-level finishings. As an engineer and art lover, I was intrigued that the brand managed to combine both art and engineering in its timepieces.
Not only that, the company's storytelling and values encapsulate zen-ness and integrity, which separate it from the other watchmakers.
WHAT WAS YOUR FIRST WATCH?
My first serious purchase was the Ball Engineer watch. My noob move was disregarding my cousin's advice and chose the 45mm watch for my tiny 15cm wrist. I mistakenly thought the value of a watch commensurate with the case size. I soon learnt my lesson.
Although I loved the watch, I sold it soon after as it looked ridiculous on my wrist. I began to study smaller watches and multiple brands to narrow down my future purchases.
WHAT DO YOU LOVE ABOUT WATCHES?
What drew me to mechanical watches was initially the heft. They feel so solid on my wrist that I was addicted to them over my lightweight quartz watches.
As a typical watch geek, I soon progressed to learn about the mechanical intricacies of what makes a watch tick as well as the different movements, dials, materials, handsets, aesthetics and heritage.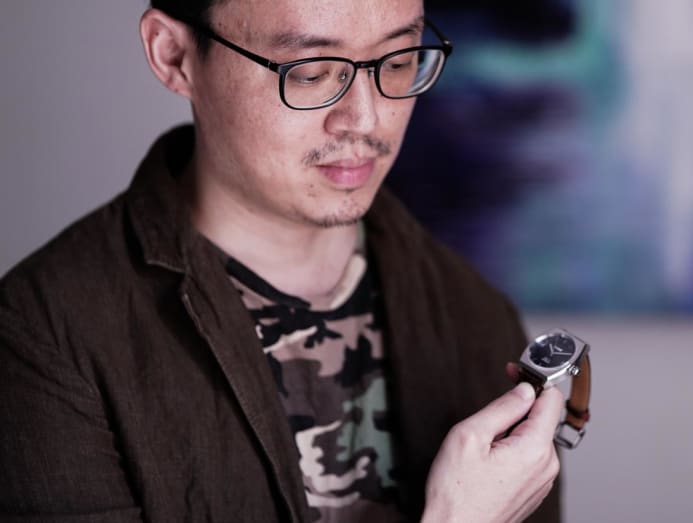 MANY WATCH COLLECTORS WOULD LOVE TO START THEIR OWN BRANDS BUT FEW DO. WHAT MOTIVATED YOU TO TRY?
I was blessed to be pretty good in many things: Gaming, sports, engineering, music and arts. But I was never good enough to be competitive. This jack-of-all-trades-but-master-of-none syndrome always made me question my purpose in life.
Creating GANE Watches answered that question. Finally, I could do something that combines all of my training and attributes. However, for the longest time, I wasn't brave enough to make the leap. Then came COVID-19 and it gave me time to assess the feasibility of my dream again.
What took me over the edge was an Arnold Schwarzenegger YouTube video. The story of how he pursued his dream inspired me to pursue mine. I spent my entire career following a widely accepted blueprint of getting an engineering degree, joining an MNC and climbing through the ranks.
Schwarzenegger spoke of an alternative, purpose-filled path guided by chasing our own dreams, continuously improving ourselves, being focused and working our socks off. Most importantly, to not be afraid of failing. When we do fail, get up and try again.
TELL ME ABOUT YOUR DESIGN IDEAS THAT WENT INTO THE FIRST GANE WATCHES
I designed GANE Watches by combining my favourite design cues from watches and clocks. I love the angled tonneau shape from the 1960s, where the form is unpretentious and masculine.
I also love the Japanese-inspired clock design based on the ancient sundial and incorporated it into my watches. I like the modern handset design and brushed steel surfaces. So, in essence, my watches have an old school but timeless aesthetic to them.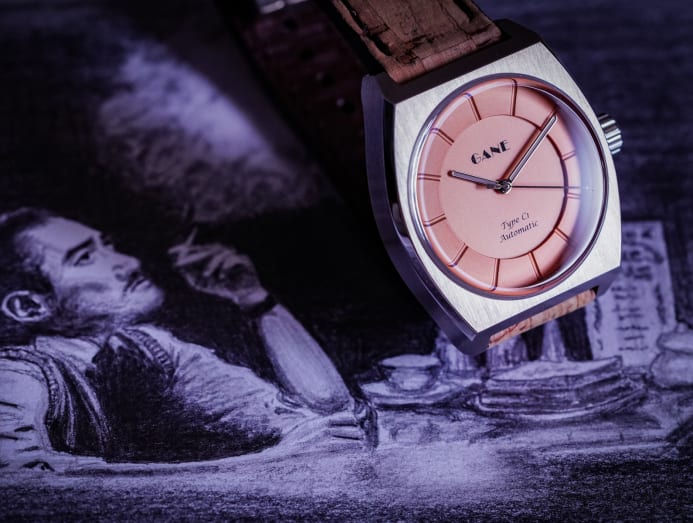 WALK ME THROUGH THE PROCESS OF CREATING A WATCH COMPANY AND GETTING A WATCH INTO PRODUCTION
During product development, I spend a lot of time sketching and rendering it on PowerPoint. I was not good at using computer design software but I trained myself in Adobe Illustrator during this period.
I did more than 20 iterations of watch designs and chose to personally design the caseback as well. My design is a tribute to my late mother: The combination of a scale representing fairness, and a lampshade representing illumination – an item she loved.
As for manufacturing, I want to ensure quality from a reliable source. I tried Japan but surprisingly, there were very few manufacturers who partnered with brand owners. So I switched my focus to Germany and Switzerland.
I was in touch with over 10 companies before I finally settled on a Swiss one headed by a fine, trustworthy German gentleman. The company is a member of the Federation of the Swiss Watch Industry FH and therefore, ensures a good level of quality.
My Swiss partner initially did not like the look of my watches and even proposed his own design to improve the watches' marketability. I had faith that my watches would appeal to a niche audience, so I persisted with my designs. Eventually, my partner and his team grew to love the watches. They are indeed an acquired taste.
HOW LONG DID YOU TAKE TO GO FROM IDEA TO SELLING THE ACTUAL PRODUCT? HOW MUCH DID YOU INVEST?
From ideation to launch, it took me one year. I learnt so much during this period from design work to sourcing, computer skills, sales, marketing and branding.
I'm so proud of the fact that I produced all the content on my own: The website, photos, videos, copy and, of course, the watches. It is really a dream come true.
All in all, I invested between S$100,000 and S$200,000 to launch my first line-up.
HOW HAVE YOU BEEN MARKETING THE BRAND?
I chose not to take the crowdfunding path, a popular direction for start-ups, as I've had bad experiences buying crowdfunded watches. The quality was not up to my expectations and one watch even took more than a year to be delivered to me!
I made sure all my watches were made and stocked before launching my company to ensure delivery within two weeks on average to customers. I did lose out on the ready customer base on the crowdfunding network though.
Therefore, my strategy was to grow my personal Instagram account as a potential customer base, build trust, network and market to this group.
DO YOU HAVE A CUSTOMER IN MIND FOR THE TYPE C MODELS?
The Type C is for someone who is looking for great quality and an affordable automatic watch with vintage but unique aesthetics. It's for someone who loves the old-school design but is not keen on used watches; someone who is not particular about brand heritage or high-end movements.
On an aspirational level, I like to think that GANE represents old-school culture and encourages and celebrates creativity.
SINGAPORE IS KNOWN FOR ITS MANY ACTIVE COLLECTORS. WHY DO YOU THINK THE WATCH COLLECTING CULTURE IS SO STRONG HERE?
Broadly speaking, Singapore is an affluent country with a taste for luxury products, very much like Hong Kong. When there is a more disposable income to spend, one may naturally explore watches.
And in the world of watches, automatic or mechanical timepieces are very intriguing to look into, intellectually and aesthetically. As a connected and modern country, Singapore has a big network of watch collectors and enthusiasts, too. So this really helps to assimilate the new collectors nicely and keep them up to speed.
YOU ARE ALSO INTO PHOTOGRAPHY. DO YOU SEE SIMILARITIES IN COLLECTING CAMERAS AND WATCHES?
It's the whole creative package that makes my life fulfilling: Photography, fine arts, music and my work in GANE drawing and pulling everything together.
There are similarities in gear collecting or any passion in that sense, including watches and camera equipment. For me, my passion for watches got me into photography, specifically watch photography.
There is a great watch community on social media and I learnt so much from similar-minded folks on Instagram. As I delved deeper into both fields, I found that both passions fuelled each other, inspiring me to learn and experience more. Now, photography is the passion that sustains my watch hobby.
WHAT HAS BEEN THE HARDEST PART OF RUNNING GANE?
The lesson I learnt is that marketing and branding form the biggest challenge in my endeavour. I quickly found that without putting my brand in the eyes of the right people, and building brand credibility, I will not find success no matter how great my product is.
I learnt as much as possible online and from my friends about branding, marketing, advertising on Facebook, Instagram and Google. I even learnt how to shoot and edit videos for YouTube and Instagram reels.
I have established a YouTube channel with a handful of videos now. I tell myself that even if my business fails, I have acquired so many invaluable and exciting skills in the past year alone that will prepare me to try again in future.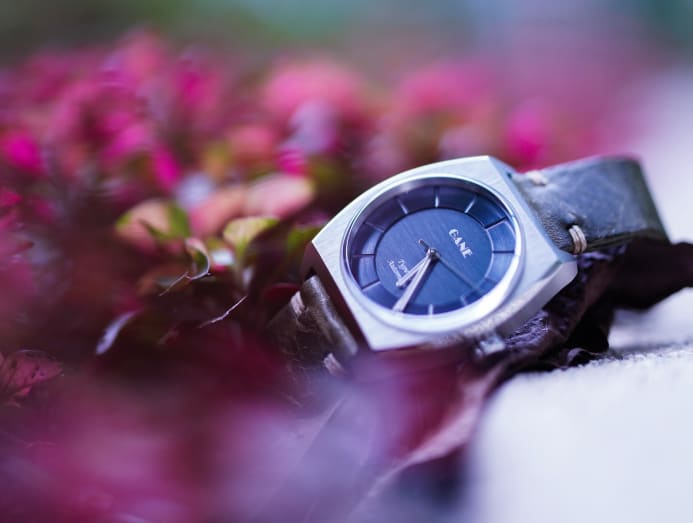 WHAT HAS BEEN THE MOST UNEXPECTED THING FROM CREATING YOUR OWN WATCH BRAND?
The negative reception. Don't get me wrong, the positive responses have been overwhelming. But some were personal attacks and had nothing to do with my watches. I wasn't sure how to react in the beginning and it affected me a lot. I quickly learnt to toughen up against a similar reception throughout my journey.
WHAT HAS BEEN THE BEST SELLER SO FAR?
The best-selling model by far is the Type C1 Sandy Salmon. I can understand that the sundial design was made especially for copper-coloured surfaces, so the salmon dial and texture fit perfectly. I was a little surprised though as I thought the more "modern" brushed steel surfaces of the C2 and C3 would give the C1 a run for its money. But I guess watch enthusiasts in general still prefer the classy, timeless look.
WHAT INSPIRES YOU?
I feel extremely inspired when I'm churning out high-level creative works to my best ability, such as photography, painting, design, music or artwork. Anyone would feel the same. I feel that individuals fulfill their purpose in life by channelling their gifts and talents into a viable output that provides value to the people around them.
ARE YOU ALREADY PLANNING NEW MODELS?
I have already finalised one to two designs for my future releases. They have very different looks and feel to them. The one similarity that governs all these designs is that I personally love them as they tick all the boxes for me. I'm really excited for the future releases!