What is Hair Botox? Everything you need to know about this next gen hair smoothening treatment
The good news? No needles required.
Living in Singapore, it's inevitable that we have to deal with frizzy, unruly and sometimes out of control hair. Thanks to the humid climate, our hair absorbs the moisture in the air, even more so when we've subjected it to regular chemical services like bleach, colour and perm. Unfortunately, this leads to our dry and damaged hair swelling and starting to frizz.
Thankfully, all is not lost. There's a treatment that promises to keep hair soft, smooth and frizz-free, without causing more damage to your hair.
The answer: Hair Botox.
Yes, you read it right. Hair Botox. It's a thing. Though it's not what you might imagine it to be. Touted to be the new generation of anti-frizz hair treatments to soften, smooth and hydrate the hair, we ask the hair experts to shed light on everything we need to know.
IT'S INSPIRED BY POPULAR AESTHETICS TREATMENTS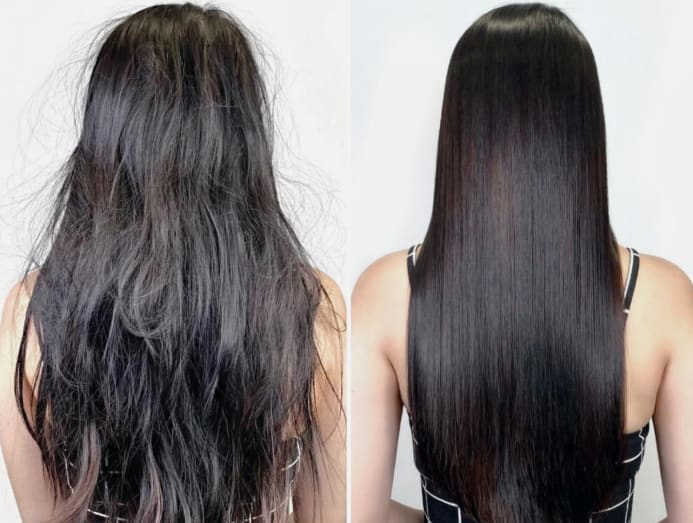 Before you recoil back in horror, Hair Botox, while inspired by the facial relaxer treatment it gets its name from, does not involve any needles whatsoever.
"Hair Botox is a smoothening treatment, and is the first-ever hair therapy to be inspired by aesthetic beauty treatments," says Raeden Chia, associate hair director at Chez Vous Hair Salon.
Just as Botox smooths away wrinkles and fillers plump up facial features, Hair Botox does the same to your hair. According to Yann Beyrie, founder and director of Yann Beyrie, it "plumps and fills each hair strand to give it a fuller and smoother look".
IT CAN'T CHANGE THE TEXTURE OF YOUR HAIR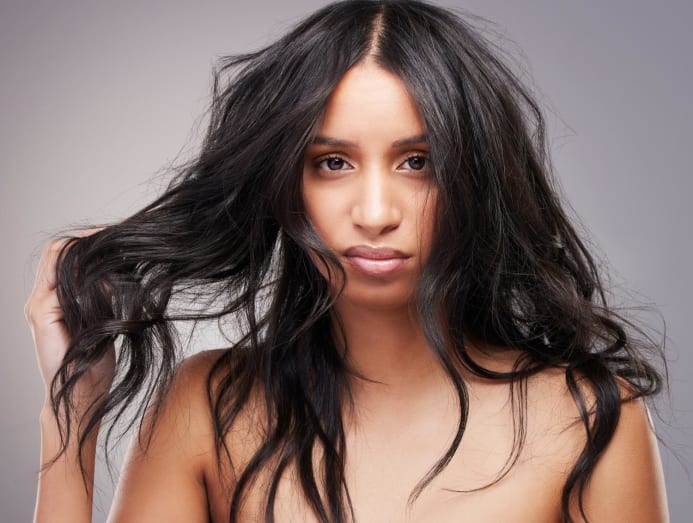 If you're hoping to transform your naturally frizzy Maggi mee curls into super sleek and straight locks, this is not the treatment for you.
Essentially, Hair Botox is a deeply conditioning treatment that will help tame dry, frizzy or unruly locks. The key words are "deep conditioning".
It's best suited for those who are keen to achieve healthy-looking hair that's easy to manage as it's meant to be a smoothening treatment not a straightening service, said Chia.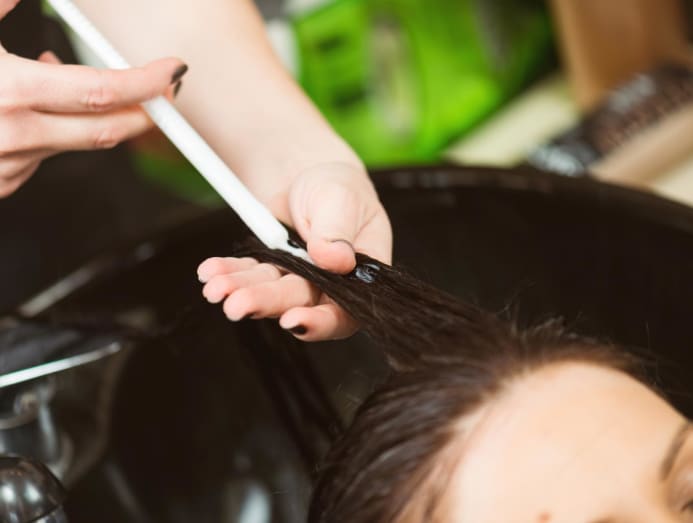 This means that the finish you'll get is something that's more natural, as opposed to poker-straight hair that's commonly associated with rebonding or even Keratin treatments.
More importantly, Chia added that compared to these straightening services, Hair Botox comes with higher reparative benefits. "It does not break the hair bonds, unlike rebonding, which means there's less damage and risk of hair breakage too." Interestingly, it's also not suitable if you've already got healthy hair too, according to Beyrie. Instead, he added that Hair Botox is better suited for those who are looking for some control over their wavy, curly or frizzy hair, or if your hair is damaged or over-processed.
IT USES NATURAL ACTIVE INGREDIENTS, MAKING IT GENTLE AND SAFE FOR ALL HAIR TYPES
Besides not breaking the hair bonds to relax the hair, the other key advantage of Hair Botox is the use of hair-loving ingredients to achieve that desired smooth finish. 
Said Chia, "Hair Botox has a higher concentration of strengthening and reparative actives, such as amino acids and cysteine, to reduce porosity and breakage."
The Hair Botox and Fillers therapy at Chez Vous Hair Salon uses natural actives like shea butter, acai extract and virgin coconut oil, avocado and pomegranate oils, alongside plant proteins and tannic acids to "effectively rebuild each strand from the inside-out" to leave hair smooth and manageable.
Beyrie explained that at Yann Beyrie, the salon's Genesis Hair Botox treatment uses 100 per cent natural ingredients, such as aloe vera, violet flowers, green tea, as well as jojoba and argan oils. There's "no use of chemicals, sulphates, parabens and artificial colours". Instead, it "respects your natural hair texture, helping to deeply nourish and control the frizz without drying it out compared to traditional anti-frizz treatments".
DO YOUR HAIR BOTOX TREATMENT BEFORE A HAIR COLOUR SERVICE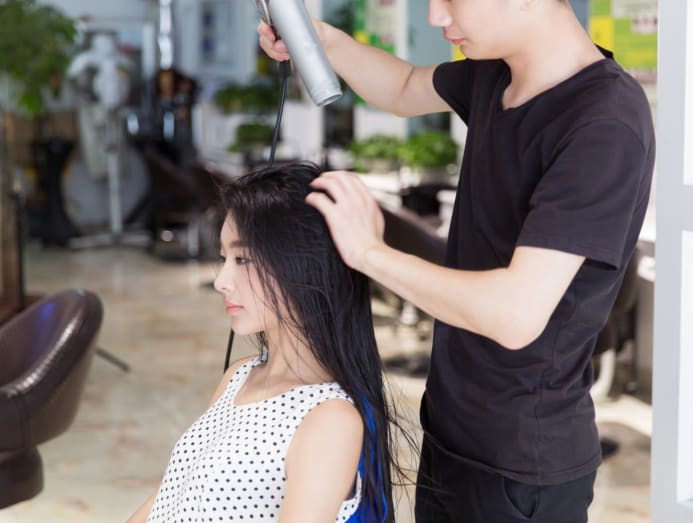 We know that most of us don't just get one type of hair service done when we head into the salon. So if you're wondering which comes first – hair colour or Hair Botox, not to worry because we've got the answer.
While Beyrie says that you can do the treatment before or even after your hair colour, he does recommend to do it before to "allow the treatment to fully take effect" to condition your hair before it undergoes a chemical service, like colouring or pre-lightening.
Chia emphasised that as "heat is involved in sealing the treatment in, it can cause the hair colour to fade", which is why Hair Botox should be done prior. As a final word of caution, he also shared that you should not bleach your hair after getting Hair Botox done because "bleaching will cause the treatment to fade prematurely".  
SCHEDULE A TREATMENT IN EVERY FEW MONTHS FOR YEAR-LONG FRIZZ-FREE LOCKS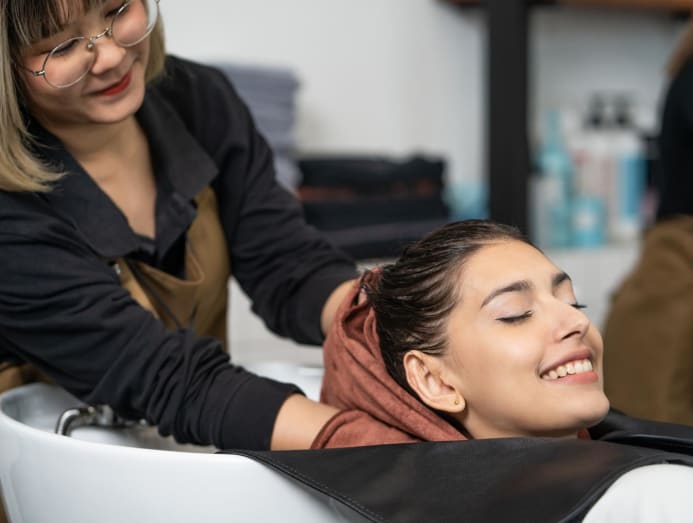 So how often can you get the treatment done? Twice to thrice a year, according to Chia, which works out to be once every four to six months.
Though Beyrie shared that it is possible to repeat the treatment after three months if your hair becomes too unmanageable. He added that it should not pose too much of a problem as the formula uses natural ingredients. "You can't necessarily overdo it as there are no harsh chemicals or ingredients involved that could damage the hair."
However, Chia would prefer to err on the side of caution. "We do not want to over saturate the hair with proteins," he said. The use of plant proteins in the formula can "lead to over-proteinisation, causing the hair to be brittle and coarse".
Another reason for spacing out your Hair Botox treatments, he added, is due to the use of acids, which is commonly found in many such smoothening treatments as they're needed to re-align the hair bonds to improve manageability. "Too much acids can also cause the hair to be dry."
But if you're still unsure, you can always check in with your hairstylist who will be able to assess the suitability of your hair.
YOU'LL STILL NEED TO PUT IN SOME EFFORT TO MAINTAIN YOUR NEW 'DO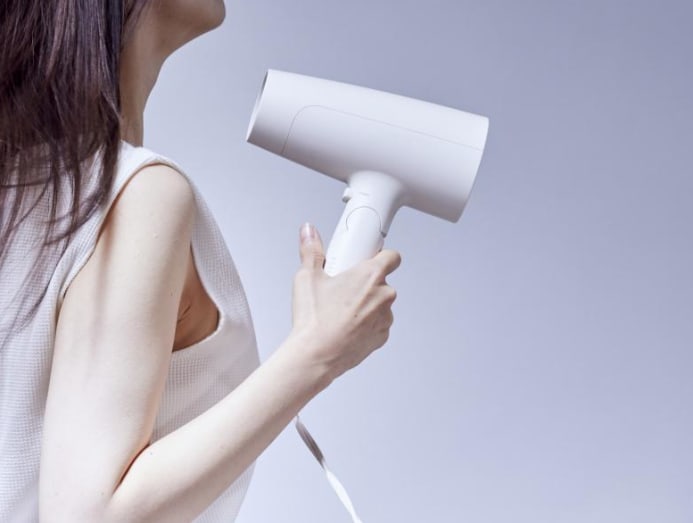 While it's great that you can now get a bit more shut-eye in the mornings before heading into the office, doing a Hair Botox treatment doesn't equate to a wash-and-go hairstyle.
"All smoothening treatments such as Hair Botox and Keratin treatments are heat-activated," shared Chia. In short, you'll still need to give your hair a quick blow-dry – specifically in a downward motion, after shampoo and conditioner, to prolong the results. But the good news, said Chia, is that it'll "cut down blow-drying time by up to half".
5 THINGS YOU CAN DO TO KEEP YOUR HAIR FRIZZ-FREE FOR LONGER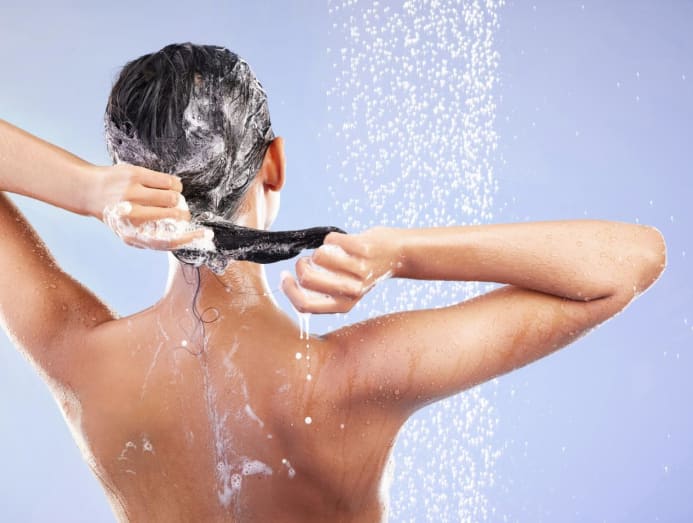 Do not wash your hair for at least 24 hours – if possible, Chia even recommended going up to 72 hours. "This is to prevent premature fading," he said.

When you do wash your hair, always use a sulphate and paraben-free shampoo and conditioner that's gentler on your tresses, said Beyrie.

If you wash your hair daily, consider cutting it down to once every two to three days, if possible. "When the hair touches water, it swells, which can cause the treatment to 'leak'," said Chia. This means that the treatment effects won't last as long.

When using a conditioner or hair mask, apply it in a downward motion until the hair is smooth, detangled and glossy. And don't forget to leave it on for at least five minutes before rinsing off.

Do continue to use your conditioner, hair mask and leave-in treatments to prolong your new hair's smooth finish.