New year, new hair: I 'broke up' with my hairstylist and I'm now seeing other people
Yes, I "cheated" on him, but we're still friends. Here's why it's okay to dump your hairdresser (nicely), and how to move on.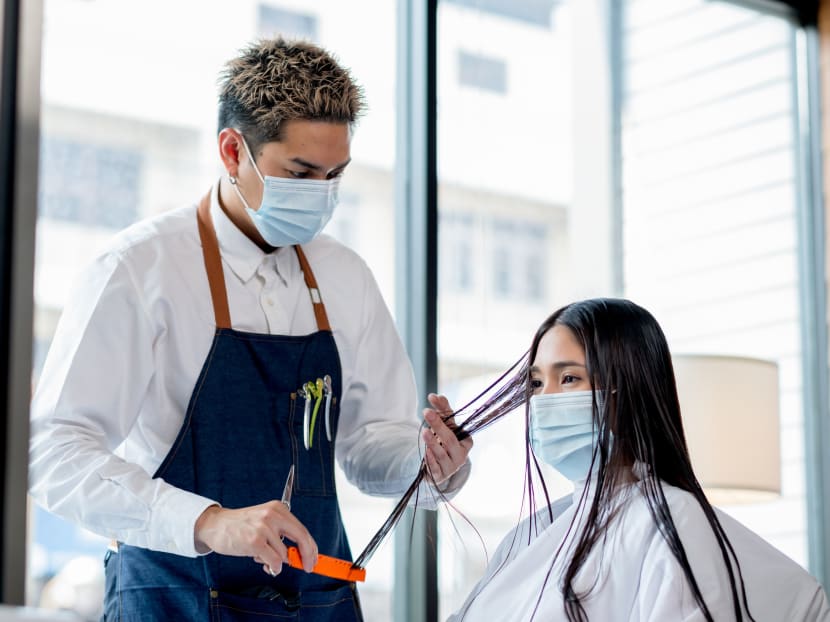 Edward (not his real name) and I met when I was just 22. I was fresh, he was sweet. We hit it off right from the start – he was exuberant but understanding, and I was looking for someone to trust. I sat down in his chair, he gave me a bob haircut and a deep red colour, and it was the start of a beautiful relationship.
He lasted way longer than all of my boyfriends (except for the one I eventually married). I looked forward to seeing him every two to three months (and sometimes as often as every other week when I had bangs and didn't trust myself to trim them), where I'd snuggle into my regular seat and put my head in his capable hands.
We'd chat about frivolous things, like bags we wanted to buy but couldn't afford, and whine about our relationships (which was a little dangerous as he also cut my then-boyfriend's hair, though I'm sure he would always take my side). Occasionally, we'd talk about life and all the things we wanted to do; our hopes and dreams.
And so the years went by. He gave me blunt bobs, curly locks, centre-parted straight hair with bangs. I introduced many of my good friends to him, telling them emphatically, "He is the best".
He did my wedding hair. He even cut my daughter's hair. One thing I loved was his can-do attitude (I just have to tell him what I want and he'll try to make it happen), how he made me feel like I was his single most important customer ("I don't give anyone else this discount, you know!"), and the space he worked out of, a spacious salon with lots of natural light in the centre of town.
But one day, he changed. Salon, that is. He moved to work for another salon, and of course, I followed. But the location was not as ideal for me, and it was in the middle of a building with no natural light.
Our meetings became more sporadic. As his skills improved, he grew more popular, and it was harder to get appointments with him. Meanwhile, I started a job as a beauty editor, and trying new salons and hairdressing treatments were part of my portfolio. I'd go to him, sheepishly sporting hair that obviously was not his work, explaining that I tried a new colour with another stylist on the job. To his credit, he was always nice about it.
I saw him less and less, and finally, he faded away from my calendar like the month-old highlights in my hair. But we still say hi on social media and there are no bad feelings. One of my besties still goes to him, to this day.
WHY IT'S OKAY TO BREAK UP WITH YOUR HAIRSTYLIST, AND HOW TO DO IT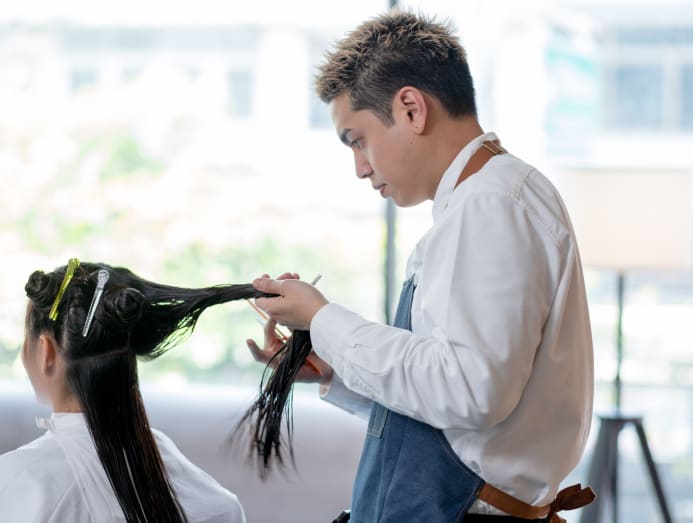 There are many reasons to stop seeing your hairdresser. Maybe you moved, or they changed locations. Perhaps you started going to them when you were younger, and as you grew older, your tastes (in hairstyles, or the kind of people you want to hang out with) evolved.
Maybe the relationship had soured (people fall out for various reasons all the time; a botched hair colour would be a good reason to feel unhappy with and lose trust in your hairdresser), or perhaps you just need a fresh start, or someone with brand new ideas, and you feel like you've outgrown your old stylist.
My take on how to break up with minimal fuss is to simply tell them you are thinking of trying something new, and thank them for their service, and say that perhaps you can work together again one day. If you don't want to say outright that you've found someone new, just space out your appointments until you barely show up, or simply stop making appointments – they'll get the message (and probably be less devastated than you think).
HOW TO MOVE ON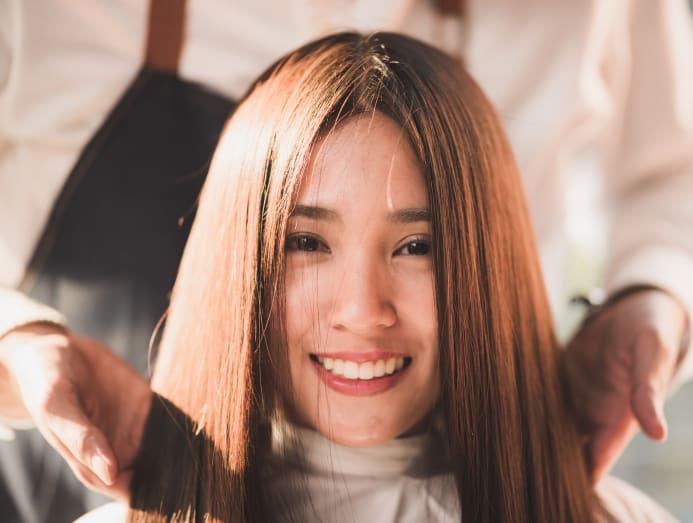 Okay so you've broken up with your hairdresser, now what? Get a new hairstyle, of course – isn't that what most people do after a big break-up?
The easiest way to find a great new stylist is to ask people you trust for recommendations. Of course, what works for someone else may not work for you, but it's a start. You can also ask acquaintances with great hair colour or hairstyles if they would recommend their stylists. Otherwise, if you'd like a hairdresser in certain neighbourhoods, there are plenty of directories online, along with reviews of salons and even individual hairstylists (because not all stylists in a salon are equal, of course).
KOREAN HAIR SALONS, HIDEOUTS WITH GREAT INSTAGRAMMABILITY
While some salons are perennially popular because of their heritage and the fame of their hairdressers, who are constantly tagged in the posts of celebrities and top influencers, two trends which have stuck in recent years are hairdressing spaces that are immensely Instagrammable and sprawling Korean garden-themed salons, which offer Korean treatments and hairstyles, and even Korean stylists.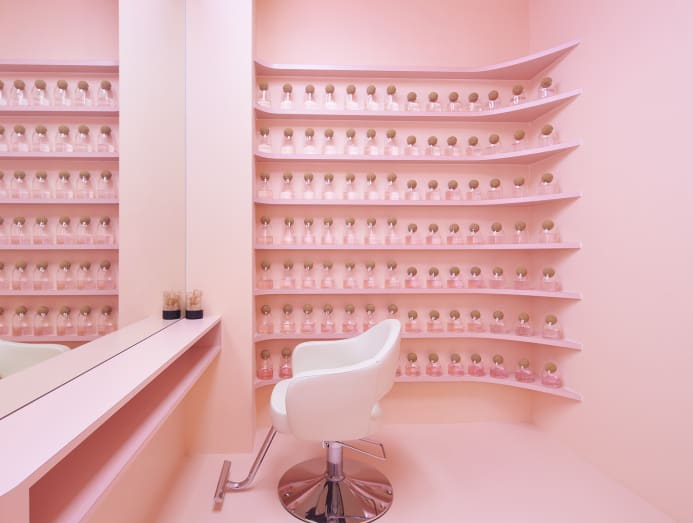 Chez Vous Hideaway, which opened at the end of 2018, features several distinct spaces each with a unique vibe specially-built to allow customers to Instagram up a storm. Looking more like a cool design museum than your typical salon crammed with seats, the space at #14-04, Ngee Ann City Tower B has a secret door, a fake bookcase which opens up to an alcove, a flower wall, a trippy video wall and a bathtub filled with cushions to take photos in. A haircut plus one other basic service (for example, hair colour without bleach) would set you back S$199 before GST.
Another thriving trend is sprawling Korean mega-salons, often with a garden cafe theme, which serve up not just hairdressing services, but other beauty services like lash and nail services, massages and even a full-service restaurant.
Walking on Sunshine at Orchard Central is an example of this, where you can expect to be shown the latest Korean hairstyles and trends, while sipping on a dalgona iced coffee and munching on a kroffle (that's croissant and waffle, a food trend from Korea). Haircuts at Walking on Sunshine start from S$50 and go up to S$120, while you can expect to pay upwards of S$120 for a colour treatment.
NEIGHBOURHOOD HAIRDRESSING SALONS
As we continue to stay home during the pandemic, many are opting to shop for goods and services in their neighbourhoods, instead of schleping to the town area. Neighbourhood salons are cosy and friendly, and many boast excellent stylists.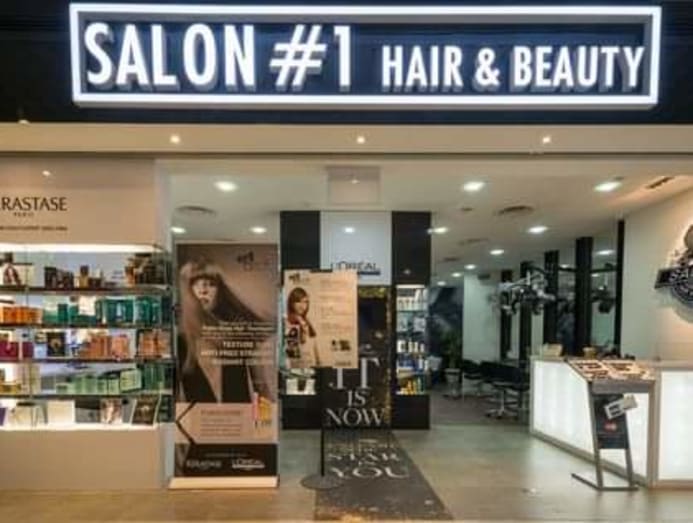 I sometimes head into La Mode Hair Studio at Eastwood Centre in Bedok, where haircuts start from a relatively affordable S$40 and a full colour is around S$140. In the Bishan area, Salon #1 Hair & Beauty is a heartland institution, famed for its eyebrow embroidery and hair services. They are so popular, they now have two more branches in Ang Mo Kio and Toa Payoh. Haircuts start from S$35 and hair colour from S$118. 
HOW TO AVOID BREAKING UP WITH YOUR HAIRSTYLIST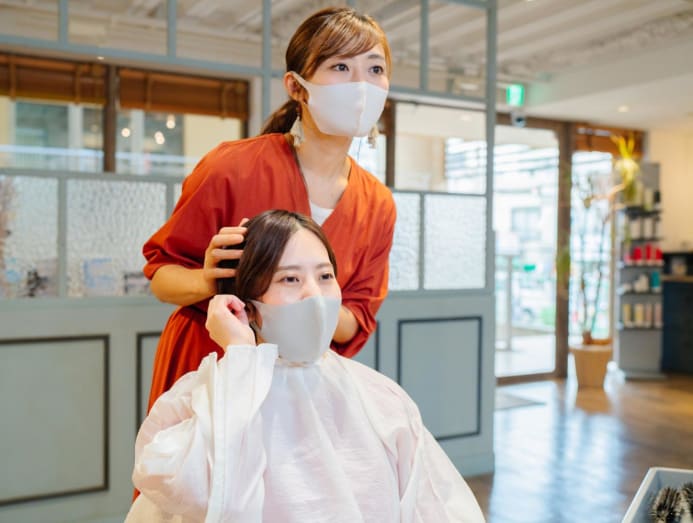 Although sometimes a break-up is inevitable and nothing lasts forever, finding a good stylist and sticking with him or her for a while is a good idea. Someone who knows your hair type, preferences and personality a little better can recommend treatments that really work for you, and which you're more likely to love.
I'm currently seeing this hairdresser who's an amazing colourist, and I totally trust her to do weird things to my hair, like colour it purple on the right side and pink on the left (I drew the line when she suggested the "hairband" hair colour trend though – just, no). I sometimes two-time her when I have to try out another salon for work, and though she will "tsk" at the handiwork of other stylists (they all do this, right?), she's cool with my polygamy.
At the end of it all, finding "The One" hairdresser has quite a lot to do with luck, fate and knowing what you want. May you find true hairdressing love!