When you're too lazy to shampoo every day, here's how to keep your hair looking fresh
If you really must skip a hair wash – or two – here is what you can do to avoid limp, greasy strands.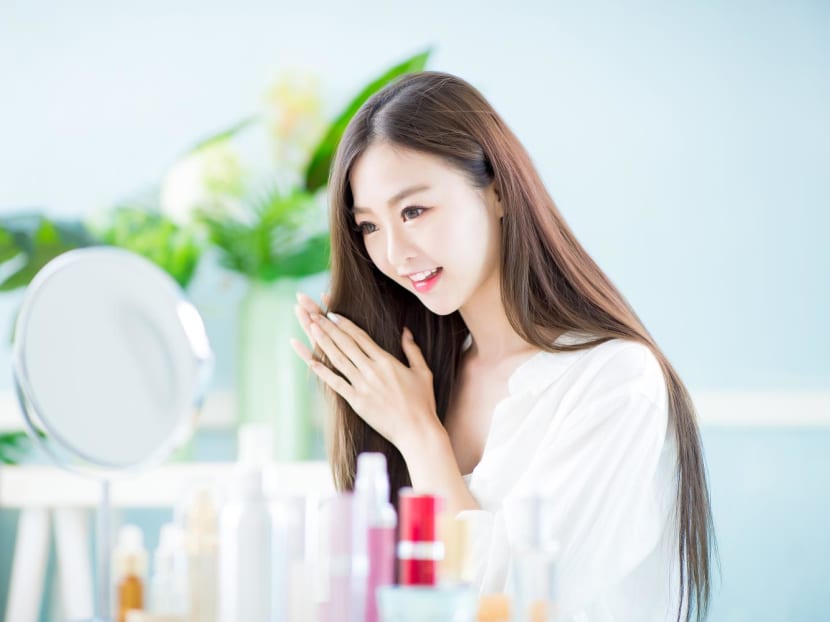 Let's face it, we have all been guilty of skipping a shampoo every now and then. And for some women, this "hack" has been so efficient at saving time that they only give their hair a good shampoo every other day – or even just once or twice a week.
But even though Google is filled with articles that wax lyrical about how it can be beneficial to wash your hair less frequently, hair experts in Singapore say you should think twice about doing so in our hot and humid Little Red Dot.
"Many of these articles are written by authors living in non-tropical countries. Thus, it is not entirely applicable to people living in a hot and humid climate like ours, where we perspire daily and our sebum production is more active," said Charles Chong, associate director of Chez Vous Hair Salon.
After all, just like how we wash our faces and bodies with soap daily to get rid of sweat, oil and dirt, it is a matter of hygiene to do the same for our scalp and hair to prevent complications like itchy scalp or unsightly flakes.
"Dirt and sebum build up throughout the day and perspiration may result in bacterial growth and inflammation of the scalp," said Selina Ong, co-founder of Coulisse Heir.
This is why hair gurus strongly encourage people who tend to have oily scalps or are prone to perspiring to wash their hair daily using a shampoo suitable for their hair type.
That said, those who have severely damaged, bleached or dyed hair in trendy shades like grey, pastel tones or pink or sensitised, dry and dehydrated scalps may find it beneficial to shampoo their hair less frequently to avoid further damaging their hair.
In such cases – or if you simply are just feeling lazy once in a while – here is what you can do to revive your locks, even when you skip a day or two of shampooing.
PREP YOUR HAIR IMMEDIATELY AFTER YOUR SHAMPOO
As they say, prevention is better than cure. So right after towel drying your freshly washed hair, apply a scalp serum or tonic that can help keep greasiness or scalp odour under control, especially if you need to go longer in between washes.
For instance, Shiseido Professional's Sublimic Fuente Forte Purifying Beauty Spa scalp serum (S$66.43 for 125ml) helps to absorb excess sebum that will turn your hair greasy. You can also apply a protective serum like the brand's Wonder Shield, which forms a protective film to shield your tresses from external stressors like humidity and dust.
"While this does not replace proper cleansing by shampooing, it can help keep hair smelling relatively fresh by preventing absorption of odours from the surrounding environment," said Tien Goh, Shiseido Professional's education manager.
STEER CLEAR OF DIY SOLUTIONS
Some Internet hacks recommend dusting talcum powder, cornstarch or flour onto day-old hair to absorb excess grease. Don't do that because these are not formulated to be used on your hair and skin. If you are unlucky, your skin might react badly, leaving you feeling uncomfortable and itchy until you finally wash it all away. Or, if you are not conscientious about brushing away all the powder or flour, you might end up walking around with unsightly white specks in your hair.
USE A DRY SHAMPOO BETWEEN WASHES INSTEAD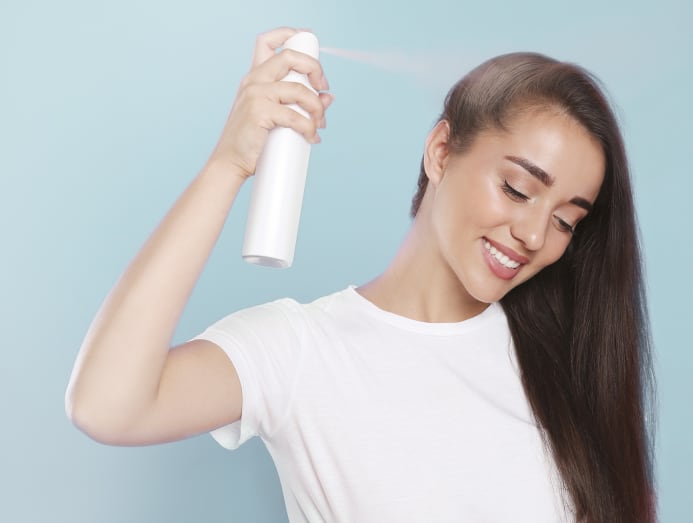 With dry shampoos available at all price points these days, there is no excuse not to have a canister handy especially if you are prone to skipping your shampoos. Simply spray on the product, then leave it to set for a few minutes before brushing your hair out.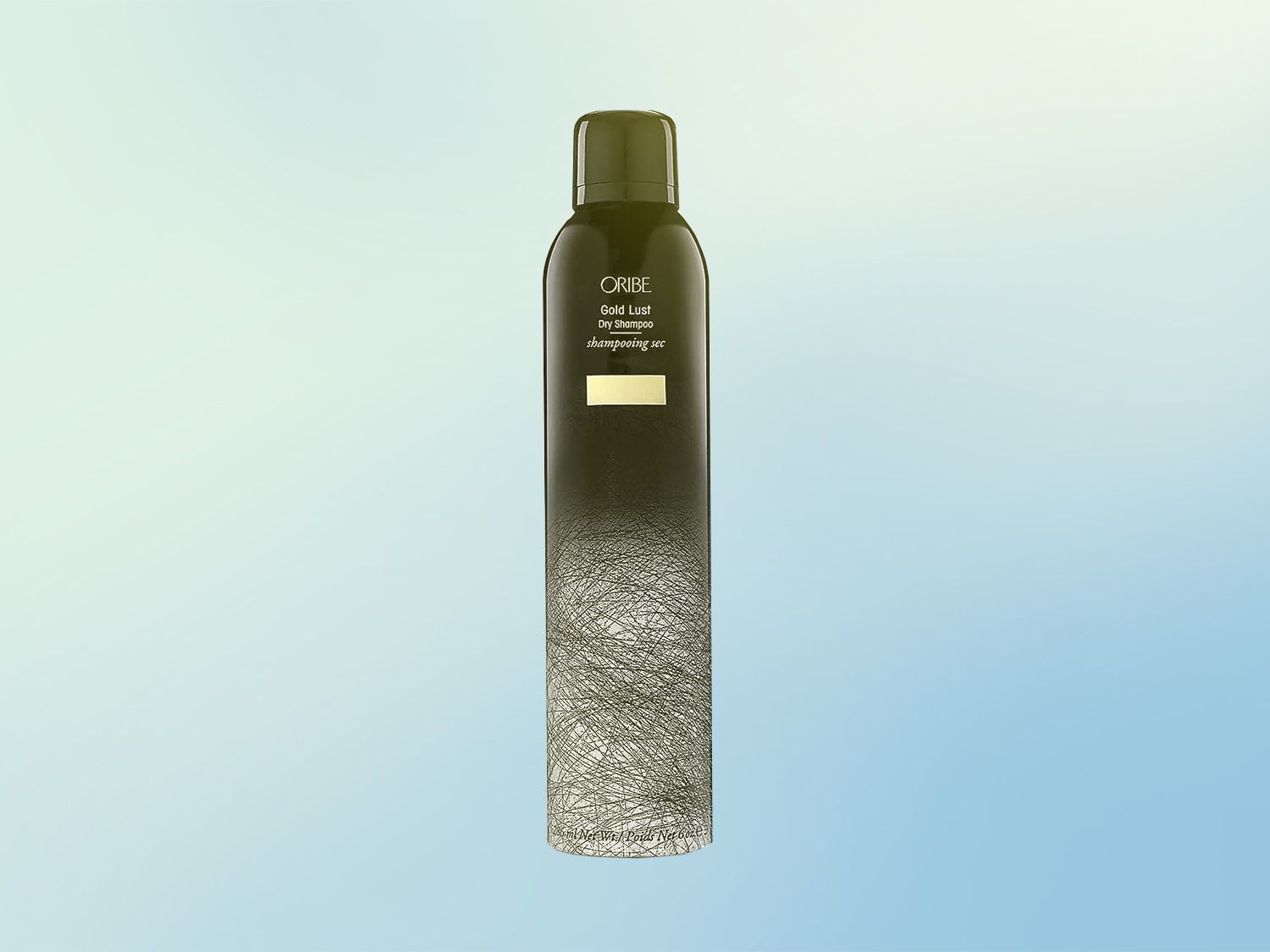 Chong suggested using Oribe's Gold Lust Dry Shampoo (S$89 for 286ml). "It instantly absorbs build-up and oil without leaving behind visible white powders that are prominent in many dry shampoos. Also, it smells really good," he said.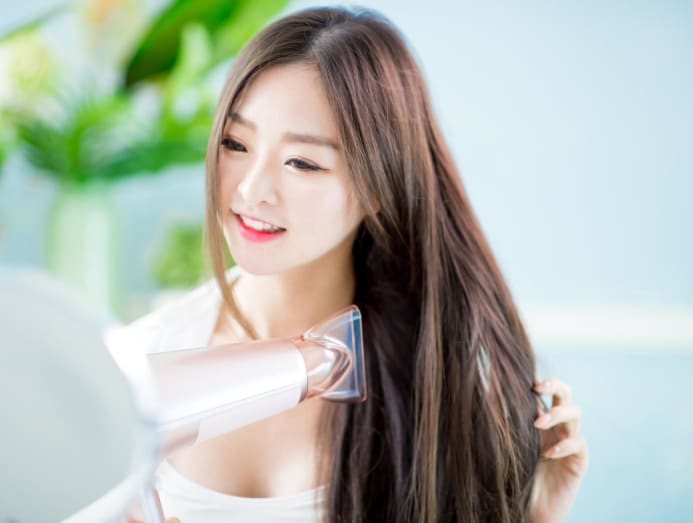 There is no need to hide your day-old hair under a baseball cap or in a tired, messy bun. Issac Ng, senior director of You Are My Sunshine salon, suggested rocking a statement making quiff instead. To get the look, gather all your hair like you would with a high ponytail and twist your locks repeatedly until you form a little bump at the top of your crown. Secure the hair with pins and set with some hairspray.
For a more feminine 'do, flip your hair upside down and brush repeatedly to smoothen out all tangles. This will also bring some volume to your crowning glory.
How to refresh your mane in a pinch in these common hair-raising situations:
AFTER THE GYM
If you have just completed an ultra-sweaty fitness sesh, shampoo your hair as soon as possible for hygiene reasons. But if sweat is minimal, like after a gentle yoga class, you could skip the shampoo and simply rinse your tresses with water, following up with a leave-in conditioner on the ends. "The water will rinse out sweat, which is water-based while a conditioner or leave-in treatment can make hair smell nicer," said Goh.
Alternatively, Ng suggested pleating your hair in random sections and then releasing everything when you arrive at your next appointment to create textured waves.
WHEN BANGS GO LIMP
For a quick fix, simply secure your bangs away from your face with small hair clips – 90s style butterfly clips are having a moment right now – or use a pretty headband, said Ng.
Or, Chong's favourite technique is to spray dry shampoo on a self-grip roller before rolling it into your fringe. Leave it for a few minutes – roughly the time it takes for your face to absorb your serum and moisturiser – and you are good to go. 
THE MORNING AFTER A SLEEPOVER
Spritz a texturising spray like Oribe's Dry Texturising Spray and sleep with braided hair. Release it before heading out to sport a tousled look, suggested Chong.
REVIVING LIMP HAIR FOR A NIGHT OUT
Clip multiple flat alligator hair clips parallel to your hair parting and as close to the roots as possible. "This is an extremely simple way to create a nice lift from the roots. Don't forget to remove them before heading out," said Chong.