Why male celebs like Hyun Bin and Lu Han are becoming the face of beauty products
Hyun Bin wants to sell you perfume, Lee Dong-wook is hawking luxury skincare and Lu Han is telling you which lipstick to buy. Here's what to know about the trend of celebrity men as beauty brand ambassadors. 
What shade of Gucci's Poudre De Beaute Mat Naturel Beauty Powder does Chinese superstar Lu Han wear, and which is his favourite Gucci lipstick? His legion of fans probably know the answers, and for the rest of us, seeing his pretty face in a glossy mag or on an Instagram post may induce a sudden urge to cart out some Gucci beauty products.
The idea of good-looking male celebs selling makeup, skincare and other beauty products to women is refreshing and boundary-blurring.
Where you may scroll past yet another visual of a gorgeous female star with a bottle of foundation next to her face, you'll likely pause at a Gucci Beauty ad featuring Chinese singer-actor and ex-K-pop star Lu Han. You may marvel at his perfectly-drawn brows, beautifully-contoured mien and those barely-there natural shades of eyeshadow and lipstick, and think, "I want that".
While male stars hawking beauty products isn't exactly new, the trend has grown fresh wings and really taken off in the past year. Besides Lu Han, who's one of the most popular stars in China, fronting Gucci, there's South Korean A-lister Hyun Bin, who's recently been named brand ambassador for the Asia-Pacific region for Tom Ford fragrances. In his first campaign, he smolders over a bottle of Tom Ford Private Blend Soleil Brulant eau de parfum, which is a unisex scent.
Elsewhere, Lee Dong-wook, the K-drama actor and star of hit shows like Guardian: The Lonely And Great God and Tale Of The Nine Tailed,  shows off his signature tousled long fringe, pouty ruby red lips and perfect porcelain skin next to jars of luxurious La Mer skincare. The brand appointed him as a brand ambassador in June.
In recent years, Korean stars such as Gong Yoo, Song Kang, Jung Hae-in and BTS have all fronted skincare and beauty brands, sending their female fans into a tizzy and causing products to fly off the shelves and eventually sell out.
Is this just a case of idol worship and brands targeting these hot male celebs' adoring and largely female audience, some of whom see buying whatever their idol is selling as their duty as a fan? Female celebs – sorry – just don't have that near-manic level of fan love.
According to psychologist and executive coach Dr Perpetua Neo, besides the male idol and female fan factor, this trend of male celebs fronting beauty brands is also likely in response to the change in zeitgeist. "Gen Z is gender- and sexually-fluid, blurring the lines often," she said. "Companies respond to what's progressive and the spirit of the times."

The phenomenon of K-pop and K-drama idols and Chinese idols normalising the wearing of obvious make-up for guys (we're talking glossy, coloured lips, nude eyeshadow and powdered faces) also contributes to this shift in what is acceptable. These men are invested in looking after themselves and in quality skincare, and use great makeup products. What's to stop them from being brand ambassadors for these same products and telling women to buy them?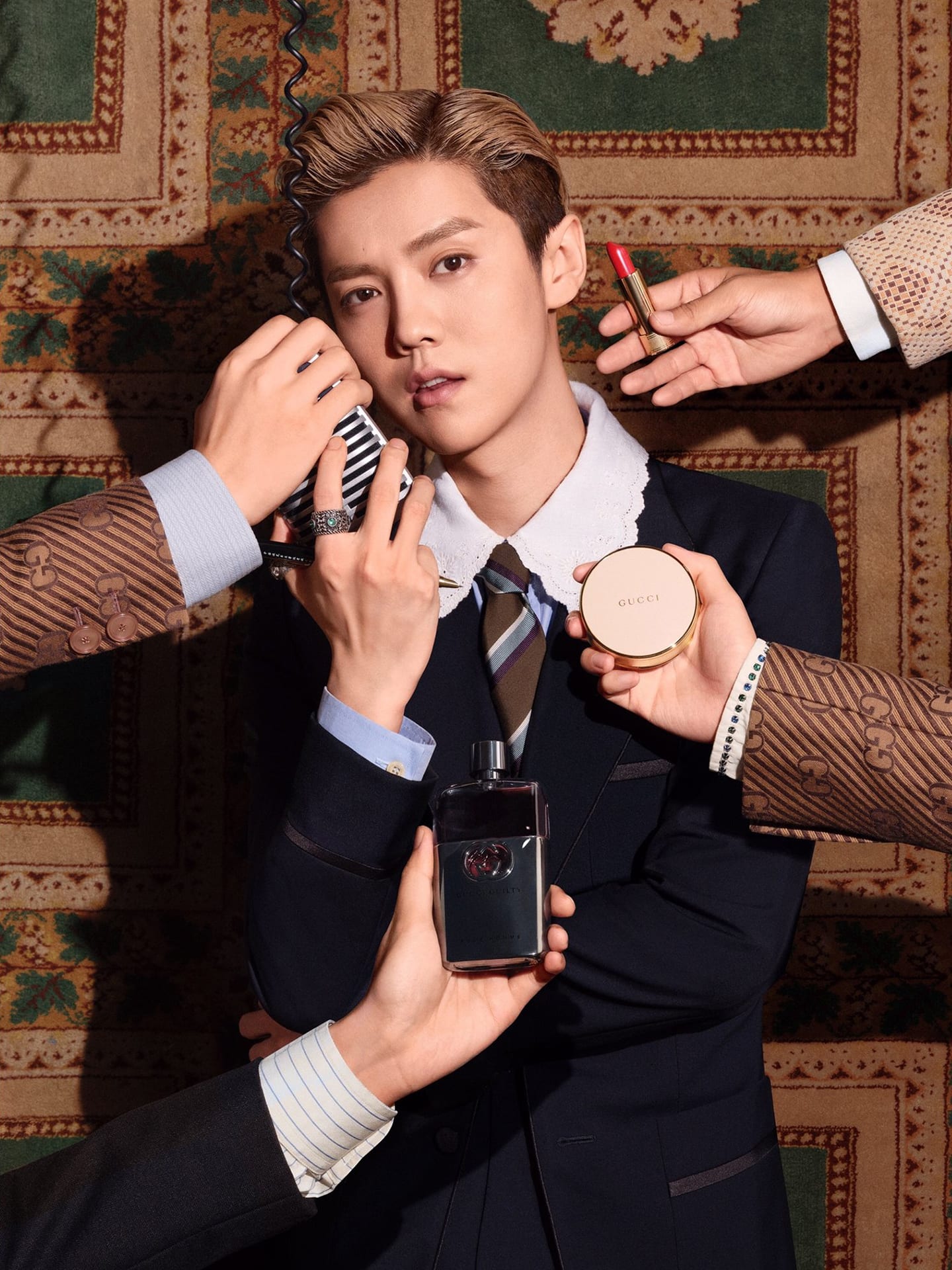 "The trend of (East) Asian males fronting these international labels may be rooted in how male grooming is considered acceptable here," said Dr Neo.
"Think the demand for fair skin, 10-step skincare and generally being thoughtful about one's appearance – that isn't deemed effeminate here, and you don't have to slap on a 'metrosexual' branding or macho packaging in order to make it acceptable. In many subgroups in these societies, it's not considered a woman's realm or effeminate. It's as natural as shampooing your hair and brushing your teeth."
As mentioned earlier, this trend is also novel and fresh, and audiences like things that are novel and fresh. "It can be refreshing to have another sex represent a beauty brand. If it's one's cherished idol, that increases the appeal and widens the market for that brand," said Dr Neo. 
"It can also make grooming within a heterosexual couple unit even more acceptable, or a shared activity. Having men fronting beauty brands is very different from yet another female celebrity telling you this product is great for you. It's a novelty, and our brains like novelty. It can also feel like an aberration to what we know to be acceptable, and when this aberration is endorsed by someone we like or trust, our curiosity is piqued."
If this confluence of factors – Gen Z's fluidity and blurring of lines, the East Asian acceptability of grooming and the increasing global reach of South Korean pop culture – continues, it's likely we'll be seeing a lot more male celebrities fronting traditionally female beauty brands.
"These celebrities simply look like groomed 'Glown Up' versions of our everyday selves, a far cry from the male makeup we otherwise reference in our heads, like Boy George or Johnny Depp in Pirates Of The Caribbean, which can be filed away as 'in performance mode'," said Dr Neo.
And as society evolves to accepting that it's okay for guys to have multiple-step skincare routines and wear makeup, the lines are being blurred in the other direction as well.
Dr Neo reminded us of the move in recent years for women towards the #nomakeupselfie and the bare-faced look, perhaps kickstarted by Alicia Keys when she went to the 2016 MTV Video Music Awards sans makeup.
"I also think of Christina Aguilera's bare-faced spread for Paper Mag in 2018, where this woman we are used to seeing plastered in makeup, suddenly appears resplendent bare-skinned. In terms of millennials who grew up used to these celebrities, it's both refreshing and makes one question one's dependence on makeup. And also the non-stop gleeful consumption of the latest items dropping into the market."
Perhaps the pandemic and mask-wearing has also contributed to the rise of a more bare face and fresher skin for women, which further paves the way for males to represent beauty brands for females, as we move towards a simpler and more pared-down approach to beauty.

And no, Dr Neo doesn't think male celeb beauty brand ambassadors are necessarily stealing jobs from female stars. "It can feel like jobs are being stolen, especially when females have traditionally been the only ones fronting these brands. Perhaps if we increase beauty consumption – in terms of numbers of audience and products – then there's a lot more of the pie for celebrities of both sexes."

More skincare, makeup and beauty products from more brands, fronted by more male and female celebs, for eager consumers of every gender and ilk, whether you're in Team Barefaced or Team Makeup? Sounds like we'll all be spending a lot more moolah.