Valentine's Day gift guide: 30 jewellery gift ideas for every budget
Dazzle her with one of these stylish pieces that will each make a keepsake to cherish forever.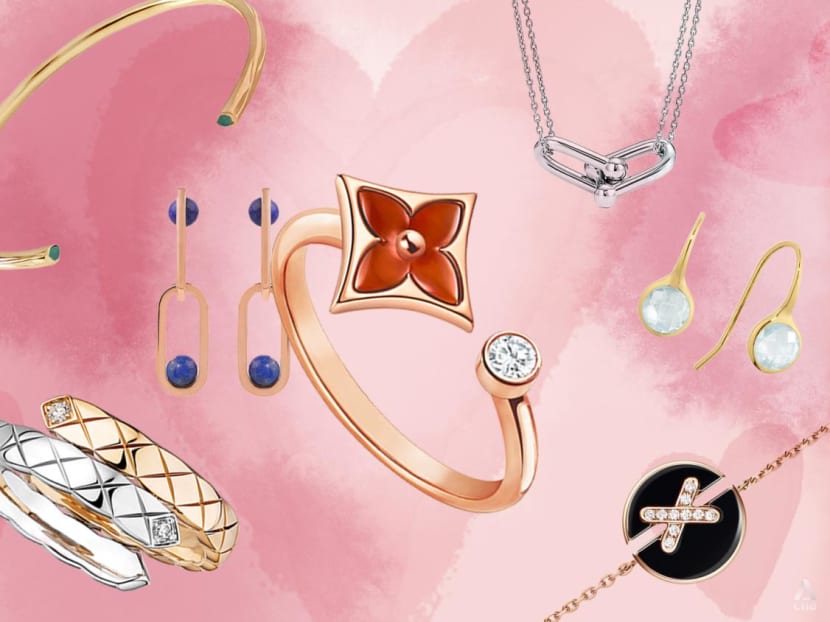 One of the best sentimental tokens of affection is jewellery, which naturally makes it a popular choice for a Valentine's Day gift. No woman would say no to a sparkly, shiny accessory that she can wear with her and be reminded of the special someone it came from – and no, it doesn't necessarily have to come with diamonds or be a ring.
Stylish, well-made jewellery doesn't always cost an arm and a leg either – you can definitely find something that matches your budget and will suit the tastes of its recipient. Still, if you can and want to splurge on a luxury piece, go ahead and take a pick from the numerous covetable brands that are at the top of many a jewellery wish list.
Not too sure where to begin your search for the right piece? Here's a round-up of some excellent choices that will please not just a variety of tastes but are also available at a wide range of prices too.
UNDER S$200
OPHELIA NECKLACE IN 18K ROSE GOLD-PLATED STERLING SILVER, S$69, CURIOUS CREATURES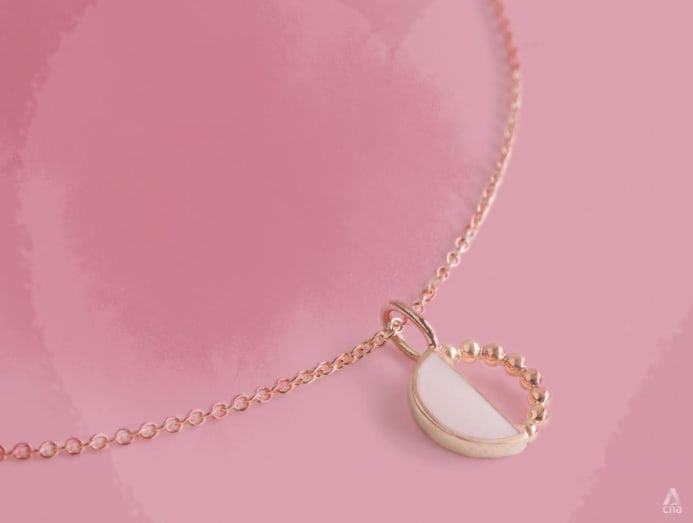 This pendant is a playful take on the cosmic universe – inspired by the shape of the sun and the moon – and can be easily layered with other pendants or necklaces.
SCRIPT DANGLE CHARM, S$69, PANDORA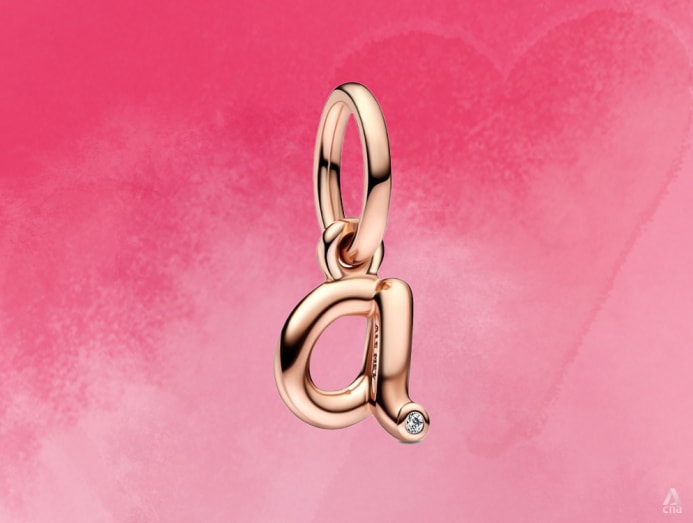 Add a letter that represents her name to her charm bracelet, or multiple letters that stand for a secret message from you.
SIGRID BLUE TOPAZ EARRINGS IN 14K GOLD-PLATED STERLING SILVER, S$76, LINJER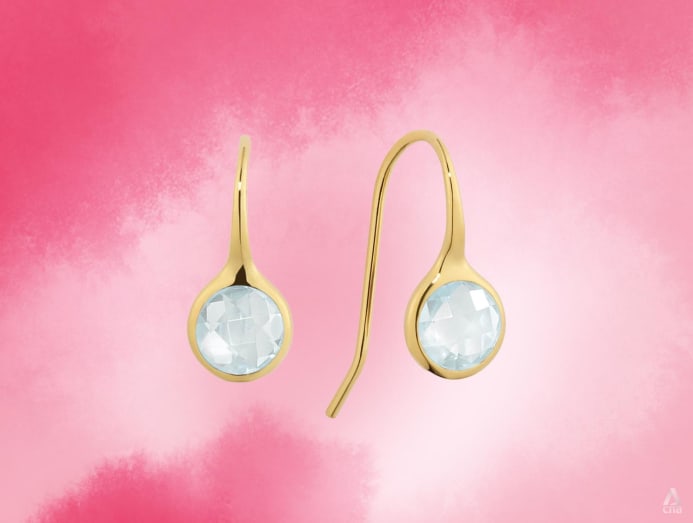 Did you know that blue topaz is associated with true love, trust and communication? Enough said.
TENNIS CHAIN BRACELET IN 18K GOLD-PLATED BRASS WITH CUBIC ZIRCONIA, £75/S$122, ASTRID & MIYU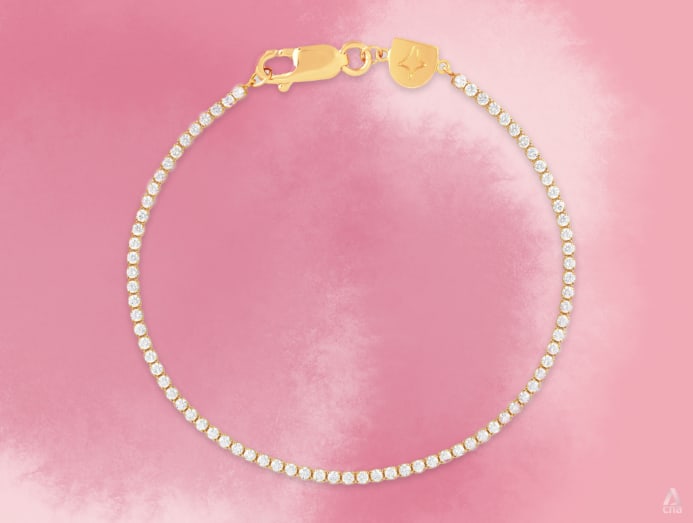 A classic tennis bracelet is a versatile essential in a jewellery collection. In other words, you can't go wrong by picking it for a gift.
SOZO CLASSIC OVAL BANGLE IN STAINLESS STEEL, S$125, SOAMI
As simple and meaningful as a bangle can get – this slim-line design can be stacked with other bracelets and engraved with a message of your choice on the inside and on the outside.
HEART ENAMEL RING IN 18K GOLD-PLATED STERLING SILVER, US$98/S$131, MEJURI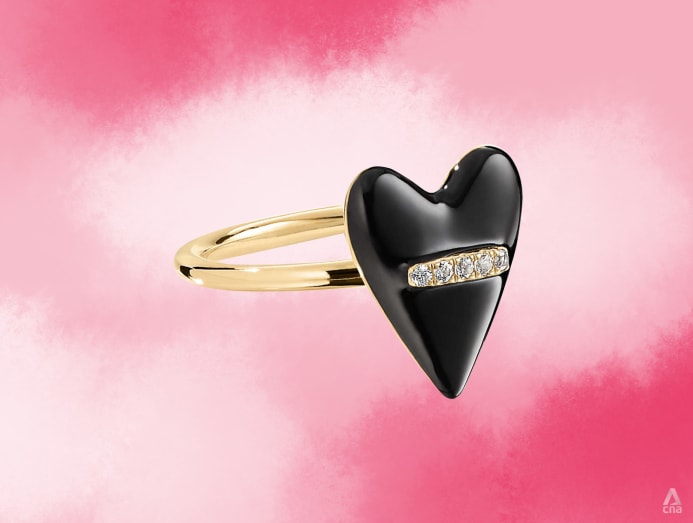 Wear your heart on your sleeve by gifting her this quirky enamel ring she can wear on her finger.
ROSE QUARTZ PENDANT WITH 18K GOLD-PLATED NECKLACE, S$138, BY CRYSTAL HAZE FROM MATCHESFASHION.COM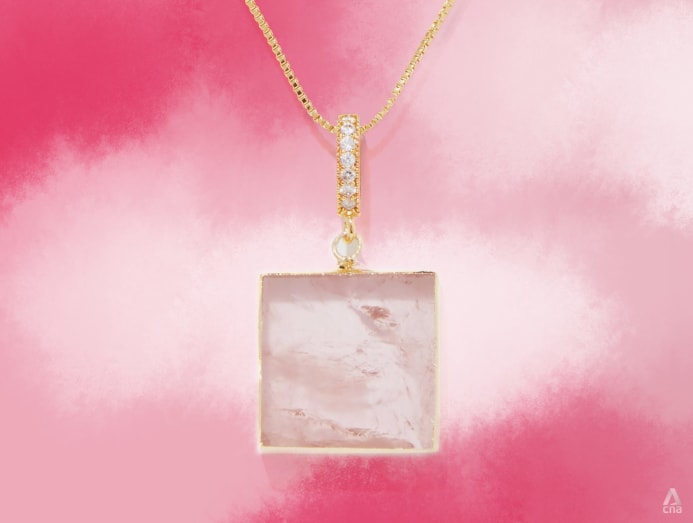 There's no better way to express your passion than with the crystal associated with love and relationships – needless to say, it's also the perfect stone for those who love pink.
GOLD DIAMOND STYLE BAGUETTE RING IN 14K GOLD-PLATED STERLING SILVER WITH CRYSTALS, S$139, LILY & ROO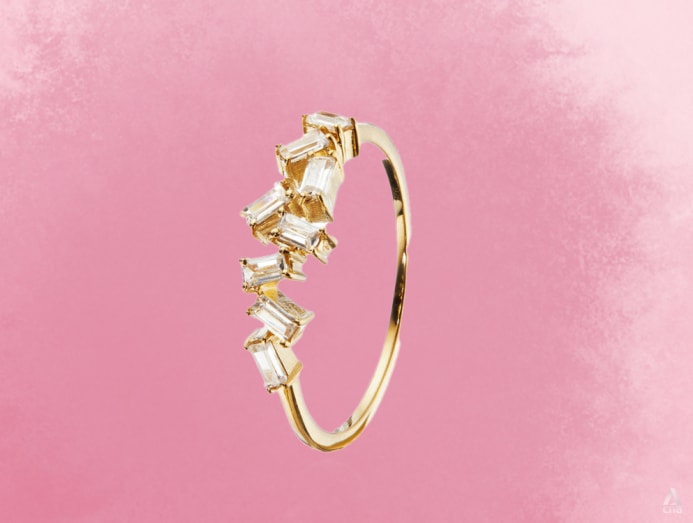 Dainty doesn't mean boring, as shown by this unique geometric cluster ring.
POSITANO RESIN AND GOLD-PLATED MINI HOOP EARRINGS, S$186, BY AURELIE BIDERMANN FROM FARFETCH.COM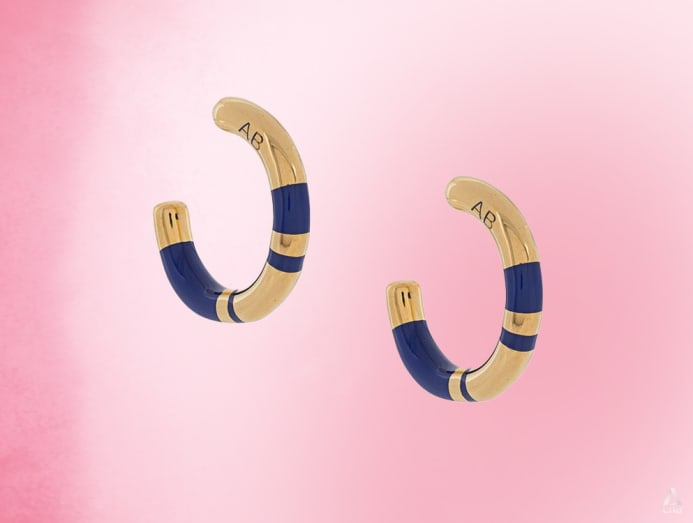 Stripes don't just look good on clothing – they can also add visual interest to a pair of simple hoop earrings.
MINI MALACHITE SPHERE PENDANT IN 18K GOLD-PLATED STERLING SILVER, S$190, MISSOMA
Malachite, seen in many iconic luxury brand-name jewellery designs, can also be found in other more-affordable alternatives like this stylish pendant.
UNDER S$800
VICTORIA TEXTURED EMERALD CUFF IN 18K GOLD-PLATED STERLING SILVER WITH EMERALDS, S$205, EDGE OF EMBER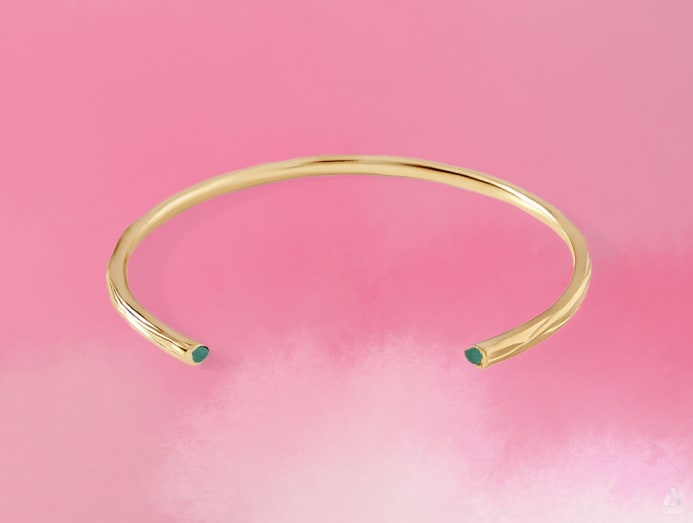 The best jewellery designs often come with unexpected details, like this elegant cuff that bears two tiny emeralds at its ends.
HEXAGON-CUT SMOKY QUARTZ WITH SPINEL RING, S$290, BLIING
This ring with a large central stone is made for those who love to make a statement with accessories.
DIAMOND PAVE ALPHABET BRACELET IN 14K GOLD, US$220/S$293, GORJANA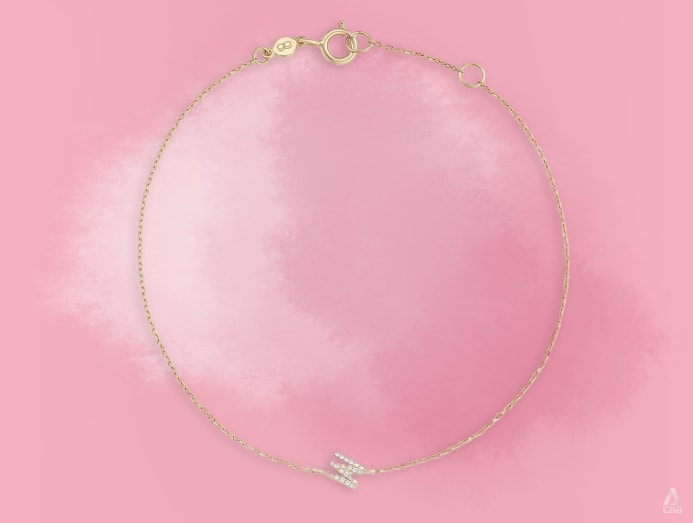 Yet another way to wear an initial or alphabet letter with special meaning, this delicate bracelet will make a gift to cherish.
KESHI PEARL BRACELET, S$355, MONICA VINADER
Searching for pearl jewellery that's modern and stylish? Go for this bracelet strung with irregularly shaped Keshi pearls that look so organic and interesting.
CELESTIAL RED ENAMEL CONSTELLATION LOCKET NECKLACE IN YELLOW GOLD VERMEIL, S$375, ASTLEY CLARKE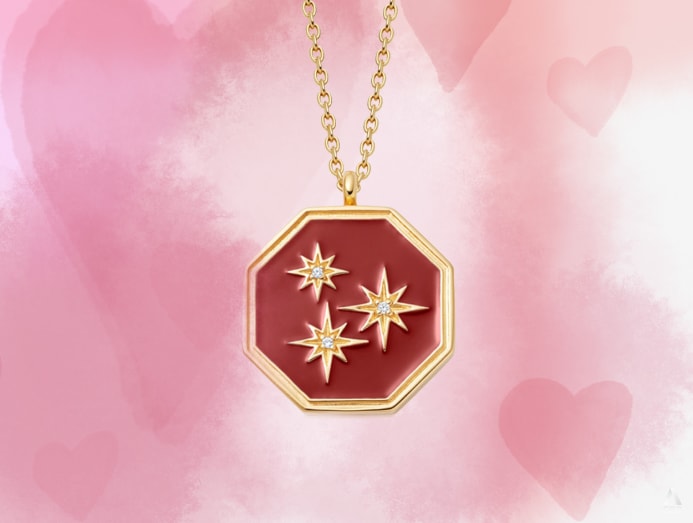 Red is the colour of passion, and it sure looks good worn around the neck on a pretty locket.
RAINBOW EAR CLIMBERS IN ROSE GOLD-PLATED STERLING SILVER WITH SEMI-PRECIOUS STONES, S$395, MTJ COLLECTIONS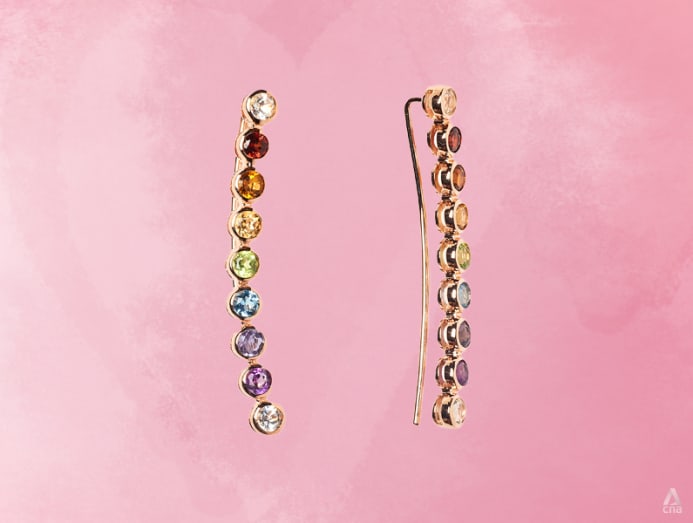 Does she have a colourful personal style? Add vibrance to her jewellery collection with these multicoloured statement ear accessories.
ROSE-CUT GREEN AMETHYST HOOP EARRINGS IN 14K GOLD, S$441, BY PARIAH
For the minimalist, a chic, sleek pair of hoops with a pair of faceted, softly hued stones.
BLIND FOR LOVE RING IN STERLING SILVER, S$540, GUCCI
Say it out loud with this wide band ring inscribed with symbolic Gucci motifs, as well as the phrase "Blind for Love".
OPAL DRIFT NECKLACE IN 14K GOLD WITH OPAL AND DIAMONDS, US$568/S$756, WWAKE
Wwake is known for its delicate fine jewellery with a focus on diamonds and opals, and this pendant is a perfect example of its experimental signature style.
OBJET PENDANT IN STERLING SILVER, US$420/S$559, AND 14K GOLD US$1,600/S$2,129, J HANNAH
A necklace that holds a concealed surprise: Hide a secret memento in its tiny pendant, which opens and closes like a box.
UNDER S$5,000
INVERSION EARRINGS IN 18K ROSE GOLD WITH LAPIS LAZULI, S$890, STATE PROPERTY
It's easy to see why celebs like Nicole Kidman and Lady Gaga are fans of this Singapore jewellery brand – its architectural jewellery has such a contemporary, standout style.
TIFFANY HARDWARE DOUBLE LINK PENDANT NECKLACE IN STERLING SILVER, S$1,150, TIFFANY & CO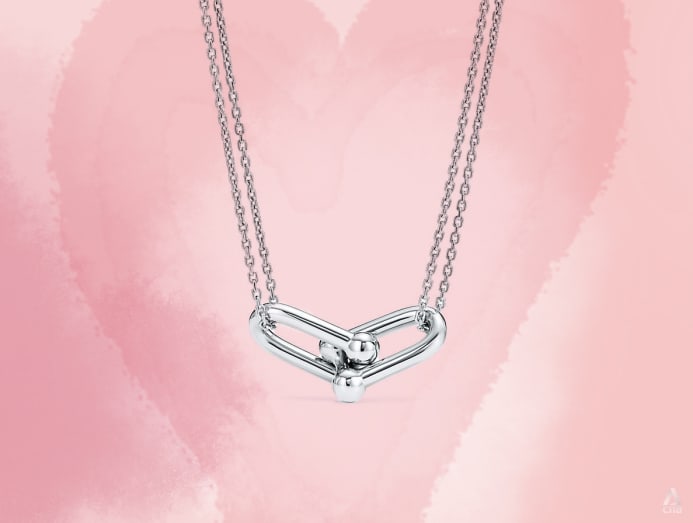 The edgy Tiffany Hardware collection is a modern classic that plays on industrial elements and this necklace from the line is no different.
MORSE CODE LINK NECKLACE IN 14K GOLD WITH DIAMONDS, S$2,100, CARRIE K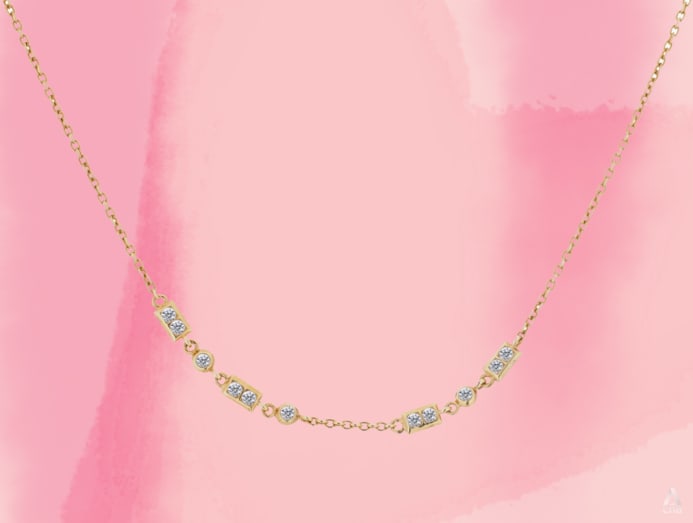 How cool is this for a Valentine's gift? A customisable necklace that lets you express your message of love with diamond-set dots and dashes.
CHAIN D'ANCRE BRACELET IN STERLING SILVER, S$2,150, HERMES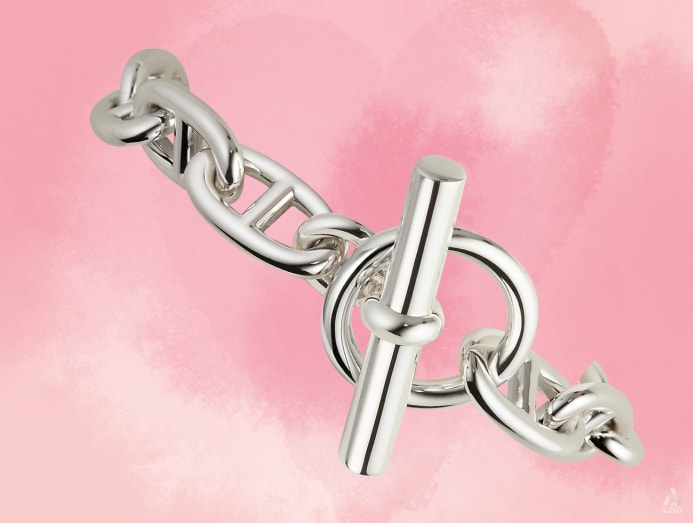 We don't think any woman would say no to something from Hermes, much less this bold bracelet with an oversized toggle closure.
CARTIER LOVE BRACELET IN 18K GOLD, S$2,550, CARTIER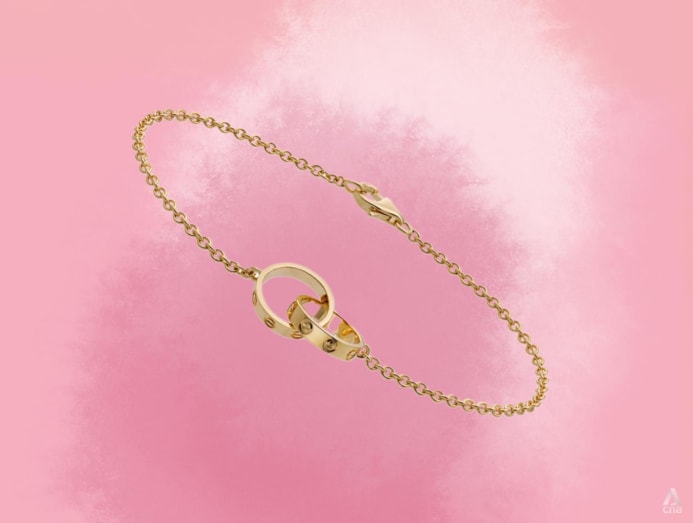 Linked for life – seal your love with this delicate bracelet from Cartier's ever-popular Love collection.
JEUX DE LIENS HARMONY ONYX BRACELET IN 18K ROSE GOLD, S$2,560, CHAUMET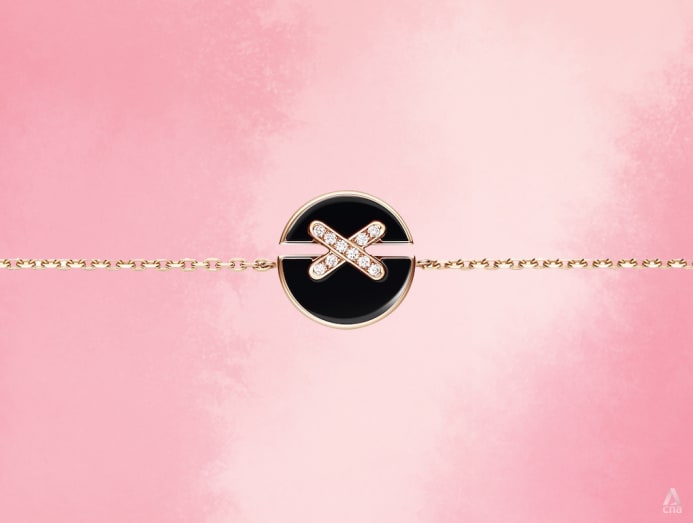 Chaumet's Jeux de Liens collection presents a youthful take on sentimental jewellery, as seen in this bracelet that's also available in other precious materials.
OSKAR RING IN 18K GOLD WITH PEARL, TSAVORITE AND DIAMOND, US$2,655/S$3,533, MOCIUN
A bezel-set Mabe pearl is the focal point of this unusual ring, and has its lustre set off by a green tsavorite and shining diamond.
COLOR BLOSSOM MINI STAR RING IN 18K PINK GOLD WITH CARNELIAN AND DIAMOND, S$4,450, LOUIS VUITTON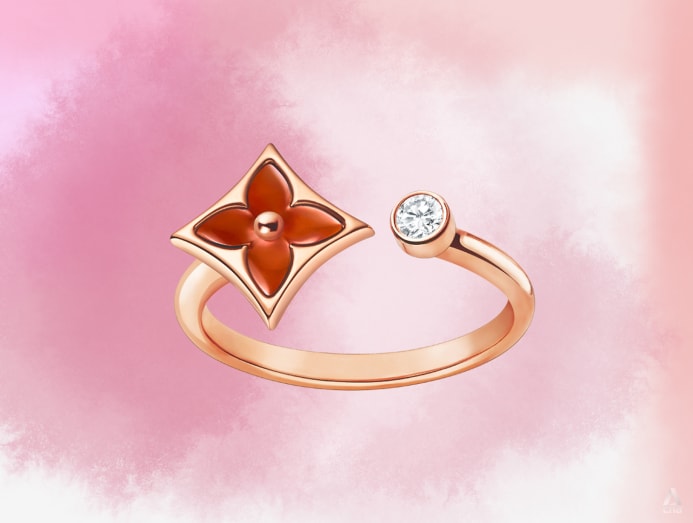 This petite ring is the best gift for a fan of the iconic Monogram, not to mention a great accessory to go with her bag from the same brand.
EDGY ROUND HOOPS IN 9K GOLD WITH MOTHER-OF-PEARL AND DIAMONDS, S$4,700, JOUER BY SIMONE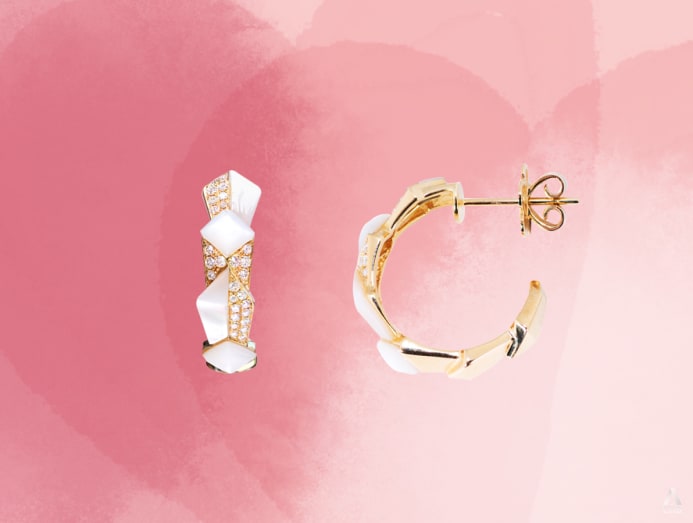 A modern pair of hoops – by the sister brand of the homegrown Simone Jewels – with a youthful, bold vibe.
COCO CRUSH TOI ET MOI RING IN 18K WHITE AND BEIGE GOLD WITH DIAMONDS, S$5,000, CHANEL
Not only is this bi-colour, twin-band ring in Chanel's well-loved quilted motif super chic, but it also symbolises a romantic pairing.