This Singaporean sneaker 'doctor' breathes new life into your trendy old kicks
From limited edition Air Jordan 1 sneakers to chic Dior and Chanel shoes, Klingsmen Lee of Classified Footwear is the man in-the-know shoe lovers are relying on to rescue their "grail" footwear. 
Shoe junkies worth their salt know just how difficult it can be to get their hands on their desired kicks these days. From coveted sneakers by Nike and Yeezy to cult labels such as Visvim and Alyx or even Instagram-friendly designer picks from Hermes or Dior, many popular shoes are in limited supply.
So, when you finally manage to own your dream pair, you might ironically end up being reluctant to use them too frequently in case they get worn out quickly.
Well, fret not. When it is eventually time to extend the lifespan of your prized footwear, Singapore's very own "shoe doctor" Klingsmen Lee of Classified Footwear will come to your rescue.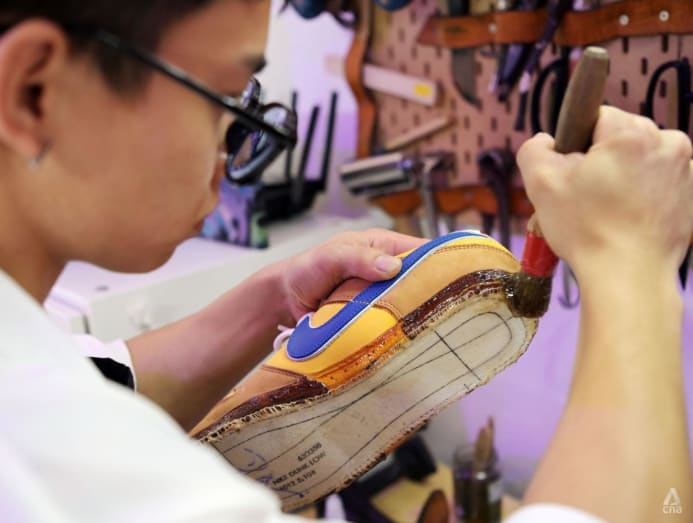 What sets Lee apart from regular cobblers is that he does not stick to standard repairs such as merely replacing worn soles with a similar one or colouring in scuffed leather so that the marks are less obvious.
"I want to give shoes a new lease of life and yet make them one of a kind so there is always a creative thought process in solving a shoe-related problem," explained Lee. "For example, when I do customised resoling of shoes, I play around with colours or materials."
So, expect a fashionable twist to your repair job when you send it to his shoe workshop. Some creative repairs he has previously done include adding a leather welt (a leather strip that is sewn on the outsole of the shoe) and commando lug soles to a pair of New Balance sneakers so that they look more formal. On another occasion, he turned Converse sneakers into "sneaker boots" with some new leather detailing and by adding thick chunky soles.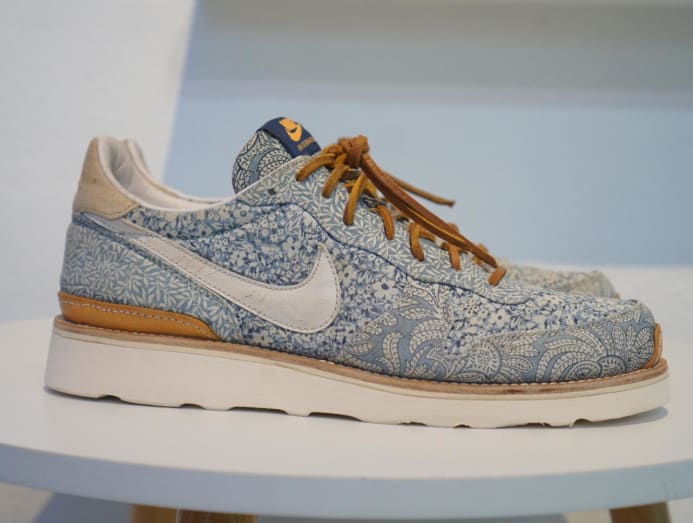 The use of chunky, ridged soles is in fact a big trend this season, especially with It shoes such as Prada's distinct fisherman sandals popularising the look. So, for those who are increasingly concerned about the carbon footprint of their buying choices, such customisation options could be a good way of updating one's look without having to buy an entirely new pair of shoes, he pointed out.
Before Lee launched his own company in August 2021, he worked as a leather crafter before becoming a franchisee of a local shoe repair company to learn the skills of the trade. Since then, the self-professed "modern cobbler" has quickly amassed a following of loyal customers who entrust him with their beloved shoes. In fact, the one-man show is so in demand he stopped taking new commissions until September.
Lee's popularity is in part due to his in-depth knowledge about the hottest shoes in the market. He makes it a point to keep up to date with the latest fashion and pop culture references and draws inspiration from what other "shoe doctors" in Japan and the United States are doing, as creative restorations are a well-established craft in these countries.
This knowledge makes all the difference to his customers. "My clientele is younger and I deal with many of their personal grails, so I understand how much each pair means to the owner. Some cobblers may not know that a certain pair of sneakers are limited edition or of a certain sentimental or monetary value as they may not understand the shoe enough," he explained.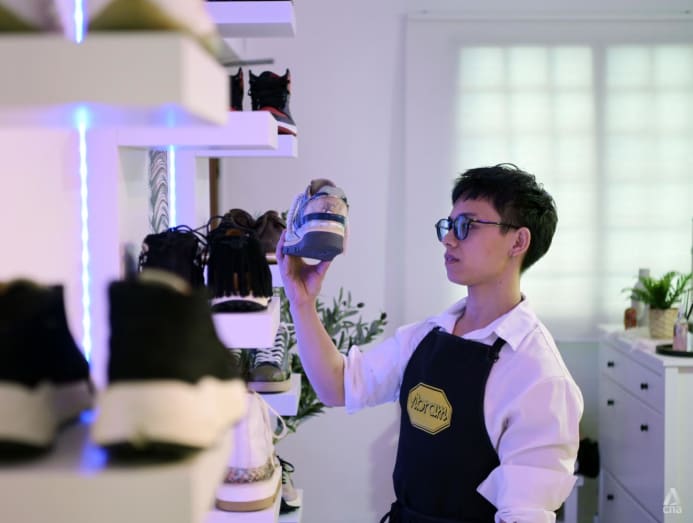 For instance, he has restored a pair of rare 28-year-old Air Jordan 1 Chicago sneakers dating back to 1994 by changing the soles and reconditioning the leather so that they look almost as good as new. Fun fact: These coveted models can sell for thousands on the secondary market.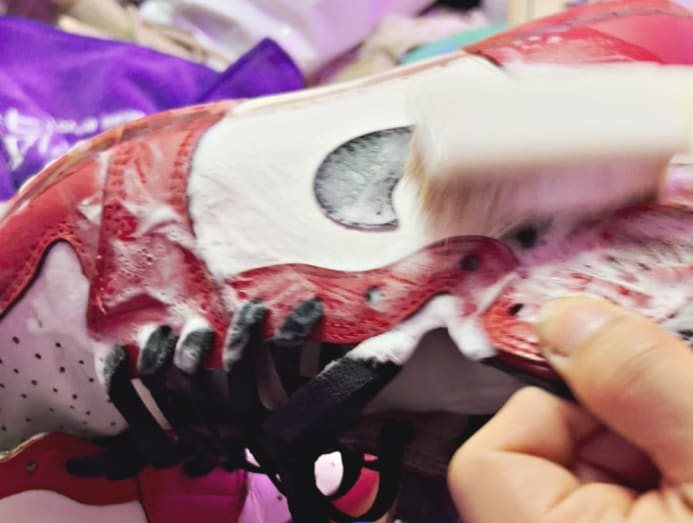 And while he does not change the entire shoe upper, what he can do to give a pair a new look is to incorporate interesting details, such as by adding an extra swoosh, stitching on additional panels or even changing the colour of the shoes.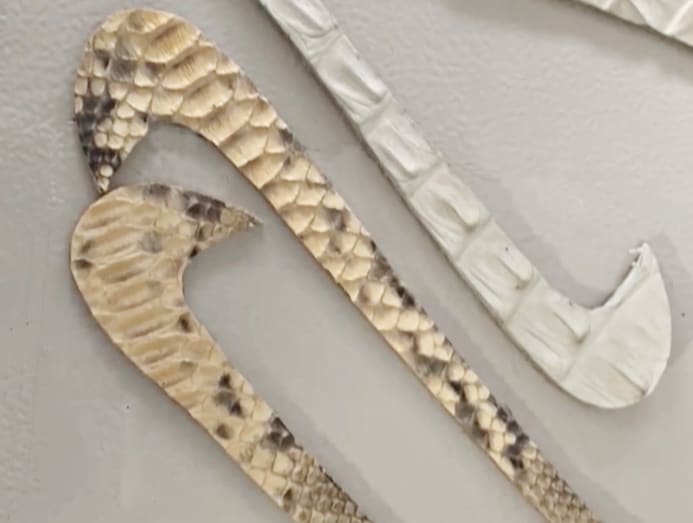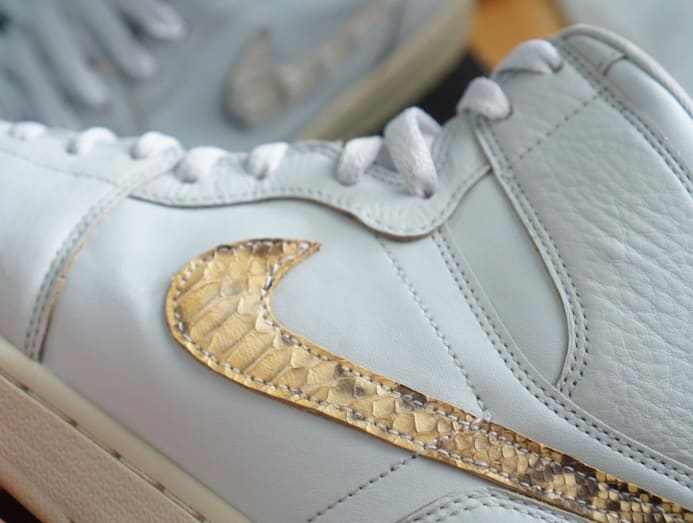 Additionally, his repertoire is not limited to just sneakers. Now that people are returning to the office, Lee is also seeing an upswing in repairs and customisations for work shoes such as leather loafers. Many women also contact him to rework their designer buys from brands including Hermes, Chanel, Dior and Ferragamo. Plus, he lets on that he also accepts certain bag repair and customisation requests.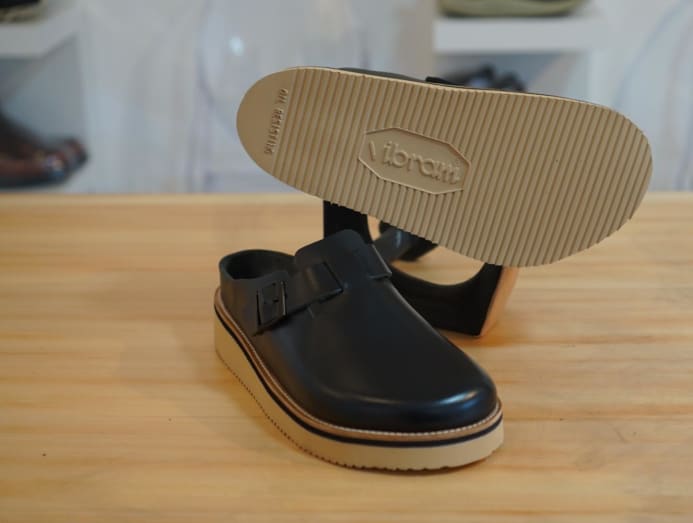 Even Lee himself still gets amazed when he sees how a pair of familiar shoes are transformed after a repair job.
"I remember receiving a pair of tasselled loafers that were the favourite 'beaters' of a client. It had become his 'old and boring' shoes so, to switch it up, we decided to swap out the sole into a tactical sole and that totally transformed the look," he recalled. "I am constantly intrigued by how different a pair of shoes can turn out after a simple makeover."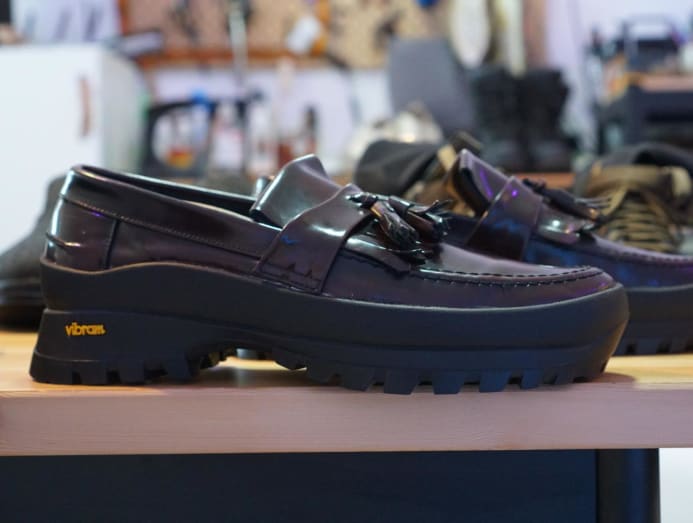 That said, while he can work wonders on worn-out shoes, Lee said he does turn down jobs if the uppers are extremely damaged or are too dirty. In those cases, it makes more sense for the owner to buy a new pair instead of engaging him to reconstruct the "body" of the shoe. "I also generally stay away from working on synthetic leather as those do not last," he added.
But most importantly, the shoe owner has to make it a point to care for their footwear if they would like it to last for as long as possible, he said. "The most important way to extend the lifespan of your shoes is to spend time on basic cleaning and maintenance. Think about it, we wash our clothes each time we wear them but not our shoes. But bacteria can also accumulate on shoes over time and this could cause the deterioration of the material."
Indeed, as in the case of the previously mentioned vintage Air Jordan 1s, his posts on Instagram show how the leather, while aged, was not damaged thanks to the owner's tender loving care over the years.
This is why he hopes more people will consider restoring their well-loved shoes instead of tossing them out. "Repairing a pair of shoes is such a mundane thing that we often do not even think about it. So when our shoes get spoiled, we think it is time to buy a new one," he reflected.
"Customisation and restoration options are still relatively new in Singapore but hopefully in time, more people will appreciate this craft."
Klingsmen Lee of Classified Footwear shows us how he approaches the traditional craft of shoe cobbling with a very modern perspective to transform regular sneakers into one-of-a-kind pairs.