From Koh Samui to Bali to New York: 6 wellness retreats that promise high-tech healing
Travellers have begun to focus on their health in new ways – with many seeking high-tech preventive care.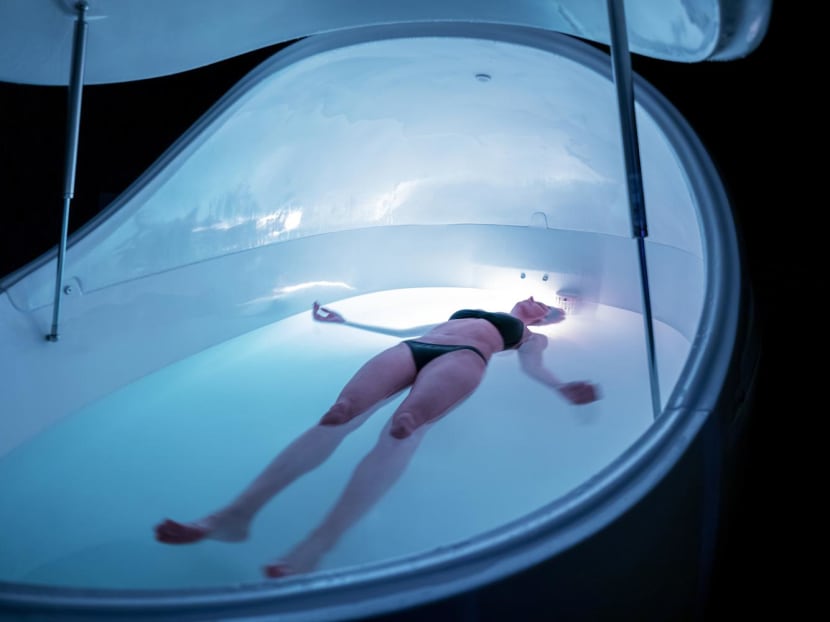 Travellers have long flocked to resort destinations for yoga retreats, deep tissue massages and fitness boot camps. But when the pandemic hit, wellness took on a new urgency, and people have begun to focus on their health in new ways – with many seeking high-tech preventive care.
That shift in priorities has supercharged demand. According to a June 2022 report by Grand View Research, a firm that studies business trends, the global wellness tourism market is expected to exceed US$1 trillion (S$1.35trillion) by 2030, growing at an annual rate of nearly 10 per cent over the next eight years.
In response, hotels and resorts are trading in the old-school yoga-and-massage approach for advanced wellness treatments that claim to foster longevity, often blending Western diagnostic testing with Eastern therapies.
"The majority of our guests are suddenly much more interested in wellness," said Anna Bjurstam, the head of wellness at Six Senses on the Spanish island of Ibiza. "Those who were already eating, exercising and sleeping well are now looking into their hormones, peptides, exosomes and stem cells, so we've had to step it up."
Dr William Kapp, a board-certified orthopedic surgeon and a founding partner of the preventive health and longevity company Fountain Life, also sees the shift. "Consumers are looking for alternatives to what medicine is traditionally providing," he said. He notes that treatments like red-light therapy and cryotherapy for reducing inflammation have been shown to decrease stress on the rest of the body's systems, but says there are not yet enough long-term, double-blind studies to prove how effective some other alternative treatments are for longevity. "A lot of these therapies will make you feel better, but I wouldn't hold out hope they do anything else," Kapp said. "There is no magic bullet yet."
Here's what six destinations around the world are doing to cater to these new wellness travellers. (Remember to consult with your own medical professionals before beginning any treatment program.)
BREATHING, MEDITATION AND OXYGEN THERAPY
The new Longevity House at Kamalaya Koh Samui in Thailand offers more than 100 treatments and 17 wellness programs. The wellness sanctuary, which has been open for nearly two decades, relies on an array of Eastern and Western medical personnel, visiting practitioners in areas like acupuncture and reiki, and life-enhancement mentors specialising in pranayama breathing exercises and meditation. Its programs fuse the ancient healing and spiritual traditions of various Asian cultures with Western science.
"The Longevity House is designed to augment our various wellness programs and maximise benefits in a short amount of time," said Karina Stewart, a co-founder and the chief wellness officer of the retreat. A la carte services include customised IV vitamin infusions, hyperbaric oxygen therapy, and a preventive cancer screening that claims to use blood tests to help detect illness before symptoms have appeared.
"We cover many, many different aspects of health and wellness," Stewart said. "But ultimately, we specialise in helping our guests fulfill their life's potential." (Rates start at about US$1,425, plus tax, for three-day programs, including meals and excluding accommodation; rooms start at approximately US$200.)
TAILORED TREATMENTS ON A LUSH ISLAND
In December, when Mary Lamb, who splits her time between New York City and Singapore, visited Joali Being, a new wellness resort in the Maldives, she hoped to leave with a goal. "Every time I go to a wellness retreat, I do a bit of self-reflection and have a takeaway that I work on at home," she said.
The wellness concept at Joali Being is rooted in four pillars: mind, skin, microbiome and energy. This informs everything – from the design of the property, on a lush island, to the culinary offerings and the treatments provided by a panel of physicians, Ayurvedic doctors, Chinese medicine specialists and an herbalist, among others. As part of the resort's approach, guests receive five consultations: Pre-arrival, three times during their stay and post-trip to ensure the integration of new habits. "We're finding that our guests want to go beyond just relaxing," said Magdy Abdelaty, the director of well-being at Joali. "They want a deeper understanding of themselves and what they need physically, mentally, emotionally and spiritually."
During her stay, Lamb received an evaluation with a Qest 4 device, which claims to use electric currents to test the health of organs and other body parts, providing data that helps tailor treatments for each guest. "The results said my gut needed attention, which is true," Lamb said. She also discovered that her balance needed improvement after a functional movement analysis using a 3D camera and a force platform, a device that helps gauge balance, posture and gait.
A personal trainer also gave her individualised exercises that she continues to do weekly. Lamb recommends the Watsu hydrotherapy 60-minute massage – one of the resort's most frequently booked treatments – which combines massage, acupressure, stretching and rocking in the spa's thermal pool. "I felt weightless, as though I was floating in space," she said. (Rooms start at US$2,146, plus tax, per night.)
'A MOMENT OF QUIET IN THE CHAOS'
In New York, the newly opened Aman debuted with a 25,000-square-foot, three-level spa that offers three-day to 12-week programs. A team of medical doctors, Chinese medicine practitioners and physiotherapists customises treatments and diet using high-tech tools that measure body fat, cognition, minerals and toxic metals, glucose levels, and functionality of the cardiovascular, respiratory, nervous and musculoskeletal systems. The physician on staff may also request previous medical records or order further testing.
Since opening, the spa – which is open to hotel guests and members only and offers an infrared sauna, hot and cold plunge pools, and a cryotherapy chamber – has experienced a jump in the number of visitors using its purification and detox services. "We have found that guests are visiting the hotel to find a moment of quiet in the chaos and improve their overall well-being instead of visiting New York to sightsee and explore," said Sanali McFadden, the director of spa and wellness at Aman New York. (Rooms start at US$3,200; the three-day immersion program starts at US$15,600, including accommodation, food and nonalcoholic beverages.)
ASSESSING SLEEP CYCLES AND THE AGEING OF CELLS
Six Senses Ibiza, which opened in Spain in the summer of 2021, is teaming up with longevity clinic RoseBar to offer programs that include comprehensive wellness screenings and the option of one, three or seven days of services like hyperbaric oxygen therapy (breathing pure oxygen in a pressurised capsule, which is thought to help speed up the healing process); cryotherapy; and tests that analyse DNA to show how fast cells are aging. This will be RoseBar's first location.
Packages include consultations with in-house medical experts, IV infusions, oxygen therapy and massages. Additionally, the brand will roll out a new program this year that assesses a person's chronotype, or natural sleep cycle.
Sara Nielsen, a working mother of two from London, visited Six Senses Ibiza last summer with her husband. The experience prompted her to change her lifestyle after she returned home. "I meditate daily now in front of a red-light therapy device, I bought a cold plunge pool for the garden, and I now do slow gentle exercise instead of HIIT classes to calm my nervous system," she said, referring to high-intensity interval training. "I realised I don't have to make big, sweeping changes in my life. I can consistently stack small habits to support myself and create a better balance." (Rooms start at US$827, including breakfast.)
A FOCUS ON BUILDING HEALTHY HABITS
In Uruguay, Alive Resort takes its cues from established European spa retreats like Sha Wellness Clinic, Priedlhof and the Burgenstock Waldhotel. As part of Alive's care, medical professionals, including general practitioners, nutritionists and therapists, are coupled with technology like 3D scanners and zero-gravity beds, which adjust position to relieve pressure on the body.
Personalised plans focus on introducing new habits around diet, fitness and stress management, and the majority of travellers come from all over Latin America to quit smoking, lose weight and detox. Most guests stay for a week, while others stay for months, the resort said, and about half of the guests book their next visit before checking out.
"Our weight-loss program is a huge success," said Patricia Fernandes, an owner of Alive. She said her mother died of a cancer for which obesity is a risk factor, an event that inspired her to open the resort. "In the restaurant, every guest is eating something different because each person has different objectives, requirements and states of health," Fernandes said.
Guests can also participate in workshops with a nutritionist, where they learn how to read food labels and make healthy eating choices, and take part in cooking classes and consultations with a therapist and a life coach. Before departure, they receive personalised diets and fitness plans to continue at home, as well as follow-up video appointments with a nutritionist to adapt those plans over time.
"It is life-changing for our guests when their glycemic levels, cholesterol and blood pressure return to normal levels," Fernandes said. (Rooms start at US$449 based on single occupancy with a three-night stay minimum.)
SALT-FLOAT BATHS AND SMART MATTRESSES
Tammy Pahel, the vice president for spa and wellness at the Carillon Miami Wellness Resort in Miami Beach, Florida, has witnessed the changing demand. "When we reopened the hotel in November 2020, people were calling with specific issues like anxiety, insomnia and muscle tension and asking what we offered that could help," she said. "They didn't want to just take a pill."
During the pandemic, the Carillon invested more than US$1 million in state-of-the art equipment for its 70,000-square-foot spa, creating seven wellness circuits aimed at addressing problems like stress, insomnia and back pain. The equipment, called touchless tech because it doesn't require a spa therapist, can also be reserved a la carte. Popular treatments include a salt-float bath and calming red-light therapy, as well as beds that use sounds and electromagnetic waves, which are said to put the body into a deep resting state.
The resort also offers access to a team of wellness experts, including those versed in Chinese practices like acupuncture (both traditional and with laser instead of needles) and in functional medicine, which looks at a person's whole health to assess the root causes of illness. And last year, it introduced the Biostation, where the results of a comprehensive blood test of hormones and mineral levels are used to design custom treatment plans that incorporate diet and lifestyle modifications, stress management, nutrient injections, therapies using plant-based hormones, and more. A physician directs the program, and licensed doctors, physician assistants and nurse practitioners administer the treatments.
Guest rooms are also being furnished with Bryte mattresses, which use artificial intelligence to analyse sleep preferences like firmness and temperature. Those settings are saved for future stays at any place that uses Bryte mattresses. (Rooms start at US$699; touchless tech services can be booked individually, starting at US$99 for 25 minutes. The blood work is US$499, or US$299 with qualified health insurance plans.)
By Nora Welsh © The New York Times Company
The article originally appeared in The New York Times.
Source: New York Times/yy