Louis Vuitton, Loewe, Hermes, Chloe try a 'novel' concept: Fabulous, wearable clothing
The world's top designers have come full circle in their response to exactly what French fashion is.
Like many people, Nicolas Ghesquiere, artistic director of Louis Vuitton womenswear, started really travelling again last year – for work, for fun – after being mostly housebound during COVID-19 lockdowns. And wherever he went, he and his team or he and his friends would shop. They were trying to answer what he called "the eternal question": What is French style?
And they were looking for something to wear. Which is another eternal question.
"And I began to think," Ghesquiere said before his show, the penultimate day of the fall 2023 fashion season, "why don't we address again the list of wishing?" In other words, get everyone to make a wish list of clothes they wanted but could not find.
Then he collated the results, filtered them through his idea of French style (because what is Vuitton except one of Gallic chic's most global synonyms?) and offered an answer.
Shown on a catwalk made to resemble a cobbled city street to the tune of beeping car horns, clicking high heels, dog barks and birdsong – the whole urban symphony minus the catcalls and grumpy asides – it looked like a snapshot of a late afternoon human swirl walking down Quai Voltaire in a Paris of the mind.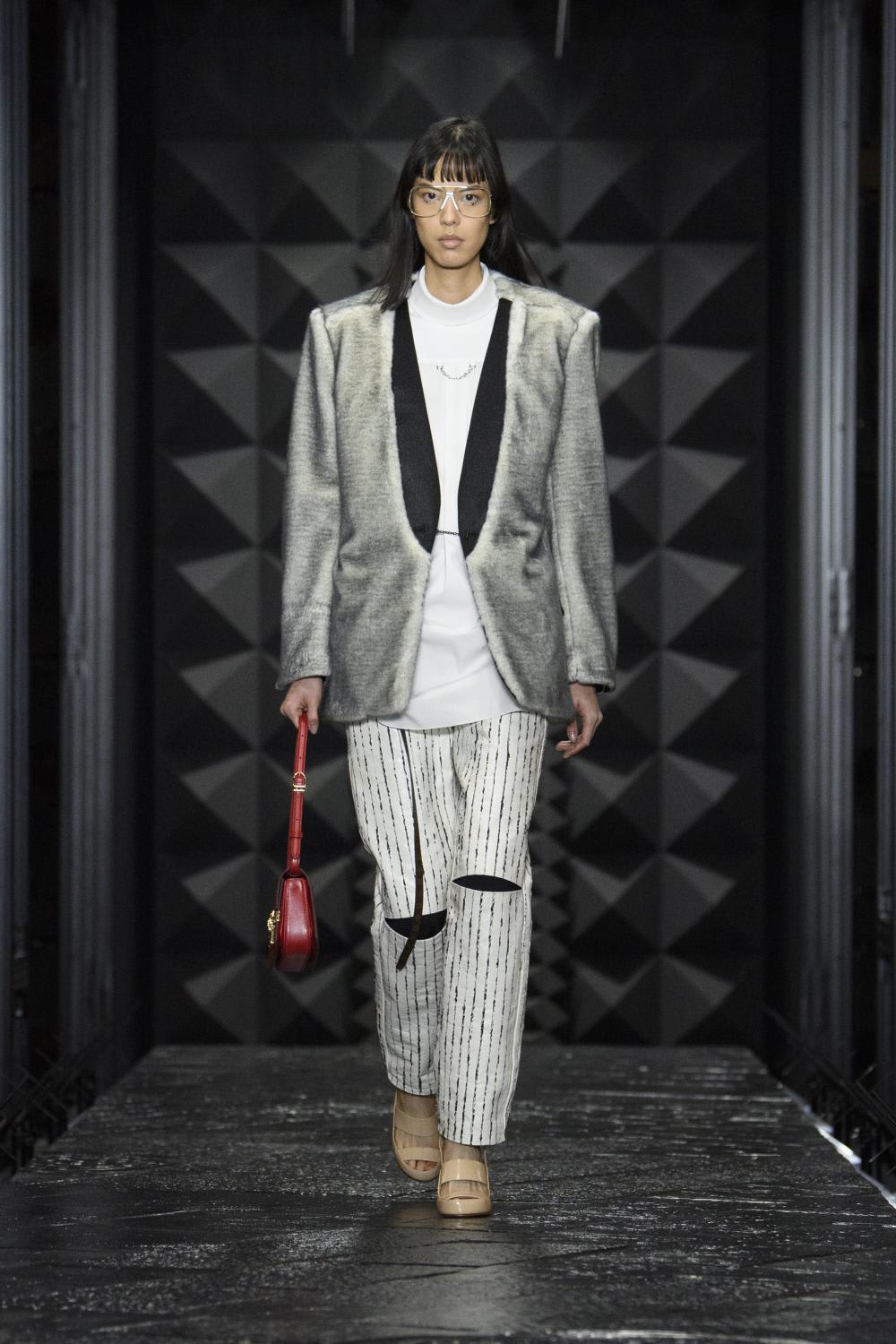 There were pleated silk jackets (because offices are back) belted over pearl-trimmed cobwebby knits (because they aren't entirely). Sharp-shoulder shaved fake-fur jackets paired with leather jeans. A chunky belted camel wool coat that turned out to be not wool at all but leather printed to look like wool. A wisp of a filigree beaded skirt worn with an angora bodysuit and a woolly scarf twisted around the neck, as if the woman had gone straight from yoga class to a gallery job by way of the coffee shop.
And a whole series of peignoir-and-board-shorts sets, encrusted with the most elaborate embroidery, for evening. Or rather that part of the evening that might involve lazy after-work assignations in a five-star hotel suite. In very fancy loungewear. They were delightfully contradictory (which to Ghesquiere may be the essence of French style).
Although they were shown in the Musee d'Orsay, rather than to imply a relationship to the art on its walls in the manner of some of Ghesquiere's more recent shows like the sci-fi fantasia in San Diego, these clothes connected to the people who might be strolling through the galleries. You know, lingering by "Le Dejeuner sur l'herbe" or "La Petite Danseuse de Quatorze Ans" and then glancing over at another viewer standing nearby and thinking, "Huh, that's a great jacket."
WEARABILITY, WEARABILITY, WEARABILITY
All of a sudden, wearability has become the watchword of the season. It began sprouting during New York Fashion Week and gathered momentum in London and Milan, but in Paris, normally the temple of the High Style Creative (Fashion as art! Fashion as fantasy! Fashion that couldn't give a fig if you look like a one-eyed, one-horned, flying purple people eater when you walk down the street, because how fabulous!), it has practically become a mantra. It's another word, really, for pieces.
The big coats that have been everywhere this season, for example. Hello, Chloe, where Gabriela Hearst patchworked leather and shearling into crafty, 1970s-tinged rock 'n' roll elegance, tossed over intricately woven leather jeans or wafty, Renaissance-chick dresses. She also had a whole spiel that somehow connected the clothes to the idea that women would solve the climate crisis, to Baroque painter Artemisia Gentileschi and to Esther, the biblical queen whose story is celebrated in the Jewish holiday of Purim, but it was just distraction: They were great coats.
Or a cool pair of trousers, like those slouchy, low-slung tweeds on view at Stella McCartney, who backgrounded her show with a troupe of unrestrained horses that cantered, rolled and otherwise performed for a trainer whom a documentary film called the "horse whisperer."
Admittedly, that made it hard to focus on the models strolling out in horse-print tunics and slip dresses silk-screened with horse photographs taken by her mother, Linda McCartney, and big polo shirts with a horse head and horseshoe where the logo would go, but that's part of the point. Sometimes instead of being the center of attention, clothes can be the supporting act.
AND PROBLEM-SOLVING
Part of what's driving this – it's not really a trend, but maybe a change in emphasis – is commerce, no doubt. Clothes that are not complicated – and do not demand a doctorate or wild amounts of role-play to understand – are easier to sell. But part of it also is generosity: Clothes that are not complicated also demand less effort to wear, and fashion is, at its heart, a service profession. Or it's supposed to be.
Sometimes it is there to challenge us to rise to an occasion; to force us out of our comfort zone to imagine other worlds, other possible selves. But other times, it's there to solve our problems and make it a little easier to get through the day – at least when it is smart, rather than banal (no one needs more of that).
That has always been the essence of Hermes, where designer Nadege Vanhee-Cybulski leaned hard into deep-pile cashmeres and suedes in ruby, bronze and gold, layering pieces to create the most luxurious hug. A quilted parka hitched up at the back with a strap worn over one shoulder like a backpack transformed into a sleeping bag. As for cocktail dresses, they came in pleated Fortuny-like silk, the kind that shapes itself around the body, rather than forcing the body into shape.
But even Jonathan Anderson, the creative director of Loewe, who once embedded a car in a dress, used faux balloons to represent breasts on another and substituted an anthurium for a bodice, picked "reduction" as his motto and swapped the jokey surrealism for a more poignant, wardrobing sort of approach. Less Jeff Koons, more Gerhard Richter. There's enough noise in the world. Why add to it? Raise an eyebrow instead.
See simple silk dresses screen-printed with blurry images of other dresses, other trenchcoats on front, like a souvenir. Or oversize cardigans knitted to blouse out at the hips as if they had been belted even though they had not, over matching knit culottes (maybe the coolest version of a new suit). T-shirts and trousers made entirely of layered goose feathers. Leather jackets cropped and molded into Playmobil shape.
A smattering of ideas – if you don't like one, just turn your head: There's another! – all of which tickle the imagination, rather than zap it.
Which also makes them eminently (yup) wearable. In the best possible way.
By Vanessa Friedman © The New York Times Company
This article originally appeared in The New York Times. 
Source: New York Times/yy