Charisma, confidence, platinum hair: Here's what it takes to be a model at 50 and above
Grow those greys out and strut your stuff – modelling agency Platinum Angels Management celebrates the unique charms of senior models.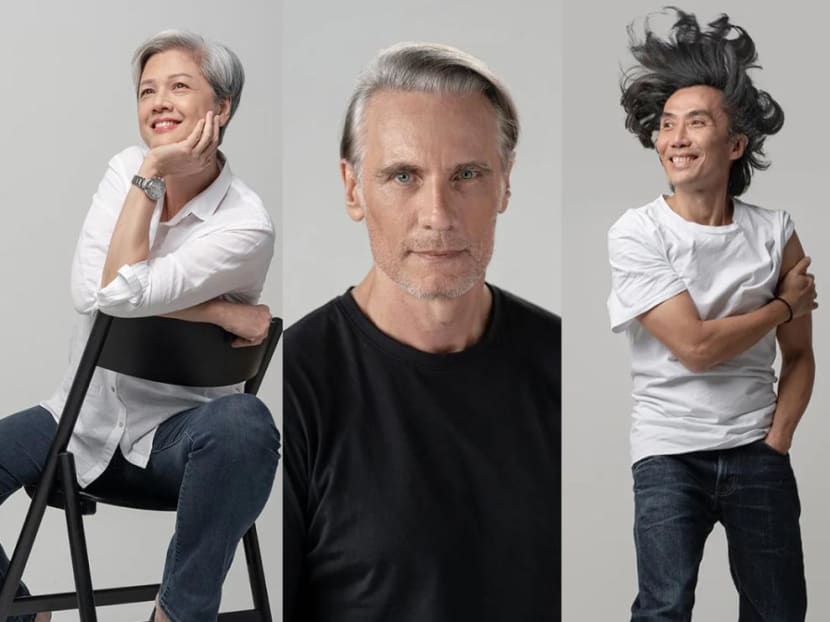 In another clear sign that the modelling world no longer belongs to the young and impossibly thin, a modelling agency that only represents talent that are aged 50 and above is making waves in Singapore.
Platinum Angels Management taps into the fact that thanks to shifting mindsets and advancements in healthcare and beauty technology, age is no longer a limit when it comes to many things. Many in their 40s, 50s and way beyond are doing things that may have been considered impossible or inappropriate for their parents and grandparents at the same age, whether it's in sports, parenting, or yes, modelling.
The great thing about being a model in your 50s and older is that many of the restrictions that are placed on younger models do not apply, at least if you're a model with Platinum Angels Management (PAM).
The agency's co-founder, Beatrice Andre-Besse, 60, a former model in the 1970s, who runs PAM with fellow ex-models Pat Kraal, 59, and Brandon Barker, 67, told CNA Lifestyle: "We want everyone who aspired to be a model in their youth but were too preoccupied being parents and/or working to be granted the opportunity to fulfill their dreams. There is no maximum age, no height restriction and no experience required to join PAM. We are diverse and inclusive, so we consider everybody, whatever their skin colour, build and origin."
We want people to show us who they really are. We don't need you to go through diets or plastic surgery. We are interested in you.
Models with prior experience have an advantage, but newbies are welcome, as PAM provides training. You don't need to have platinum hair either, although Andre-Besse said it's a bonus.
"Since white hair is inevitable with ageing, it's ideal if models display their true selves. We want people to show us who they really are. We don't need you to go through diets or plastic surgery. We are interested in you."
As industries recognise the impact of a greying population and the power of this segment of the market, the demand for older models and talents has changed significantly. "The fashion industry has opened the catwalks to older models but there is still a lot of progress to be made in terms of diversity and inclusion," Andre-Besse explained. And PAM wants to play a part in pushing that agenda. 
"What we are trying to do is make both models and clients realise that there are wonderful projects to be worked on together," she said. "We also want to show that the 50-plus population can be useful to the community, be more financially independent, stay healthier and have another adventure in life."
She observed that there aren't any agencies specialising in older models in the Asia-Pacific region, and while a few offer senior models, her agency embraces only 50-plus talent, as the segment needs special care and attention.
90S ACTOR-TURNED-SENIOR MODEL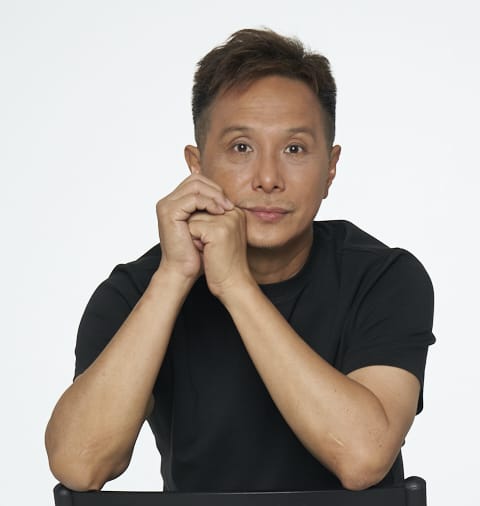 All ready to kick off another adventure in life is Collin Chee, 55, who may be a familiar face to some. The erstwhile actor was a contestant on Star Search's 1993 edition, and has appeared in TV series such as Teochew Family and Dr Justice. The father of four young adults had a stint managing local football teams and is currently an advocate for the Dads For Life movement, and is signed on to PAM as a model.
"To me, being in my 50s is a new beginning," he told CNA Lifestyle. "At different stages of life, we exhibit different charisma and potential. Age should not be a barrier, as we are able to work with different categories of products and appeal to different demographics."
With a positive mindset and energy, older models can excel. Keeping fit and healthy both physically and mentally are important.
For Chee, one edge older models has over younger ones is confidence and experience. "Through rich life experiences, older folks have different perspectives. I'm looking forward to taking on challenging assignments that allow me to display my maturity, wisdom and charisma. With a positive mindset and energy, older models can excel," he said. 
"Keeping fit and healthy both physically and mentally are important. I have to be disciplined about exercising and maintaining a healthy diet, and forgo food like char kway teow, durians and oily stuff, though once in a while I still eat durian."
And no, he doesn't feel any pressure about being scrutinised even though he's now older. "I am easy, and happy to be in front of the camera again. It brings back some memories, but at the same time, it's refreshing, as I am now tapping on my more mature look."
ENGAGING OLDER CONSUMERS WITH GRACE AND CHARM
Another PAM model bravely sailing into uncharted waters is Shan Min Tay, 56. The one-time public relations manager for brands such as MAC Cosmetics, who's currently battling advanced stage Naso Pharyngeal Carcinoma, isn't letting cancer stop her from searching for new life experiences. 
"While I've been featured in magazines when I was in PR decades ago, those were more personal profiles. This time, I am open to all kinds of assignments! With age, I am less nervous and self-conscious in front of the camera, though my skin is not quite the same with cancer therapy."
Marketing youthful images while trying to target a more senior consumer base is not realistic.
What some brands and marketers are starting to realise is that older consumers with considerable spending power may respond more positively when they see a reflection of themselves in ads, articles and social media, as opposed to a much younger model. 
Tay concurred: "Marketing youthful images while trying to target a more senior consumer base is not realistic. I think brands and designers in the US and Europe now see that older models bring great value, versus the stereotypical expressionless young models that have dominated runways and campaigns for decades. And all developed economies in Asia have a greying population."
Other attributes senior models bring to the table? "Certainly grace, confidence, and an element of having lived life," said Tay. "To brands, campaigns and shoots, older models can lend strength, magnificence, tenacity and joy."