Singaporean content creator Mongchin Yeoh on how her personal style changed since becoming pregnant
"Dressing up can be a real chore on some days and sometimes they can even be mentally and emotionally draining when you face your changing body in the mirror."
Popular Singaporean content creator Mongchin Yeoh, who is better known as Mongabong by her 293,000 followers, announced her pregnancy in a YouTube video on Jul 25. The 29-year-old organised a reveal surprise for her banker husband Matthias Lim by getting him to open the oven door filled with pregnancy test kits. To which, he immediately caught on. "There's a bun in the oven!" he chimed. The happy couple will expect a baby boy in January.
Yeoh shared on social media that her pregnancy hasn't been a walk in the park with morning sickness plaguing her for the most part. But the soon-to-be-mother is taking that in her stride. In an Instagram story she wrote, "Happy because it has been proven that preggies (pregnant women) who experience bad morning sickness have lower risks of miscarriage!"
Earlier, Yeoh opened up about her diagnosis of polycystic ovary syndrome (PCOS), a condition where the ovaries produce an abnormal amount of androgens or male hormones. It is alleged that women with the condition are less likely to become pregnant. She worked with a fertility doctor to take charge of her fertility health and subsequently became pregnant.
At 23 weeks (at the time of the interview), Yeoh said she's learning to love her new body. CNA Lifestyle caught up with the glowing mother-to-be to find out how she's doing on this self-love journey. A bundle of positive energy, Yeoh even found time to collaborate with Clarks on Journey With You, a capsule shoe collection. Yeoh is one of five activists whom the brand is working with to champion social causes by taking small steps towards creating a better tomorrow.
CONGRATULATIONS ON YOUR PREGNANCY! WHAT CHANGES HAVE YOU ALREADY NOTICED IN YOUR BODY?
Lots! Now at 23 weeks (at the time of the email interview) I have almost completely outgrown all of my pre-pregnancy wardrobe. Apart from the growing tummy, there's also been exponential growth in the chest area. Ha ha!
HOW ARE YOU COPPING WITH THESE CHANGES?
I just wear whatever fits. There's also been quite a lot of discomfort and body aches, on top of morning sickness which is why I've been focusing on comfort, wearing loosely fitted clothing.
HAVE YOU STARTED TO UPSIZE YOUR WARDROBE?
I try not to buy too many new clothes in bigger sizes. Instead, I would buy baby doll dresses and stretchy bodycon pieces that will see me through to my post-partum body as well. I've started shopping for maternity bottoms, those with the adjustable thick elastic waistband as sizing up every other week just isn't sustainable. So far, I've stocked up on maternity shorts which I now have in black, white and cream and maternity pants in black, nude and denim.
ARE YOU A HIGH-RISE OR A LOW-RISE TYPE OF MUM?
High-rise! I've always been big on high-waisted bottoms, it just feels more comfortable for me.
WHICH ARE THE BEST PLACES TO SHOP FOR YOUR NEW BODY?
Taobao and Shopee for maternity shorts and pants. Local labels like Fayth, The Stage Walk, The Closet Lover and Klarra for baby doll and maxi dresses. Love, Bonito and The Editors Market for outerwear and blazers.
WHAT ELSE WILL YOU BE BUYING TO ACCOMODATE YOUR GROWING BABY BUMP?
I think I've got all the staples that I need for now.
ARE MATERNITY UNDERGARMENTS ON THE RADAR YET? IF SO, WHAT RECOMMENDATIONS DO YOU HAVE FOR OTHER EXPECTANT MUMS?
Not yet! I'm still able to squeeze into my pre-pregnancy undergarments (thank you, low-cut knickers). As for bras, I just add a bra extender to make sure I don't stretch out the bras too much.
IS MATERNITY SLEEPWEAR A THING FOR YOU?
Not really. I love wearing oversized tee shirts to sleep. Thankfully, I can still fit into my usual tees.
HAS YOUR PERSONAL STYLE CHANGED?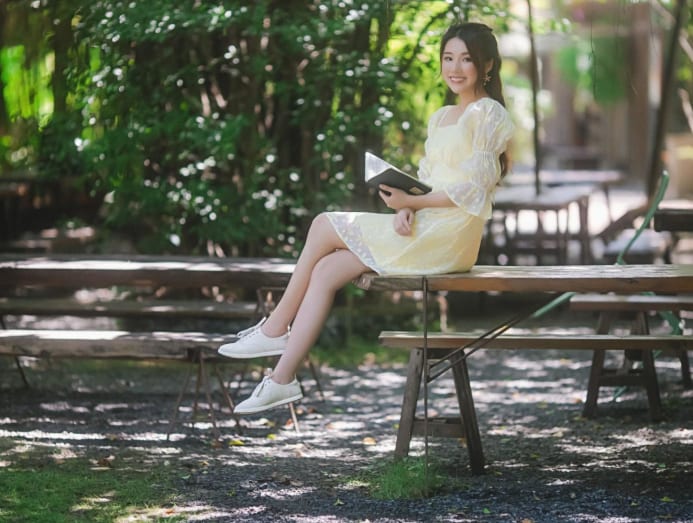 A lot! You see me in tightfitting body-con dresses and cropped tops all the time before I got pregnant. These days, I'm a lot more about comfort and loosely fitted clothes. Oh, and these days I find myself reaching for outerwear too.
DO YOU EVER SUFFER FROM "I HAVE NOTHING TO WEAR" DAYS?
It's an everyday affair.
LET'S TALK HEEL HEIGHTS. HAVE YOU GIVEN UP HEELS YET?
Not yet. Am holding on to them for as long as I can! That said, I wear low heels as they're more stable and comfortable. And because I drive, I don't spend too much time in them per wear, therefore heels are still manageable for now. And I always keep a pair of flats in the car to switch out to when I get tired.
WHAT'S THE BEST FASHION ADVICE YOU'VE RECEIVED?
Dress according to your own level of comfort and invest in a few staple wardrobe pieces – they really can last through all your different stages of life.
WHICH CELEBRITY MUMS ARE YOUR STYLE INSPIRATIONS?
I try my best not to look up online as much as possible as my goal is to recycle the existing pieces I have in my wardrobe and wear them for as long as I can.
WHAT STYLE ADVICE DO YOU HAVE FOR EXPECTANT MUMS?
Honestly, just be comfortable. Dressing up can be a real chore on some days and sometimes they can even be mentally and emotionally draining when you face your changing body in the mirror. But remind yourself that you're doing something amazing and your body needs to change in order to have a healthy baby. So, if you can't find anything to wear, just put on something, anything and then throw an outerwear over. That always works. Ha ha.
WHAT IS YOUR PREGNANCY-SAFE BEAUTY REGIME?
Lots of hydration and focus on keeping a good and gentle cleansing routine. I have since removed all salicylic acid and retinol products from my skincare regimen. Cleansing has never been more important, I spend lots of time double cleansing with gentle products like Bioderma Micellar Water and Tatcha Cleansing Oil, before double cleansing with a hydrating cleanser like the Oligo HA cleansing foam from The Lab by Blanc Doux. I've also been moving my body more by with weekly gym sessions with a personal trainer. I've also started on prenatal pilates to get the blood flowing and body stretching more.
WHAT BEAUTY HABITS HAVE YOU DEVELOPED AFTER BECOMING PREGNANT THAT YOU INTEND TO STICK WITH?
Taking lots of supplements, sleeping more and consuming bird's nest more regularly. These are quite time- and money-consuming habits that I hope I can keep up with even after the baby is here.