A fashion brand for people obsessed with hotels? Check out designer Olympia Le-Tan's latest offerings
"If it's something you have at a hotel, I can make it," Le-Tan said, about her new Hotel Olympia line. "It's like hotel life without the hotel, or an imaginary hotel, or what I would do if I had a hotel."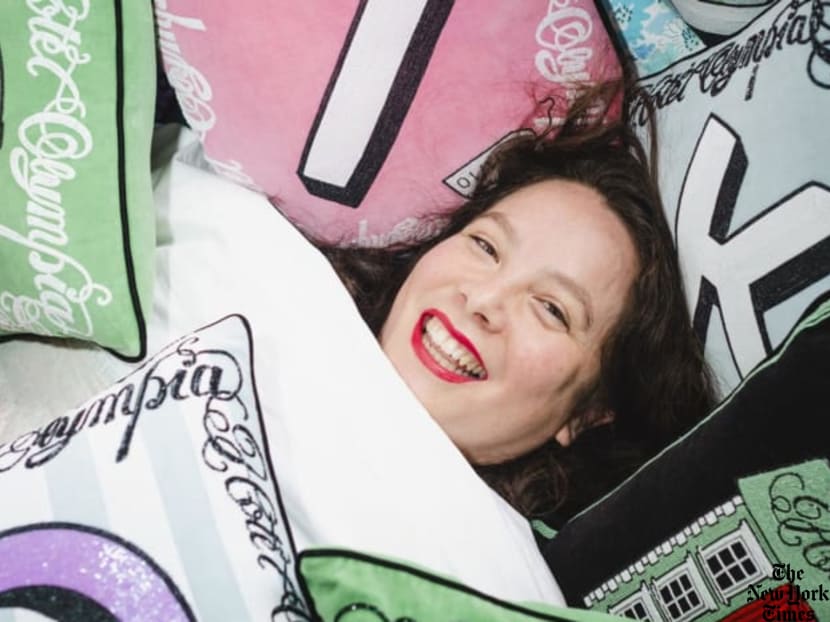 During the early days of the pandemic, designer Olympia Le-Tan missed travelling. Or rather, she missed hotels.
"I just wanted pajamas and nice sheets and table settings and robes," she said. "The stuff you steal from a hotel. At least, the stuff you'd want to steal."
And that's how she came up with her new line, Hotel Olympia, which was introduced online this month. Le-Tan's previous namesake line was known for its "book bags," minaudieres embroidered with the cover of Lolita or Valley of the Dolls.
"If it's something you have at a hotel, I can make it," Le-Tan said. "It's like hotel life without the hotel, or an imaginary hotel, or what I would do if I had a hotel."
The Hotel Olympia line will focus on home goods: Linen tablecloths and napkins printed with full English breakfasts and cakes; custom embroidered pillows with the letters of the alphabet; a ceramic ashtray; an evening bag in the shape of a luggage tag.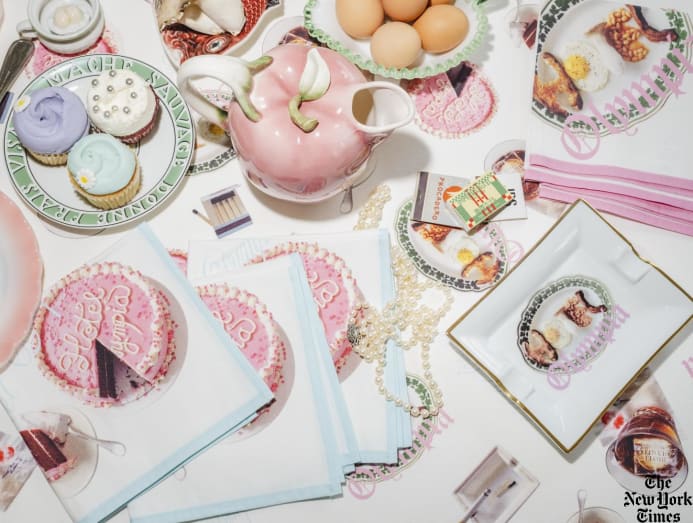 Prices will start at US$10 (S$13.60) for a button pack and go up. "It's not completely cheap," Le-Tan, 44, said over cookies in her New York apartment overlooking Tompkins Square Park in the East Village.
Charvet slippers will likely be the most expensive, she said, referring to embroidered suede slippers in hot pink and Kelly green made for her by the vaunted French menswear house and which cost US$950. The line's embroidery is done by Maximiliano Modesti, who is French and Italian and runs an embroidery and textile company in Mumbai that works with such fashion houses as Hermes, Saint Laurent and Dior.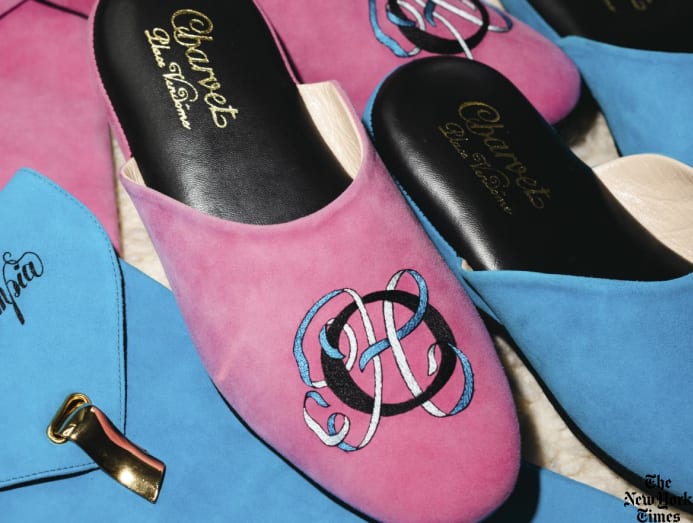 "I have a therapist, and almost every session she asks me if I remember a dream, and, nine times out of 10, it starts with, 'So I'm in a hotel,' " Le-Tan said. "I said to her, 'OK, I've finally decided to start a brand called Hotel Olympia, and I realised I had never made the connection. I'm obsessed with hotels."
The problem with luxury hotels these days is that they're too minimal, Le-Tan said. "I was Googling hotel rooms, and the nicest ones are grey or beige. I want something more quirky."
Her favourite hotels are the kind where no room looks the same as another and may be filled with piles of books or a claw-foot bathtub next to the bed. She likes to stay at the Portobello Hotel in London, Hotel Amour or Chateau Voltaire or Le Bristol in Paris, the Carlyle in New York.
When she was a child growing up in Paris, her father, artist Pierre Le-Tan, had a contract to illustrate travel stories for a magazine with the stipulation that he could take his family along with him. "We had insane holidays," said Le-Tan, who grew up bilingual and speaks with an English accent. "We stayed at La Mamounia in Marrakesh, the Ritz in Lisbon." She recalled her younger sister, Cleo (the owner of the animal-themed bookstore Pillow-Cat Books in the East Village), exploring the hallways with her.
"There is a granny aspect to my aesthetic," said Le-Tan, whose grandmother taught her to sew and embroider. Her home has collections of objects that are dear to her, including a wall behind the kitchen table that's hung with many of her father's illustrations. In her living room there are drawings by artist Aurel Schmidt, who drew the crossed legs logo for Hotel Olympia. In her bedroom is a vinyl record by the Ronettes signed by Ronnie Spector.
In the late 1990s, when Le-Tan was 19, she worked as an intern in the design department at the Chanel studio. "While I was there picking up scraps of fabric, I would try to make something for myself," she said.
While shopping at Colette, the influential Parisian concept store (it closed in late 2017), Le-Tan carried a tote bag she'd embroidered. One of the store's owners ordered some for the shop, and soon she had orders from Isetan in Tokyo and Browns in London.
"It led to a small enterprise making these bags," she said. "My boyfriend's mum would help make them. I didn't do collections and didn't really have an email. I would just whip something up."
She started taking the bag business more seriously in 2009 with her book bags, and she introduced clothes – Spector played a runway show – in 2012. She left that clothing business about five years later. "Once I decided I was leaving, a present from the sky came in the form of a job offer from Marc Jacobs," she said.
She moved to New York in 2018 to join the design team of the designer's diffusion line called the Marc Jacobs. During the pandemic, the business shifted, but she decided to stay in New York.
"I stared at the ceiling for months," she said. That's when the idea for Hotel Olympia began to take form. Half of her time is spent on Hotel Olympia, and the other half is devoted to projects for other brands, like a collection she did for Maison Kitsune earlier this winter.
Hotel Olympia will be sold mostly via her website.
"When I say I don't want to do much wholesale, what I actually want is to do traveling pop-ups in actual hotels, like set up a mini-Hotel Olympia where everything you see is for sale in a suite at, for example, the Bristol," she said, and added, "if they'll have me."
By Marisa Meltzer © The New York Times Company
This article originally appeared in The New York Times.
Source: New York Times/yy