What is permanent jewellery? Here's all you need to know about the biggest jewellery trend right now
CNA Lifestyle takes a look at the allure of "non-removable" jewellery and what one needs to know before getting in on the trend.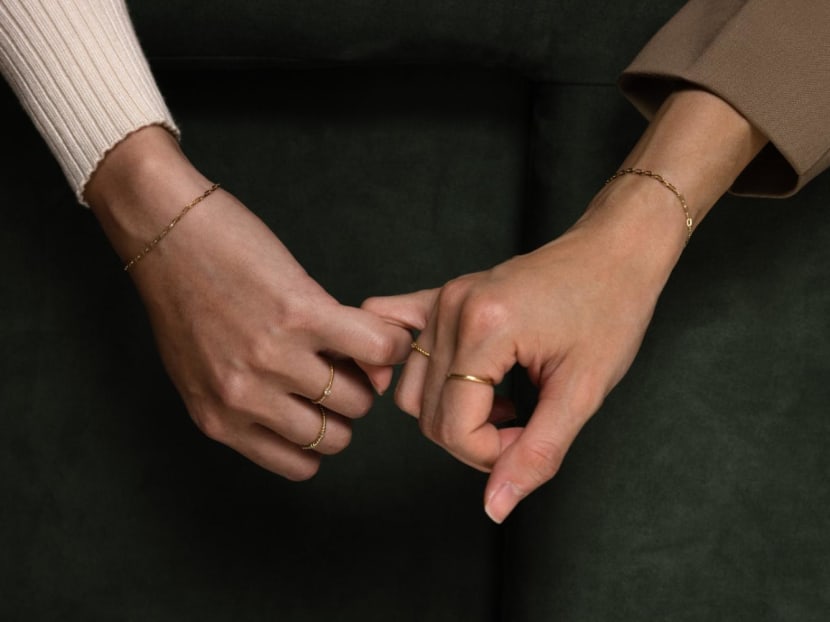 First of all, let's clarify what permanent jewellery means – in case some may mistake it to be jewellery that is affixed, by some bizarre method, onto the skin. Simply put, it is "non-removable" jewellery, or more accurately, jewellery that is meant to be worn perpetually and thus deliberately made to be not easily removable.
Such jewellery is worn for a certain symbolic meaning, attached to the notion of permanence, naturally. The idea is not entirely new, of course – the world's most famous example of such a concept is perhaps Cartier's iconic Love bracelet, which is "locked" onto the wearer's wrist via screws, symbolising everlasting love and commitment between a couple.
The latest permanent jewellery is of a similar nature, but can also represent relationships beyond that of a romantic nature – such as between good friends, siblings, relatives or a parent and child. They're also a lot more affordable than Cartier's luxury version, and mainly comprise simple fine chains that are worn as bracelets and are welded together in place of a clasp fastening.
The idea of 'permanency' makes the jewellery a unique and contemporary way to symbolise an enduring friendship or relationship. Think of it as a modern-day friendship bracelet.
THE BIGGEST JEWELLERY TREND NOW
No prizes for guessing where the latest wave of this trend sparked off – on TikTok, where young adults are showing off their permanent bracelets and the whole process of how these accessories are put onto their wrists. They have, however, been around for quite a few years before they went viral recently – trendy jewellery brand Catbird, in New York City, is among the first (if not the very first) to introduce the concept and product, calling it a Forever bracelet.
Those who are keen to get one will be glad to know that there are a handful of jewellery brands in Singapore that offer permanent jewellery. Curious Creatures is one of them and the first, according to co-founder Larissa Tan, who said that it went viral in Singapore since the brand launched it here last year.
"Prior to that, consumers who knew about this trend on TikTok will have to fly to the US, UK or Australia to get it done. We loved this concept when we spotted it in 2019 and thought about bringing it to our shores, but spoke to friends and customers, and realised it would have been too early. It wasn't viral back then," shared Tan.
"Fast-forward four years, post-COVID lockdowns, this jewellery trend took off in the US, UK and Australia. Consumers either love the concept's significance when you do it with the ones you love or want to have it because of FOMO, since it's the most viral (jewellery) trend right now."
GROWING POPULARITY IN SINGAPORE
She also said that the reception of permanent jewellery here has also exceeded her expectations, sharing that appointments for the welding service have been fully booked up every day since it was launched at Curious Creatures.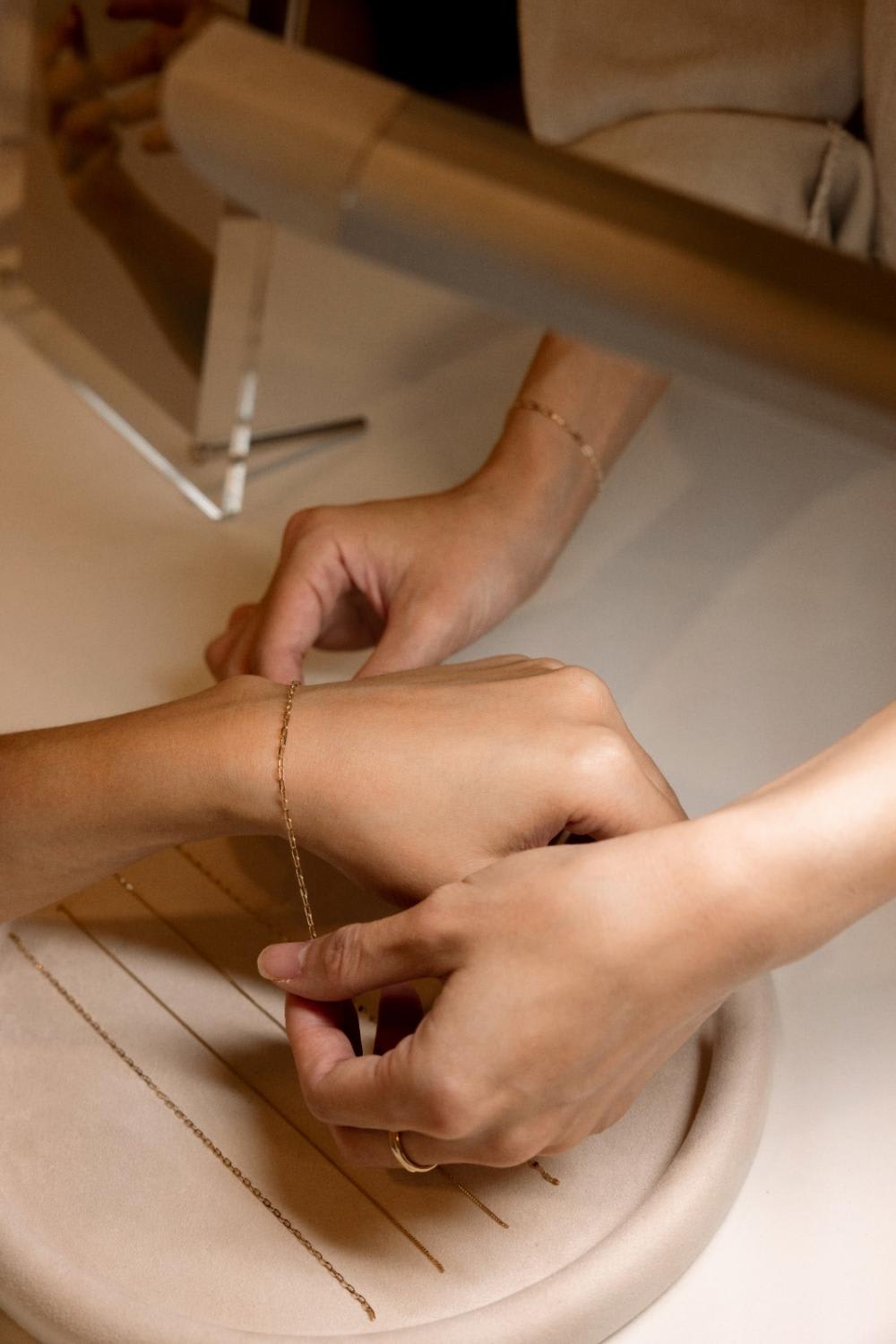 Holly Gray is another local brand that offers permanent jewellery and is seeing a continuous flow of appointments for it from both current and new customers. Both brands offer permanent bracelets currently – anklets are also available at Holly Gray, while they'll soon be introduced at Curious Creatures too.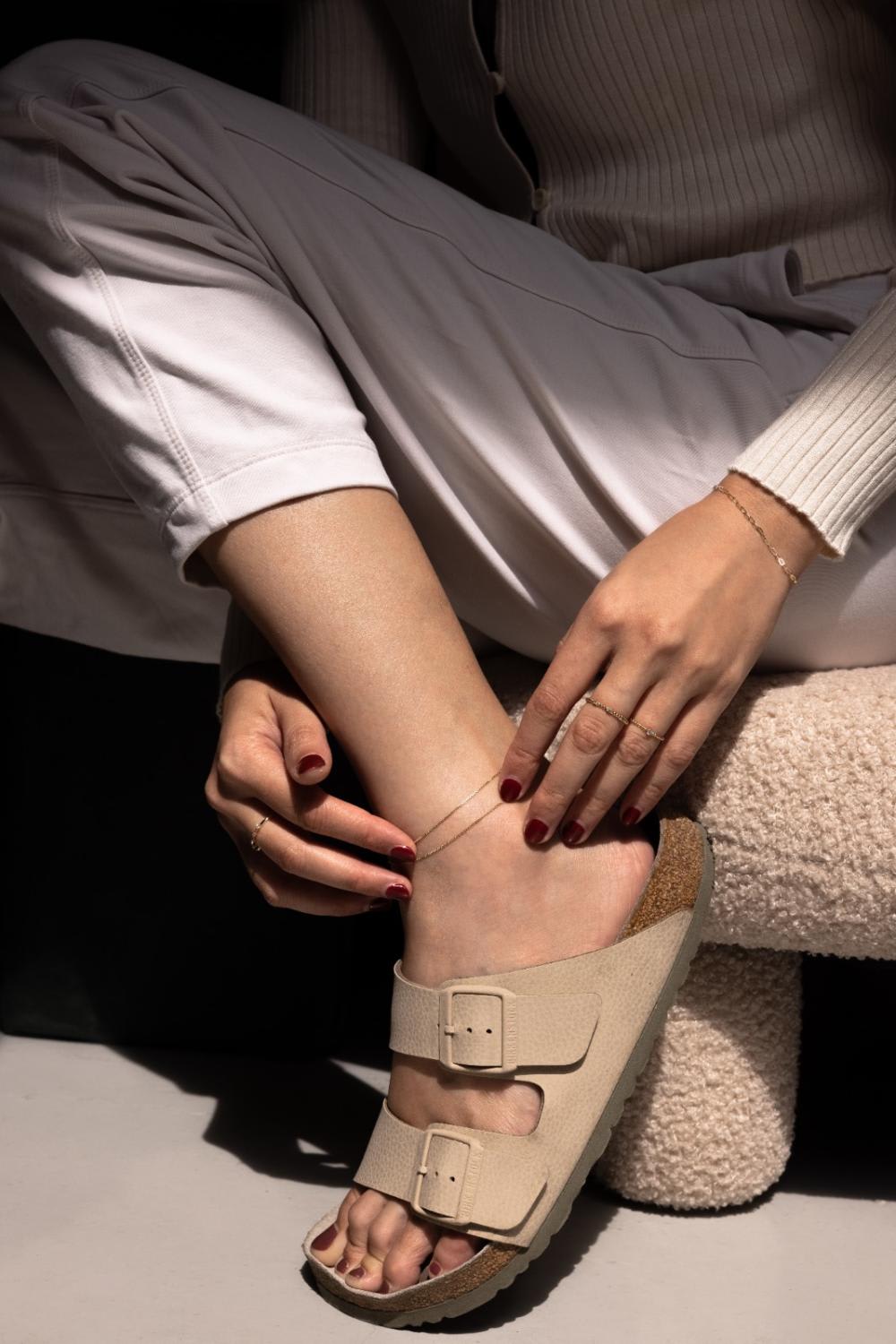 "A lot of customers do come back for more. The idea of 'permanency' makes the jewellery a unique and contemporary way to symbolise an enduring friendship or relationship. Think of it as a modern-day friendship bracelet. It's a fun and easy activity that doesn't require a high commitment like getting a tattoo, since you can still snip the jewellery off if you need to," said Hanya Seah, co-founder of Holly Gray.
PERMANENT, BUT STILL REMOVABLE
While it is called permanent jewellery, it actually is "semi-permanent", said Curious Creatures' Tan. These bracelets are essentially a fine chain joined together by an open jump ring, after the length of chain is wrapped around the customer's wrist. The ends of the jump ring are then welded together with a jewellery welder so as to render the chain "permanently fastened" on the wrist.
Without a clasp, these bracelets cannot be fastened or removed like typical bracelets can. But, should one, for any reason, wish to be rid of it, a simple snip with a pair of scissors or wire cutters will do the job quickly. "Technically, you can also wear your non-permanent jewellery without taking it off, but by making it permanent, you're removing that additional opening clasp that gets in the way," pointed out Seah.
TAPPING ON SENTIMENTALITY
Clearly, it's the sentiment behind permanence that give the jewellery meaning and makes it so appealing. But there are also practical reasons why so many people are getting it.
Seah feels that they provide the convenience of looking accessorised without effort. "For example, I lead an active lifestyle and the convenience of not having to bother with my jewellery appeals to me. I enjoy being able to bathe, sweat, sleep and head out without the additional hassle of taking it off or putting it on," she said.
Tan reckons that the customisable nature of permanent jewellery is also a draw. "'Ready-to-wear' bracelets come in a standard length and many Singaporean women have very small wrists. Such bracelets tend to be loose for them and come with an extension chain dangling at the end (which may not be to everyone's liking)," she explained her point.
The customisable nature of permanent jewellery is also a draw.
The length of a permanent bracelet is custom-fit to one's wrist, while there is also a range of different chain designs to pick from. Want further personalisation? You can have a few delicate charms of your choice added to it.
"They are meant to be simple for wearing with everyday outfits, pretty much like our brand's ready-to-wear jewellery aesthetic. Layering is also part of the fun. Why settle for one when you can have two or three bracelets? You'd be surprised how creative some customers get with their layering and charm additions. Some ladies add charms of their children's or partner's birthstone to their bracelet to make it more meaningful to themselves," said Tan. 
THE PRACTICAL CONSIDERATIONS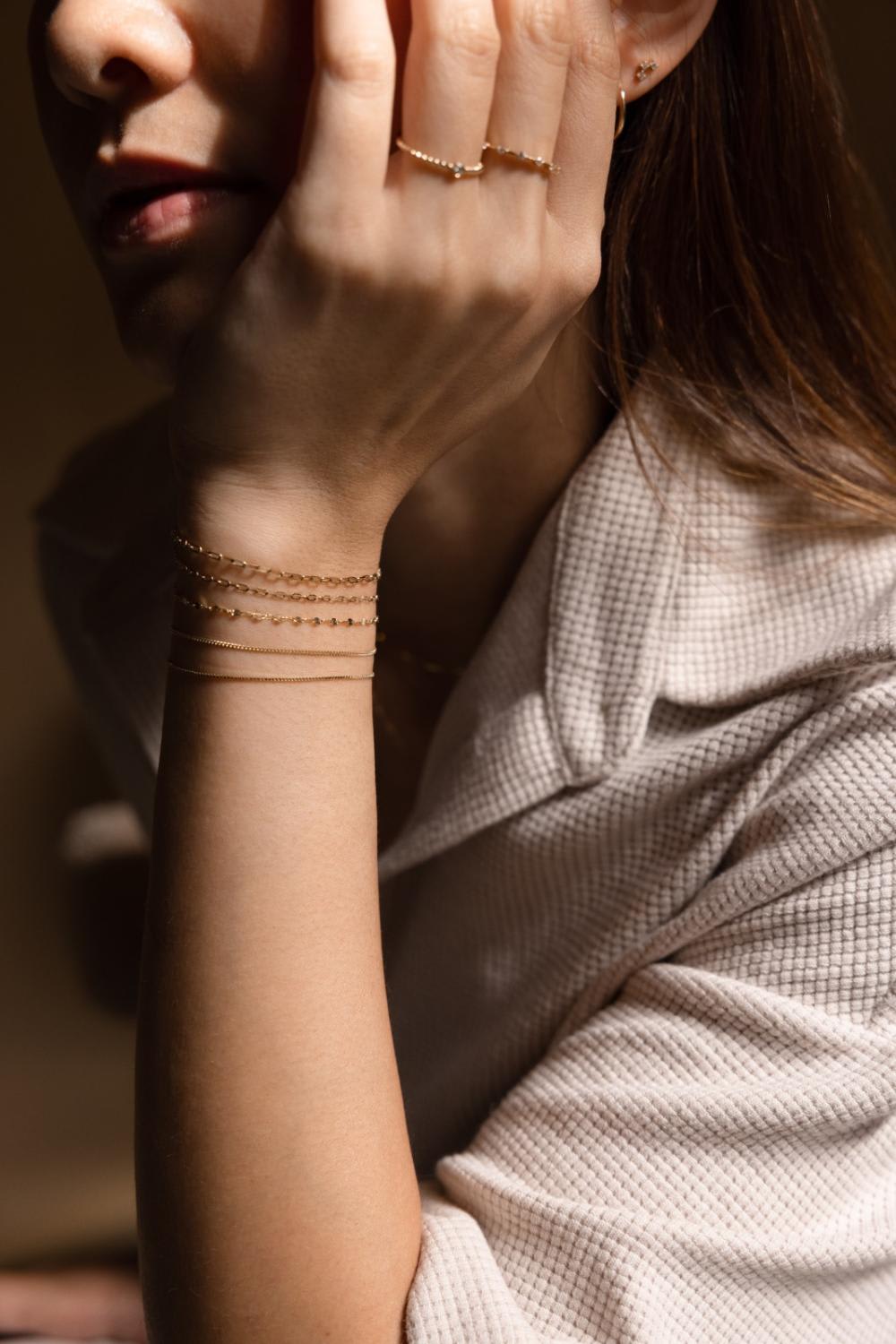 Only 14K solid gold chains are used for permanent bracelets at both Curious Creatures and Holly Gray, because the material is hypoallergenic. It's safe to wear for those with sensitive skin, except people who are allergic specifically to gold. Solid gold is also more durable than gold-plated metals, which means it's "shower-proof" and do not react as easily to lotions or perfume, although it is recommended that direct contact with these substances be avoided as far as possible.
Keeping permanent jewellery simple, thin and light is important because this also makes them easily removable in unpredictable circumstances or in emergencies, pointed out Seah. In case you're wondering, these chains will go through airport security without a hitch like most delicate jewellery. They may, however, need to be removed prior to medical procedures like an MRI, CT scan, X-ray or surgery – in such cases, the bracelets can be cut open where the jump ring is located, then re-welded for a fee.
For those who are worried about having welding done so close to their skin, be assured that the process is completely safe and painless. "The process of welding, which is like soldering but without the fire, is extremely quick (within a second)! A piece of cloth or leather is used to cover the wrist where the welding is done, just in case," said Tan. Some additional time will, however, be required for material selection, measurement and adjustments.