Heard of salt-and-pepper diamonds? This Singaporean jeweller finds beauty in imperfections
Imperfect diamonds become jewellery with character in the hands of Twomorrow's Evelyn Chung, who was inspired to share her love for them with like-minded people here.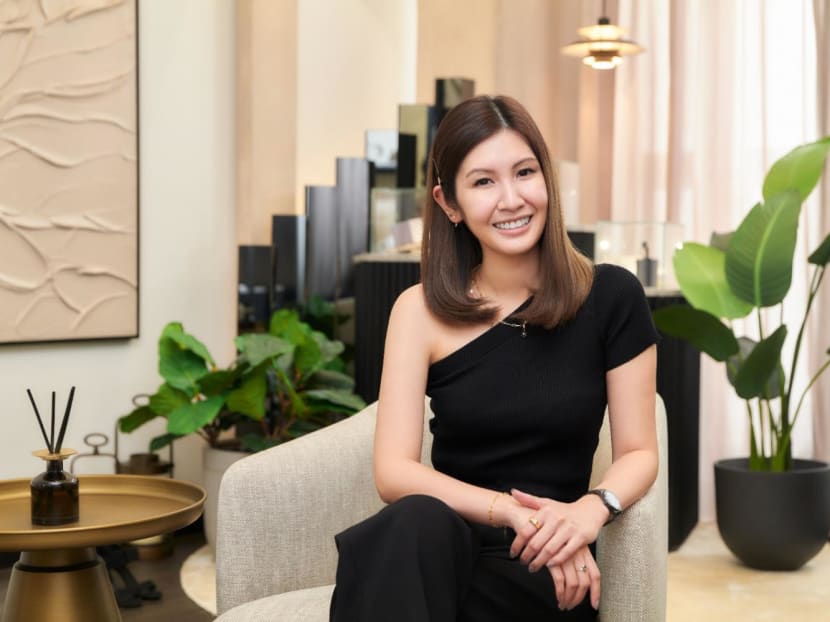 Diamonds – in the traditional sense, at least – are prized for their sparkle and clarity. International gem-grading standards tell us that colourless, inclusion-free diamonds are the most sought-after, a fact supported by pricing that give higher value to these qualities.
But what if we told you that there's another type of diamonds, quite the opposite of these, that is rising in popularity?
These unconventional diamonds, aptly described as salt-and-pepper, are speckled with heavy white and black inclusions – so large that they are visible to the naked eye. Admittedly, some might be startled at the first sight of them, because they look nothing like the diamonds we are used to seeing. Others, however, find themselves fascinated by their distinctive look.
But one isn't supposed to be viewing them with the same "eye" that is applied to regular diamonds. Fans of these unusual gems love them because of their "cosmic" appearance, resembling stars in a galaxy. They do not scintillate like typical diamonds will, but still have a shine and depth, and are completely individual since each will bear inclusion "patterns" unique to it.
BEAUTY IS IN THE EYE OF THE BEHOLDER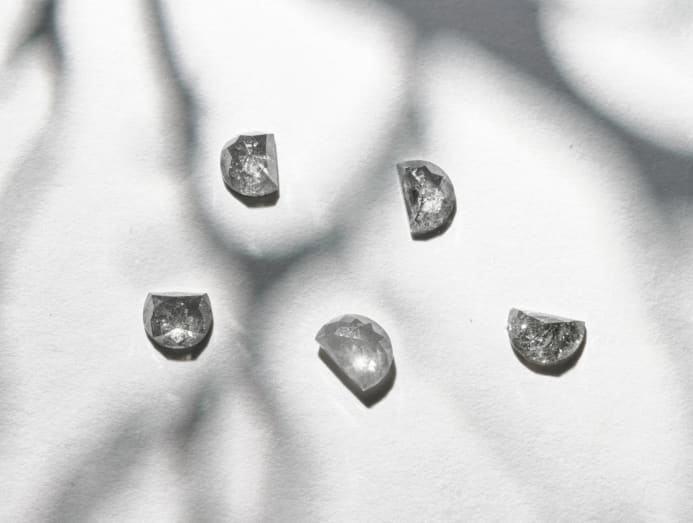 When Singaporean jeweller Evelyn Chung first chanced upon them on social media, she was immediately entranced by them. "I was intrigued by how they are so visibly different from the diamonds we usually see, and was very eager to set my hands on them. However, it was difficult to find them locally, as most people in Singapore are unaware of unconventional diamonds," she said.
This inspired her to take the plunge and pursue her second calling as a gemologist – she is now a GIA graduate of the Diamonds Program and a diploma holder in Fine Jewellery Design.
Most people in Singapore are unaware of unconventional diamonds.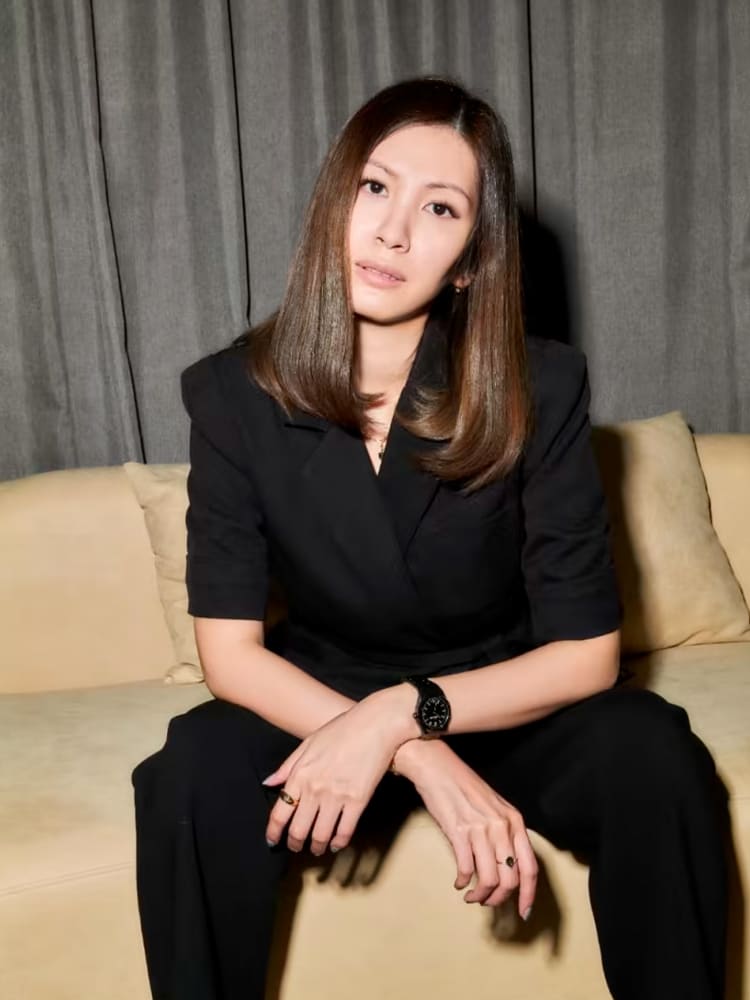 Chung started her own jewellery brand, Twomorrow, in 2022, focusing on unconventional diamonds. "We put the emphasis on not just salt-and-pepper diamonds, but also other variants like rust diamonds, champagne diamonds, to name a few, and share our belief that people should embrace their flaws and be unafraid of showing who they are," she added.
It's interesting how she alludes to our personal emotions with diamonds, yet it's not unusual, since jewellery is something people constantly finds meaning in.
"These unconventional diamonds are often set aside in search of 'perfect' diamonds, and measured against a set of exceedingly high standards. I think many people can relate to this feeling of constantly needing to measure up to sometimes arbitrary standards set by society. It was something that really resonated with me — and thus inspired the birth of Twomorrow," Chung shared.
PERFECTLY IMPERFECT DIAMONDS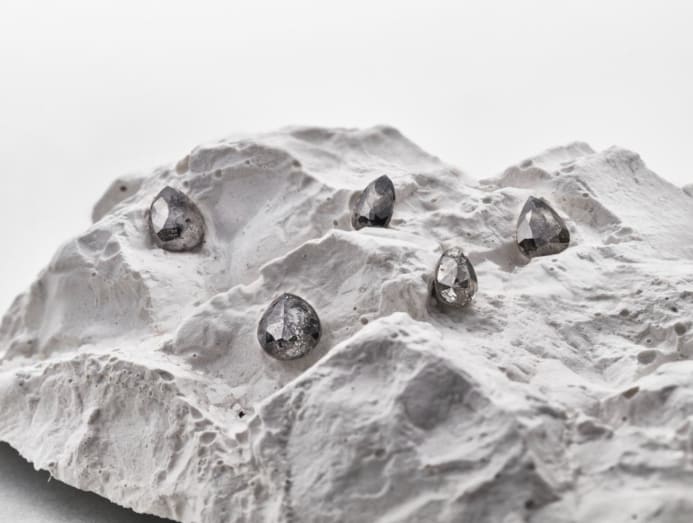 Salt-and-pepper diamonds are mined like every other diamond that is formed naturally below the earth's surface under extreme heat and pressure. Twomorrow's diamonds are sourced from Botswana, Canada and Australia, and are both conflict-free and compliant with the Kimberley Process.
These diamonds are oddly shaped, asymmetrical, and have imperfect characteristics that make them each special in their own way. When designing jewellery for her clients, Chung aims to highlight the stones' unusual beauty by bringing out their individual, unique shine with minimalist, timeless styles.
We let our diamonds speak for themselves, and don't try to 'hide' them away or downplay their perceived imperfections.
"We let our diamonds speak for themselves, and don't try to 'hide' them away or downplay their perceived imperfections. Our designs put these unconventional diamonds front and centre, and I believe that makes up a core part of my design sensibility," said Chung.
Salt-and-pepper diamonds are usually given a rose cut, as it showcases the inclusions better than the traditional brilliant cut. "This gives the diamond an old-world charm without taking away the spotlight from those eye-catching inclusions. The rose cut has a flat bottom, while a brilliant cut has a pointed bottom. With this flat base, the rose cut adds extra value for your money since it makes the gem appear larger than its brilliant-cut counterparts of the same carat weight," she explained.
DIFFERENT STANDARDS OF VALUE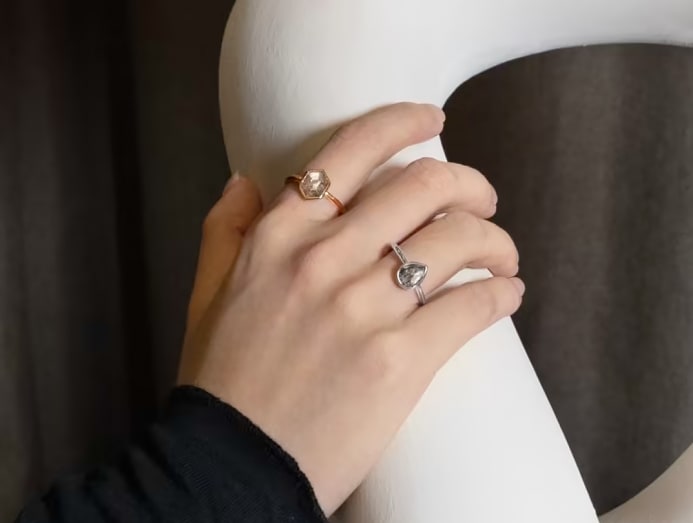 Price is usually a big deciding factor in diamond-shopping, and salt-and-pepper diamonds are known to be generally more affordable than typical white diamonds. While there are limited options available for comparison here, it's been said that they can be priced up to 60 per cent less than the latter in overseas markets.
Many of them come to us not because they cannot afford a 'normal' diamond, but because they appreciate the unique look of our unconventional diamonds.
Chung observed, however, that pricing does not seem to be the main concern when it comes to her customers, and that they aren't necessarily motivated by the same considerations as others who seek out traditional diamonds.
"Many of them come to us not because they cannot afford a 'normal' diamond, but because they appreciate the unique look of our unconventional diamonds. They do have varying budgets, and we work within them, but their primary goal is to create a unique creation with an equally unique central diamond," she said. 
"The value of unconventional diamonds does not lie in the traditional means of assessment – in fact, most of our clients are drawn to the most unconventional cuts, colour and clarity. These gems are valued for precisely their unconventional nature and their sentimental value."
AS REAL AND NATURAL AS TYPICAL DIAMONDS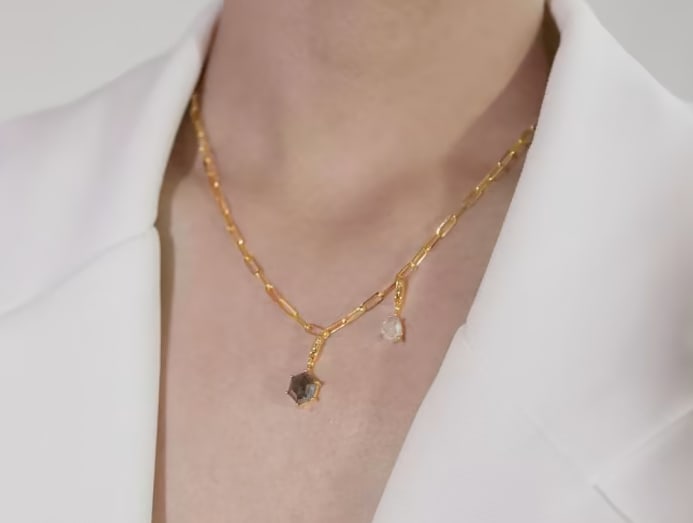 Since salt-and-pepper diamonds cannot be graded by the 4Cs like how traditional diamonds are, their prices aren't strictly determined via these standards.
"There isn't a definitive grading system in place for them. The 4Cs don't apply to the salt and pepper diamonds in the same way – in other words, their prices are not solely affected by size, and are subject to the individual elements of each diamond. For instance, cut, colour, opacity, shape, carat weight and their different clarity characteristics can all play a part in influencing price points," explained Chung.
Twomorrow's unconventional diamonds do come with certification from the Gemological Institute Of America (GIA), while its salt-and-pepper diamonds are certified by the Nan Yang Gemological Institute in Singapore (NGI). "The latter serves to prove their authenticity as natural diamonds and that no treatments have been done to them – this gives clients peace of mind as they're relatively new here in Singapore," she said.
Being among the first to launch a product as unusual as these unconventional diamonds here carries with it some level of uncertainty. For Chung, though, any doubts she might have had before were quickly eased.
"I was surprised by the amazing reception to them ever since launching the brand. Despite having an appreciation for their beauty, there's no guarantee that they will be embraced when compared to traditional diamonds. But happily enough, customers have found delight in exploring outside their comfort zone and are captivated by this new take on diamonds," she shared.
On top of bespoke designs, Twomorrow will be launching its first-ever ready-to-wear collection of rings featuring salt-and-pepper diamonds in March. If you find yourself intrigued by these unusual gems, this will be a good way to experience their unconventional beauty and own a truly unique piece of jewellery.