3 Singapore women launch pre-loved kids' clothing platform
New online marketplace PreLouLou lets parents who care about sustainability buy and sell pre-loved and past-season designer clothes for children – no haggling necessary.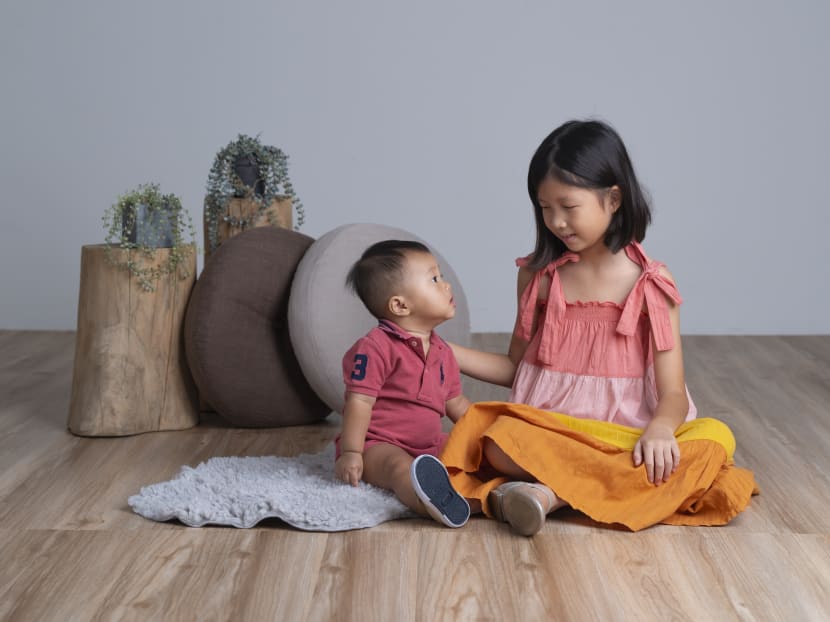 Hands up if you've tried to sell something – whether it's a brand new jar of moisturiser, a piece of furniture, a maternity dress or baby shoes your kid never wore – on local resale platforms such as Carousell.
And then you ended up annoyed, frustrated and doing way more work than you intended to, or have time for.
Yes, us too. Faced with countless lowball offers or hagglers asking "nego?", or frustrated about having to find time to go to the post office to mail out a cheap item, or figure out when and where to meet up to finish the deal, we've thought so many times: "Man, this isn't worth it." 
Then there are the things you buy that arrive too late, or don't arrive at all (don't get us started on the kid's outfit for Racial Harmony Day we bought off Carousell that has, um, yet to turn up.) There's no recourse for things that go missing, since many resale platforms are buy and sell at your own risk.
Well, here's a new local website PreLouLou to the rescue. Started by three Singaporean women who want to make it a breeze for parents to buy and sell pre-loved kids' items, and propelled by their own less-than-ideal experiences on resale platforms, the fledgling online consignment store kicked off in July with over 400 products, from brands like Armani Baby and Ralph Lauren. The number of items available has since grown to about 500. 
The idea is to tap into like-minded parents who buy or receive as gifts high-quality products for their little ones, and inevitably end up with clothing that have only been worn a few times before they're outgrown, and who are eco-conscious and mindful of wastage. These are the same enlightened folks who wouldn't think twice about buying a second-hand pair of shorts or shoes, as long as they're in good condition, because why not?
PreLouLou will do the work of photographing and pricing the items, writing product descriptions and listing them, and dealing with buyers. They'll even pick up the pre-loved clothing from sellers for free, if there are five or more items. Those with fewer items can mail them to PreLouLou's address.
Accepted items will be listed within 10 days, and if they're sold, the seller will receive 60 per cent of the selling price within 28 working days of the item being shipped (and not returned).
If you're asking why you only get 60 per cent, consider that the good people at PreLouLou will do all the dirty work for you – all you have to do is let go of your items (which have to be clean and in good condition) and wait for the cash to come back to you.
This works if you have no time to sell your stuff and if you were intending to trash them or give them away anyway. If your items don't sell after a certain period, usually a year, you have the option of having them returned to you, or donated to PreLouLou's charity partners.
And if you're going in as a buyer, it's a good chance to check out pre-loved designer items at prices 30 to 60 per cent lower than in stores. We spied Ralph Lauren shirts from S$38, Paul Smith shorts from S$33, Mini Melissa shoes from S$24, as well as items from well-loved local brands like Sea Apple and Maison Q. The website has children's clothing, shoes, accessories, swimwear, and sleepwear for 0-12 year olds. 
That items have to be designer or a respected brand makes sense – these items are likely to be of a better quality and still be in good condition, and be of a certain value that would make them worth reselling. That said, PreLouLou's founders tell us they are looking into accepting and carrying more brands.
Currently, besides designer brands, they have boutique brands which are harder to find in Singapore, such as Happyology, Kakapo and DotDotSmile, selected high street brands like Zara and Gap, and great local brands, with price points starting from S$10. 
The question, though, is whether local parents are willing to pay for second-hand clothes for their precious little ones.
Priscilla Wuersch-Ng, one of the co-founders of PreLouLou, who has a day job at a global developmental finance institution, told us: "There's definitely scepticism and apprehension in regard to purchasing secondhand, especially for children's clothing, as it's natural for parents to want the newest and best for their kids, but we believe that's slowly changing here in Singapore."
She added: "We want to be part of that movement dispelling these misconceptions with our thorough screening and careful classification of our selected pieces. Over time, we hope more parents feel assured and consider PreLouLou first when they are looking for new clothes or one-off occasion outfits for their kids. In fact, more than 10 per cent of our pieces are actually new with tags."
Another thing the founders care deeply about is sustainability. It's a well-known fact that fashion is bogged down by waste and pollution. It's the second largest polluting industry in the world – and in Singapore, baby and children's clothing add up to over 200,000 tonnes of textile waste a year.
This is not lost on many young parents, who are increasingly conscious of their part in the mind-boggling and unsustainable practice of buying throwaway kids' clothes and products.
Said Wuersch-Ng: "Fast fashion is one of the biggest polluters to our environment, and we are seeing consumers demanding much more transparency from producers around this. While this trend started with the luxury resale market, it has moved towards online thrift stores and children's fashion recently. As our generation and the next generation of parents start to have children, this mindset shift will spill over to the way they choose to dress their children as well."
And the founders of PreLouLou are hoping the winds of change and the current burgeoning resale market will help their brand and their cause.
"The secondhand fashion market is expected to be double the size of fast fashion by 2030. While COVID-19 has put a dampener on overall consumption spends, e-commerce spending has definitely grown because of the shift in consumption patterns to online and away from physical stores," said co-founder Lala Wang, a banker who is passionate about reducing fashion waste.
"We believe this resale boom is driven by a change in consumer mindsets towards more sustainable practices, but also, people are finding out that buying and selling second hand is a great way to save money or make some money from idle pieces sitting in their closets."
And the response has been encouraging. PreLouLou's founders said they have received positive feedback from both sellers and buyers, who find their process easy and hassle-free. The brand is hoping to expand their repertoire to include larger items such as nursery furniture, books and toys, and is also looking to list past-season items from local brands to reduce wastage from overstocking inventory.
"I think the greater challenge isn't setting up the business, but getting our parent community in Singapore to embrace buying pre-loved and trusting our platform to deliver both quality and affordability for their children," said Wang.
"PreLouLou hopes to be an advocate for a larger movement in Singapore and Southeast Asia towards a more sustainable way to live and consume. We consider ourselves pioneers in changing the way Singaporeans view pre-loved, and hope to work together with like-minded companies to create a better future for the children of our nation." 
Available at https://preloulou.com.