Inside Tiffany & Co's iconic robin's egg blue box: What makes their diamonds so desirable?
The colour is so recognisable, sometimes that's enough of a draw. But there's a lot of work that goes into their bling. CNA Lifestyle goes beyond the box to see why the New York jeweller's pieces are truly exceptional.
In partnership with Tiffany & Co.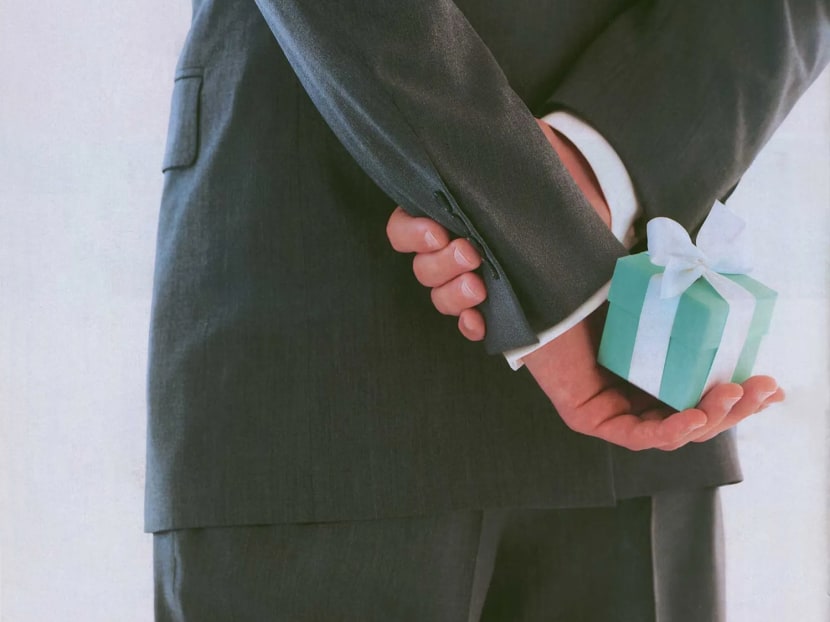 Are all diamonds created equal? Certainly not. In the rough, their destiny is already predetermined by their inherent quality, which decides whether a diamond is merely ordinary or bound for transformation into a remarkable gemstone set to make exceptional jewellery.
A raw, unpolished diamond is nothing without craftsmen and artisans who know exactly how to cut and refine it in order to reveal its true beauty. Placed in the hands of those with the skills to optimise its best natural qualities, it can then become a gem of extraordinary shine, dazzling all who set their eyes on it.
But unless you're a diamond expert with an eye for detail, many of us also often consider a jeweller's reputation as a benchmark for discernable quality – a world-renowned name is instantly recognisable and offers an assurance of what one gets.
One of these is, of course, Tiffany & Co. For many, the ultimate dream is receiving a gift of bling packaged in that familiar shade of robin's-egg blue, a colour so iconic that practically everyone knows the brand that it is tied with.
For jewellery aficionado and collector Serene Chua, recognisability is a key factor that draws her to many famed jewellers of the world, with the French-owned American luxury brand having a special place in her heart.
"Every young girl grew up (knowing about) Tiffany & Co silver jewellery and then, over time, its gemstones and diamonds. The brand is simply iconic, easy to identify with and also known for its quality standards and many talented artists," she said about one of her favourite jewellery brands.
When it comes to diamond jewellery, she pays attention to the 4Cs. Quality definitely counts too, which is why she prizes brand reputation as a deciding factor. Chua also looks out for timeless designs that can be passed on as legacies to her children.
With all that said about the practical considerations of shopping for bling, she admits that it's also love at first sight that determines whether or not she brings home a piece of jewellery.
"Buying a diamond is an emotional investment. I must feel a strong connection to the piece and be drawn to it immediately. If it speaks to me, it is probably the one I will be getting. The entire package – the design, gemstones, story behind the piece – all matter in decision-making," she explained.
Ever wondered why so many women across the globe are excited by the sight of the iconic blue box? It's not just the promise of beautiful jewellery within, but also their understanding of the value and quality that come along with it. 
Here's why Tiffany & Co stands out in the industry, particularly when it comes to diamond jewellery.
LEADING STATUS IN DIAMOND QUALITY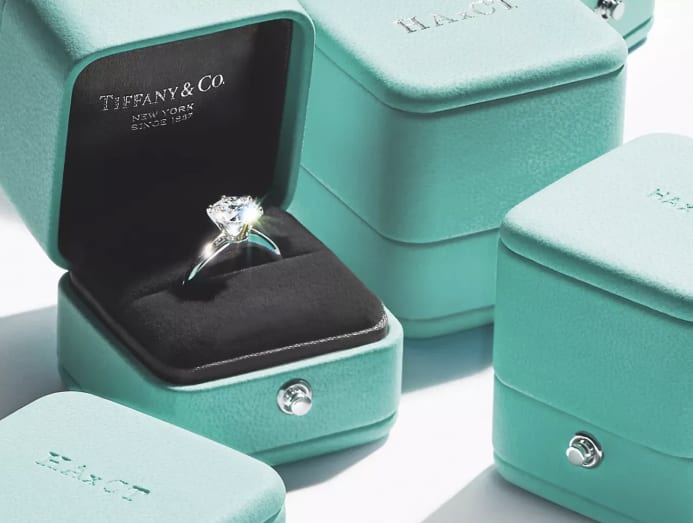 How many jewellers in the world are confident enough to claim that their diamonds are brighter and more vibrant than that of other brands? Tiffany & Co only accepts 0.04 per cent of the world's gem-grade diamonds because of its highly stringent screening processes, and sets out to craft them to become diamonds with superior scintillation. "If anything takes away from the beauty of the stone, we won't accept it," said Hannah Jee, a diamond grader from the company.
Tiffany & Co's strict diamond grading standards are executed with expertise, accuracy and, above all, integrity. For example, in cases when a diamond's clarity sits on the borderline between two grades, the jeweller will always assign the stone a lower grade, rather than falsely inflate its quality.
TRUE EXPERTS AT DIAMOND CUTTING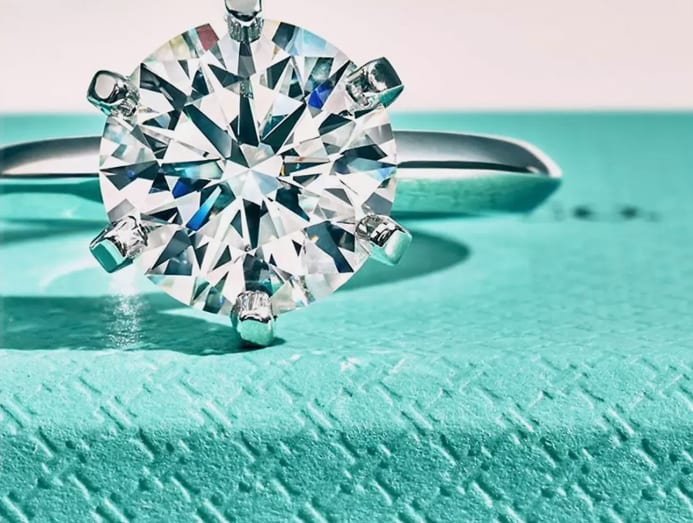 Diamond experts know that the cut of a diamond can make or break it, which makes this particular C one that both sellers and buyers pay extra attention to. It is the sole human-controlled quality among the 4Cs that can add oomph to the way a diamond sparkles, making it shinier than what its natural colour or clarity intended it to be.
Tiffany & Co explained it such: Two diamonds may have the same clarity, colour and carat weight, but cut is what determines whether or not one is superior to the other. In other words, cut is responsible for the quality and degree of a diamond's sparkle. This is why all their individually registered, white round brilliant engagement diamonds, and its proprietary Tiffany True diamonds have a triple excellent cut – the highest cut grade in the industry, which indicates that the diamond has scored an excellent rating in precision of cut, facet symmetry and polish.
Branded diamond cuts may come at a premium, but they guarantee exceptional scintillation. Generic diamonds may sometimes be cut too deep or too shallow, allowing light to escape through the sides and bottom. They can also have misaligned facets, which interrupts the movement of light. They might sparkle, but put them beside a triple-excellent-cut diamond, and one can instantly see the difference.
THE NAME BEHIND THE WORLD'S MOST FAMOUS DIAMOND SETTING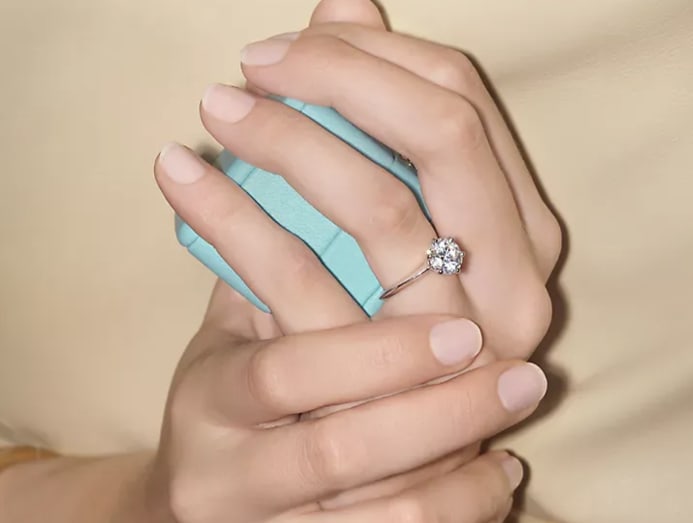 Anyone who's been shopping around for an engagement ring would be familiar with the Tiffany setting. The legendary six-prong design was the first of its kind that lifted a diamond off the ring band, and swiftly became the most sought-after setting when it was launched at the turn of the 20th century.
It also became so widely copied that Tiffany & Co had to issue statements warning against counterfeits at that point in time. The reason behind its popularity? At a time when most rings were heavily embellished with ornate details and had gemstones that were set low against the band, the Tiffany setting presented a breath of fresh air with its minimal, yet innovative design.
The setting is the ideal combination of prong security and light exposure, allowing light to enter the diamond wholly unobstructed for maximum sparkle and shine. Where the prongs meet at the bottom, there are small openings that reveal the sharp end of the diamond, making the stone appear as if it is floating.
Of course, the Tiffany setting remains ever popular to this day and an exemplary style that many other jewellers continue to try and emulate. But, as with most great things in life, it can never be exactly copied.
WHOLLY COMMITTED TO SUSTAINABILITY AND TRACEABILITY
In an industry long known for its lack of transparency, a company that can provide full details on where its diamonds are sourced from and crafted is a rarity. The first jeweller among global players to be able to accomplish this is Tiffany & Co, which has taken an unprecedented step in diamond traceability by sharing the full craftsmanship journey of its newly sourced, individually registered diamonds.
"Our customers deserve to know that a Tiffany diamond was sourced with the highest standards, not only in quality but also in social and environmental responsibility. We believe that diamond traceability is the best means to ensure both," said the company's chief sustainability officer, Anisa Kamadoli Costa.
It's no small feat to achieve this level of transparency – decades of investment in Tiffany & Co's supply chain were required in the process. The jeweller is unique in the sense that it owns and operates five of its own diamond polishing workshops around the world, where nearly 1,500 Tiffany artisans ensure excellence of cut is obsessively upheld.
It also owns diamond workshops in Belgium, Mauritius, Botswana, Vietnam and Cambodia, as well as a Tiffany Gemological Laboratory in New York and five jewellery manufacturing workshops in North America. All these mean that Tiffany & Co can effectively ensure that its own exacting standards are met.
The jeweller is similarly committed to sustainability, and has mapped out a series of related goals it aims to achieve. These encompass many areas of the business, including sourcing materials for Tiffany & Co products, packaging and storing interiors responsibly and achieving Net-Zero greenhouse gas (GHG) emissions. In an age when more and more consumers are looking to shop in a way that benefits the world, Tiffany & Co is forging the path towards an ethical way of conducting business in the jewellery trade.