Is your closet a mess? How to sort clothes properly so nothing gets lost in the clutter
Let's be honest: You have no lack of clothes. So why are you always unable to find something to wear? Professional organisers tell CNA Lifestyle how clever sorting can fix this common issue.
Unless you are one of the rare few who have mastered the art of maintaining a capsule wardrobe that works across occasions, you know what it feels like to have "nothing" to wear.
Resist the urge to shop for more clothes and instead, try reorganising your wardrobe. 
Your overflowing closet holds more prospect than you're willing to admit. We don't mean garments you're hanging on to that no longer fit you but the pieces you used to love to wear that are hidden from view and thus forgotten.
You'd be surprised at how many gems you can find when reorganising your wardrobe. And while you're at it, make it a priority to categorise clothes, bags, accessories and whatever bits and bobs for easy access. This fine-tuning will no doubt make getting dressed a much more efficient process.
Where to begin? Follow the advice from professional organisers Esther Tan from Your Tidy Half, and the team behind Orderly, Rae Zhang and Vanessa Yip.
START BY DECLUTTERING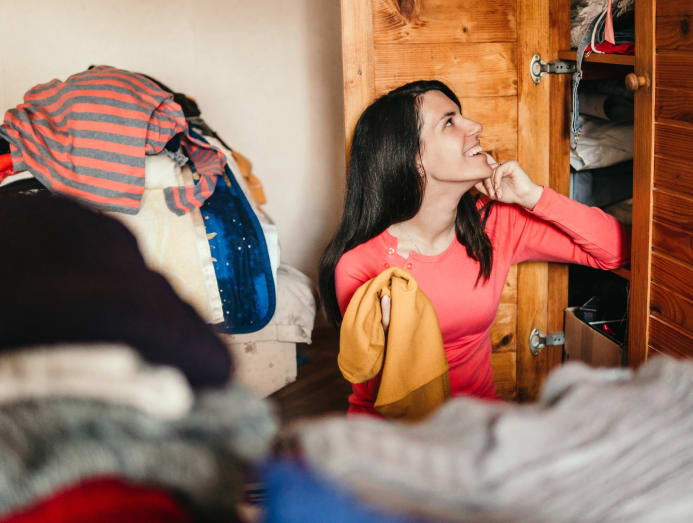 Purge. This is the first and very necessary step to achieving an easily accessible wardrobe. Remove everything you no longer like or that no longer fits you well. You will never be able to find exactly what you need from a closet that's bursting at the seams or is occupied mostly by items that are no longer of use.
Tan, a KonMari-certified consultant, said that these are the garments that no longer support your lifestyle or, in Marie Kondo's famous words, no longer spark joy. She is of the opinion that the decluttering process is not necessarily about setting a certain number of things one can keep (although the size of your closet does determine this), but should instead be guided by one's lifestyle and habits.
Only allow yourself to purchase a new piece of clothing if you plan to discard or donate an older item.
Yip pointed out a side benefit that decluttering brings. "By going through all of your clothes, you will definitely be reminded of certain pieces that have been neglected, and may want to wear now, since fashion trends change every so often," she commented. In other words, the process will give you clearer view of your current needs, fashion-wise, and can also guide you in terms of adjusting your shopping habits."
She added: "If you're having a hard time deciding if a certain item should stay or go, put it in a 'to-be-decided' pile. Then, set a reminder to revisit this pile in three to six months. If you've not worn any piece of clothing from there, it's a sign that it has to go. At the end of the day, we should only keep what our space (or number of hangers) allows for. Remember, too, that no amount of purging will help if we keep buying."
To keep a compulsive shopping habit in check, she suggested this: "Only allow yourself to purchase a new piece of clothing if you plan to discard or donate an older item. This way, your wardrobe will always be at its optimum capacity and you're able to see and access all of your clothing comfortably."
After decluttering, you should have a better idea of the items you have on hand and can then start categorising and planning how best to store them. Decide which clothes you'd like to fold and which others you'd like to hang up – this will depend on the fabric and even your personal preference. Generally speaking, most knitwear is better folded as putting them on hangers will leave shoulder marks and also cause the knit to stretch.
For those who happen to be getting a new wardrobe designed and built, Zhang recommended including more drawers than deep shelves for better visibility and accessibility.
"Clothes tend to get lost easily at the back of shelves, while drawers allow for an easy overview of everything in them. If you prefer having some display shelves, opt for a pull out shelf so that items at the back are still within reach," she explained.
This is why it's a good idea to reserve deep shelves for storing items that you use or wear less often – for example, thick knits, winter wear or even bedlinen.
REARRANGE CONTENTS OF DRAWERS
Don't just stack folded garments one on top of another when storing them in drawers. When you do so, you can only see those that are at the very top, which means you're likely to forget about the rest that are underneath. To keep them all within sight and easily accessible, the pros suggest "file-folding" them – a well-known KonMari method of folding clothes in a way that allow them to be stored "upright" so that each and every piece is visible at a glance.
"Drawers are great in supporting the file-folding method and also to house other small items like socks and undergarments. Organisers are recommended only after tidying (up the items in your closet)," said Tan.
Drawer dividers and inserts are ideal for storing items that are difficult to fold (like socks, undergarments or scarves). You can also use them to segregate your garments – doing so will allow you to quickly locate and access items that you are looking for.
"They can be very useful in creating sections within a big drawer, and are also great for people who dislike folding as they can simply pop items into the right compartment," said Zhang.
A SMARTER WAY TO HANG YOUR CLOTHES
When it comes to hanging garments, there are a couple of techniques to employ for better visibility too. Tan suggested arranging the garments by length first, with the shortest piece at the front; then, sort them out further by type and colour. Doing so will provide some form of categorisation, while ensuring that the shorter pieces won't be obscured from view.
Colour-coding your clothes will help increase visibility and ease of access too, as it'll make it easier for you to locate the item you have in mind. At the same time, it'll also make coordinating outfits a breeze, since you can quickly see what you have in every colour at a glance.
MAKE USE OF EVERY SPACE
Boxes and baskets can help you utilise nooks in your closet for storage and also corral items like belts or small bags together. Label each container clearly for easy identification and access.
You can even utilise the doors of your closet for storage. By putting up over-the-door hooks or removable 3M hooks (which won't damage your closet), you can hang up flat items such as belts, scarves or even necklaces on the interior surface of the doors. This will put them in full view when you open your closet, which means you'll find it easier to pick out the accessories to go with your outfit of the day.
STORING SHOES, BAGS & JEWELLERY
Should shoes be stored in the boxes or dust bags that they came in? It would be a good way to protect them from dust, but doing so can make locating that particular pair you want a frustrating process, unless you label each and every pair of them.
Placing them on open shoe shelves would be great, but this is limited by space constraints. Which is why Zhang suggested storing shoes in clear shoe boxes instead (these can be easily purchased online). They'll improve the visibility of your shoe collection and, also, are a space-saving solution since they can be stacked.
As for jewellery, you don't necessarily have to keep them in the boxes they came in. However, take note that you'll need to store them in a way that keeps each piece separate, so as to prevent scratches (especially for fine jewellery with pearls or gemstones).
"You can purchase stackable acrylic drawers with padded or lined inserts for storing different types of jewellery. All these will help you to see your collection at a glance, thus helping you to make decisions more quickly and easily. Putting them away at the end of the day will also be a breeze," said Zhang.
For bags, she recommended grouping similar types of them together and placing them in separate boxes, while bigger statement handbags can be displayed on open shelving or cubby holes, if you have them. This way, you'll know exactly where to go to find a bag that you have in mind.