Smartwatch with a Swiss touch: This solar-powered hybrid watch offers the best of both worlds
Strapping something on your wrist doesn't have to be an either-or situation. CNA Lifestyle takes a look at Tissot's intriguing T-Touch Connect Solar.
In partnership with Tissot.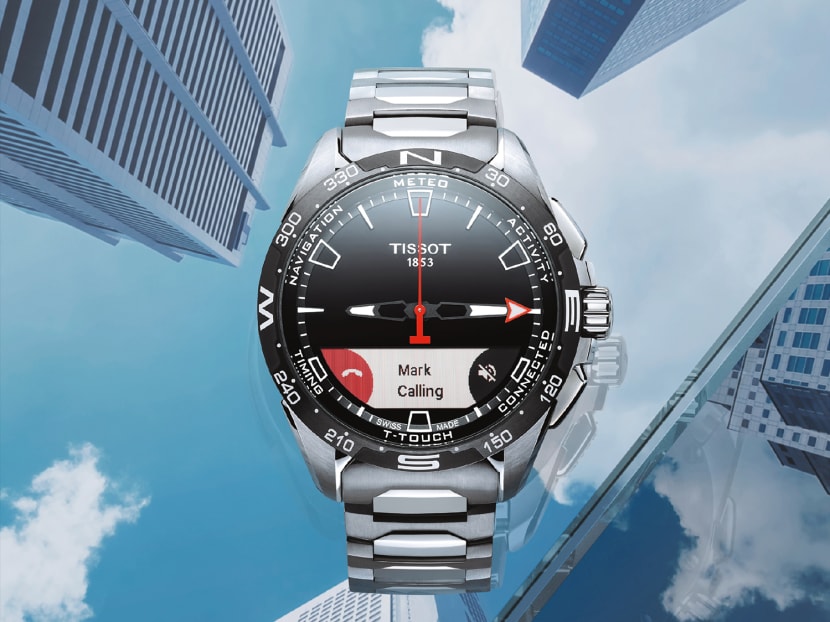 Technology tends to take a "more is more" approach. And in the case of smartwatches, it's all about piling on more functions, more portability and more design options.
When the first Apple Watch hit the market in 2015, it came with app support and a heart rate sensor. These days, wearables are probably smart enough to get into college. Even luxury watchmakers who have built their legacies around maintaining the electronics-shunning, mechanical master race ideologies have dragged themselves onto the bandwagon with fully digital faces dressed in precious metals and stones.
This has meant that, for the most part, investing in a watch is now a matter of having to choose between an analog experience and a digital one. Which is what makes Tissot's first entrant into this race for our wrist space such an intriguing one.
The Tissot T-Touch Connect Solar combines the old-school charm, beauty and pedigree of Swiss watchmaking with just enough smarts to keep it a convenient and modern wearable.
Long-time fans of Tissot will be familiar with its T-Touch technology. First unveiled in 1999, its T-Touch watches allowed wearers to access a number of functions – such as compass, chronograph, alarm and many more – through a tactile watch face, essentially introducing the concept of tapping and swiping surfaces to the world at least a decade before it became mainstream practice in smartphones.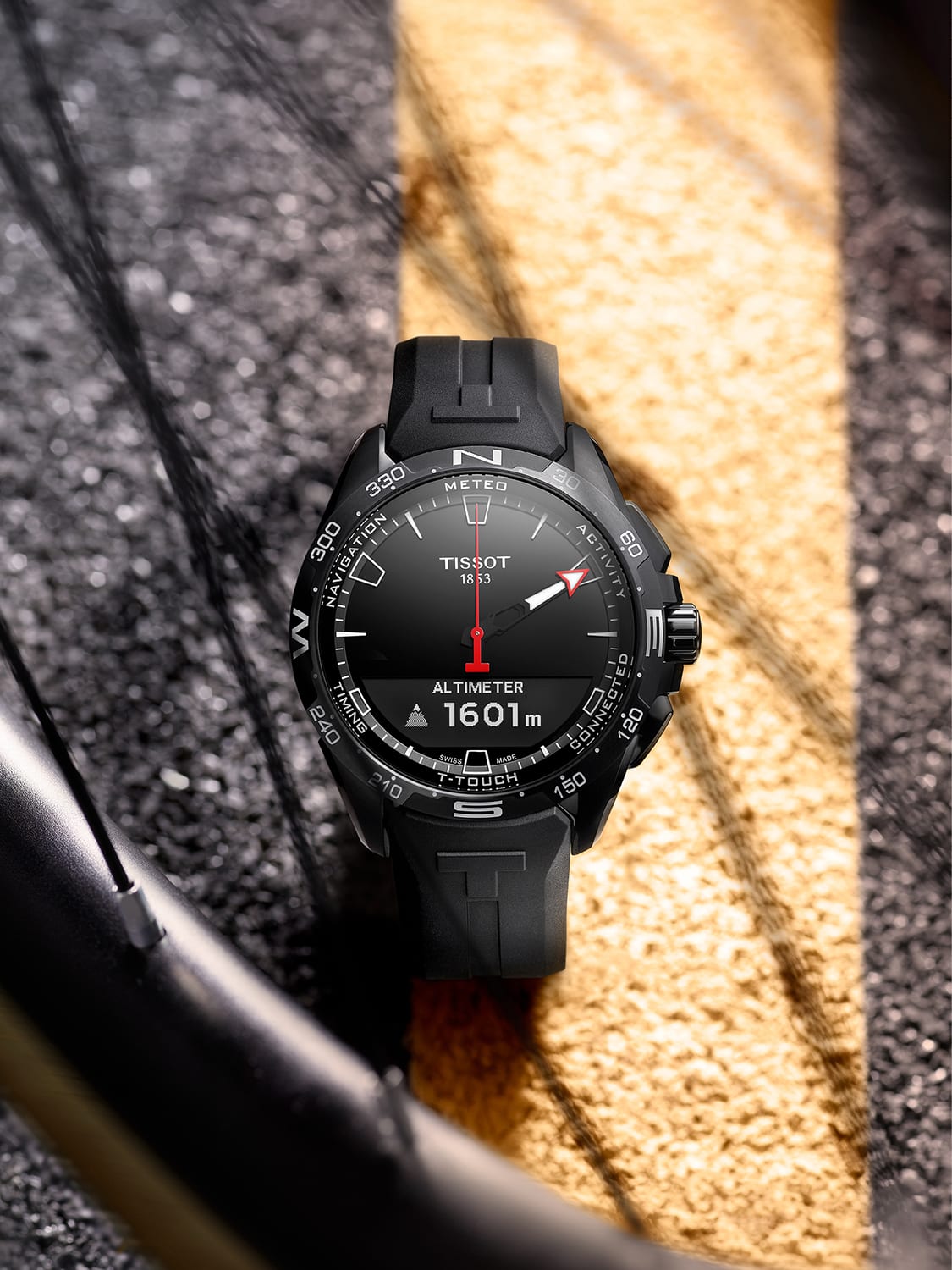 In 2004, it launched the High T, a completely digital offering made in partnership with Microsoft that worked with the tech giant's FM radio-based MSN Direct to receive information such as news, messages and more.
This may make Tissot look uncharacteristically late to the connected watch space, but we think it entered at just the right time, because now it can appeal to those who want the experience of wearing a Swiss-made watch without the full suite of attention-enslaving apps and features of the current generation of wearables.
First of all, it looks and feels more like a timepiece than a trendy piece of tech. Its 47.5mm by 15.3mm case is crafted from titanium, a material even high-end brands have come to favour for its lightness and hypoallergenic properties. Ceramic – another favourite in the premium watch category – was used to make the bezel because its hardness renders them nearly impervious to scratches, and its colour and shine won't fade over time.
Secondly, connecting the watch to a smartphone is entirely optional. The interface can be controlled via two pushers, an electronic crown and a scratch-resistant sapphire crystal touch screen. A long press on the pusher at 2 o'clock will activate the tactile crystal, while holding down the pusher at 4 o'clock acts like a back button that will take you to the home screen.
When the watch is in "Connected" mode, notifications (such as calls, weather, texts, emails and apps like WhatsApp and Instagram) can be read at the bottom of the dial, and while the small space means you likely won't be able to read entire messages, it's enough to provide a glimpse of what's incoming.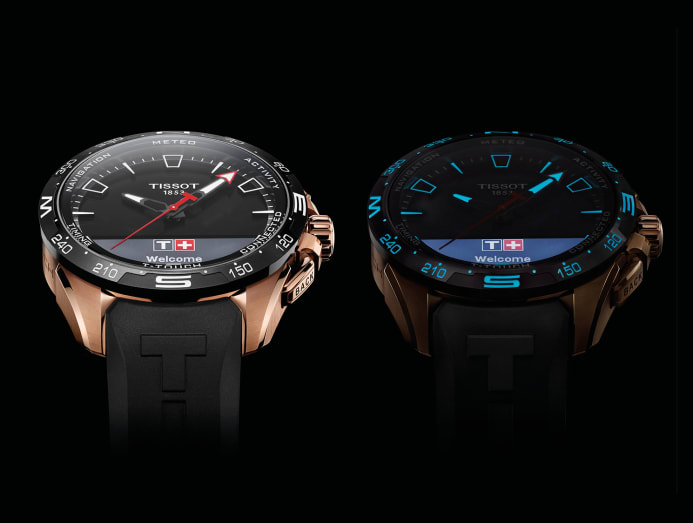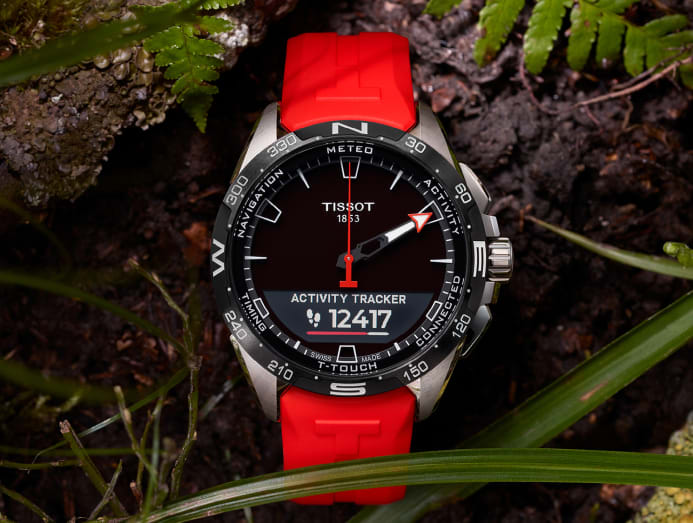 In "Watch" mode, the T-Touch Connect Solar will still have access to a perpetual calendar, countdown timer, second timezone, alarms, chronograph, compass and altimeter. But both modes will still run its accelerometer for step-counting, distance travelled, and energy expended. It runs on the Sw-ALPS operating system developed by Swatch Group, and is compatible with iOS, Android and Harmony.
The watch offers two kinds of locks: The first will deactivate screen buttons to prevent accidental presses, and the second will turn off screen displays for added privacy. And speaking of privacy, Tissot promises that neither the watch nor the companion app will send any of your data to a third party.
But arguably the most interesting feature of the T-Touch Connect Solar is the fact that it's solar-powered, as its name suggests. Tiny solar sensors placed within the dial capture light –  both natural and artificial – and stores it in an accumulator, which means that the watch can run in Connected mode for several months without needing a recharge, and almost indefinitely when in Watch mode.
This is also made possible because of the watch's MIP (Memory in Pixel) screen that refreshes only when necessary, an adaptive brightness setting, and a Bluetooth Low Energy chip – all of which help save energy. For those who lament the need smartwatches have for frequent (sometimes even daily) recharging, this feature is a godsend.
There are six references available, offering a choice of rubber straps or titanium bracelets, as well as different case finishes and colours. The Tissot T-Touch Connect Solar may not be the smartest watch out there, nor did it ever strive to be, but that's exactly why we love it. It is first and foremost a watch – and a handsomely built one at that – that manages to balance tradition and modern technology for the wearer who is active, stylish and pragmatic.