Their handbags were popular in the 1990s – now, Tocco Toscano's young boss is reviving the family business
When it became evident that the family business needed a big change, Joseph Lor took over the reins and gave it a spanking new image. (And yes, it's not an Italian brand but proudly Singaporean.)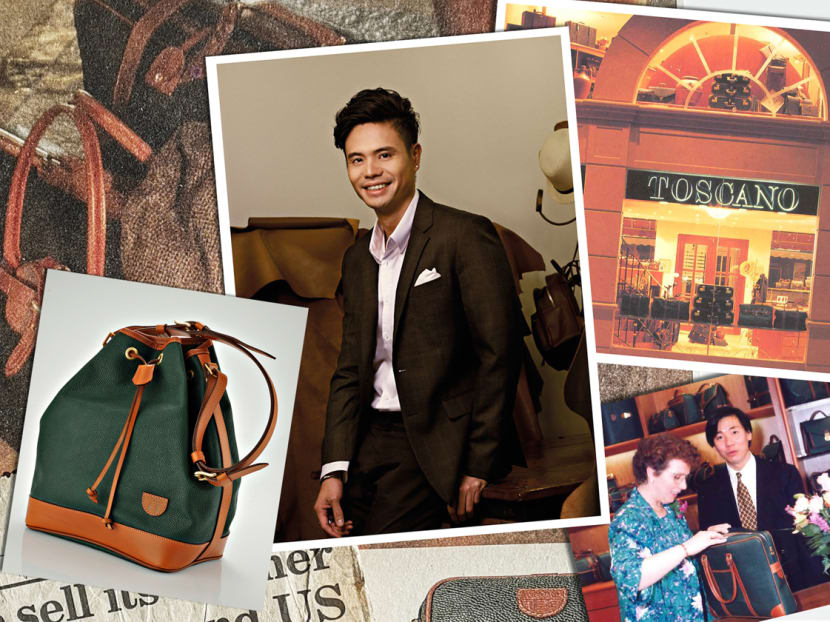 Growing up, Joseph Lor spent a lot of time around women's handbags. But there's nothing odd about that, given that he is the successor to homegrown leather goods brand Tocco Toscano.
"Having been on the sales floor with my father since I was a kid, I learnt the ins and outs of the business, and how the industry operated as a whole," the 37-year-old shared.
The brand is a familiar one to many of us in Singapore, a department-store staple that those who are old enough to be buying handbags in the 1990s would know. Others who are younger might recall their mothers or aunts owning one of its classic designs back then.
Some may have thought that the brand originated from Italy – and that's not entirely wrong, because it used to belong to an Italian leather craftsman, for whom Lor's father James worked as an apprentice. The latter started his business making and selling leather belts in 1983, and subsequently took on the apprenticeship so that he could go on to produce more complex products like bags and wallets.
"This Italian leather workshop also sold merchandise under its house label, Toscano, the brand which my father secured the licensing to sell in Asia after his apprenticeship ended. We eventually bought the trademark in the early 1990s. With that, we then rebranded it to Tocco Toscano, which refers to 'Touch of Tuscany'," revealed Lor.
More than 30 years on, and Tocco Toscano is still around, now with Lor at the helm as CEO – but of course, the retail landscape has changed in myriad ways and handbag choices have infinitely expanded as compared to what was available back then.
One thing about the brand has remained the same – it is still among the key handbag brands at department stores here. Apart from that, pretty much everything else has changed with a revamp that he took four years to implement, in order to align Tocco Toscano with modern times and a younger audience than who it previously spoke to.
A NEW DIRECTION AND LOOK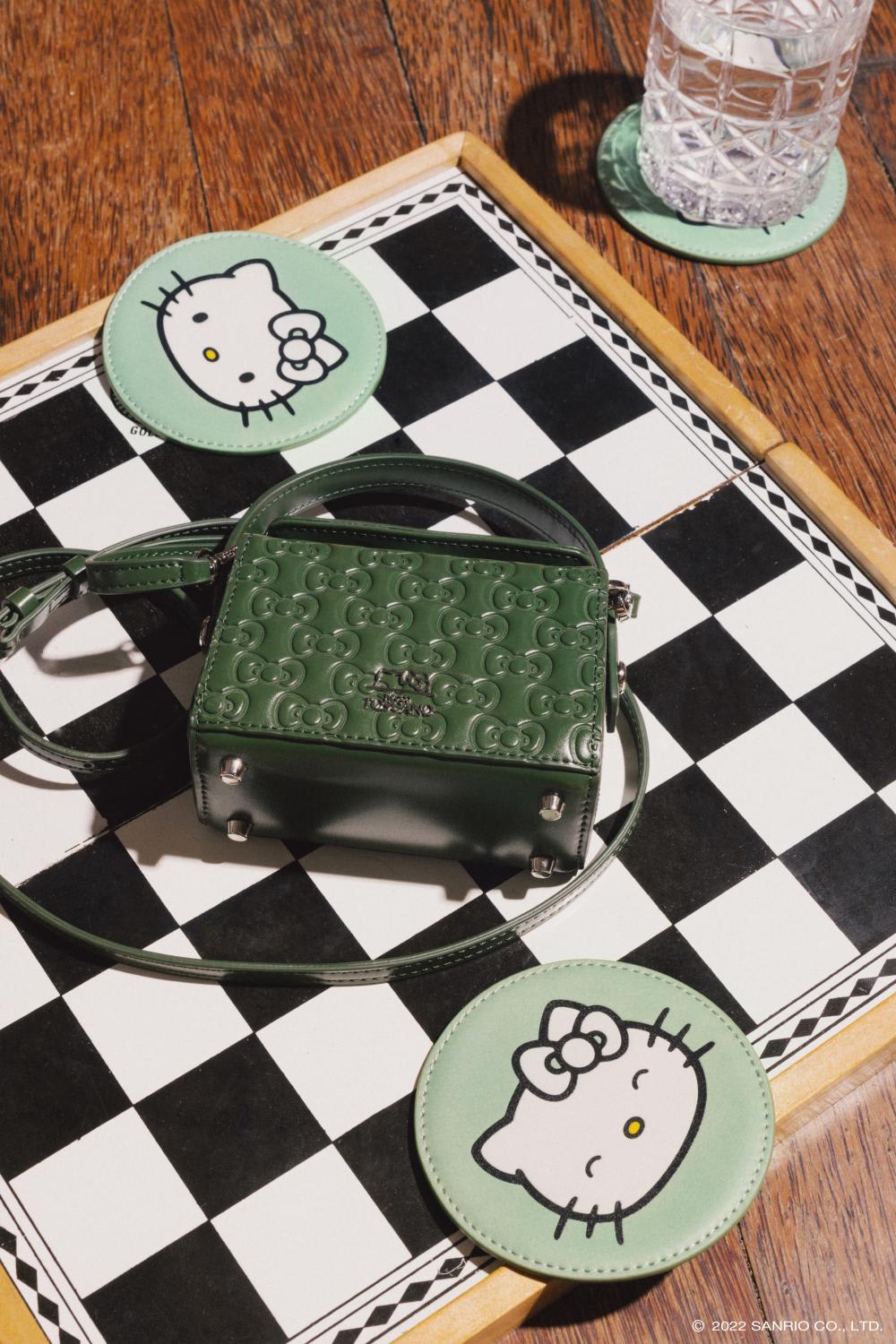 Browse through Tocco Toscano's current line-up and one might be surprised to find designs that would not have been part of its repertoire before. Sure, the expected classic styles and neutral colours are still present, but besides those, there are special collections that combine an element of fun, innovation and edge.
The new Tocco Toscano is out to show how it is ready for an adventurous future with creations that range from collabs with fashion entrepreneur Arissa Cheo and Sanrio, to a sustainable line designed, interestingly, in partnership with Singapore Airlines.
"Such collaborations build the narrative of us being a brand for the people, where we focus on our craft of producing quality and stylishly functional products, while working with industry experts to ensure that we are providing the perfect products for their crowds as well. They also enable us to cross markets to tap on different customer bases, thereby growing our own consumer base," said Lor.
While change is inevitable, it doesn't mean that he set out to ditch the customer base the brand has built over the years. This is why he was cautious about revamping too swiftly and dramatically.
"Rebranding is a journey and in a brand's life span, it could be done several times; sometimes in big ways and sometimes with small, subtle changes that are done over time, to ease the customer experience. We know that our current customers are our anchors – we kept that in mind as we did not want to make an aggressive change just for the sake of attracting a new target group of consumers," he explained.
The key, to him, was to do it in stages progressively. "Prior to the revamp, our colours were more skewed towards the basic side of things (dark green, black, burgundy, dark brown), with very few selections of bright colours or prints. Even our bag designs leaned towards classic elegance as we stayed true to our customer base then. In short, we couldn't afford to make inconsistent decisions and release a collection of bright colours or vastly different types of designs," he revealed.
"As we grew our customer base following our rebrand, we were able to then expand our offerings, in tandem with the growing variety of our customer base. It was all a progressive transition, which also helped to ease our existing customers with the shift in brand direction."
FASHION'S FUTURE SUSTAINABILITY
To understand what his customers want, Lor knew that it is crucial to be in constant dialogue with them. "That is why we are in various channels such as Instagram, TikTok and Telegram, to name a few. We also try to organise focus groups. One of the topics that came up repeatedly was sustainability, and it's definitely something we value. We want to constantly seek alternatives for our consumers to ensure that there is something for everyone," he said.
Tocco Toscano became the first Singaporean brand to launch a line of bags and accessories made from apple leather earlier this year.
He had also noticed that sustainable and vegan products are very popular in the US and Europe, which wasn't the case in Singapore a few years ago. "Now, however, they are becoming increasingly popular here. That being said, I think it's also a matter of timing – because we are fundamentally a leather label, we can't just change things right away. The business, branding and sales must be considered, too, but it's definitely something we will work towards," he added.
According to Lor, Tocco Toscano became the first Singaporean brand to launch a line of bags and accessories made from apple leather earlier this year.
"Iduna, the first collection from our apple leather series, combines functional luxury with the beauty of vegan leather to create an experience of vegan leather like never before. We've also worked with Singapore Airlines to launch a collection using upcycled aircraft seatbelts, life vests and apple leather, and have plans to explore similar sustainable leather alternatives in the pipeline."
PUTTING SUCCESS IN THE BAG
While the path of change is about navigating growth and making gradual shifts right now, the end goal is clear to Lor. Even as the brand has long been known for its classic designs, he longs for Tocco Toscano to be ultimately seen as the go-to fashionable leather brand for women from all walks of life.
"We represent a combination of tradition and modernity, where quality craftsmanship and timeless designs combine with uniquely functional elements that are created with the end consumers in mind. I think of it as a conceptual combination of my father's and my style. He was always more design-driven and while I am, too, a lot of my contributions to the business as a whole were largely functional and results-driven," he acknowledged.
We represent a combination of tradition and modernity, where quality craftsmanship and timeless designs combine with uniquely functional elements that are created with the end consumers in mind.
So far, his revamp strategies have proven to be fruitful. The brand currently has 16 physical retail locations in Asia, with predominant presence in Singapore, Malaysia and Thailand, and may be landing in New York or Europe soon, pending further market testing. But the biggest success is probably the significant boost in sales.
Lor revealed that the brand is recording consistent six-figure sales online every month and a 15-fold growth in revenue following the rebranding and online pivot. "More importantly, we have successfully navigated our transition into the online space without rocking the boat of our customers who have been with us for so many years," he added.
For Lor, whose academic background is in electrical engineering and biomedical science, taking ownership of his father's business was challenging to say the least.
"Honestly, I don't think it was something I envisioned for myself, but the concept of doing business was always interesting to me and is probably the most difficult thing I've ever undertaken in my life. There are unforeseen issues to deal with, not to mention manage people from and with different backgrounds and personalities, all while constantly innovating in strategy, operations, technology, branding and product development. But I enjoy the challenge and find it fun to compete on the business front," he said.
What's next for Tocco Toscano? A lot more, it's safe to say, including a new website and packaging redesign, which Lor said will mark the completion of the brand's overhaul. But he doesn't plan to stop there and is looking into possibilities of creating accessories beyond bags, like eyewear, exploring more sustainable materials and partnerships that can push the brand into unexpected areas, such as fitness, and even home and decor.