This Singaporean ink artist has a collaboration with Uniqlo featuring cats playing capteh
Illustrator Rex Lee of children's book, Musings On The Moon, shares his musings on his work as an ink artist and the local art scene.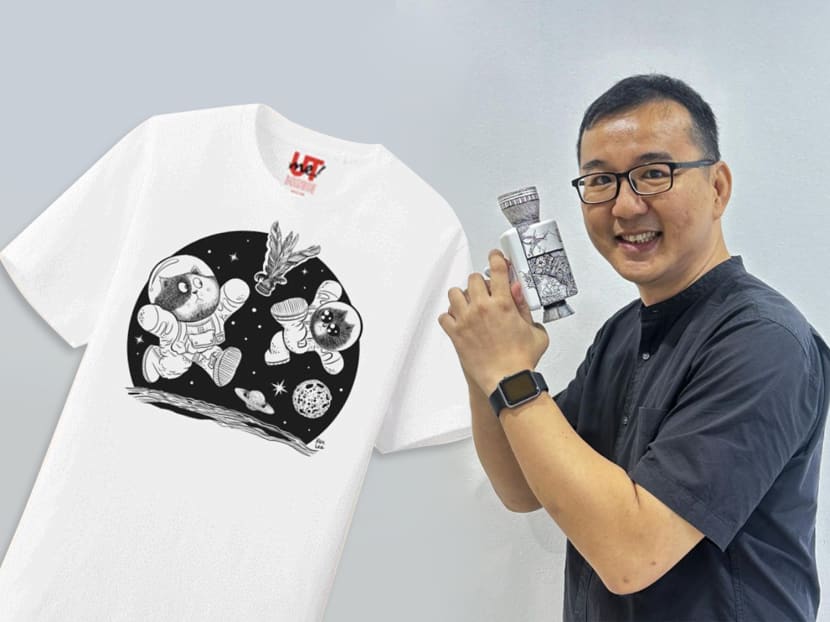 In support of arts and culture, Uniqlo Singapore has launched #WithUT with Co Play, a platform to celebrate art and designer toys. The new UTme! collection, Playful Memories, features six local artists' unique designs that celebrate play.
CNA Lifestyle caught up with one of them, illustrator Rex Lee, whose work can be seen in Musings On The Moon: Loony Rhymes For Playful Minds where he partners Flo-Jo to bring whimsical poems to life with his illustrations.
Lee's design for Uniqlo features Mau and Kitty – the main cast for his My Space Cats series – playing the traditional game of capteh... while in space. He shared that his aim for the series "is to induce joy" and to find a way to "add an element of humour or a deeper layer of meaning to make each piece delightful or meaningful to a viewer". 
He hailed the partnership with the clothing brand as a "big leap" and a "chance to broaden the reach of our art by making it seen, and available (and wearable!) through a leading global retailer". 
HOW DID YOU START IN INK ART?
REX LEE: I've been dabbling in art for decades over various media, and started focusing on ink art in 2018 when I joined the global inking initiative "Inktober", started by American artist Jake Parker. It brought me back to my roots as a comic artist in my early days, and I had a lot of fun revisiting this classic form of art, experimenting with techniques, and creating my own expressions with it. It's become a discipline for me since. 
I love inking as a medium because of my appreciation for its simplicity, from both a technical as well as a philosophical point of view. Such a humble set-up – pen and paper, and you can capture the imagination, anywhere you go. There are endless possibilities – from recording your own visual interpretation of everyday subjects, to imagined worlds of fantastical things. 
I've loved drawing since I was a child, and having a comic column in Lianhe Zaobao in my youth was the first milestone that enabled me to share my art and story expressions on a public platform. That was personally validating for me, and it probably steered me in my career path and choices thereafter. Since then, I've worked professionally in design, animation, music and multimedia, and I believe the collective experience of it all has honed my skills and helped me cultivate a deeper appreciation for character design and storytelling.
HOW DO YOU CREATE YOUR PIECES?
It depends on what I'm creating. If I'm creating a series of characters, it's likely that I would start with an idea of their character traits and a rough outline of the story or the vibe I'm aiming to convey.
So for Mau and Kitty, for example, who are the main cast for the My Space Cats series, I mapped out their personalities in my head. This helps whenever I prepare a drawing where one or the other, or both, are up to some mischief, and the scene will pan out to tell the story in a way that is fun, clear, accessible and easy to relate to. With this series, my aim is to induce joy – so I always try to add an element of humour or a deeper layer of meaning to make each piece delightful or meaningful to a viewer. 
As an example, the theme for our collective's first instalment in the #WithUT project was "Play", to be conveyed in a local context. I thought about the games familiar to us as kids (during my growing up years at least) and the game of capteh came to mind. It was a simple and popular game where players would mostly use their feet to keep the capteh (similar to a shuttlecock) airborne for as long as possible. I liked the idea of having Mau and Kitty attempt capteh in space, without the help of gravity. So that's the concept behind my piece for this project. 
HOW DO YOU HOPE TO DEVELOP YOUR ART FROM HERE?
My work with Inktober was featured in a BBC programme, around the time I started an Instagram channel to share my work, which took on a life of its own. Some of these ink art were later published in a book, and then painted on canvas for some exhibitions. The collaborative work through Co Play with other artists from the region followed, and I painted on bare sculptures of toys, which was new and challenging, but fun. Right now, I'm part of the #WithUT project with Co Play. 
 
When I set out on my inking journey, I hadn't planned for any of this, but I think things have a way of panning out when you put your heart into it. I can say for now that plans are underway for more exhibition work, and I'm always open to explore new ideas, forms and collaborations. I'm also working on a short animated film – it's been slow because of the current engagements, but I like that it keeps me active working with different media while sticking to my roots in character illustration and storytelling. 
WHAT ARE YOUR VIEWS ON THE ART SCENE IN SINGAPORE?
There is a lot of talent around, and a lot more untapped because for one reason or another, our social conditioning steers us away from cultivating one's passion for art to the extent of committing one's life to its pursuit.
It's a difficult subject – it's been there, people have talked about it, but influencing the forces that drive the motivations of our people is not something that just happens – it's conditional upon so many fundamental things relating to our survival as a society, and change and progress, while possible, always takes a long time. 

I see from government funding schemes that there are ongoing efforts to help with the arts. I also recognise the challenges in that process, but I think that meaningful help needs to genuinely consider the true conditions of an artist's challenges, and as things stand, it seems to me that the current schemes are struggling to manage the awkward balance between offering aid and setting (impractical) boundaries in the interest of managing accountability within funding establishments as well.
Still, they are trying, and my personal hope is that they may better refine their efforts through more meaningful engagements and exchanges with the artist communities that they are trying to assist.