Popular Chinese 'face painter' brings her edgy touch to Chanel Beauty's new global makeup project
Valentina Li and two other makeup artists, Ammy Drammeh and Cecile Parvina, are part of the French marque's Cometes Collective, a brand new think tank for its makeup creation arm.
Chanel Beauty announced on Tuesday (Oct 11) the launch of Cometes Collective, a new project that was two years in the making and will involve emerging talents in the world of beauty.
The group comprises three makeup enthusiasts Valentina Li, Ammy Drammeh and Cecile Parvina, who were all chosen for "their unique and pluralistic visions of beauty, their treatment of makeup as both an art and a daily ritual, (and) their ability to integrate the complexity and singularity of feminine allure into their creations".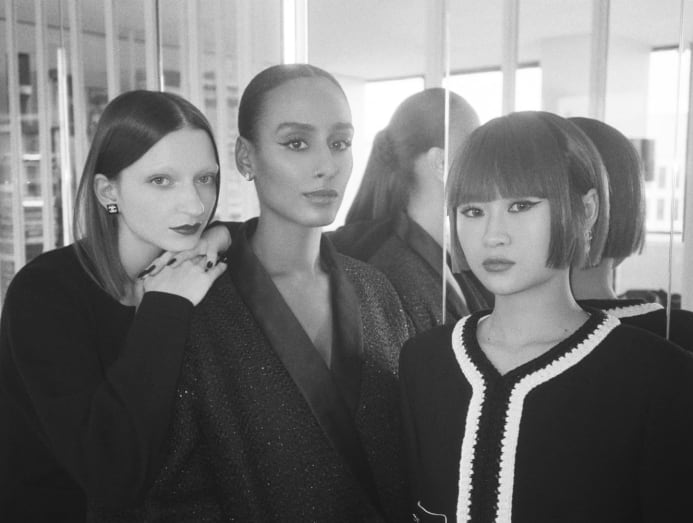 The team will work with the brand's makeup creation studio to develop collections and create content for its community of makeup lovers. Chanel will reveal its first Comete Collective collection in Jan 2024.
Of the trio, makeup fans around the world will find Li's work particularly familiar.
Known for her imaginative, edgy approach to makeup, the 30-year-old has worked with celebrities such as Taiwanese singer Amber Kuo, Chinese models Xiaowen Ju and He Cong, as well as fashion powerhouses Erin Parsons and Mert Alas. Her work is regularly seen in Vogue China.
Hotly in demand in China, Li regularly partners with Chinese design stars such as Dingyun Zhang (for Zhang's Moncler Genuis show), Susan Fang and Windowsen's Sensen Lii. On her work for these designers, she told Vogue in a recent interview: "I like to imagine a lot. I see it as a brain exercise."
The Chinese national made the switch from journalism to makeup in 2015 – she studied makeup in Beijing and Paris. Her love of cosplay, sci-fi movies and historical body art has since become her signature. Li is known to mix her beauty kit with art supplies to achieve her iconic "out of this world" effect.
Though her work precedes her, Li prefers to be referred to as a "face painter". She told Vogue that the term makeup artist is "too big" for her at this juncture.