A beginner's guide to buying vintage clothes: Fashion experts' tips on how to shop for the real deal
The most unique outfits are often found in eras from the past, but shopping for vintage fashion can be tricky. CNA Lifestyle gets the experts to share what a newbie should know before making a purchase.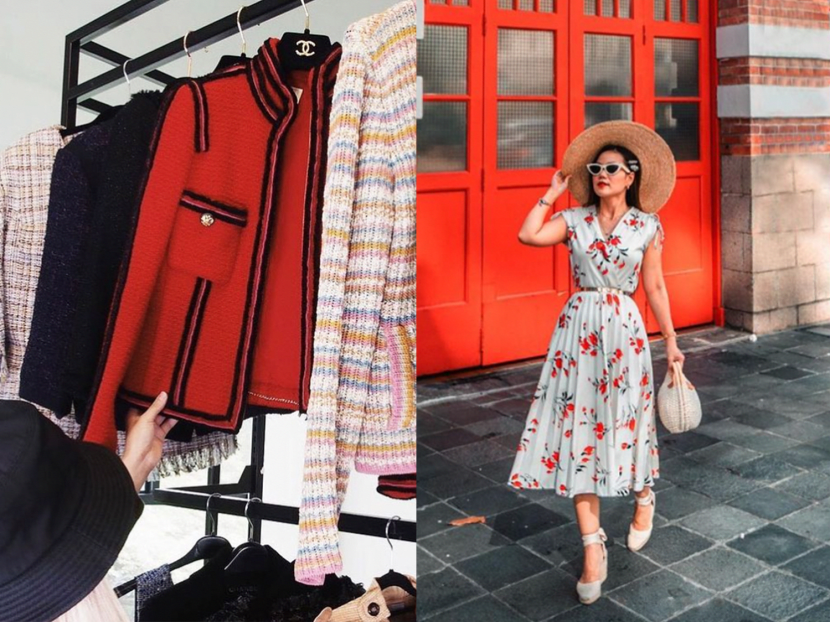 Ask any vintage fashion fans why they love it and the answer you'd get is most likely because it's so unique.
Compare it to modern mass-produced clothes and it's easy to see what they mean. "There's practically zero chance of you bumping into someone else wearing something similar to your vintage piece… that's what my customers tell me," said Aisha Ang, who sells vintage clothing and accessories online on her Etsy store, FrecklesaisVintage.
"You're also buying a piece of history. Imagine the stories behind it… what fabulous parties and events it's been worn to. Not to mention that you're also helping the environment by buying and wearing vintage clothing. Vintage is considered slow fashion now and is sustainable," she added.
Buying vintage clothing is not as straightforward as shopping for typical fast fashion is.
Vintage fashion is gaining popularity lately, even if it caters to a niche market – in Singapore at least. Ang noted that a lot of people here, who don't know much about vintage fashion, tend to think of it as second-hand or pre-loved, and because of that, are hesitant to give it a go or are only willing to pay very little for it.
Owner of Deja Vu Vintage, Kelly Yeo, had the same view. "We are a vintage-fashion pioneer in Singapore and the only ones to bring it upmarket. In the early days of starting up, very little people knew what vintage was and we drew mostly fashion insiders. Vintage is not everyone's cup of tea – some will be too conservative to try it, others will stubbornly think of it as just 'used goods'. These days though, many have been exposed to it while living or studying overseas," she said.
There's something special about vintage fashion, and celebrities such as Zendaya, Bella Hadid and Kim Kardashian clearly think the same, too, flaunting multiple stylish vintage outfits – albeit the designer variety – on red carpets in recent years.
Inspired to start your foray into it? Buying vintage clothing is not as straightforward as shopping for typical fast fashion. If you're new to it, take a few tips from vintage fashion experts Yeo and Ang.
KNOW WHAT COUNTS AS VINTAGE CLOTHING
Vintage clothing is old, as in it was made in the past, but not all old clothing is considered vintage. Yeo explained that the term "vintage" refers to clothing made in a certain era – vintage specialists usually consider only pieces from the 1980s and before as vintage.
"The allure of such clothing is that it's iconic of the style of a particular era, often with fabric and construction that can't be found anymore. Anything too recent tends to be pointless, as it will be too similar to modern, mass-produced garments and can easily be found or replicated," she said.
Vintage clothing is old, as in it was made in the past, but not all old clothing is considered vintage.
"These days, the term vintage is too loosely used by some to denote simply pre-loved, or vintage reproductions and lookalikes. These are nowhere as valuable. Just be aware and know what you are looking at," she also cautioned.
DIFFERENTIATE BETWEEN THE VARIOUS CATEGORIES
There are, apparently, different types of vintage clothing, too. "What we call 'true vintage' refers to authentic vintage clothing, which means that the sewing, design and so on are retained as is, without any alterations. Then, there is designer vintage clothing – pieces from famed designer brands like Chanel, Dior and so on, or any known designer from eras in the past," explained Ang.
It is important to separate these from generic second-hand clothes found in thrift stores (although there may be the occasional true vintage gem that can be found among these). There's also upcycled vintage, in which sellers modify the design of the vintage clothing. "Some vintage enthusiasts don't consider this authentic, true vintage fashion," she shared.
UNDERSTAND THEIR VALUE
True vintage clothing is increasingly rare. "Even more so when it comes to designer vintage, especially pieces like Chanel suits or the iconic YSL pant suit. They are priced based on buying cost and their value – prices therefore vary greatly," said Yeo. 
According to Ang, the prices of true vintage pieces (in simpler styles) typically start from around S$80. "Prices can go up to hundreds or thousands of dollars, however, depending on the design, designer, where it's made, fabric, sewing, condition, or even if it comes with the tag or not," she said.
"It's also about the curation. The older a piece is, the more expensive it generally is – although this is also dependent on the factors mentioned above. That's why good vintage shops charge a little more for their goods, because the sellers make extra effort to handpick and curate items that are 'vintage-worthy' and are in good condition," she added.
Why do fans of vintage clothes think they're worth such prices, when they can get brand new clothes for that money? Besides the fact that they are authentic styles from past eras, they are well made and of quality. "I have clothes from the '50s to '70s, and they are like brand new still! Things now are not made like they were last time. Now it's all about fast fashion, which is of lower quality," explained Ang.
DO THE RESEARCH
It's wise to do the groundwork before dipping your toes into vintage fashion, of course. Browse for styles you like and find out more about the eras they come from – there may not be a lot of physical retail shops selling vintage clothes here, but there are resources aplenty on the internet.
Make a note of prices, too, and see how they relate to the item's age, style, condition and brand, if any – this will help you get a better sense of what is considered good value. "One common mistake people make is thinking they scored if they find a piece that's really cheap or, conversely, super expensive. Vintage clothes can be pricey, but they can also be a great deal. Doing research will allow you to recognise a truly good deal when you see it," said Ang.
Patience is also necessary. "Shopping for vintage clothes can take some time, so don't expect to find everything you're looking for immediately. Keep an open mind, and you may be surprised by what you find!" she added.
CHECK THE CONDITION
Not all vintage clothes are in mint condition, although responsible vintage sellers will only stock items that are in an acceptable and wearable state. At Deja Vu Vintage, for example, all items are inspected to be in good condition and dry-cleaned before they are put out on the rack.
Still, it makes sense to carefully check their condition before you purchase them. Ang suggested thoroughly inspecting the garment for stains, holes, or other damage such as in the zippers and fastenings, for example.
It's not uncommon, however, to come across pieces with some minor flaws. "Vintage clothes have been around for a while – some wear and tear are inevitable. "Such pieces are still stocked, usually because, they have value in terms of its design and style, or sometimes rarity, despite the flaws," she explained.
What kind of flaws are acceptable then? That is entirely up to you. When one chances upon a rare gem or a piece they really like, some small imperfections (like a missing embellishment or a few loose stitches) are unlikely to diminish their enjoyment and appreciation of it. True vintage lovers embrace them as part of the clothing's unique character and history.
CONSIDER MAKING ALTERATIONS
It's a misconception that all vintage clothing sizes run smaller than modern-day standards. Even if that may be true to some extent, you should still be able to find a wide range of sizes at a good vintage clothing store – it's just that every piece is singular, and whether the size a particular piece is in fits you or not is a matter of chance.
"Our vintage clothing is handpicked from the United States and Europe, and comes in all kinds of sizes, from XXS to XXL. To ensure an individual, customised fit, alterations and resizing services are also available in-store," shared Yeo.
On that note, know that it's often worthwhile to spend a little more on alteration to fix minor fit issues, such as shortening the length or taking in the waist of a dress. It's highly unlikely to come across another piece of a design you like – let alone one that's serendipitously in great condition and your size.
STYLE VINTAGE FASHION WITH MODERN PIECES
Fashion is cyclical, and trends from the past are bound to make a return every now and then. This means that vintage fashion can be very relevant in modern times, and is a treasure trove for those who've got a good eye for spotting classic or comeback styles.
"Vintage fashion can be very wearable, if it is (from a story with) a well-curated selection. A specialised vintage shop will also have staff who can recommend something suitable for your personal style and body type, and perhaps help you style it," said Yeo.
"Just because it's old doesn't mean that it is outdated. Vintage clothes can actually look fashionable, if you know how to mix and match them with other modern pieces or accessories even," said Ang.