Smudge alert: 6 reasons your waterproof makeup isn't working and what you should do
You slick on the waterproof mascara and eyeliner, spritz on the sweat-proof setting spray, only to have it all run down your face one humid hour later. What went wrong? Read on for our tips.
Why is the mascara marketed as "waterproof" smudging up a storm under your eyes? Have you been duped? Is it false advertising? And who else has been in a situation where your so-called waterproof eyeliner has lost its battle against humidity and is making a break for it down your face?
Here are a few reasons why your waterproof makeup may not be working well for you, and tips on how to prevent your face armour from washing off with the next tropical downpour.
1. YOU'RE MISTAKING YOUR MASCARA FOR A SMUDGE-PROOF ONE, WHEN IT'S MERELY WATERPROOF
The enemy of mascara isn't actually sweat, rain or humidity, it's oil. Your waterproof mascara will probably survive a slight drizzle if you've forgotten your umbrella, and maybe even a weepy K-drama, but if you have oily eyelids, it's unlikely to make it past teatime without smudging.
After all, it's not oil-proof. When applying mascara, don't use face oil on your lids or any other oil-based makeup product, especially if you have oily skin. Instead, use a primer on eyelids, and lightly dust the area under your eyes with powder. This will keep the oils at bay and help your waterproof mascara stay in its place.
2. YOUR WATERPROOF LIPSTICK WILL SURVIVE WATER, BUT IT WON'T SURVIVE CHAR KWAY TEOW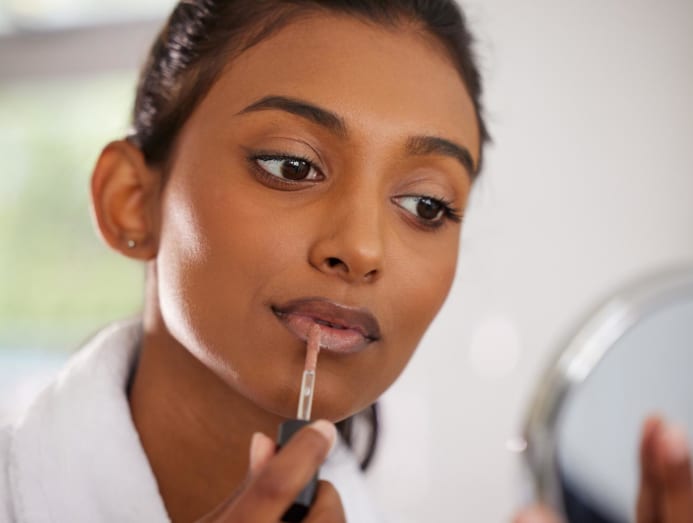 Those waterproof lip stains and lip tints really work – when well-applied (apply and blend with finger, blot, apply another layer and blend), they won't stain your face mask, and will last through a swim, a sweaty hot yoga sesh, as well as much sipping of drinks during happy hour and beyond.
But once fried chicken, Korean BBQ, Hokkien mee or anything supremely oily comes into the picture and makes contact, don't expect your lippie to hang around. Oils are natural makeup removers and will eventually remove all traces of even the best lip stain.
One way to get around it? Eat very, very carefully, and don't let the oily bits touch your lips. Open wide.
3. NOT KNOWING WHAT WATERPROOF MAKEUP REALLY DOES
Waterproof makeup such as waterproof foundation is often heavy and creates a barrier on the skin that keeps out moisture and may contain ingredients to help it adhere to your skin. These may clog pores and cause skin irritation. They are also harder to remove than normal makeup.
Using waterproof makeup sparingly and only when you really need it (if you're doing a wedding photo shoot in high humidity, for example) is key to making it work well for you. If you use it daily and for long hours, it may wreak havoc on your skin. Instead, use primers and setting sprays to help your makeup last longer, and trot out the waterproof stuff only when really necessary. 
4. NOT USING THE RIGHT PRODUCTS UNDER YOUR WATERPROOF MAKEUP FOR YOUR SKIN TYPE
As mentioned, waterproof makeup isn't oil-proof. On oily skin, it can still slide right off. Use a silicone-based primer to block oils and create a base for the makeup to stick to. For those with dry skin, heavy waterproof makeup can feel uncomfortable and dehydrating, so make sure you moisturise first so the makeup doesn't get flaky and so your skin doesn't get dehydrated further.
5. THINKING THAT YOUR WATERPROOF MAKEUP NEEDS NO EXTRA WORK THROUGHOUT THE DAY AFTER YOU APPLY IT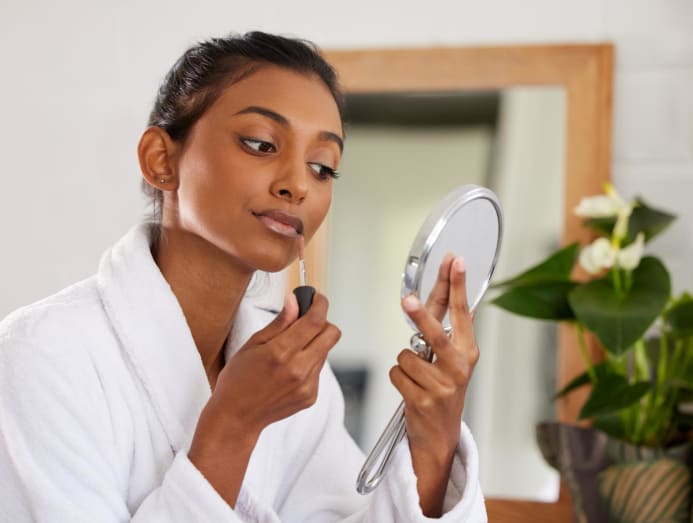 Like pets and plants, you need to check in on your waterproof makeup every once in a while. Thinking that it can do no wrong is a mistake, as changing weather conditions, skin conditions and emotions can derail even the best-primed and most impeccably-applied eyeliner, eyebrow or mascara.
Don't feel bad if you have to wipe off a little smudged eyeliner or mascara by mid-day. No one, and no makeup, even highly-raved waterproof eyeliners, is perfect.

6. FORGETTING THAT CRUCIAL LAST STEP – SETTING YOUR MAKEUP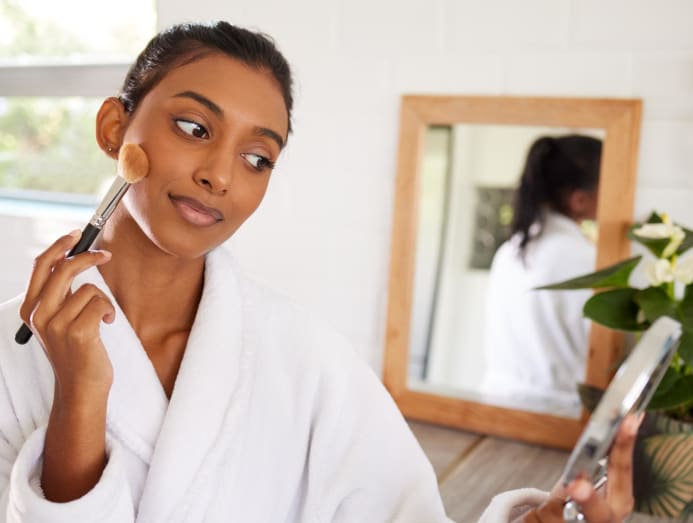 Even waterproof makeup needs that last seal of approval – the mistake might be in thinking that just because you're using waterproof foundation or eyeliner, there's no need for finishing spray or setting powder.
To give your look its best chance of looking pristine till the wee hours, spritz on a setting spray to form a film against the elements and help further waterproof your look. Setting powder does the same thing – dust it over the finished makeup to keep out anything that may mess with your work of art.