What should the mother of the bride wear at a wedding? A cheat sheet on how to dress appropriately
With restrictions significantly loosening up, grand weddings are set to make a comeback to Singapore's social scene. So, what is the mother of the bride (or groom) to wear on her child's big day?
For mummy dearest, one of the most important – and happiest – days of her life is that of her daughter or son's wedding. And this year, with many pandemic restrictions loosening up, it is finally time for families and friends to celebrate in style with the newlyweds.
At the same time, it is understandable that the proud mothers and mothers-in-laws might be having a little bit of trouble deciding what to wear. After all, it has been two years of social restrictions and dressing down. And now, mum will have to step up to not only lend a helping hand with wedding planning but also play a key role as one of the main hostesses of the wedding.
Whether it is the first time enjoying the honour as the mother of the bride or groom or you simply need a refresher, here's what the style and etiquette experts have to say.
KEEP IT ELEGANT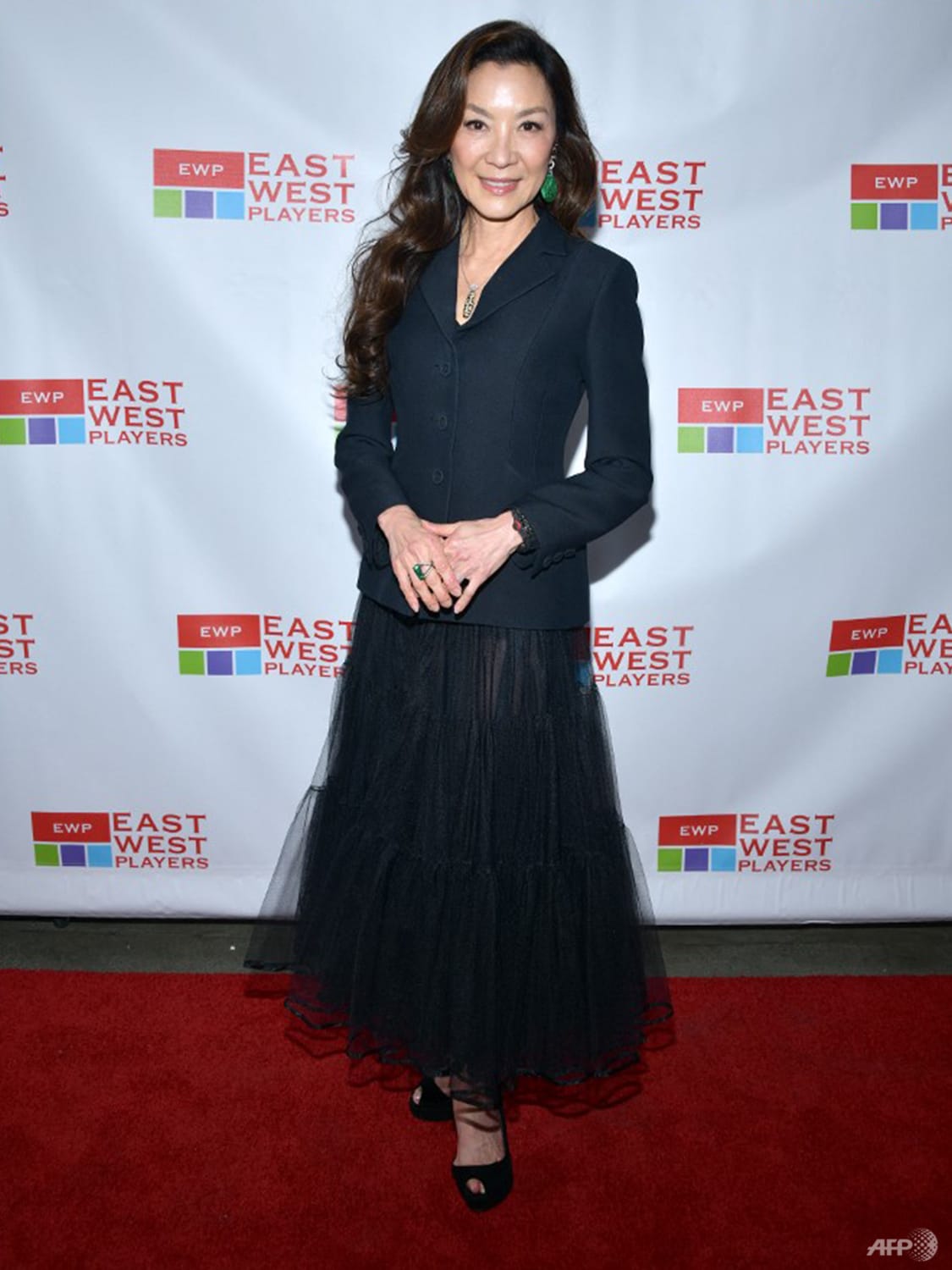 Start with a clear idea of the image one wants to portray at the wedding. "The look should be elegant, sophisticated and uncomplicated. The vibe – calm, collected, poised and reassuring. Think Michelle Yeoh," said fashion designer Wykidd Song, co-founder and creative director of AKINN.
While some mothers might be tempted to incorporate some throwbacks to their own nuptials, it would be wise to stay away from anything that could hearken back to their "wilder days" such as anything too sheer or revealing too much cleavage, suggested etiquette consultant Astrie Sunindar-Ratner.
"The older guideline that both mums are supposed to look matronly and dress in only neutral colours does not apply anymore," said the founder of A – The Etiquette Consultancy, who is a certified international youth and social etiquette consultant.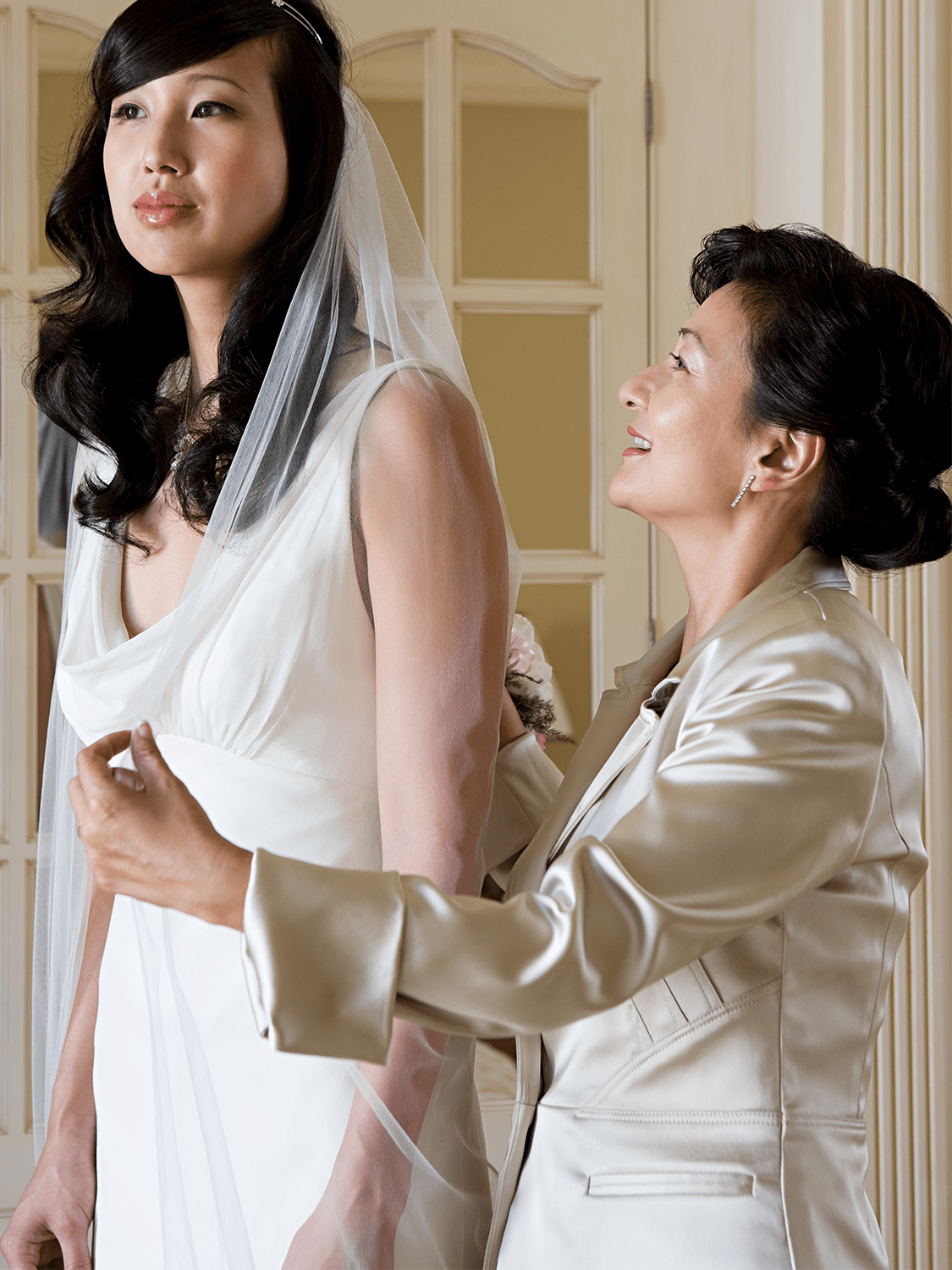 It is important that the mother's outfit should not overshadow the bride's. "Not only does this potentially set up a lifetime of resentment, but guests won't be impressed by this faux pas," said Sunindar-Ratner.
Instead, for a touch of tasteful nostalgia, stick to the adage of "something old, something borrowed". Mums, loan the bride a memento of your wedding like a piece of jewellery or an accessory.
MAKE IT FLATTERING AND AGE APPROPRIATE
While it makes sense to take into consideration the different ceremonies through the day and dress accordingly for them, there are some general styles of clothing that are versatile enough to take mums from solemnisation to tea ceremony to dinner if one prefers not to deal with outfit changes.
Modern mothers may like the sophistication of a sleek two- or three-piece pantsuit in pastel tones to stand out from a crowd of dresses. Or, a Jacqueline Kennedy-esque twin set (think Chanel tweed) will do the trick nicely.
With dresses, mothers should stay away from outfits that are too figure hugging as it could leave one feeling constricted and uncomfortable later in the day. Instead, look for column-cut dresses or a flowing A-line dress, which are forgiving cuts while still being figure flattering.
For example, the AKINN Red Carpet dress makes a bright statement that will take the happy mother from day to night. Or consider a sleek column style dress like the Andrew Gn number that new mother Sheila Sim wore to the recent Star Awards. With a royal blue tone and a chic fringed shawl-cape, this is sure to turn heads without taking attention away from the bride.
Bridal wear and evening gown designer Ted Wu added, "Consider colours and tones that are auspicious and will complement your skin tone. Usually, lighter hues are appropriate for the day and luxurious hues for the evening."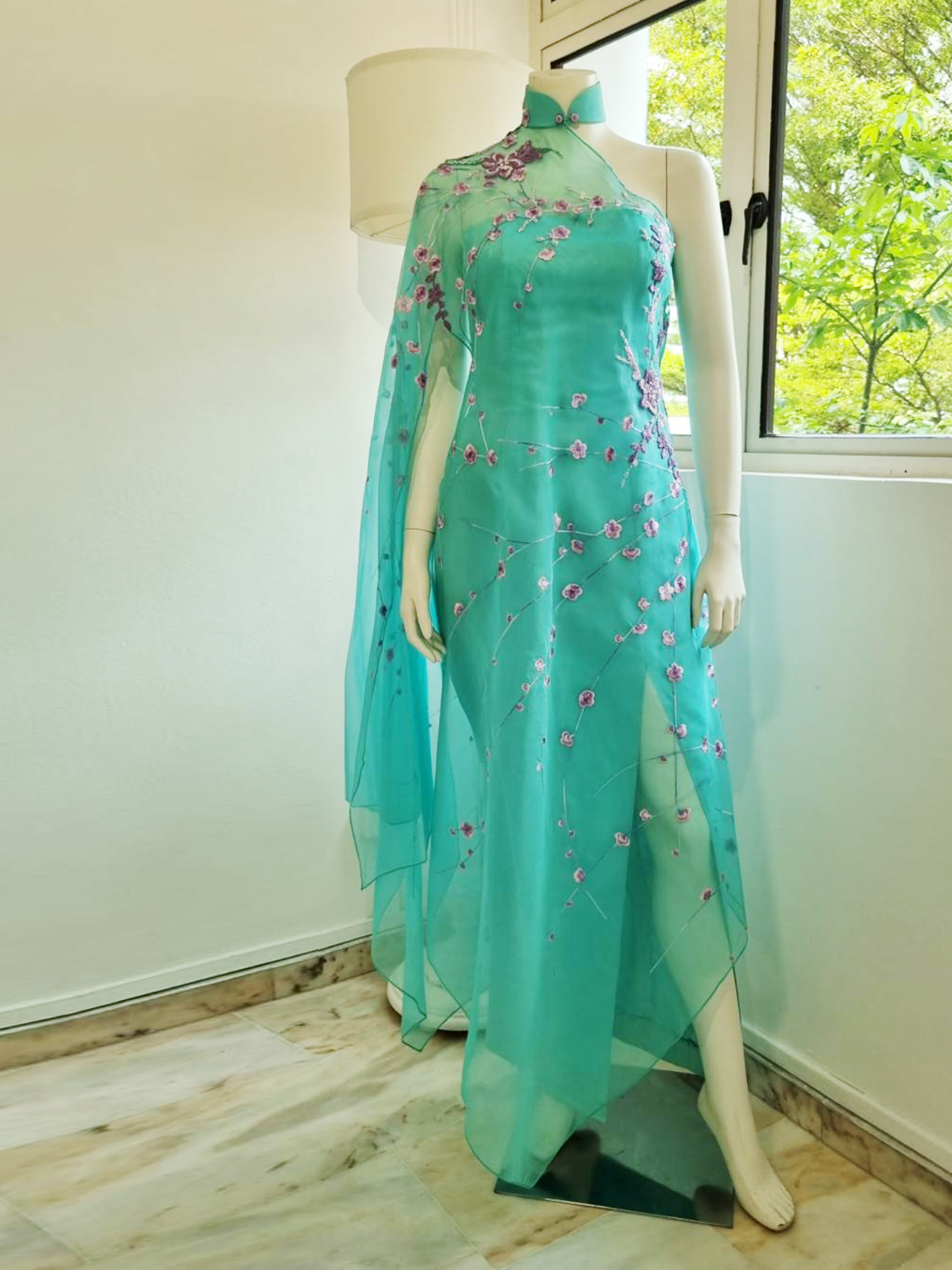 With hosting and entertaining duties and various tasks on the big day, Wu emphasised the importance of ensuring the outfit is comfortable. "Fabrics like lace, cotton, linen, chiffon and voile are great as they are light-weight and breathable, allowing the wearer to layer looks, which is popular among mothers," he advised. For instance, Wu's made-to-order evening wear, which include modern one-shouldered cheongsams and chic floor skimming chiffon gowns, strike the right balance between style and comfort.
You will also want to test-drive undergarments with the outfit of choice to ensure everything fits the way it should and pick the right type of shoe to match the outfit so that one looks put together, said Sunindar-Ratner. For those who've bought a new pair of shoes, do also break them in by wearing them a few times before the wedding to avoid suffering through blisters or ill-fitting footwear on the day itself.
TRADITIONAL OUTFITS ARE WELCOME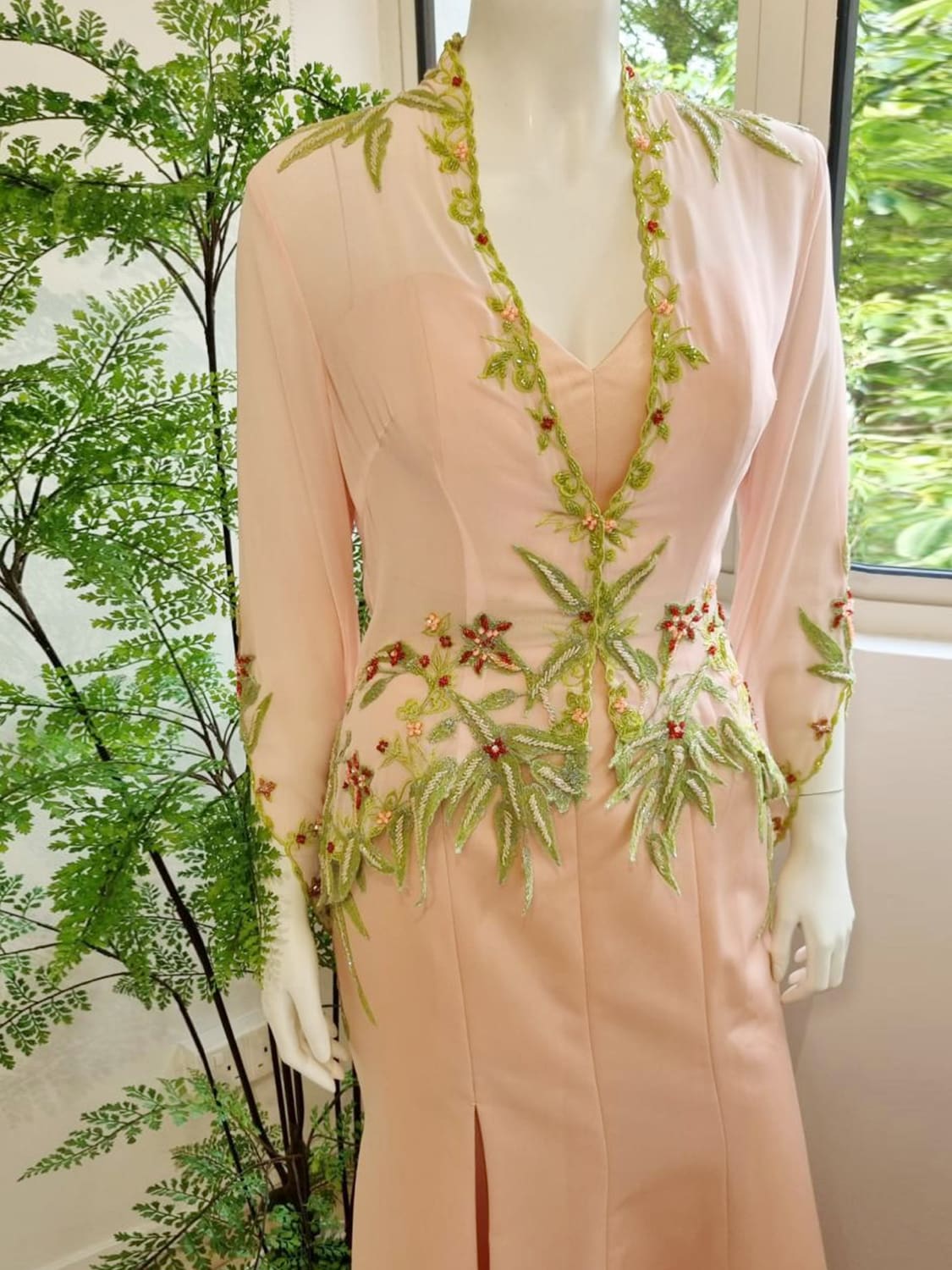 Whether it is a traditional ceremony like a Chinese tea ceremony or an Indian wedding or a non-religious luncheon, it is almost always appropriate to dress in one's own culture's traditional outfit. "It is always wonderful and elegant to see mums wearing their heritage outfits, whether it is an exquisite baju kebaya, embroidered sari or a beautifully tailored cheongsam," said Song.
At the same time, remember to dress respectfully of the culture the wedding is taking place in as well.
If the wedding involves two families of different heritage, one party may wish to pay tribute to the other side by wearing the other family's traditional dress. In such cases, it is good etiquette to have a discussion about this before the actual day.
"I think it is wonderful to pay tribute and to embrace the other family's culture, just make sure you do your research on cultural appropriateness," said Sunindar-Ratner. "Ensure you discuss this beforehand so that there are no surprises. Taking on the dress of the other party's culture works best when it is closely coordinated with them."
The only time you may want to veer away from your traditional dress is if there is a very specific dress code or theme set by the wedding party, she added.
PRACTISE RESTRAINT WITH JEWELLERY
The style experts generally agree that it is a good rule of thumb to leave the big, ostentatious bling to the bride on her big day. Song favours a string of pearls on the neck as a standalone as this can match most outfits easily.
And unless you are royalty, leave the tiara for another day, added Wu.
That said, if one has a favourite special occasion piece of jewellery, it's still okay to wear it as long as you choose just one (or two, maximum) as the focal point. Sunindar-Ratner said, "Complement this with delicate pieces to complete the look without looking ostentatious."
SYNC YOUR OUTFIT WITH YOUR IN-LAWS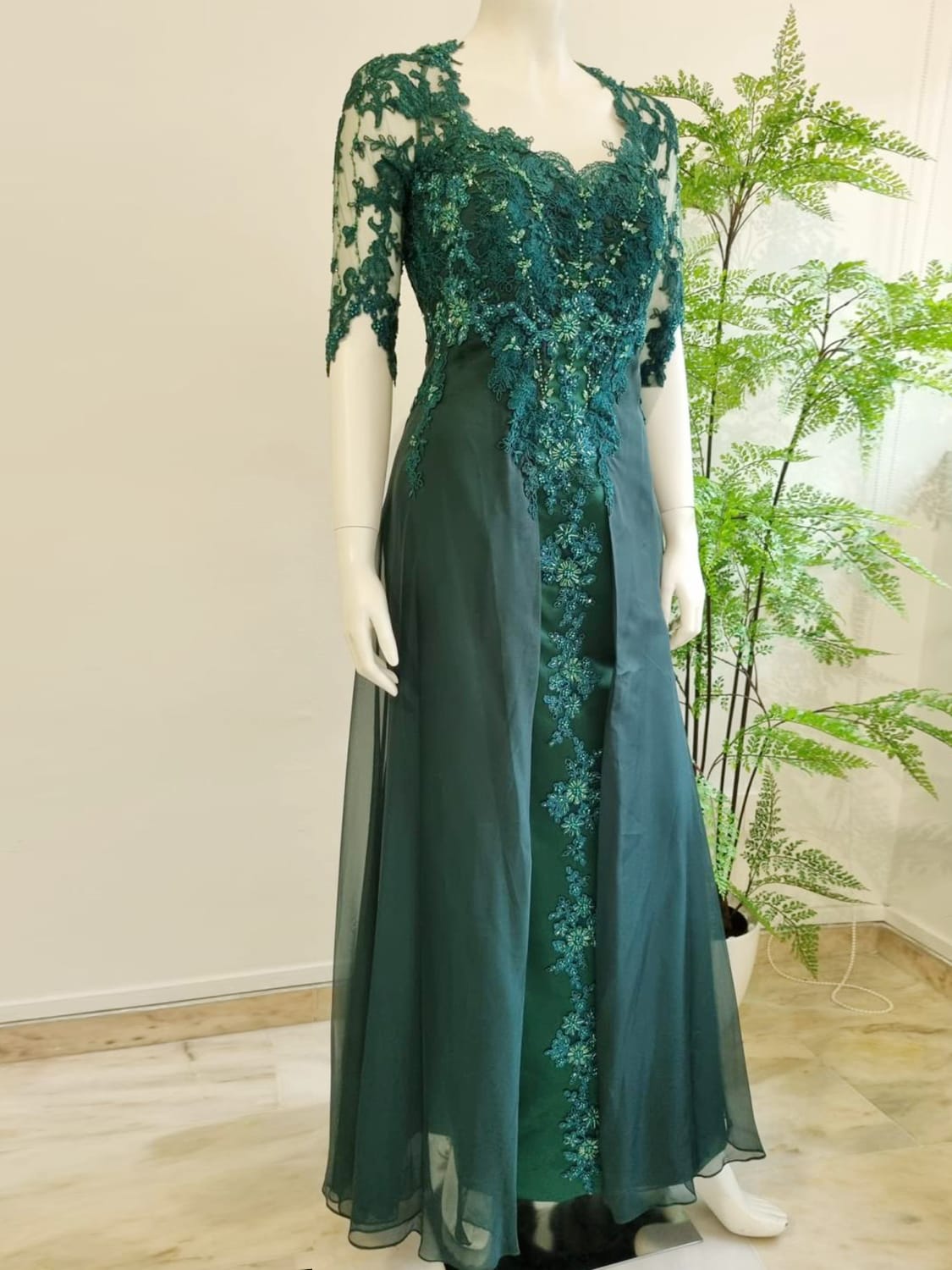 Most mothers already know to coordinate their outfits with the bride and groom. But it also makes sense to have a chat with the mother-in-law to ensure that your choice of outfit does not clash with each other.
Sunindar-Ratner said, "Traditionally, the mother of the bride gets the first pick of outfits before the mother of the groom, however, the rules have changed so much over the years. These days, so long as it matches the style of the wedding and mums feel confident and comfortable, they can enjoy the day and create beautiful memories."
For a priceless bonding experience in the lead-up to the wedding, both mothers can choose to work with the same designer for their wedding outfits. Wu said, "This way, they will be dressed in complementary colours and fabrics – and of course in a style that will flatter each individual."