Are your glasses a pain to wear? Here's why Asian-fit spectacles might be more suitable for you
What is Asian-fit and how can these frames help you see better? Here's why they are the answer to a whole list of eyewear troubles and are in hot demand currently.
If you've ever had to put up with a pair of ill-fitting spectacles, you'd know how exceedingly annoying it can be. It's frustrating to have to bear with glasses that are constantly sliding down your nose, or lenses that keep getting smudged from contact with your cheeks – especially since one needs to have them on throughout the day in order to see clearly and function properly.
No two faces are sized the same; our features also are shaped differently – and the differences are particularly pronounced when we compare Asian features (specifically those of East Asians) to those of Caucasians.
According Zena Yong, senior category manager of Lenskart, an Indian multinational eyewear company that also recently bought a stake in Japan's Owndays spectacles chain, Asians tend to require frames that cater to a lower nose bridge, wider face and flatter facial features.
Little wonder then that many standard spectacle frames often do not suit Asians, and the reason why many optical brands recognised the need and demand for an Asian-fit category in recent years.
SIGNS THAT YOU'RE WEARING THE WRONG STANDARD FIT GLASSES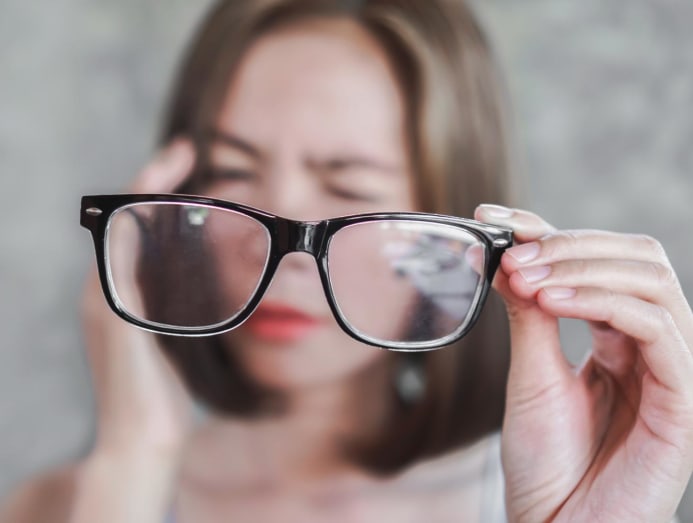 Spectacle frames that don't suit your face can create a whole host of issues, including these.
They keep sliding down your nose. "Some of the most common fit problems include slippage and the glasses being positioned too close to the cheekbones," pointed out Yong. These mean that one will have to push them up their nose and clean smudged lenses repeatedly.
They touch your cheekbones or cheeks. Depending on one's facial structure, some people may even find the bottom of standard-fit frames sitting right atop their cheeks. While this may not necessarily smudge the lenses, the constant contact with your skin may result in acne or even a rash, in cases when one has contact dermatitis from an allergy to plastics or certain metals. If you wear makeup, the frames may rub it off at the points of contact.
They give you a headache. Are the arms of standard-fit specs a tad tight-fitting on the sides of your head? You'll feel discomfort, for sure, as the arms will be pressing into your skin above and behind the ears, which may sometimes even leave a temporary imprint on skin when you remove your specs at the end of day. In more severe cases, some people can even get a headache – a clear indication that you should be replacing your spectacle frames with a more suitable pair.
They are not making it easy for you to see clearly. When the lenses are either too close or too far from your eyes, their focal point isn't at the correct distance, which can result in eye strain and cause you to squint in order to see clearer. It's not just discomfort around the ears and on the face that ill-fitting glasses can cause, Yong also said that wearing them may lead to giddiness, as well as blurred vision.
HOW ASIAN-FIT
FEATURES CAN HELP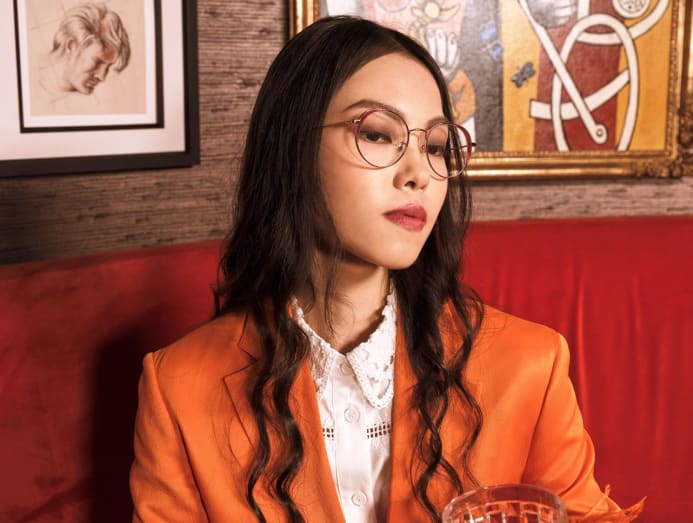 So what exactly is it about Asian-fit glasses that will help us find a better fit?
Adjustable nose pads. Asian-fit glasses are mainly designed with slightly higher nose pads to prevent slippage on a low nose bridge. Adjustable nose pads come attached to metal arms, which can be bent for a customised fit.
Longer and broader nose pads. These provide an increased lift for specs from the nose bridge, as well as create a narrower nose-bridge distance to provide for a more secure grip on a low and narrow nose bridge.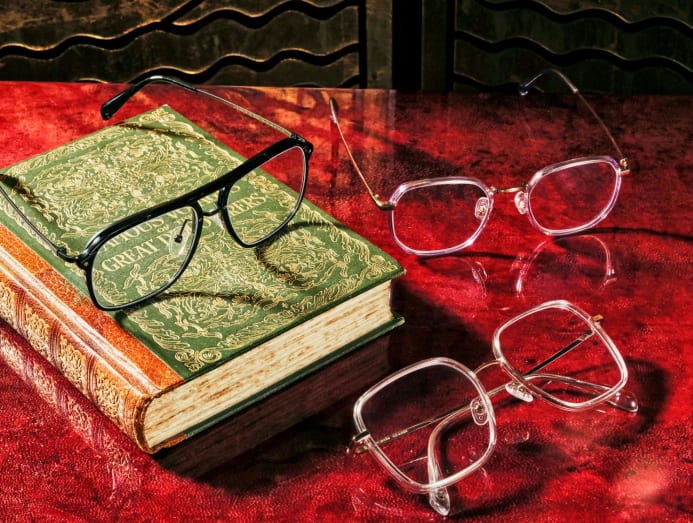 Decreased horizontal frame curvature. This means the length along the rims of both lenses is less curved than that of standard frames to cater for a wider face, while an increased curvature to the spectacle arms (or temples) will accommodate a rounder head. These features help keep the lenses from coming into contact with the cheeks and provide a more comfortable fit around the sides of the head.
Shorter lens height, with a reduced Pantoscopic tilt. This means that the lenses are positioned more parallel to the face, as compared to standard spectacles that tend to have the bottom of the lenses tilted slightly inwards towards the face. Both features are also designed to prevent the spectacles from getting too close to the cheeks.
WHY AN IN-PERSON FITTING IS NECESSARY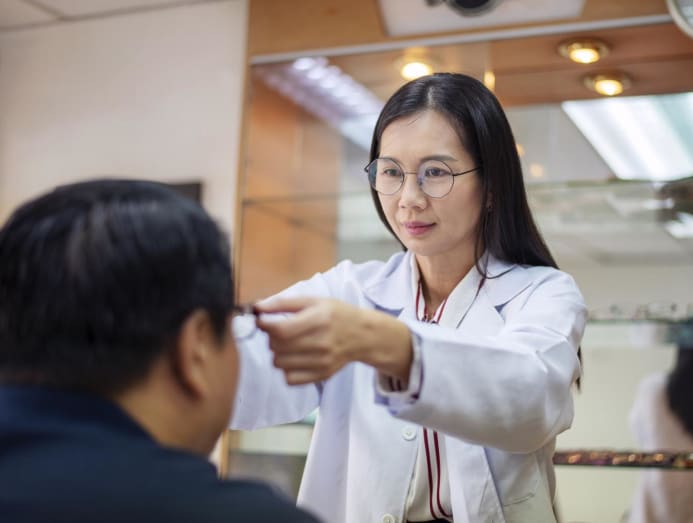 While Asian-fit frames can solve much of the problems described above, it's important to realise that we are all different and one size definitely doesn't fit all when it comes to spectacles. Minor tweaks to the nose pads and temples may still be required in order to get them to fit you comfortably.
"Opticians can help check to ensure the fit is proper by making appropriate adjustments to the frame, as no two individuals are the same. Hence, most glasses these days are adjustable, with the help of your opticians. This is why it's important that you come down in person to test out your new spectacles so your optician can adjust them to fit you well," emphasised Yong.
How can you tell if a new pair glasses are good for you? Yong said one should feel comfortable (visually and physically) after wearing them for a day or so, and not be experiencing any eye strain or giddiness when you have them on. 
WHERE TO FIND ASIAN-FIT EYEWEAR
THE ROCKET EYEWEAR COMPANY
This homegrown brand needs no introduction by now, but did you know it offers eyewear options in two options – a standard "European" fit and a raised "Asian" fit? There are a number of colours available for both sunglasses and eyeglasses, even though they are all made in the classic P3 shape – the only style the company produces.
COVRY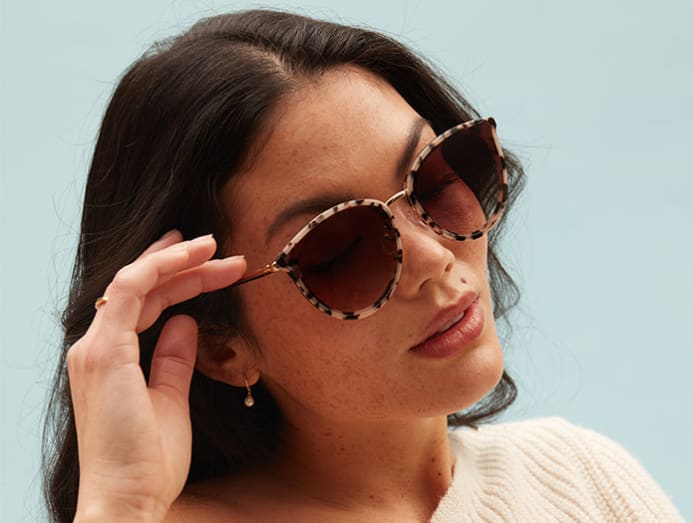 Founded by two Asian women who were frustrated by the lack of eyewear options that fit them, this US optical brand created an Elevated Fit that makes their eyewear suitable for diverse face shapes. International shipping is available.
RAY-BAN
Whether it's the Wayfarer or Clubmaster you prefer, these evergreen favourites come in Asian-fit styles.
GENTLE MONSTER
The South Korean eyewear brand may not label their designs specifically as Asian-fit, but its frames are apparently made with cellulose acetate, which can be easily adjusted (by the brand's service staff, of course) to suit your facial structure without damage, due to its resistance to snapping under heating and bending.
OWNDAYS
The optical chain offers a range of frames that are designed with a reduced frame curvature and wider frame length, while the nose pads and nose bridge are modified to better fit Asian facial features.