What is this hybrid workleisure trend and would you wear it to the office?
The pandemic may have changed workwear as we know it forever. Enter workleisure, a hybrid of athleisure and office attire that's all about comfort. Is it for you?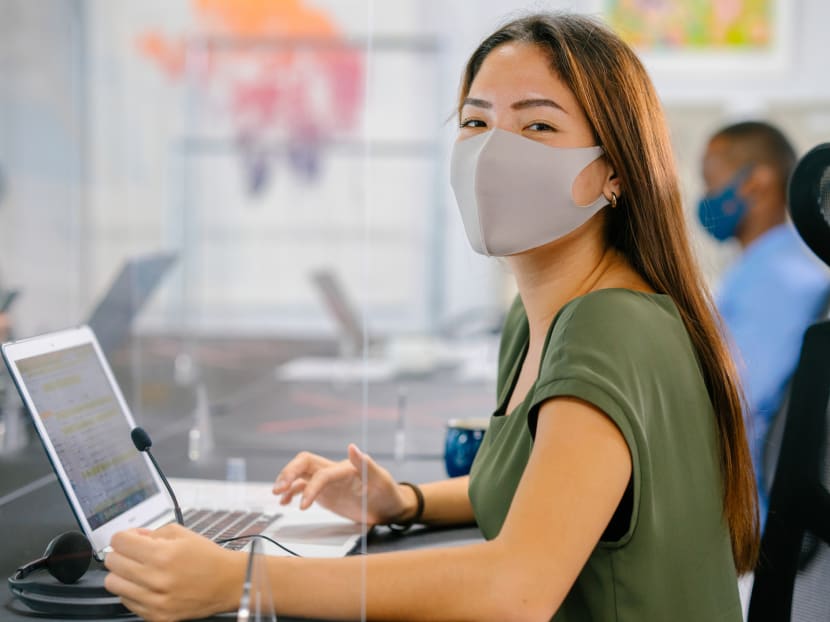 Emily Tan, a relationship manager with a local bank, used to wear fitted dresses with heels along with a nice bag and a full face of make-up to work. Then the pandemic and months of working from home happened, and when she returns to the office (like how some of us have slowly started to do this year), her dressing won't quite be the same as before.
"I think I'll wear looser-fitting dresses with flats, maybe even sneakers, and will probably carry a tote bag and just use light make-up," she told CNA Lifestyle.
"When I was last in the office earlier (in 2021), there were no formal meetings, and many of the meetings were virtual. And with masks on, nobody really knows who you are, and there's less point in dressing up. For a recent client meeting, I wore my previous OL (Office Lady) attire, but my boss just wore a polo tee. I think it's definitely acceptable to dress more casually these days."
Workleisure is part athleisure and part traditional work attire.
The style powers that be have bestowed a new fashion term upon this new way of dressing for work – it's called workleisure.
It's part athleisure (itself a portmanteau of "athletic" and "leisure"; something you can wear both to the gym and to go out) and part traditional work attire. A sporty component with some kind of stretchy material is usually involved – think sporty leggings, a yoga top, a sports jacket or a hoodie.
Another key feature is comfort. After a couple of years working from home for many, and rolling up to Zoom meetings in T-shirts and loungewear, it's become acceptable to see your colleagues and bosses in more casual attire. It's also hard to go back to stiff shirts, ties, pressed pants and pencil skirts, when you know you can be so much more comfortable in looser dresses, stretch pants and polo tees.
Lai Han Sam, a life coach and founder of Lifework Coaching, said: "WFH has exposed us to the possibility of comfort while working, and made us push the boundaries of being comfortable yet professional. I do observe the relaxing of the typical corporate formal attire to a slightly more casual way of dressing. Folks are dropping the ties and dress pants and opting for different materials and a more relaxed style. The boundaries of dressing more casually really depends on the culture of your organisation, your industry, the role you are holding and the image you want to project."
She added: "For a start, it may be better to follow the guidelines for workplace attire, and adjust that over time. One must take into account the appropriateness and acceptance in your specific workplace. I know some clients who prefer to dress formally as it is a way to cue their brains to shift into work mode. A few questions to ask yourself to help you decide are: Will it affect your professional brand adversely? Is there a framework of attire in your specific workplace and role? How will dressing differently affect your working style or productivity?"
For Serene Lim, a communications professional, the workleisure trend is a welcome change. "I'm lucky to have been in the media and communications industry for my career, where we get more flexibility and creativity around what we wear," she said.
"As long as you look presentable and carry yourself professionally, there is no harm in carrying a gym bag or wearing tailored-looking sweat pants instead of a power suit. I can't speak for every industry, but even in my previous MNC, there were men wearing casual and sporty shirts to work," she said.
"I think most outfits are good, as long as you don't look sloppy or like you've just rolled out of bed. I could wear a Lululemon tank top, a nice cardi, joggers and sneakers to work. And some pajamas can look really chic as separates. Shorts are probably still a no-no at most offices, though," she added. 
"The influence of tech companies has already made it acceptable to dress down, or wear a hoodie to work, even if you're a CEO. The pandemic and WFH mandate accelerated this trend. Moreover, attitudes around the office and the role it plays in our lives have shifted. Many companies are adopting a hybrid model, so there is also less expectation to dress up to the nines on the day you do go back to the office."

It seems that workleisure doesn't just make more sense in our new normal and is more comfortable, it's already been trending. Neo Lirong, fashion stylist and founder of White Trousseau, a fashion and lifestyle brand, said that celebrities like Hailey Beiber and Kendall Jenner and their extremely stylish takes on athleisure and workleisure have pushed the trend to new heights.
"People are influenced by Hailey Beiber's style of wearing sweatpants with blazers, and Kendall Jenner's sporty chic vibe," she said.
"Workleisure can be a very cute trend – a cropped top with track pants and a blazer is chic, but you can still look office-appropriate and professional. A sweat shirt with more formal pants is also a good hybrid look. At the same time, you will be so comfortable at work. Wearing yoga pants out can also be stylish – pair them with an oversized shirt, which is on trend right now. The look can still be quite formal as it has a collar. T-shirts with a blazer or a button-up shirt can look quite okay for the office as well."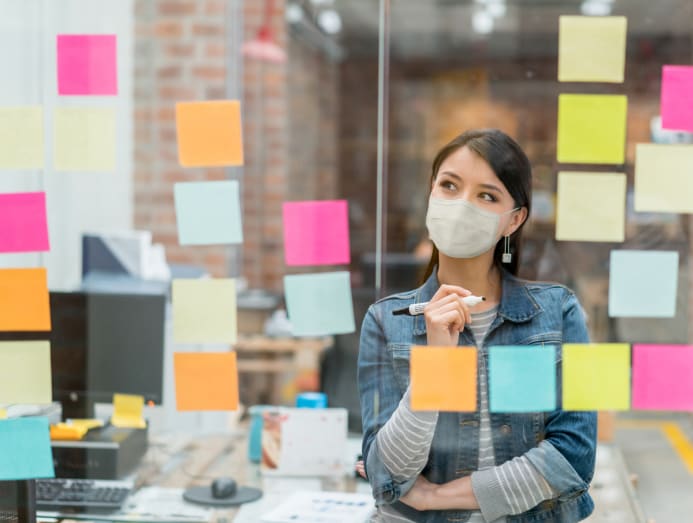 Neo added: "Even if you work in a bank, high-waisted wide-leg pants would be appropriate, and more comfortable than the old pencil skirts or tight-fit dresses. If you want to wear dresses when you go back to work, people are choosing looser and more casual dresses, compared to figure-hugging frocks. Materials that are soft and loungey like silk or satin are in as well.
"As for shoes, people are living in sneakers. With no events and fewer formal gatherings, heels are dead. Even if you want to go for more formal shoes, you can choose leather loafers, which are still appropriate for work. Bigger bags are on trend too, for all our pandemic essentials like masks and hand sanitisers. These are the looks that are trending. If you wear your old stuff back to work, it might look like you did not update your wardrobe and didn't get with the pandemic programme."
WFH has exposed us to the possibility of comfort while working, and made us push the boundaries of being comfortable yet professional.
The folks who work over at local fast fashion label Love, Bonito fully understand the trendiness and benefits of being utterly comfortable at work, and are embracing this perhaps irreversible change in work culture. Last year, they had an HR initiative where Wednesdays are 'Wear-Lounge-to-Work Day', with their 153 employees in Singapore encouraged to take a midweek-break and let it all hang loose.
According to Liu Tingzhi, Head of Design at Love, Bonito, "Workleisure is a newfound expression of workwear that pairs both comfort and style. It is the perfect balance that allows one to go from calls to couch. Materials that make up workleisure apparel tend to lean towards cotton and rayon as people are on the lookout for more breathable, easy-to-throw-on materials."
She added: "The trend brings about the sensibility of comfort dressing to suit the occasion, with an unspoken rule of looking presentable. We are definitely not expecting someone to rock up to the office looking like they just got out of bed. Too much is when one looks unkempt, sloppy and generally ungroomed. I would suggest building your workleisure wardrobe with quality pieces that are versatile enough to be paired with jeans, pants, skirts, and yes, you guessed it, loungewear."