Your sports bra and leggings too tight or too loose? We need sportswear designed for Asian women
Your ill-fitting sportswear might be holding you back from reaching for gold.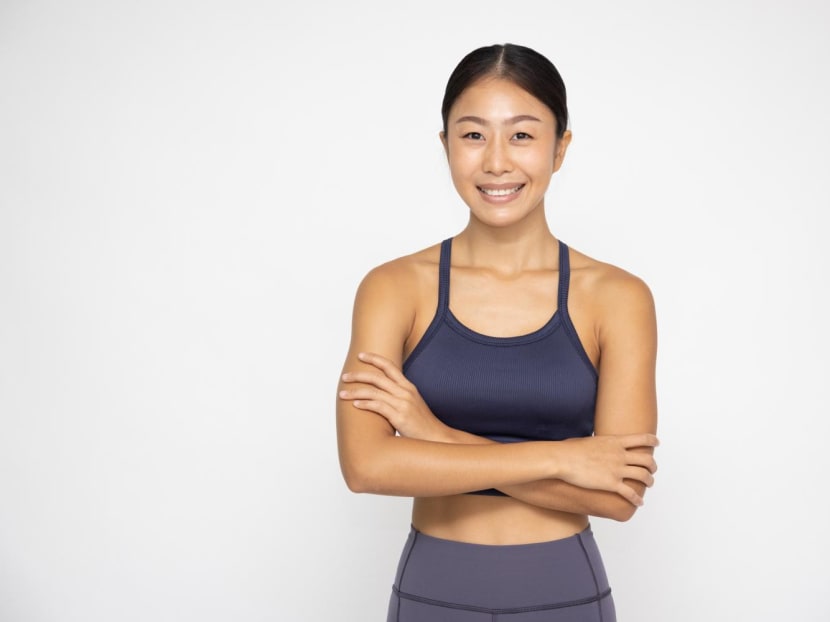 If I get a dollar for every time I hear a sales assistant tell me to either size up or down because the sports bra or tights I tried on doesn't fit me like it should, I would have a nice pile of change.
They tell me that I'm "between sizes", whatever that means, so the best thing for me to do is to either stuff my body into a too-tight size and suffer in silence or swim in a too-big size and pray that my modesty remains intact during class.  
Athleisure has been trending for well over a decade. That's plenty of time to fine-tune R&D. How is it then that many Asians are still struggling to find correctly sized sportswear? If, like me, you're done blaming your body for not fitting into conventional sizes on those one-size-fits-all global size chart, then it's high time to look beyond.
SIZING WOES FACED BY ASIAN WOMEN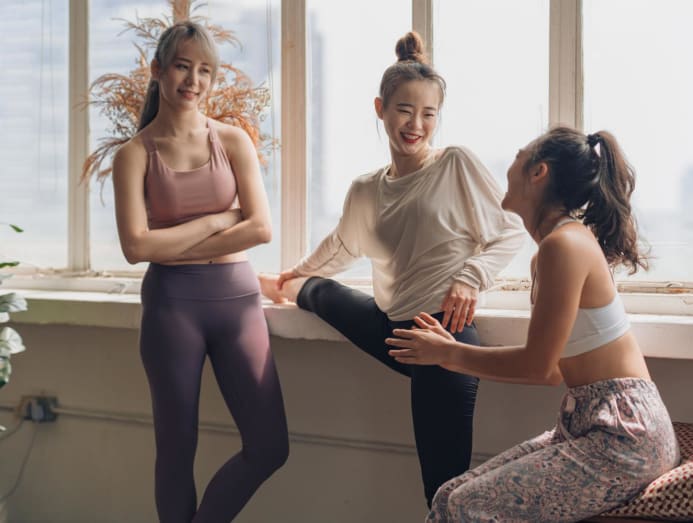 "Asian women tend to be more petite, whereas Westerners tend to be fuller," said Kate Low, founder of Perk by Kate who hit the nail on the head.
Low started her eponymous lingerie label over a decade ago after failing to find lingerie that would fit her petite frame and Perk by Kate since gone on to become the go-to lingerie purveyor for many similarly built women.
At the urging of her steadfastly growing customer base, the label launched an Asia-fit sportwear collection at the end of last year. "As our lingerie segment serves predominantly the Asian market, we are immensely attuned to the fit requirements of Asian women. We apply similar learning to our athleisure collection," said Low.
"Asian women tend to have a smaller underbust, while Westerners have a broader built so their underbust measurements go up proportionately. A 34C that fits a Western woman may end up large on an Asian body."
It suddenly becomes crystal clear why our internationally-sized sports bra has a tendency to ride up in the middle of a Sun Salutation stretch.
Janet Lin, senior designer for Lululemon Asia Pacific Region, pointed out that Asian women also tend to have a smaller waist and wider hips, as well as, a shorter frame and slimmer calves.
Many pint-sized Asians will easily vouch for how cropped tights wear like full-length leggings, and while hemming up the excess length may fix the length issue, this "fix" disproportionately upsets the hip and length ratio, giving the wearer a stunted appearance.
PICKING SPORTSWEAR THAT WORKS FOR ASIAN BODIES
Enter Asia Fit sportswear. Or as Low puts it, "sportswear tailored to fit Asian bodies better".
But what exactly is the difference? Lin puts things into perspective: "The difference between the global (fit) and Asia Fit include a shorter inseam and waist-to-hip ratio. As Asian women tend to have a smaller waist and wider hips, we designed the Asia Fit tights to have a narrower waistband and additional length down the hip. Also, they tend to have a shorter frame and slimmer calves so we made tweaks to the shape of the tight (shorter in-seam and slimmer fit) to ensure that they fit like second skin."
On the sports bra front, modesty and comfort are the two key highlights. "A higher neck and underarm coverage are generally preferred by our Asian customers," said Lin. "As Asians tend to be leaner at the rib cage area, we updated the band in a new shape that reduces friction, and it is made with a more elastic material for less compression."
IS ASIA FIT THE BEST FIT FOR YOUR ASIAN BODY?
Women's bodies come in varying shapes and size, regardless of ethnicity. According to Lin, the best way to find out which garment works for your body is by trying it on.
"Fit is crucial when it comes to sportswear. Like all apparel, fit varies depending on the type of fabric and design lines in the garment. For example, the classic Align Pant is available in both the high-rise and super high-rise fits and are available in four different lengths: 24 inches (Asia Fit), 25 inches, 26 inches (Asia Fit), and 28 inches. I recommend taking a variety of sizes into the fitting room to try on and see how each garment fits and feels."
Don't just pull it on though. The whole point of sportswear is providing solution to movement. When in the fitting room, Low recommended doing squats and stretch testing to really know how the garment performs. "Check that straps do not twist when you lift your hands and the underband doesn't feel like it is pressing against your chest."
Scroll on to shop the best sportswear designed with the Asian woman in mind.
LULULEMON 
Flying the Asia Fit flag high since 2018. The most popular Asia Fit styles include bestsellers like the Align pant, the Wunder Unders, the Fast & Free and the Instill Tight, as well as, the newly released bra styles Free To Be Serene and Energy.
PERK BY KATE
Designed for the Asian woman, this capsule collection forms the foundational pieces for a growing collection. Founder Kate Low is particularly receptive to feedback so DM her if you have any burning style woes that you need help with.
KYDRA
The brand isn't just Asian-fit friendly, the collections also come in gorgeous colours that are especially flattering on Asian skin tone.
MULA
Hailing from South Korea, their tights don't just fit, they last – each pair of tights comes with a six-year lifespan promise thanks to an innovative material that never loses elasticity.
GLOWCO
This label didn't just stop at Asian sizing, it went the extra mile to include the Muslimah community.
JUUJAA
Co-founded by presenter-entrepreneur Jade Seah, Juujaa's modish pieces are made for superior fit and movement. Seah promises that her garb "holds in the inches, and never pinches". 
UNIQLO
If they fit pint-sized Japanese women, you can trust them to work for the rest of us.
ANYA ACTIVE 
From XS to 3XL, the brand makes it their mission to provide inclusive dressing solutions.