7 key Spring trends, tips on how to wear them IRL from a makeup artist
CNA Lifestyle zeroes in on the most fabulous beauty trends this Spring/Summer. Plus, hacks from makeup artist and hairstylist Rick Yang to make them work for you.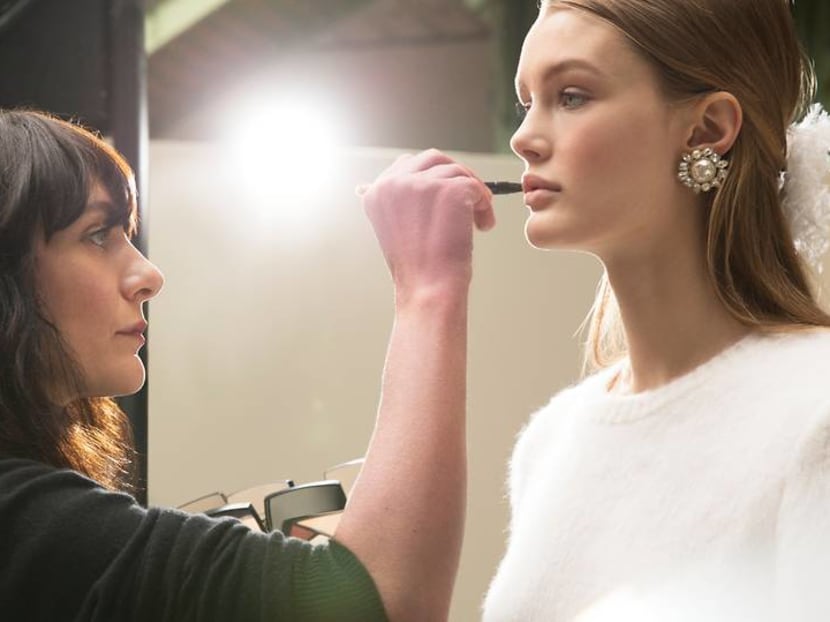 Now here's a Spring season with a difference.
Alongside dewy, clean skin and pared down hair, which are the norm for Spring beauty trends, are Instagram-worthy looks that run the gamut of crystal-encrusted cat-eye, metallic foiled lips, moon dust for day and impossible-to-miss baby bangs.   
With so much happening on the hair and makeup front, where does one begin? 
CNA Lifestyle zeroes in on seven of the most fabulous beauty trends this Spring/Summer season. Plus, hacks from makeup artist and hairstylist Rick Yang for making them work IRL.
PASTELS WITH A DIFFERENCE
Pastel makeup went notches up with a contemporary twist on the runways. Bright pastel eyes were matched by metallic pastel up-dos at Marc Jacobs. Makeup guru Pat McGrath achieved a colour-gradient effect from brow to cheeks at Anna Sui, while international makeup artist Linda Cantello paired shimmery pink eye makeup with just-as-pink lips at Giorgio Armani. 
Without a shadow of doubt, tone on tone is the way to go.
FLOATING EYELINER
Dior Makeup's Peter Philips continues his love affair with the arts. This time he created "floating" brush stroke-like motifs on the temples. Not quite as artistic as the maestro? Makeup artist and hairstylist Rick Yang offered a "more wearable" version: "Draw a flicked tip floating on just the outer corner of the eyes."
He added, "For a bit of fun, use pastel colours. If it's sass you're after, do a red floating liner on top of a black winged tip."
GRAPHIC GLITTER EYES
Part Mardi Gras, part synchronised diving squad, glitter eyes were mandatory at the houses of Valentino and Versace. But if crystals are not your thing, Yang suggests giving the usual black cat-eye a touch of glamour by "adding a layer of black glitter". Eye makeup with finer glitter in neutral tones of bronze or champagne also gets his seal of approval.
ART AND CRAFT LIPS
Lipsticks? So 2018. At Jeremy Scott, lash glue was used to stick thin metallic foil onto the models' pouts before they were dusted with a coat of 3D glitter. The crafts movement was also seen at Valentino where Pat McGrath – whose eponymous brand launched a sold-out Lust 004 Lip Kit consisting of lip glitter pots – colour-coordinated some of the models' lipstick shades with crystal bits.
For an off-the-runway take, try Chantecaille's newly launched pearl infused lip crystal lipstick and Hera's sizzling Rouge Holic lippie. Both offer up just enough shine to add an enviable, healthy glow.
MICRO FRINGE
Thick, blunt bangs are making way for a new hair trend – the micro fringe, as seen at Prada and Miu Miu. Also known as baby bangs, the micro fringe is soft and feathery, and sits above your brows, not over them. It's a retro style that you either love or hate.
Yang cautioned that this style "exposes a lot of the forehead and can make your face look larger and rounder." But if you must try it, he suggests consulting a hairstylist to "create an uneven and softer outline to balance the overly edgy look."
SLICKED-BACK WET HAIR
Soft, flowy hair is the norm for Spring/Summer – or so we thought. 
Here's an entirely different take on a Summer hair trend to w(h)et your appetite: Think sleek and shiny, not gross and greasy.
IRL, you'll want to keep this look for after-dark soirees because you wouldn't want to risk the boss thinking that you woke up late and didn't have time to do the cursory post-shampoo blow-dry.
UNFINISHED ART ON NAILS
Eye makeup's floating #inspo seems to have floated onto the hands. While zany nail art and OTT nail stickers are nothing new, Moschino and Nicole Miller gave them a 2019 spin with "floating" motifs.
If your nail art looks like it was done by a rookie manicurist who was worried about painting too close to your cuticles, you've nailed the trend. The intentional "amateurish" style was also seen at Tibi where nails were painted to look, well, chipped. 
Now we've seen everything.