Meet the Singaporean woman making men's shoes using a guy's name
Entrepreneur Teresa Chong is the woman behind the label Jonathan Abel, and she's finding a unique fit in the traditionally male-dominated shoemaking industry.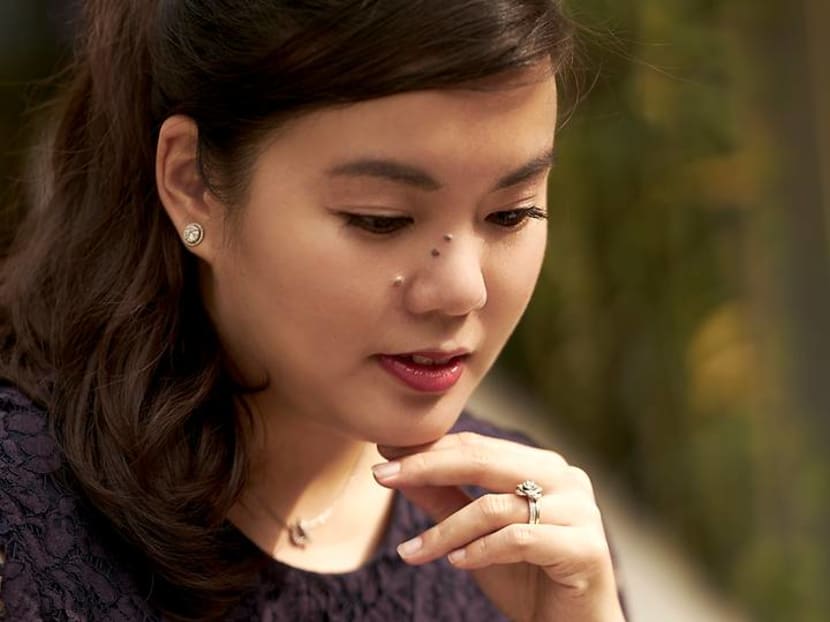 Shoes maketh the man – it's a statement that Teresa Chong, the founder of local artisanal men's footwear brand, Jonathan Abel, believes in. It's an astute style observation, we agree. But why would a woman choose to go into the business of making men's shoes?

"It amuses me that while it's de rigueur for men to design women's shoes, a woman designing for men still takes people by surprise," said Chong, who previously worked for another men's footwear brand before leaving to start her own business.

"Women's footwear brands are a dime a dozen, so I felt that it was too competitive a space to enter. In contrast, there are only a handful of shoemakers (providing) good-quality, handmade shoes at affordable prices, so it made more sense to focus on quality footwear for men," she said, explaining the focus of her business.
"At the same time, the global womenswear market, although much larger, was only forecast to grow by one to two per cent. In contrast, the growth for menswear was in the double digits."

It amuses me that while it's 'de rigueur' for men to design women's shoes, a woman designing for men still takes people by surprise.

In case you're also curious about the origins of her brand's moniker, Jonathan Abel has no namesake. It's simply a name made up by Chong to reflect the kind of gentleman the brand wishes to serve – someone who appreciates craftsmanship, good quality and design.
"Most people I work with were surprised to learn that there is no Mr Jonathan Abel – in fact, when I first met with my shoemakers, they thought I was Mr Abel's secretary!" she said, laughing.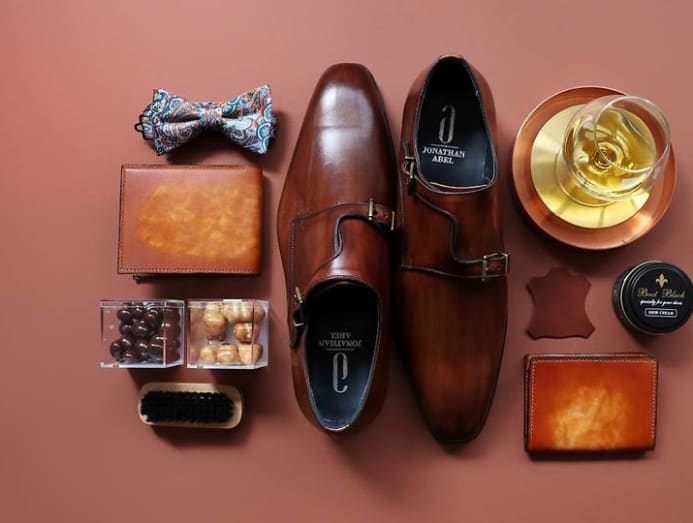 Jonathan Abel is a homegrown brand, but the shoes are produced in Europe by a three-generation shoemaking family from Portugal. At a price point below S$350 for a ready-to-wear model, Chong's footwear isn't exactly "cheap", but they are considerably less expensive than those from high-end European shoe brands.
To Chong, the customer gets what he pays for. "The price will largely signal if the shoe is cemented (merely glued together), or if it is Goodyear-welted (stitched) or handmade. Most shoes below S$200 are unable to accommodate the hours of labour required for stitched shoes," she said. 
"Goodyear-welted shoes can also be resoled once the outer sole wears out – this means that one pair of shoes can last you a much longer time, resulting in less waste in the environment."

"Also, quality shoes are made of genuine leather. Genuine leather will soften and mould lightly to the shape of your feet over time, and that makes your footwear more comfortable the more you wear them. When they are cared for properly, genuine leather shoes can also last for a longer time."
Jonathan Abel is currently stocked at the men's department of Takashimaya, and serves an international clientele on its website. It also offers a bespoke service available only in Singapore on top of its ready-to-wear collections, joining a gradually growing group of local names that are also making customised footwear for gents.

WHAT CHALLENGES DID YOU FACE IN STARTING THE BUSINESS?

The initial lack of shoemaking knowledge put me at a distinct disadvantage – I didn't know the processes or how the shoes were meant to be designed. But after spending time with shoemakers and reading as much as I could, I realised that it wasn't as daunting as I'd thought it would be.

To understand and learn more about the craftsmanship, I studied under a Japanese bespoke shoemaker and spent a lot of time in my factory, talking to the craftspeople there and experiencing what it was like to make my own pair of shoes.

TELL US ABOUT THE PORTUGUESE FAMILY THAT MAKES YOUR SHOES. WHY DID YOU CHOOSE TO WORK WITH THEM?

We work with a three-generation Portuguese shoemaking family – I work most closely with the grandson, but the original founder (the grandfather) still visits the factory occasionally to check on the work done.

Prior to working with them, we visited and sampled our designs with shoemakers around the world – from Vietnam, China and Spain. But we felt that our ethos of slow fashion and deliberate craftsmanship was shared most keenly by this Portuguese family, yet they did not eschew technology completely.

For example, shoe patterns are traditionally cut by hand but this gives rise to quite a bit of wastage as errors are easily made during this process. In order to minimise wastage, our shoemakers make use of a leather-cutting machine. This marriage of old-school artisanal knowledge and technology is something that we want to be known for.  

HOW DOES THE BRAND'S BESPOKE SERVICE WORK, SINCE YOU DON'T HAVE YOUR OWN RETAIL SPACE?

We've just moved into a new warehouse-cum-showroom, and we conduct fittings for our Create Your Style (CYS) made-to-order programme by appointment.

Customers who come in are fitted with their proper sizes. Our CYS programme allows for less common sizes such as 38 and 46, across three widths. Asian men tend to have wider feet, so some narrow widths made for Caucasian feet may not fit properly.

We provide customers with a style book from which they choose the main shoe style – they can then customise nearly everything from the leather type and colour, colour of the shoelaces, insoles and outsoles, and opt to have their names or initials printed on the inside. In all, we have over five million possible combinations.
The CYS programme starts from S$450; the final price tag depends on the customisations that the customer opts for. Each CYS commission takes about eight to 12 weeks to produce, and comes with a complimentary pair of shoe trees.
As with all Jonathan Abel shoes, we offer a resoling service for customers to replace outsoles that have been worn out. Our entire line – from the ready-to-wear and CYS programme – are handcrafted using Goodyear-welt construction.

If the instep or ball-of-the-feet area feels tight, it is worth trying different widths rather than merely sizing up.

SOME PEOPLE STILL DON'T LIKE THE IDEA OF BUYING SHOES OVER THE INTERNET. WHAT ARE YOUR THOUGHTS ON THIS?

While the general trend is that people still like buying shoes in store, women are still more likely than men to "test" new brands by buying them online. We do get customers who try their shoes in a physical location, and later opt to buy them online.

To be honest, I don't see much change in this trend as the younger generations – millennials and Gen Z – are tactile shoppers and like to touch and feel products before purchasing. I think the way forward for retail is in a seamless omni-channel approach that will marry offline experiences and online shopping.

WHAT ARE SOME COMMON SHOE MISTAKES THAT MEN – OR WOMEN FOR THAT MATTER – MAKE?

Most people buy shoes that are either too small or too big. They think socks, or the lack thereof, can compensate for the wrong size. We tend to only look at sizes that largely correspond to the length of the shoes and over-compensate for a tighter width by trying to size up. If the instep or ball-of-the-feet area feels tight, it is worth trying different widths rather than merely sizing up.

A functional collection should always consist of at least three pairs of leather shoes – mainly because leather shoes are not meant to be worn daily.

BESIDES SNEAKERS AND OTHER CASUAL FOOTWEAR, WHAT ELSE SHOULD THE MODERN GENT HAVE IN HIS SHOE COLLECTION?

A functional collection should always consist of at least three pairs of leather shoes – mainly because leather shoes are not meant to be worn daily; they require a day of "rest" in between each wear.

You can never go wrong with the classics, such as a black Oxford that is formal enough for any work situation. I'd also pick a loafer for the weekend or casual events – it can be worn with jeans or slacks.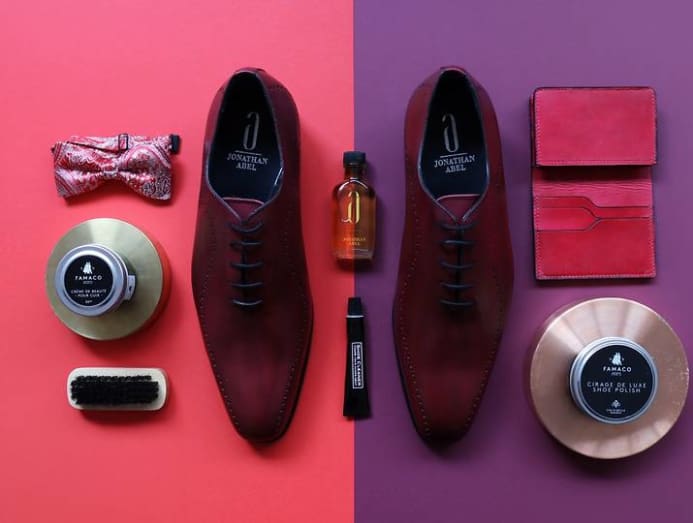 For something fun and unexpected, I'd suggest (something in an interesting colour such as) our Matthew double monks in bordeaux – the double monks are able to pull double duty both in formal and casual situations, and bordeaux is a great alternative to blacks and browns.

HOW DO SINGAPORE MEN FARE IN TERMS OF FOOTWEAR STYLE?

Most local men buy shoes in black, black and more black. As office dress codes become more casual, I think men can afford to explore different colours – we introduced our museum calf collection for this very reason. At the same time, I think men need not wear one single pair of shoes for every occasion. It's perfectly fine to own more than one!