McQueen and Teochew porridge: Inside one of Singapore's glitziest society balls
What does it take to pull off one of the key highlights of the society calendar? A year and S$250,000. CNA Lifestyle takes a peek inside this year's Singapore Tatler Ball.
A year of planning. A budget of S$250,000 – of which, almost S$100,000 went towards the food alone. Over 300 guests. And one Teochew Porridge Bar.

These are just some of the figures behind the Singapore Tatler Ball, one of the key highlights of the society calendar every year. Organised by high society magazine Singapore Tatler, it is attended by some of the country's most influential families and individuals. The magazine is published by Edipresse Media Singapore.

As Corinne Ng, the firm's Managing Director noted, "The Ball costs us about S$250,000 every year, which is why we're so tight with the guest list. This is not a charity ball, where you can buy your seat. If you're here, you have to be somebody who's doing something for our society."

Among the guests this year were Kwek Leng Beng, Executive Chairman of Hong Leong Group Singapore, and his wife Cecilia Quek; Arthur Tay, Chairman and CEO of the SUTL Group; Haresh Sharma, resident playwright of The Necessary Stage; and Saleemah Ismail, social entrepreneur and activist.

This year's Ball celebrated the publication's 36th anniversary, and was held at the Capella Singapore ballroom in Sentosa on Friday evening (Oct 26). 

"It's ridiculous, the amount of time and effort spent on this Ball," Ng told CNA Lifestyle. "We started planning for next year's Ball the moment tonight ends. Okay, maybe we'll give ourselves a three-day break. But then it starts after that!"

Each year's Ball has a theme. For 2018, it was Maximalism.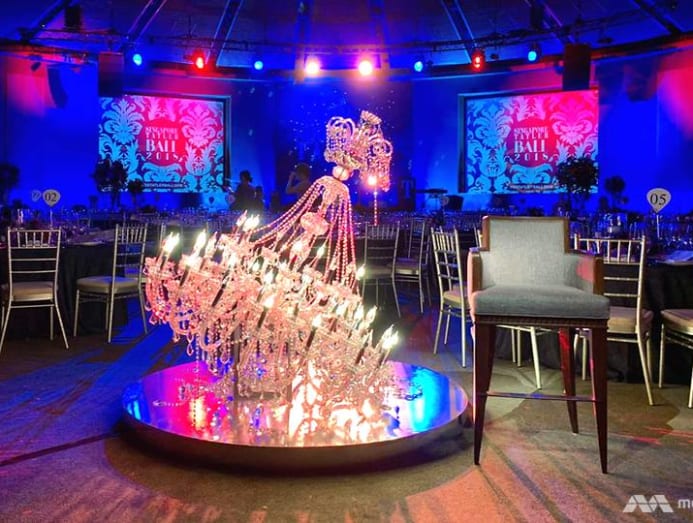 "When deciding on the theme for each year's Ball, we try to ensure that it resonates with guests on multiple levels. On one level, it's quite superficial – inspiring [guests] on the fashion front, making them want to find something spectacular and dress up," said Ng.

"On a deeper level, we try to capture the zeitgeist. Maximalism for us is a response to the overly cautious mood of the world right now," she added.

ROCKING THE ROCOCO
Appropriately, the decor was a hat tip to France's Rococo era (1730 to 1770), a period known for its ornamental, theatrical style.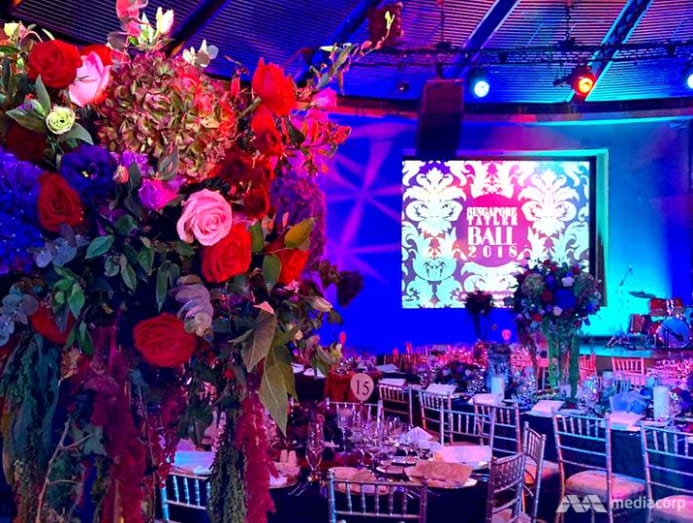 No expense was spared to evoke a maximalist mood. At the entrance to the ballroom, a crystal chandelier lay on its side, as if magically transported from the Palace Of Versailles.

The flowers that made up the table centrepieces were carefully chosen to represent blooms that were commonplace during the Rococo: Dusty pink roses, amaranthus, and ivy.

On some tables stood Lladro porcelain figurines that the Spanish company specially flew in for the occasion. "They cost upwards of S$100,000," said Ng. "But they do add [to the atmosphere] and our partners were very committed to pulling off a great event. Lladro did not bat an eyelid when we told them what we required."

All this in an effort to please the 300-odd guests, who are accustomed to the finer – nay, finest – things in life. This is something that Ng was acutely aware of. "We have to try our best to at least meet the mark. It really does challenge us. They enjoy much more than the Ball can maybe offer them.

"But I think what they ultimately come for is the camaraderie, the fact that we have an insider space, a safe space, where they can let their hair down with like-minded friends."

MAXIMALIST STYLE
Certainly, this was the case for guests like socialite Susanna Kang, who told CNA Lifestyle that "it's an opportunity to meet up with fabulous friends and [enjoy] the incredible hospitality from Tatler. And the entertainment".

Kang, like many of the other guests, spared no expense at looking her best. Dressed to the nines in a red stole, red leather Alexander McQueen bustier and black-and-white printed skirt "from a Thai designer", she also engaged celebrity hairstylist Grego Oh and celebrity makeup artist Dily Wang, spending "two hours, all-in" prepping for the evening.

Another showstopper was Carmen Ow, Director of Clydesbuilt Group, who appeared in an ethereal, mint-green, bespoke concoction from Time Taken To Make A Dress. The local design duo also dressed actress Constance Lau at the Los Angeles premiere of Crazy Rich Asians.

On how she interpreted the theme, Ow said, "Maximalism is [all about] more is more, so for this dress, I decided to work on the volume of the shoulders and the train of the skirt. The driver had to help 'pack' me into the car and 'unpack' me afterwards".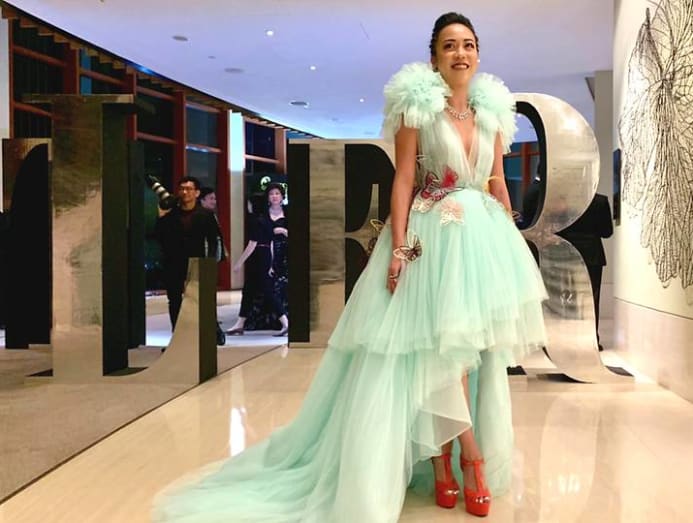 For other guests, however, there wasn't much interpreting to do. "If you know me, you'll know that I always dress maximalist," remarked society maven Peggy Jeffs. "My daughter told me to just go as myself."

Jeffs stole the show with a bespoke gold sequinned dress from Shanghai Silk House – "they usually make Chinese dresses, but I asked them to make a Western one" – and feathered headgear from Kristine Hakim, an Indonesian milliner based in Singapore.

The feathers were burnt to remove excess material until only the central quills remained. These were then affixed onto a hardened lace mount as a metallic one would have been too heavy. "I used a hairband to hold it in place because my hair is short," said Jeffs, adding that she had to sit with her head tilted for the 45-minute drive to Sentosa.

For gentlemen such as Gaurav Kripalani, getting prepped for the evening was a much less elaborate affair. The Artistic Director of the Singapore Repertory Theatre (SRT) spent all of "30 minutes" getting dressed. Yet, he cut a dashing figure in an off-white Brioni tuxedo that stood out in a sea of black tuxes.
After partying the night away to live music from American cover band Liquid Blue – which, said Ng, "cost an arm and a leg" to fly in – guests welcomed a round of sustenance in the form of the Teochew Porridge Bar, a Singapore Tatler institution that opened at the stroke of midnight.

"Lots of charity balls in Singapore have a Teochew Porridge Bar at the end of the evening, but Tatler was the one that started it," explained Ng. "You think Singaporeans would be full at the end of the evening, but no, they can still put away some Teochew muay!"