Big Bang's G-Dragon reveals new sneakers collaboration with Nike
You can get your hands on the Air Force 1 Para-Noise when they launch globally on Nov 23.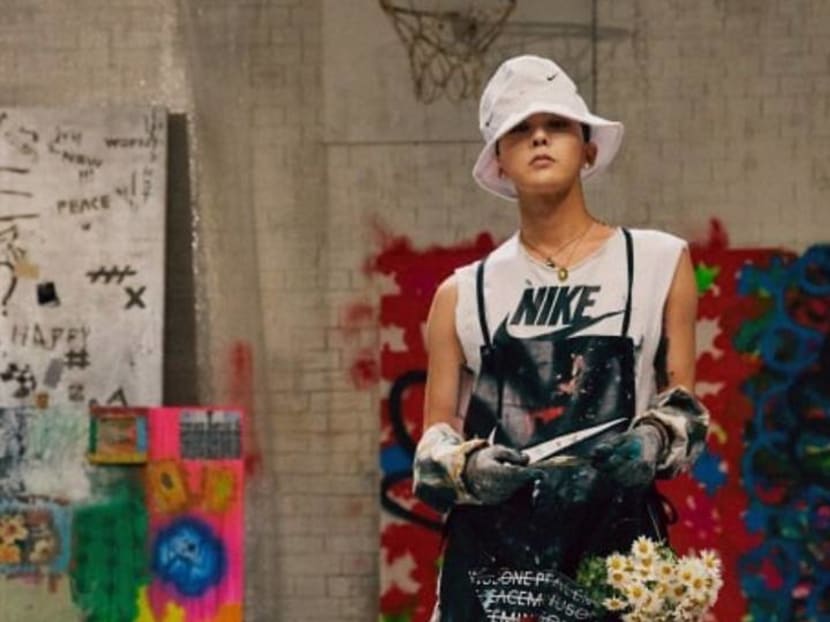 It's been only 10 days since Big Bang leader, G-Dragon, was discharged from his compulsory military training on Oct 26 and he's already busy with his first official engagement.  
The 31-year-old star, whose real name is Kwon Ji-yong, has announced a collaboration with Nike on a new pair of sneakers – the Nike Air Force 1 Para-Noise.

He said of the collaboration: "Ever since I came across hip-hop as a kid, AF1 has had a meaning greater than just shoes. I couldn't afford them, so I would always pass the Nike store and admire them with my eyes and heart only. For those who loved hip-hop culture, oversized clothes, hats and matching-coloured AF1s was the uniform."
According to Hypebeast, the shoes feature a premium leather upper painted over with a special black coating that wears away slowly to reveal hidden artwork created by the star himself.
The low-cut AF1 shoes will launch on Nov 23. You can get your hands on them locally at Dover Street Market Singapore for S$279.
The singer said in a separate statement: "I hope this will be the start of a revolutionary style that respects various perspectives, circumstances, and preferences, bringing together Nike's Air Force 1, which has become a cultural icon across all generations, and my identity that has been shaped by many experiences."
G-Dragon recently completed almost two years of mandatory military service. He told fans who were gathered at the South Korean Army's Ground Operations Command in Yongin, southeast of Seoul upon his release: "I have returned after successfully wrapping up my mandatory military service and I want to thank you all for waiting for me, and also thank you for coming today. Now that I am no longer a soldier, I will return to my career as a singer and give my best efforts."
Big Bang was formed in 2006 with five original members. They are now a four-man band after Seungri left in March following several scandals over sexual and financial misconduct.