Heroine chic: Coco Chanel's feminism shines through high jewellery collection
Flexible, mobile and versatile, the 1.5 collection is every bit as modern and empowered as the wearers it was created for – as Coco Chanel has intended since 1932.
Last week, when Chanel announced Virginie Viard as creative director of the brand following the passing of Karl Lagerfeld, it marked the return of a woman as head of the House. 
Lagerfeld's decades-long reign meant that not since House founder Gabrielle "Coco" Chanel's stewardship had there been a woman in charge.
This is not entirely insignificant. Famously outspoken, and forever challenging stereotypes, Coco Chanel's daring marked her as a feminist. She was a disruptor, and one of the first to play – and win – at the game. In a Time's Up / #MeToo world, with figures like Brie Larson's Captain Marvel advocating female empowerment, it seems almost a karmic coincidence that Viard is now at the helm.
Two days after Lagerfeld's passing, Chanel staged a preview of its latest 1.5 high jewellery collection for global VIPs at an exclusive closed-door event in Singapore.
Lagerfeld and Viard had little to do with the collection – the brand's Watches and Jewellery division is managed by a separate creative team.
But what stood out was the spirit of the collection: Feminine yet assertive, bold with a quiet confidence.  Characteristics associated with Coco herself, who, as early as the 1910s, was already championing assertiveness and encouraging women to free themselves from societal norms.
FLOWER POWER
The collection is an ode to the camellia – Chanel's favourite bloom and a symbol of the House. One of the main features of the 1.5 collection (one camellia, five allures) is its transformability. Of the 52 pieces of jewellery, half can be taken apart and converted into another wearable.
The white gold Rouge Incandescent necklace with rubies and diamonds (main picture and below), for instance, has a detachable camellia motif that may be worn as a brooch.
Likewise, the Revelation Diamant necklace in white gold and diamonds – the collection's most valuable piece, costing S$6.495 million – has a detachable camellia motif that doubles up as a brooch, allowing the necklace to be worn either long or short. Other pieces, such as bracelets and watches, are similarly versatile.
Chanel always wanted her jewellery to be as liberating as possible, explained Marianne Etchebarne, Chanel's Global Head of Watches & Fine Jewelry Product Marketing & Communication. "Half of the pieces in this High Jewelry [sic] Collection are convertible, offering the freedom of at least five looks: One single flower, five ways to wear it.
"Mademoiselle Chanel used to say, 'My [jewels] are flexible and detachable... Life transforms it and bends it to its needs'," Etchebarne told CNA Lifestyle in an email interview.
Having transformable pieces meant that Chanel's jewellers had to devise discreet mechanisms to allow the parts to be easily removed and reattached, while maintaining the simplicity of the overall jewellery design.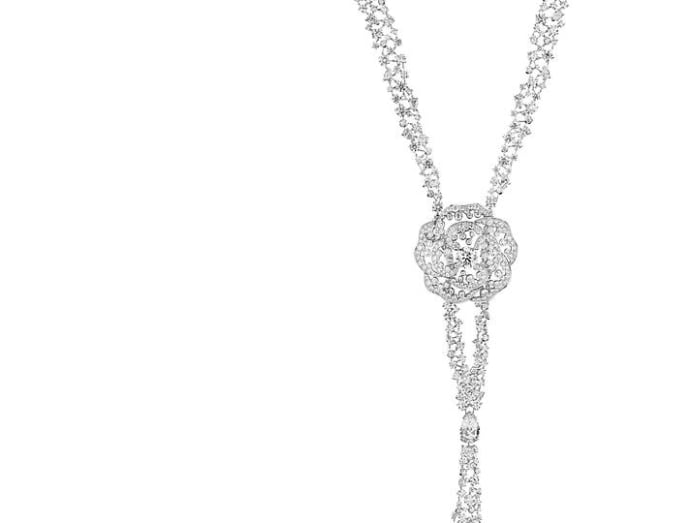 "One main technical feature seen in this collection was to have perfectly incorporated fastenings that can be clipped and unclipped to invite women to wear the pieces in the way they want, easily," added Etchebarne.
Not surprisingly, the most challenging piece was the Revelation Diamant necklace, which required more than 1,400 hours of work "in order to get the best suppleness and to highlight the stones so that, at the end, we barely see the metal".
What defines the collection is the attention to detail. When wearers remove the detachable parts, what lies beneath isn't a bare skeleton but fully finished metalwork – in some cases paved with diamonds and/or rubies. This is so that each jewel feels complete at all times.

COCO CHANEL: REBEL WITH A CAUSE
Since 1932, when Chanel staged her very first jewellery exhibition, mademoiselle's message had been one of disruption.
Parisian society ladies of the time were accustomed to wearing full sets – matching tiaras, earrings, necklaces, pendants, bracelets and rings – as well as donning either fine jewellery, or costume jewellery, depending on the occasion. Never the twain shall meet.
Casting the rule book aside, Chanel introduced elements of both costume and fine jewellery to her collections, and persuaded her clients to wear their jewels as they pleased. A 1936 photo (above) shows her with multiple strands of pearls draped nonchalantly across her back, a revolutionary idea to women who hitherto wore single strands of pearls, typically draped across the collarbone or decolletage.
Chanel's costume jewellery pieces were made from non-precious materials, such as glass, faux pearls, rhinestones and non-precious metals. She was a big fan of rock crystal (colourless quartz), believing in its healing properties. "She surrounded herself with objects in rock crystal in her apartment such as the chandelier, a crystal ball and a flower bouquet arranged on the desk," explained Etchebarne.
Rock crystal isn't typically used in high jewellery collections at other jewellery houses. But in the 1.5 collection, the humble material is given an instant status upgrade when placed alongside white gold and diamonds. Witness the Cristal Illusion bracelet (above). 
Rose quartz – another uncommon material in high jewellery design – also takes centre stage on pieces like the Quintessence Quartz brooch (below). To the untrained eye, the translucent pale pink stone might appear to be acrylic.
Only the discerning wearer will know the true value of the stone, so immense in its size and remarkably free of inclusions. The stone has also been carved to resemble a camellia – no mean feat considering its brittleness. A single mistake by the lapidary artist would cause irreparable damage.
Adding to its subversiveness, the 1.5 collection also masks its opulence on occasion.
This is most obvious in the Eclat de Diamant watch (below), which features an 8.02-carat rose-cut diamond atop the watch dial, partially concealing its face.
The rose cut has been in existence since the 1500s. It was especially popular during the Art Deco period, but fell out of favour for most of the 20th century. Because diamond-cutting techniques were much less sophisticated in the past, rose-cut diamonds lacked the optical fire of, say, brilliant-cut diamonds.
Rose cuts, however, are admired by some connoisseurs for their warm, antique quality. Jewels with rose-cut diamonds resemble precious family heirlooms. On the Eclat de Diamant watch, it's as if Chanel's artisans wanted the future owner to treat time as a private luxury, and to pass the watch down the generations.
Said Etchebarne: "If the best expression to tell the creation is with a rose-cut diamond, we will do it."
An attitude that's perfectly in line with our rebel Coco's philosophy. "You live but once," she was quoted as saying, "you might as well be amusing."