Some like it huat: Watchmakers utilise pig motifs, scarlet hues and jade for CNY
Whether you're born in the Year Of The Pig, love the colour red, are a Chinese history buff, or adore auspicious materials like gold and jade, there's a watch for you.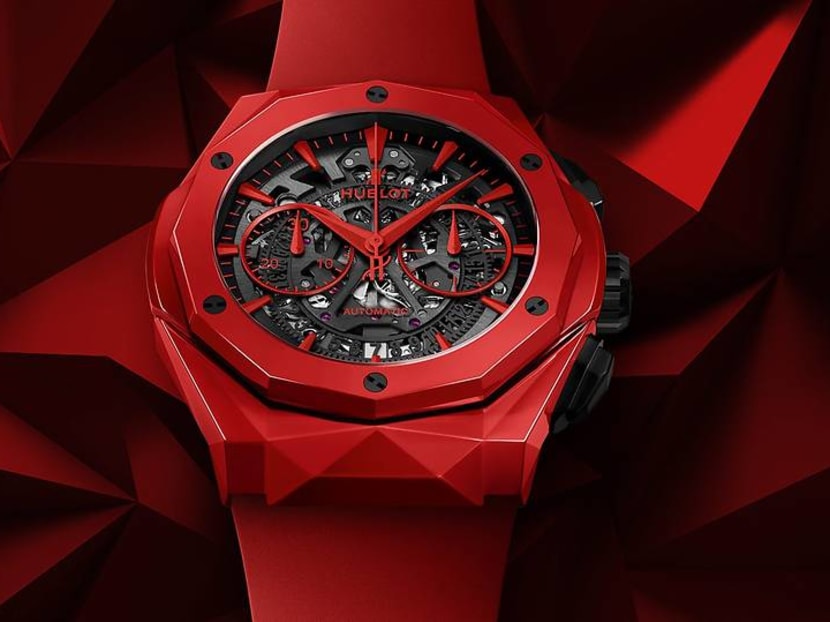 This Chinese New Year, watchmakers went the whole hog when it came to designing festive watches. Pig motifs were ubiquitous, and these were depicted in various ways, from tiny sculptures to miniature paintings on watch dials.
But the watchmakers didn't stop there. Capitalising on the richness of Chinese history and culture, they adapted other elements too: Historical figures, scarlet hues, floral art, gold and jade, and various symbols of prosperity were all put to good use.
BLANCPAIN
METIERS D'ART – GREAT BEAUTIES OF ANCIENT CHINA
Whether or not you're a history buff, you're likely to have heard of ancient China's Four Great Beauties: Xi Shi, Diao Chan, Wang Zhaojun and Yang Guifei. This year, those legends manifest on four watches made by Blancpain, each one evoking a particular scene associated with the respective Beauty.
In creating these artistic masterpieces, Blancpain's artisans harnessed their entire range of skills. Various techniques such as enamelling, shakudo, engraving, wood marquetry and miniature painting were used. We dare say that the resulting confections are as much a sight for sore eyes as the Beauties themselves were in their day.
CHOPARD L.U.C
PERPETUAL T SPIRIT OF THE CHINESE ZODIAC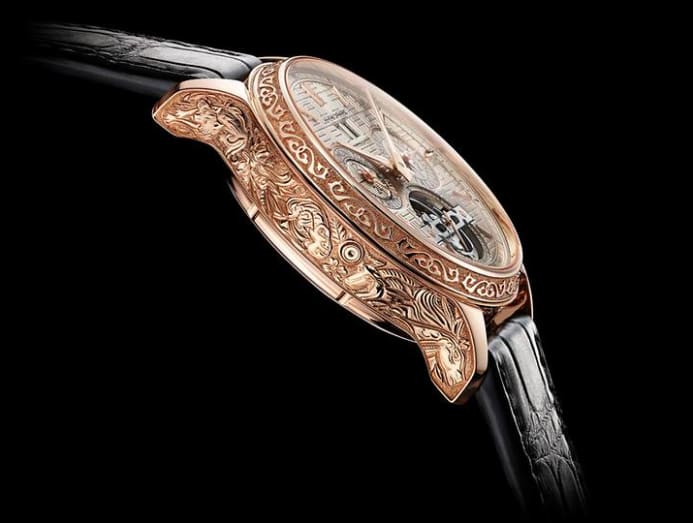 This one-of-a-kind Chopard number is aimed squarely at the Chinese tycoon who wears his heritage proudly. The patterned dial, reminiscent of Chinese fretwork, gives way to an elaborate 18K rose-gold case that's painstakingly etched with all 12 animals of the Chinese zodiac.
The technique used is called champleve engraving. It took Chopard's artisans more than 210 hours of work to hollow out the cavities and sculpt the forms that would bring the zodiac animals to life. No less impressive is the watch's driving force: Calibre L.U.C 02.15L, which boasts a perpetual calendar function and a nine-day power reserve.
CHOPARD L.U.C
XP URUSHI YEAR OF THE PIG
If the previous Chopard L.U.C entry seems geared towards corporate chiefs, then this whimsical wrist machine appears to target … actually, we're not entirely sure who this watch is made for. It depicts a cutesy, fairytale-like porker on a stroll through the forest, perhaps on its way to the market.
But if cutesy is your thing, then it's worth mentioning that the dial is decorated using the Japanese art of urushi, a traditional form of lacquering. The 88 pieces of this limited-edition model were fashioned under the watchful eye of Master Kiichiro Masamura, considered a living national treasure in Japan.
FRANCK MULLER
LONG ISLAND PEONY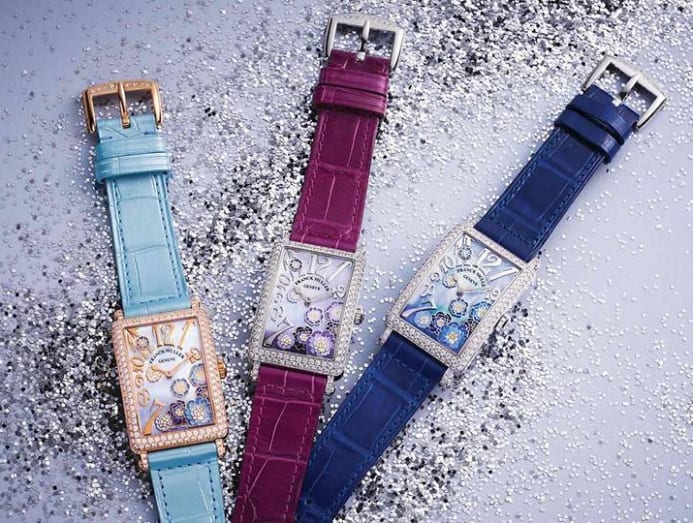 Cherry blossoms might be more closely associated with Spring, but for this Spring Festival, Franck Muller went with peonies instead. Not a bad choice, given that peonies are highly regarded in Chinese culture. The King Of Flowers, they're symbols of royalty and virtue, as well as wealth and honour.
Eight blossoms are scattered on the mother-of-pearl dial, each one boasting hand-painted petals. The dials are also spray-painted on the underside, with the colours visible topside. Six different versions are available, either in stainless steel or rose gold with diamonds, and matched with alligator straps.
FRANCK MULLER
VANGUARD ERGAL RACING
Franck Muller's Vanguard Ergal Racing is one for petrolheads. Not only is the red-black-white colourway reminiscent of motorsports, but the case sides are enhanced by Ergal, an aluminium compound used extensively in the aeronautical and automotive racing industries.
Prized for its lightness yet high mechanical strength, Ergal is typically used on screws and brake pads. Here it takes the form of crown guards and case side inserts, its crimson hue ever so perfect for the festive season. Limited to 28 pieces, the watch is available exclusively on sincerewatch.com.
HARRY WINSTON
PREMIER CHINESE NEW YEAR AUTOMATIC 36MM
This Chinese New Year offering ticks all the right boxes: Lots of red, a rotund hog, a spray of magnolias, and the fire of Harry Winston diamonds. The epic, deep red dial is made of mother-of-pearl, as are the flower petals, which are shaded in tones of red and pink.
The pig itself is hewn from 18K rose gold, doubling the symbolism of abundance. The dial is framed by eight diamond indexes, an emerald-cut stunner at 12 o'clock, and 57 brilliants around the bezel. An alligator strap completes the festive mood of this seven-piece limited edition.
HUBLOT
CLASSIC FUSION CHRONOGRAPH ORLINKSI RED CERAMIC
Ceramic is one of the hardiest materials known to watchmakers, but achieving a stable, uniform, vibrant colour remained a huge challenge. That's until Hublot cracked the code in early 2018 after four years of R&D. It debuted the Big Bang Unico Red Magic, the first-ever watch to boast a red ceramic case and bezel.
In Dec 2018, Hublot extended this expertise, unveiling the Classic Fusion Chronograph Orlinski Red Ceramic in a limited run of 200 pieces. It's a tribute to leading French contemporary artist Richard Orlinski, who first gained fame in 2004 for his scarlet-hued Born Wild sculptures.
JAQUET DROZ
LADY 8 PETITE JADE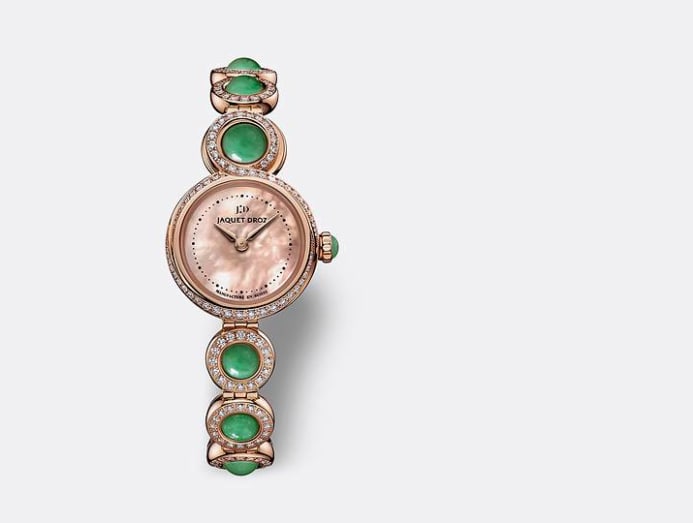 Symbolism is rife on Jaquet Droz's Lady 8 Petite Jade. First and most obvious is the use of green jade on the bracelet, that most prized of hard stones among the Chinese, representing benevolence, righteousness, wisdom, courage and honesty. Then there's the case and first bracelet link, together shaped like the lucky figure eight.
The watch is also issued in a limited edition of eight pieces. Finally, the crown is set with a jade cabochon. When a user goes to set the hours and minutes, touching the stone will remind her of how precious time is. Powered by an automatic movement, this diamond-set, 18K red gold creation is completed by a mother-of-pearl dial.
JAQUET DROZ
PETITE HEURE MINUTE PIG
Jaquet Droz's Petite Heure Minute Pig sports a dial with the cutest porker on this entire list – we're reminded of Babe. The little fella is shown wandering in a wheat field, the ripe crop emblematic of abundance and prosperity. The naturalistic miniature painting style is typical of Jaquet Droz.
If you're a fan of couple watches, you're in luck. The watchmaker has created this design in two versions: One in a 35mm case set with diamonds for the ladies, and a unisex 39mm model without diamonds. Both are hewn from 18K red gold, and both come in a limited run of 28 pieces each.
PANERAI
LUMINOR SEALAND YEAR OF THE PIG (PAM 859)
The PAM 859 is the 11th in the series of Panerai's special edition watches dedicated to the Chinese zodiac. Each watch, housed in a 44mm steel Luminor Sealand case, boasts the same aesthetic: The zodiac animal is engraved on the dial cover using the technique of sparsello.
In this ancient Italian art form, grooves are first etched onto the cover to create an outline of the decoration. Gold threads are inlaid into the grooves in several parallel layers, and then beaten until the grooves are completely filled. As you might expect, the watch is limited to 88 pieces.
VACHERON CONSTANTIN
METIERS D'ART THE LEGEND OF THE CHINESE ZODIAC YEAR OF THE PIG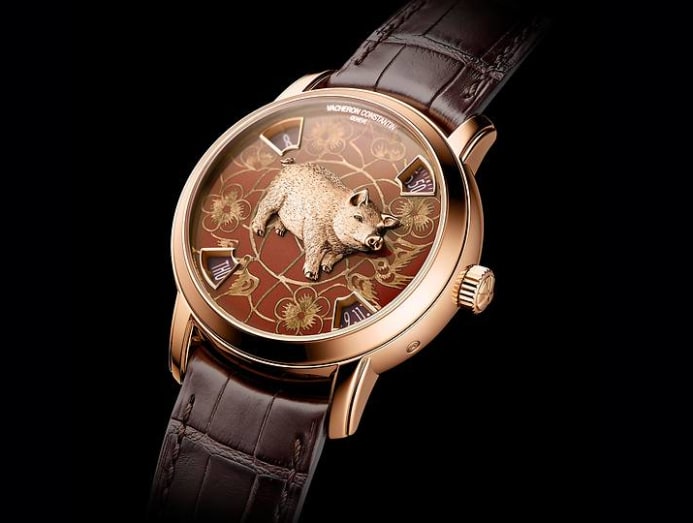 Thanks to the way this little piggy's bristles are rendered, it looks fuzzy and adorable. But don't let its cuteness get in the way of your admiration for this Vacheron Constantin watch, because the handiwork that went into its creation is extraordinary. The floral motifs, for example, are carefully etched onto the metal to achieve a depth effect.
Enamel is then applied in successive layers to enhance the intensity of the blue or bronze-toned dial. Finally, the pig, sculpted from platinum or pink gold, is applied to the dial centre. Powered by an automatic movement, the watch is available in 12 pieces each in platinum or 18K pink gold.