Style Switch: Getting this working mum out of hand-me-downs and into her own style
Teacher Jeannie Loo's wardrobe was full of her sister's old clothes and her favourite maternity dress. We showed her how good style can absolutely be budget-friendly.
What's hers is her sister's – quite literally. "Most of my clothes are from my younger sister," said art teacher Jeannie Loo. "They may not be my style, but they're free!"

Jeannie, 31, is a working mother with two young children. She signed up for CNA Lifestyle's Style Switch to learn what kind of clothes flatter her while staying fuss-free. "I'm always in a rush or dressing my kids and I have no time for makeup," she said.

Her life revolves around the children. She heads to work at a primary school near her home every morning, then rushes back after school to supervise her children's homework. Weekends are spent bringing the kids to various activities and visiting her mother. The little time Jeannie has for herself, she spends doing pole fitness.

Jeannie's go-to outfits for work are her sister's old dresses ("usually black") and pants matched with a plain top. On weekends, she's a T-shirt-and-jeans kind of dresser.

"People say I'm always in the same colour – my clothes are mostly in dark colours," she said. "It looks like I shop a lot or have a lot of clothes, but my friends don't know they're mostly from my sister."

What stops Jeannie from buying her own clothes – apart from time – is money. "I can't bear to part with my money, even though it's not hard to find clothes that I like," she admitted. So, when she does shop, she buys her clothes online at Taobao, and her purchases are usually basics.

Motivation to dress up is another issue. Jeannie is married to a man who is as simple as she is, a "grab-and-go" dresser. As their lives revolve around activities in and around their home, there aren't many occasions for her to dress up either. So, Jeannie has been putting up with clothes from her bigger-sized sister, rolling down waistbands to keep her skirts from falling down her hips.

When the Style Switch team met Jeannie, she was in her favourite dress: A long, voluminous grey dress that she had worn during her pregnancy and has continued wearing.

Stylist Yang Derong understood what the dress meant to Jeannie, but gently told her: "That dress has served you. You can wear it for sentimental value – but don't wear it out."

The team embarked on picking out pieces for Jeannie that best suited her lifestyle and her body. "She looks fantastic for a mother of two!" said Derong. The key for her was to buy pieces that actually fit.
"We worked with very simple colours: Black, white, grey, khaki, navy. Very basic pieces. Then, we added an accent print – stripes or petit fleur," said Derong. "All the pieces we picked were inexpensive and easy to care, so she doesn't have to spend two hours ironing every day."

An array of shirts, tees, slim-fit pants and cardigans from Uniqlo formed the mix-and-match wardrobe for the busy teacher. "Uniqlo makes beautiful clothes that are simple, beautifully shaped, well-studied," said Derong. "And, very importantly, they come in petite sizes."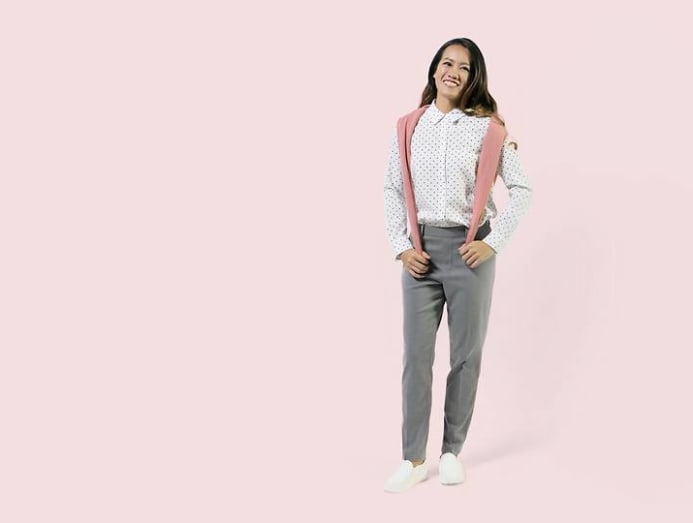 "I respect every-day heroes like Jeannie," said Derong. "I respect that she doesn't want to spend a lot of money on clothes – she'd rather spend it on her children. We shouldn't chase fashion. We should chase good quality clothes that don't need dry cleaning. Even when you have a limited budget, you can still make it work."