Reinventing the classic: Crazy Rich Asians' Constance Lau takes the coloured suit challenge
Colour wheel tailoring takes suiting to a whole new level. How to wear it? Where to take it? How to accessorise?
If you think suits only run the gamut of black, blue and grey, you're in for a right surprise. Serious suit makers Boss, Max Mara and Escada have showed us on the Spring/Summer runways what it means by next-level suiting by putting out razor-sharp numbers in energising hues of mimosa, tangerine and emerald. 
It's a whole new bright world out there.
Want to try your hand but haven't the faintest idea where to begin? CNA Lifestyle taps Crazy Rich Asians' Constance Lau who is a self-professed "huge fan of the suit" to show us how to wear Spring's coolest suits in style.
MIMOSA MOMENT
"I always dream about owning a wardrobe filled with tailor-made suits in every imaginable colour," says Lau. But not all suits are equal. A punchy hue changes the game completely, introducing energy, not to mention, personality to the wearer.
"Coloured suits are perfect for injecting character into formal wear – edgy and perhaps a little loud yet still classy." And if you're game to soup up your suiting game a little further, unusual interpretations like oversized culottes or a Mandarin collar make for surprising twists that hit the spot between individualistic and fancy.
Shade yourself from the glaring hue with sunglasses. Style tip: Oversized frames give the illusion of a smaller, sharper face. Frame the face further with interesting, asymmetrical earrings.

GO GREEN
The green peace movement extends even to getting dressed. "I gravitate towards green even though I'm generally a fan of colours," said Lau. The calming quality of the colour helps her find tranquility amidst her manic filming schedule – she stars in Lion Mums 3, which airs on Apr 22, 9.30pm on Channel 5.
The beauty of green is that it looks amazing against yellow skin tones; pastel green makes the wearer appear fairer, while neon green flatters olive skin tones. Or go tone-on-tone for a happy middle ground.    
Toughen up the softly tailored look with polished hardware in the form of 24K chain links and gleaming studs. Shiny and lustrous, they add just the right amount of sophisticated street cred to the ensemble.  

SEEING RED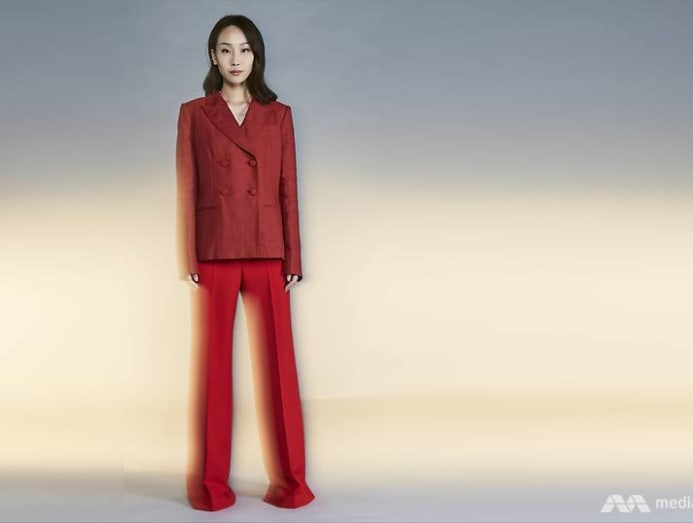 For Lau, "colours are a celebration of life". The infectious, celebratory vibe of red makes it a winning colour to get with. We suggest experimenting with different shades and textures of red if you're planning on an evolved take of the Little Red Riding Hood.
A boxy, double breasted jacket hides a multitude of sins – chubby arms, a thick waist, a short torso. Petite ladies will want to keep this jacket style cropped around the waist to avoid looking frumpy or worse, overwhelmed.
Heads up: Cropped jackets make faking supermodel proportions super easy. Just add palazzo pants and stilettos for the illusion of endless legs.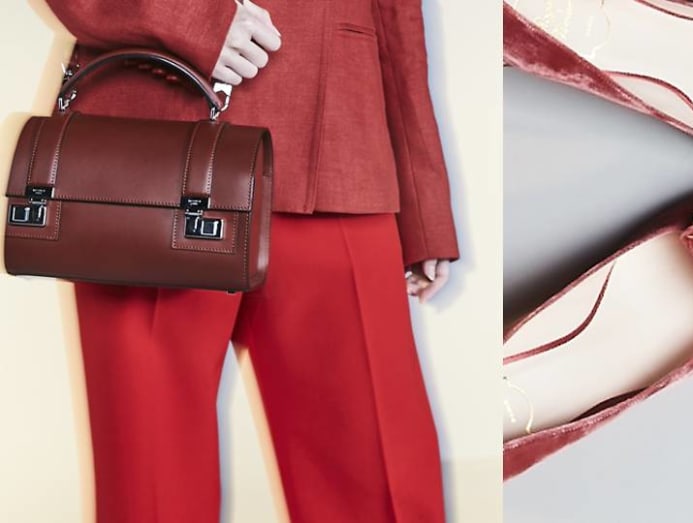 And here's a leg-up for those of us with a borderline case of unhealthy obsession for red shoes. Vibrant and oh-so mesmerising, there's a whole lot of magic in them. They are a surefire guarantee of pulling together even the drabbest of looks – watch the tee and jeans combo come alive. Consider throwing in a matching red bag for good measure.

MAROON FIVE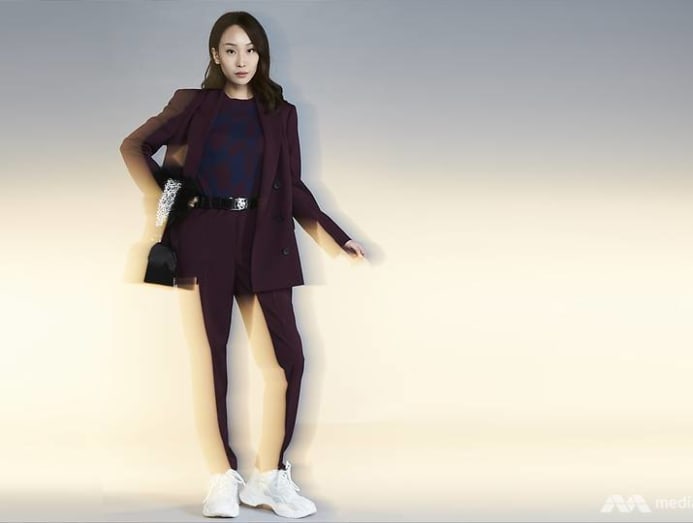 We have Monsieur Yves Saint Laurent to thank for the Le Smoking suit. Celebrities like Charlize Theron, Jennifer Lawrence and Coco Lee have taken turns to sizzle up the red carpet with different incarnations of the suit.
The question now is, how do we crank up the trusty suit in our wardrobe to a suitable Le Smoking candidate?
Take your cue from Lau, who jazzes hers up simply by "adding a belt to my waist". Sounds simple enough. Some sparkles on the belt – be it the buckle or all around – infinitely up the formal quotient.
The right bag sets the tone for any ensemble. A chic minaudiere says you're up for after-dark shindigs. A structured sac that you can easily slide the laptop into is indicative of boardroom engagements that could well extend to cocktail soirees.

IN THE PINK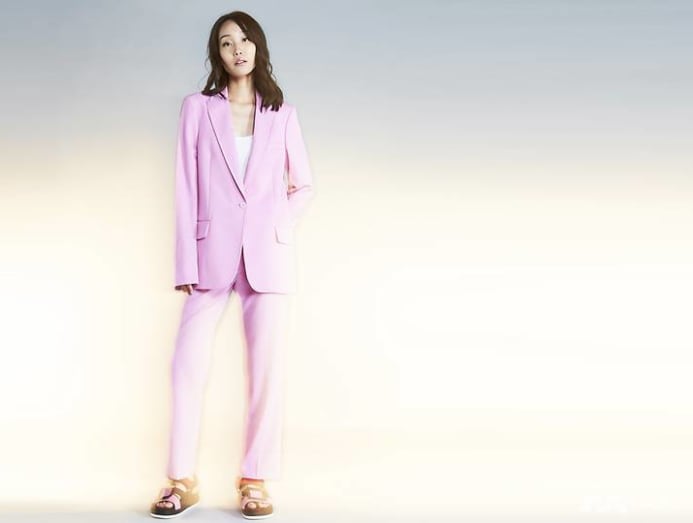 Like many women, Lau professes to "being not very adventurous" when it comes to dressing up, but at the same time, she doesn't relish "being too boring". How does she get around this sartorial conundrum? "I gravitate towards the classics or basics with a twist."
Just because salmon has been hailed as the new Pantone colour of the year doesn't mean that pink no longer has a place on the style charts. An all-pink suit comfortably straddles two evergreen themes – the timeless suit and a classically feminine hue – giving it tons of mileage for wear.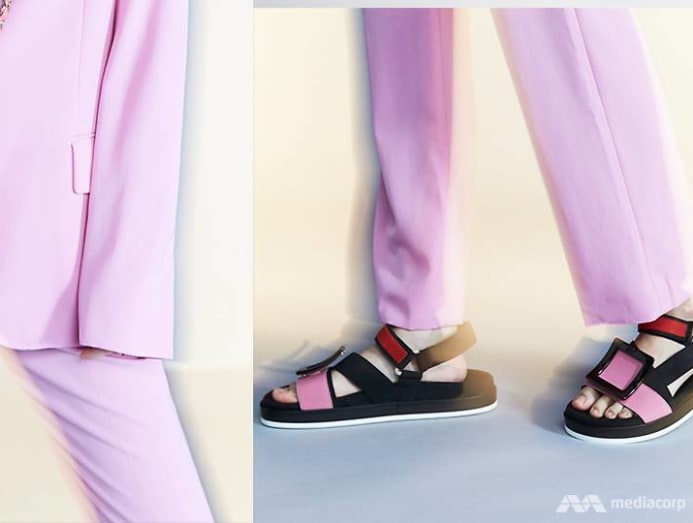 Wearing a suit doesn't have to be serious business. Lighten up with fun pieces that add a spring to your step, like this joyful pair of coloured sandals and this pretty-to-a-fault chain bag. Tone-on-tone colour themes always work like a charm. Alternatively, try clashing hues – pink and green, or pink and orange – for an extra kick of colours.

Photography by Aik Chen, styling by Damian Huang, model Constance Lau/Fly Entertainment, makeup by Tinoq Russsell Goh using Esprique by Kose and Decorte, hair by Dylan Chan using Schwarzkopf Professional.