The denim guide: How to find the perfect pair of plus-size jeans
If you're a little (or a lot) on the chubby side, the right pair of jeans can help you look slimmer, no diet required.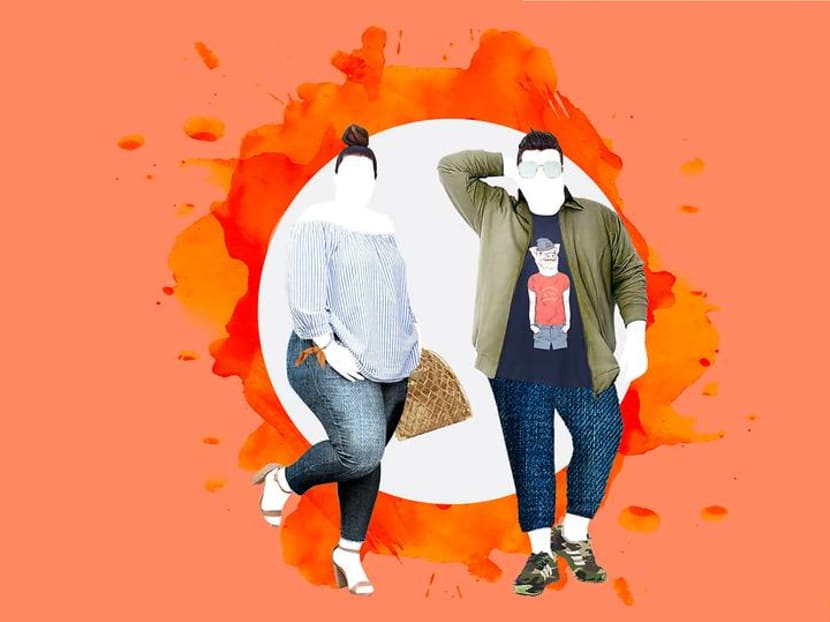 Are you carrying extra jelly in your belly, or packing too much junk in your trunk?

It's our last intention to engage in any fat-shaming here – we'd recommend regular exercise (at least 150 minutes a week) and a healthy diet to everyone and anyone, even to Victoria's Secret models.

In the meantime, finding the right pair of jeans to flatter your plus-size figure, and the right top to wear over it, can go a long way in solving the myriad wardrobe woes that heavier-set individuals face. Such as muffin top, belly overhang, overstuffed-sausage legs, builder's crack and a bad-ass case of badunkadonk.

Forget skinny jeans, here's how to look skinny in jeans:

STYLE AND FIT
Learning what to avoid is extremely crucial when it comes to dressing slimmer.

Never, ever fall under the illusion that ultra-skinny jeans can make a plus-sized person look skinny. 
Men end up with a curvy, girly-looking figure, which we doubt you want. Larger ladies, however, can get away with skinny jeans when worn with high heels or platforms.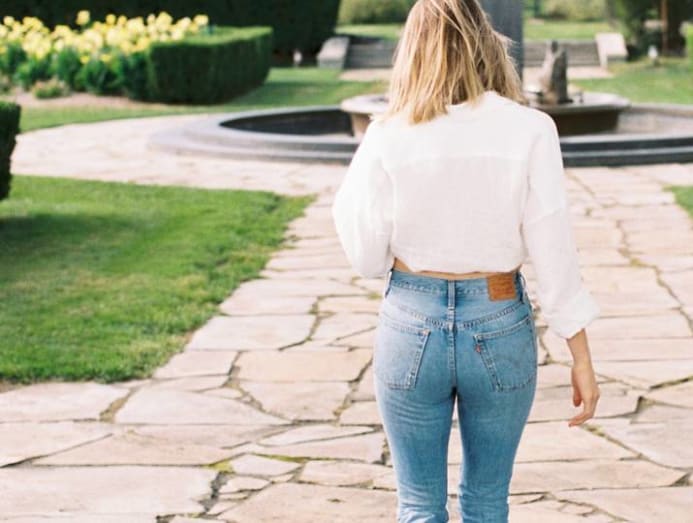 Baggy jeans are not a good look as they tend to make you look shorter and bulkier than you are. Flared or bootcut jeans can make legs look thicker and stumpier. One exception: tall heavier-set women can get away with bootcut jeans if they wear high heels. Cropped jeans are another no-no as they're more suited for slimmer frames.

Avoid anything too tight around the waist. Instead of holding all that extra jelly, it'll just make any lumps and bumps you've got look even more obvious. Plus, it's also extremely uncomfortable.

Steer clear of low-rise jeans as they accentuate wide hips and are prone to exposing your belly overhang when you reach your arms up, and your butt crack when you bend over. High-rise waists aren't a good idea as they can make you look like Humpy Dumpty or Batman's nemesis, The Penguin.

Instead, opt for relaxed-fit, standard cut or straight-leg jeans with a medium rise, in as long a length as possible without pooling above your footwear to create the most streamlined silhouette possible for your body type. It also helps to get your jeans in a medium-weight fabric with a slight stretch. 

WASH
Go as dark as possible: think deep indigo, forest green, charcoal grey and black. Avoid any embellishments such as diamante, embroidery, patches, rips, fading, whiskering.

BACK POCKET
These should be on the larger side to match your behind, not placed too far apart, and set low. They should be as plain as possible, meaning no decorative elements, no flap pockets etc, to avoid drawing too much attention to your derriere. Avoid carrying anything in your jeans pockets, so as not to add extra visual bulk to your silhouette.

WEAR WITH
Guys, make 'body skimming' the rule. Plain V-neck tops, and smart collared shirts help draw attention upwards while elongating the neck. Darker colours help create the illusion of a slimmer upper body, while effortlessly matching your dark jeans to create a long, unbroken line.

Tops should be hip-length and ideally be left untucked. Avoid patterned tops except for vertical pinstripes and plaids or camouflage print in dark, subdued hues.

A coloured belt serves to emphasize the size of your waist.

Single-breasted jackets are the most flattering cover-up for layering, helping round bodies to look more angular.

Ladies, follow the above tips in terms of V-necks, hip-length tops and darker colours. But you get extra leeway too. Lower necklines, and three-quarter-length sleeves are a great way to show a bit of skin without letting too much flesh spill out.

If you have an hourglass figure, empire-waist or fit-and-flare tops are super-flattering. A bold-coloured top, or one that's strategically colour-blocked is a sophisticated way to make an eye-catching fashion statement while drawing attention away from your butt and thighs.

Make sure the footwear you choose balances out your proportions and your jeans. Avoid anything too dainty and flat (eg: ballet flats, slim rubber flip flops, stilettoes), and instead, opt for block heels, platforms, and wedges to make you look taller and slimmer. If you need to layer up, hip-length waterfall cardigans are your best bet.