The denim guide: Score the perfect pair of jeans to slim down thunder thighs
The right jeans are a lightning-fast way to gain more gazelle-like gams.
Maybe it's genetics. Maybe it's the result of your thrice-weekly spin class, or one too many barbell squats that have led to those muscular thighs.

Whatever the cause, it's practically impossible to pin down a pair of jeans that fits you perfectly. You either struggle to pull them past your thighs and hips, or the waistband is too big. 
For men, you can't squat down in your jeans without crushing the life out of your family jewels, or fearing that you'd bust the butt seam. Women dread being immortalised in their friends' Instagram wefies with a camel toe.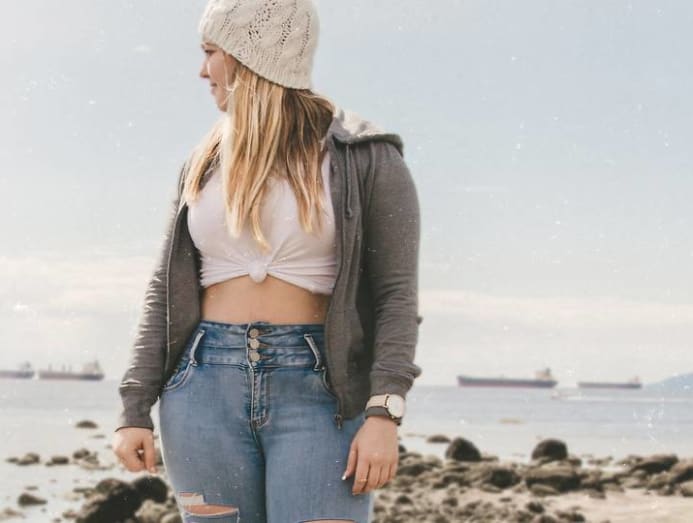 We feel your pain (from the jeans chafing against your inner thighs as well). The good thing is, it's probably because you've been approaching jeans-shopping the wrong way. Here's what to look for/do instead.

STYLE AND FIT
Regular straight cut, boot cut, trouser cut or slightly tapered jeans that fall below your ankles without pooling around your shoes are your best bet. 
These create the most flattering, form-fitting silhouette for your body type, helping to elongate your bottom half, while balancing out your upper and lower legs.

Opt for a medium to high rise in a fabric with about 1-per-cent Lycra or elastane for a bit of stretch. Cuffed hems can help to draw attention towards the ankles and feet, distracting from the size of your thighs.

Avoid overly wide-legged fits as they make the entire leg (as opposed to just the thigh) look thick. A low-rise style draws attention to your problem areas, such as your hips and thighs, and makes them look even bigger, while making legs appear shorter.

Overly tapered and cropped styles merely emphasise the contrast between heavy thighs and skinny calves/ankles, which can make you look disproportionately off-kilter. The exception: Women can get away with these styles if they're wearing heels, wedges or platforms. Women with small waists can also try a high-rise style for a sexy, curvy effect.

For women: A cropped kick flare or extra-wide cuff can help draw attention to slim calves, well-turned ankles and kick-ass shoes.

Remember to check for a contoured pitch as well; this refers to how the waistband is curved such that the back sits higher than the front. This helps minimise the likelihood of gaping at the waistband.

WASH
Medium to dark washes and colours help thighs look slimmer. Avoid details such as whiskering at the hips. A vertical fade down the middle of the thigh on a medium-fade jeans can have a slimming and elongating effect (think the Kardashian Kontour, but for your legs).

WEAR WITH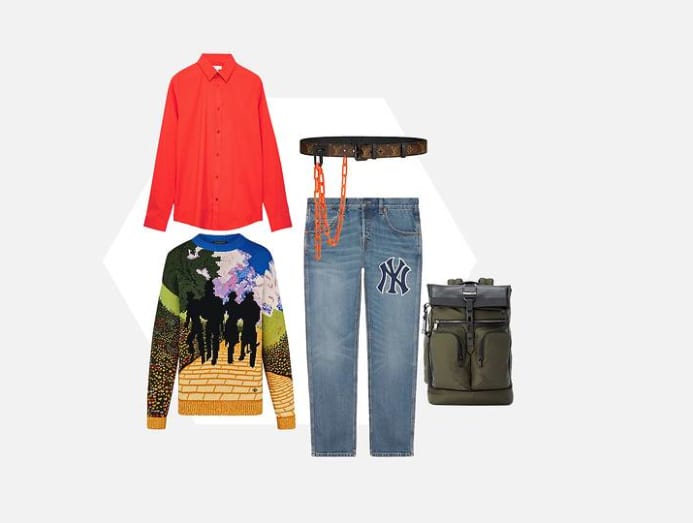 Guys, avoid wearing tops that end below the hips; instead, opt for those that sit at the waist or just above the hips. Better still, wear your tops tucked in. Opt for a contrasting or bright colour, or even a print to draw attention to your upper body. A belt in a contrasting colour is also a good way to distract from your thighs. 
Pay attention to what goes onto your feet, so you'll be known as "the guy with snazzier socks than Justin Trudeau" or "the guy with the coolest shoes", instead of "the guy with thunder thighs".

Ladies, follow the guys in keeping your tops above the hip level. If your upper body is in good shape, take a tip from Serena and Venus Williams and rock those tight tanks, spaghetti straps, toga, peplum tops and cropped tees. These help ensure all eyes will be on your upper half. 
Complete the look with fancy footwear. Another alternative is to wear side-split tunic tops that camouflage your thighs while elongating your side leg.