Desmond Tan's tips for looking your best: 'Skincare is like insurance'
There's nothing unmanly about taking care of your face, says the television leading man – he's as obsessive about sunblock and sheet masks as he is about exercise and HIIT work outs.
Desmond Tan's idea of taking good care of himself involves a good facial, sunscreen and sheet mask. That, in our opinion, is an evolved man.
And there's nothing "unmanly" about guys taking care of their skin, the television leading man points out. He takes care of his body and nobody giggles at his abs. Why? Because it looks good, people.
Here, CNA Lifestyle finds out from the Star Awards Best Actor winner how he keeps himself looking his best. Send this story to the men in your life who need a little help in that department.

HOW IMPORTANT IS HAVING GOOD SKIN?
Having good skin is very important to me. It isn't just because I'm an actor and need to look my best but also because it shows I take care of myself. I began paying more attention to skincare in my teens; I would accompany my mum to her facial treatments and eventually signed up for my own facial treatments.
I believe skincare goes beyond using the right products. It's essential to eat right and live right, too.

WHAT'S YOUR SKINCARE ROUTINE?
I've been sticking to a skincare regime since my NS days. Yes, I've been described as being "religious" about it. I think skincare is an investment like insurance – one has to start young! I only very recently heard that Korean women have a 14-step skincare regime. I don't have that many but I tick quite a few boxes!
My daily regime begins with cleansing. This is followed by toner, serum, moisturising cream, eye cream, and on alternate days various other products. I repeat the same regime for the night, with a sheet mask thrown in because I am obsessed with keeping my skin hydrated.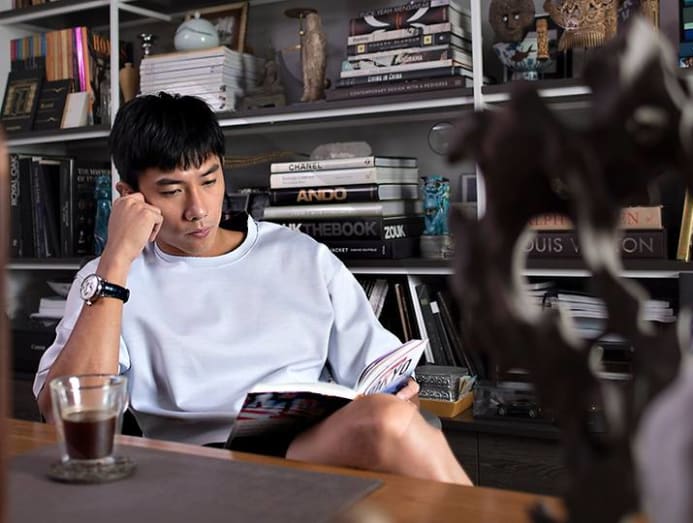 WHAT'S YOUR GROOMING HANGUP?
I never leave home without applying sunscreen. I have too many freckles, which means I sometimes spend more time in makeup before filming to achieve that flawless complexion. I started using sunscreen more conscientiously three years ago and I have remained very disciplined.
On days off, I don't use makeup at all. But I might apply a multi-functional cream to protect my skin against UV rays, blur out visibility of pores and give my complexion an even tone. One cannot be complacent!
ANY TIPS FOR MEN TO LOOK THEIR BEST?
I believe skincare goes beyond using the right products. It's essential to eat right and live right, too. I try to drink a lot of water and choose fresh and nutritious food instead of deep-fried and oily dishes. If I am working, I start the morning with a proper breakfast – also because I don't know when my next meal is (when filming)!

WHAT ELSE DO YOU DO TO STAY LOOKING CAMERA-READY?
I exercise about three to five times a week. I do weights and cardio at the gym. These are the most efficient and effective in helping me stay fit and lean. I also try to squeeze in at least 30 minutes of exercise before a work day begins because I find it helps improve focus. If I need to specifically get in shape for a role, I include HIIT (high-intensity interval training).