One of China's most beautiful stars reveals her anti-ageing secrets
Actress Dilraba Dilmurat (or Dilireba), who stars in Three Lives, Three Worlds: The Pillow Book and is the face of Clarins, knows it's her job to look good – or in her case, to look even better.
Chinese actress Dilraba Dilmurat, who's also known to fans as Dilireba, is having the time of her life. Last year, the 27-year-old artiste of Uighur descent made it to the 16th spot on the Forbes China Celebrity 100 list, and reportedly commands a whopping 100 million yuan (S$19.56 million) per drama.
And from the looks of it, it's well-deserved – after all, it seems she hasn't taken a day off work since rising to prominence in the hit 2017 series Eternal Love, busying herself with back-to-back dramas and playing darling to high-profile brands such as Mikimoto, Louis Vuitton and Clarins.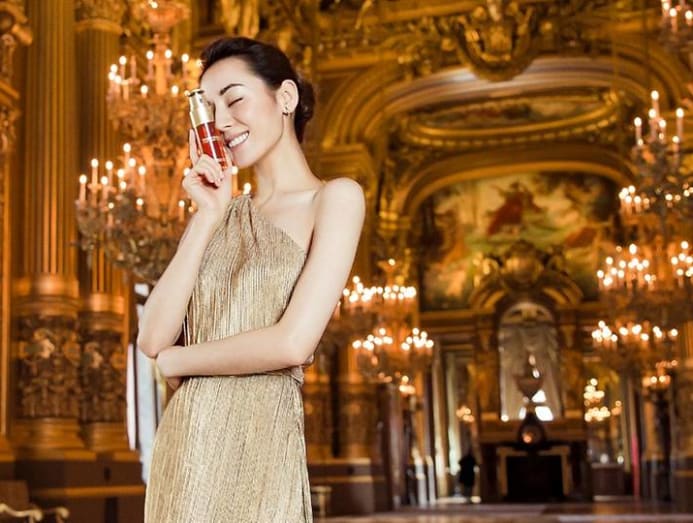 And as the newly minted Asia-Pacific skincare spokesperson to the French luxury cosmetics brand, Dilireba is no stranger to a decent skincare regime.
"My skin wasn't in a good condition when I started my acting career and a friend gave me a bottle of Clarins' Blue Orchid face treatment oil," she told CNA Lifestyle in a recent email interview. "I instantly noticed a difference to my skin after using the product only a couple of times." 
Proper cleansing. To me, this is the most critical part to a good skincare regime.

Being beautiful has its advantages but becoming a beauty spokesperson is sheer hard work. Looking perfect all the time is part of the job but like us, Dilireba has her off-days – insufficient rest, punishing work schedules and fluctuating hormones can make looking picture-perfect an uphill task. 
"When I don't get sufficient rest, my skin becomes sensitive and my complexion looks blotchy and uneven," the actress shared. "And I used to be able to get away with unhealthy eating habits and not have to worry about packing on the pounds, but after I turned 25, I can really feel my metabolism slow down so now I have to watch what I eat."
To regain her confidence, she actually devised a regime to get her A-game on. "Taking care of my skin is something I don't take lightly. By understanding what my skin needs, I've come up a skincare routine that helps my skin cope even in stressful settings."
WHAT'S THE ONE BEAUTY TRICK THAT YOU SUBSCRIBE TO?
I've learned that it is necessary to give your skin a break. So I make it a point not to wear makeup whenever I can so as to allow my skin to breathe.
WHAT DOES YOUR DAY AND NIGHT BEAUTY ROUTINES CONSIST OF?
My daytime routine is focused on hydration, to protect my skin before makeup goes on. I like skincare that is light in texture so it doesn't get in the way of makeup. As for my night-time routine, I focus on anti-ageing so that the skin is able to absorb the nutrients overnight. I like to give myself a facial massage after applying skincare to help the products penetrate better – it also does wonders to help me unwind."
WHAT ARE YOUR SKINCARE MUST-HAVES?
The Double Serum, the multi-active day and night cream, and the eye cream. I especially love the Double Serum because no matter how little rest I get, it helps my skin stay in optimal condition, as if I got my full eight hours of rest.

HOW DO YOU ENSURE THAT YOUR SKIN LOOKS SUPPLE?
My job requires me to wear makeup all the time, therefore I'm unable to top up on hydrating skincare throughout the day. So prepping the skin before makeup goes on is very important. I use a spray-on hydration mist to ensure that my skin is moist and super hydrated before putting on any makeup."
WE ASSUME YOU TRAVEL A LOT FOR WORK, WHICH REALLY DRIES OUT THE SKIN. HOW DO YOU WORK AROUND THAT?
I always have skincare samples, as well as a face mask, in my carry-on bag. Before I drift off to sleep, I'll be sure to apply a mask then follow up with my usual night-time beauty routine to lock in the moisture. But on short-haul flights, I use a hydrating mist to stay moisturised.
TO WHAT DO YOU OWE YOUR ALABASTER COMPLEXION?
Proper cleansing. To me, this is the most critical part to a good skincare regime. Sun care is the other thing. Applying sun protection before makeup dramatically helps reduce damage to the skin.
BEAUTY EXPERTS RECOMMEND WOMEN START THEIR ANTI-AGEING ROUTINE EARLY. WHAT'S YOURS?
Cut out sugar, I think that's the first step against combating ageing. Understanding the changing needs of your skin is vital. I mean you cannot be using products suited for a 22-year-old when you are 25, right? As we age, our skin changes so it is therefore necessary to switch up your products to cater to these changes.