Makeup skills rusty after months of WFH? Easy tips to glam up for the festive season
From a dramatic eyeliner and jewel tone eyes to shimmery nudes, CNA Lifestyle lists some hacks to up your glam quotient.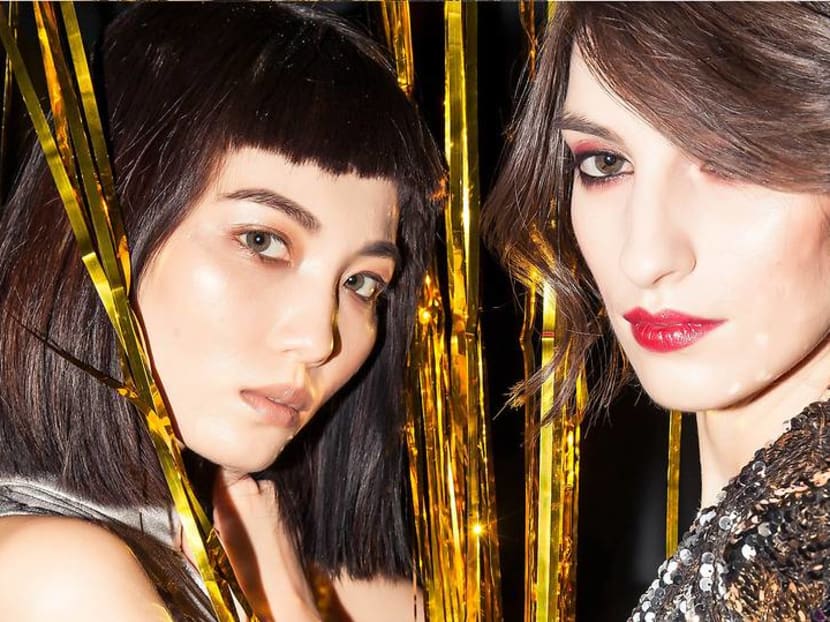 If you haven't already realised, we are just a week away from Christmas. No doubt, your calendar must be filling up fast – as limited as our options are, chances are there's going to be a cosy dinner with the man, intimate cocktails with work buddies or even small get-togethers with friends. In any case, you'll probably need to give good face at some point.
Hence, the time has come to shake off the cobwebs on that sparkly Urban Decay eye palette and blow off the dust on those cute Gucci lippies. 
But after so many months of working from home sans makeup, can you still pull off a smokey eye or at least draw a flawless wing-tip with an eyeliner?
Don't worry, because we've got five easy DIY tricks to help you look like a makeup pro.
DRAMATIC EYELINER
These days, it generally makes sense to put more thought into your eye makeup, since your peepers will be doing all the communicating when your mask is on in public. A quick way to draw attention to your eyes is with a slick of winged eyeliner, which can be more easily achieved with a liquid, gel or cream eyeliner that will provide the precision you'll need.
To soften the edges or disguise any imperfections of the line you've drawn, go over it with eyeshadow in a matching colour and blend it over the upper edge of the line, going slightly above it to create a smokey effect. This nifty trick helps blur out the harsh edge of the liner, while adding dimension and oomph.
Don't be afraid to venture away from brown or black – eyeliner in emerald, navy or burgundy shades can really add interest and a celebratory touch to your eye look.
JEWEL-TONED EYES
Rich, vivid and shimmery hues that recall the colour of jewels like emeralds, sapphires, rubies and amethyst will help you strike a dressy and festive note for year-end dos. 
They'll certainly make your eyes pop, too. It's meant to be a bold look so don't bother trying to tone down the colours – what's the point of washed-out jewel tones?
Your jewel-toned eyeshadow can be accented with touches of bronze or gold, either over the centre of the eyelids or in the inner corners of the eye. Eyeliner is absolutely necessary, while lashes need to be amped up with mascara or falsies to match the intensity of the eyeshadow. 
If you want to, smoke up the look by extending the eyeshadow to the lower eye lid, keeping closely to the rim. Tightline the lower eyeline as well for a more dramatic look. 
ALL LASHED UP
Make lush lashes the focal point of your makeup look by keeping everything else simple and toned down. 
If you've got decent (in terms of length and volume) lashes to begin with, mascara should suffice for the occasion – start with a lengthening primer and then layer on two coats of your favourite volumising mascara. 
Keep your eyeshadow light and eyeliner on the thinner side, so as to allow the lashes to pop – they won't be as visible when there's too much going on in the background.
Falsies are your best bet if your lashes are sparse and short. Don't go too OTT with your choice though – a pair in a moderate thickness and length will go better with your pared-down makeup. Think naturally lush and less va-va-voom.
ALMOST RED LIPS 
A classic red lip is expected so why not give it a twist this year? Instead of going straight-up red, pick a shade of red with notes of a different colour such as berry, fuchsia or coral.
Don't want to spend money on a brand new lipstick? Go through your existing collection and try layering a coral shade over your red lippie. You'll want to opt for a matte finish or budge-proof formula so it won't shift even under the face mask.
SHIMMERY NEUTRALS
For those who'd like to tone things down and still look elegantly put together, neutral makeup is always a wise choice. Play with a mix of browns, greys, tans or muted pinks and peaches for a soft and feminine allure, or go for a monochromatic look from your eyes to your cheeks and lips for a take on neutrals that's currently very trendy.
Neutrals can pack a punch too – simply dial up the intensity either on your eyes or lips. A smokey brown or grey eye look flatters just about everyone. Throw in a good dose of golden shimmer, too, for a festive feel – either with glittering eyeshadow, highlighter or a sparkly lip colour.